World Health Organization advisory committee endorses use of the RTS,S vaccine in small-scale demonstrations.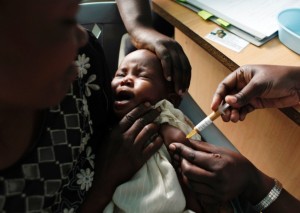 The world's first vaccine against malaria should be rolled out in limited 'pilot' demonstrations in Africa, an advisory group to the World Health Organization (WHO) in Geneva said on 23 October. The demonstrations — involving up to 1 million children — are needed because the vaccine is ineffective against malaria unless children receive four doses spread out over 18 months, and even then offers only modest protection.
"If we can't get four doses of this vaccine into children, we're not going to be using it," Jon Abramson, a paediatric infectious disease specialist at Wake Forest School of Medicine in Winston-Salem, North Carolina, and chair of the WHO Strategic Advisory Group of Experts (SAGE) on Immunization, said in a press briefing.
The decision to recommend the vaccine pilots — which the WHO's director-general is expected to formally endorse in November — follows 28 years of development by the London-based drug firm GlaxoSmithKline (GSK) and other backers including the Bill & Melinda Gates Foundation in Seattle, Washington; together they have spent US$565 million on the drug.
The imperfections of the vaccine, called RTS,S, are well known: trials in more than 15,000 children, who were followed for up to four years in seven countries in sub-Saharan Africa, found that a series of four shots reduced the number of malaria cases by only 36% in young children, and by 26% in infants1. Still, even its modest effect could be significant because malaria kills nearly half a million people annually, most of whom are children in sub-Saharan Africa, and all other candidate vaccines are in much earlier stages of development. 
"I think the reason they've gone forward with the pilot is that there's nothing else available right now," says Adrian Hill, a vaccinologist at the University of Oxford, UK.
The advisory group recommended a series of 3–5 pilot demonstrations in areas with medium to high incidence of malaria, involving up to 1 million children in total. These will reveal whether parents bring their children back for all four doses of the vaccine: without the final dose, RTS,S provides no more protection against malaria than do controls, Abramson said.
The pilots will also investigate safety issues associated with the vaccine, such as the potential to develop meningitis. They are needed to ensure that precious funding is not wasted, he said. "If this vaccine is not effective and we use it widely, we have spent a ton of money where it could be better placed."
The demonstrations could start in 2016 and are expected to last 3–5 years. As data roll in, SAGE will review its position: a final decision on whether to recommend deploying the vaccine more widely could come during this period.
Seth Berkley, head of Gavi, the Vaccine Alliance, in Geneva, Switzerland, says that his organization will soon decide whether to help pay for the pilot demonstrations. Gavi has in the past supported similar pilots to determine the feasibility of delivering other vaccines in resource-poor settings. "It certainly is possible that the board will say yes to this, but there's no guarantee," says Berkley.
Even if the WHO does eventually recommend the vaccine for widespread use, it is not clear what the uptake would be. Although African malaria-control officials welcome RTS,S, they say that they would need more funding to deploy the vaccine. Budgets for malaria prevention and treatment using measures such as insecticide-treated bed nets and artemisinin-combination therapies are already stretched thin.
Speaking to Nature before the WHO announcement was made, Philip Rosenthal, a malaria researcher at the University of California, San Francisco, said that the vaccine was exciting, but added, "I am worried that the WHO's approval will be misinterpreted, and lead decision-makers to shunt resources away from other malaria-control measures."
GSK says that it will charge $1–10 per shot, covering the company's manufacturing costs and a return of 5%, to be re-invested in new vaccines for malaria or other diseases common in the developing world. But on top of the price of the shots, funding will also be needed to deliver them to children and for programmes to disseminate information.
"One challenge is to be sure that mothers understand that their children can still get malaria even with the vaccine, so that means their children must continue to sleep under bed nets," says James Tibenderana, development director at the Malaria Consortium in Uganda. It is also important for parents to know that when their children have a fever, they must still go for a malaria test, he says.
The vaccine is composed partly of a fragment of circumsporozoite (CS) protein, which is found on the surface of the parasite. Those who are immunized with RTS,S — sold as Mosquirix — build up some immunity to malaria.
But different parasites have slightly different CS proteins — and the study showed that fewer than 10% of parasites infecting some 5,000 children in the trials matched the CS protein sequence in the RTS,S vaccine. If the vaccine could be re-engineered to include bits of several surface proteins, it would be more effective, says Dyann Wirth, an infectious-disease researcher at the Harvard T.H. Chan School of Public Health in Boston, Massachusetts, who led that study.
That re-development could take years, however, although some researchers have been discussing the possibility, according to David Kaslow, who oversees the vaccine's development at the non-profit health organization PATH. "It's not trivial to tweak the vaccine to match the prevalent strains in an area," he told Nature, "but it's not impossible."
Hill says that SAGE's decision to pilot the vaccine sends the right message to other researchers. "Stopping this dead would have been a very bad signal," he says. "What the field needs is other players to come forward and accelerate their more modern vaccine candidates toward licensure."
About this article
Cite this article
Callaway, E., Maxmen, A. Malaria vaccine cautiously recommended for use in Africa. Nature 526, 617–618 (2015). https://doi.org/10.1038/nature.2015.18638
Published:

Issue Date:

DOI: https://doi.org/10.1038/nature.2015.18638