Country seeks big cuts in carbon intensity and greater reliance on clean energy.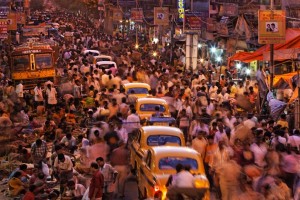 India says that it will produce 40% of its energy from sources other than fossil fuels by 2030, and will reduce the intensity of its carbon dioxide emissions by roughly one-third.
The country's highly anticipated announcement on 2 October comes ahead of United Nations talks in Paris this December, at which nations hope to reach an updated agreement to fight climate change.
India is the third-largest emitter of greenhouse gases, and it is the last major economy to announce its climate commitment ahead of the Paris meeting. But it is also a nation where 300 million people still lack access to electricity, and its per-capita greenhouse-gas emissions are well below the global average.
"India is not part of the problem" of global warming, says environment minister Prakash Javadekar. "But we want to be part of the solution." He calls the country's plan "comprehensive, ambitious and progressive".
The pledge eschews an overall cap on CO2 emissions, in an effort to protect vulnerable sectors of India's economy and society. Instead, India says that it will reduce its carbon intensity — emissions per unit of gross domestic product — by 33–35% in 2030, compared with the 2005 level. Javadekar estimates that meeting this goal will prevent 3.59 billion tonnes of CO2 emissions.
The country will also aim to generate 40% of its electricity from renewable or low-carbon sources by 2030, with technology-transfer and financial assistance from the Green Climate Fund, an organization headquartered in Songdo, South Korea, that was formed to help developing nations to address climate change.
Carrying out the entire plan will cost at least US$2.5 trillion, the government says, with some of that money coming as international aid.
"India traditionally has taken a very hard line in the negotiations, and done its best to avoid assuming obligations," says Elliot Diringer, executive vice president of the Center for Climate and Energy Solutions in Arlington, Virginia. "This reflects a very encouraging shift in attitude toward an acceptance that all major economies share a responsibility to address this challenge."
Others were more critical of the new plan. Navroz Dubash, a senior fellow at the Centre for Policy Research (CPR) in New Delhi, says that the carbon-intensity goal is "conservative at best". It is well below the 45% intensity cut (by 2030) recommended in a draft 2015 report by the CPR and the International Institute for Applied Systems Analysis in Laxenburg, Austria; the groups said that this target would be in line with India's previous commitment to cut carbon intensity by 20-25% by 2020.
And Dubash notes that the plan does not offer many details on policies for specific economic sectors. "We will need more transparency, monitoring and assessment down the line to see what the sectoral actions add up to, and whether they will help India avoid a lock-in into a high-carbon growth pathway," he says.
Shreekant Gupta, an economist at India's Delhi School of Economics, approves of the pledge's emphasis on promoting economic growth and access to energy to reduce poverty. But Gupta would have liked a more radical approach to these issues, such as a cap-and-trade scheme patterned after the European Union's emissions-trading programme.
And Chandra Venkataraman, a chemical engineer at the Indian Institute of Technology in Mumbai, says that India has missed an opportunity to reduce its emissions of black carbon, a sooty pollutant that is produced by the incomplete burning of biomass and other fuels. Black carbon harms human health, and it has potent — although relatively short-lived — warming effects on the climate. 
Additional information
A version of this story appeared in print under the headline 'India unveils climate pledge'.
Additional reporting by Jeff Tollefson.
Related links
Related links
Related links in Nature Research
Related external links
About this article
Cite this article
Padma, T. India unveils climate-change pledge ahead of global talks. Nature 526, 176 (2015). https://doi.org/10.1038/nature.2015.18489
Published:

Issue Date:

DOI: https://doi.org/10.1038/nature.2015.18489