Pair will focus on resolving financial issues after controversial failed merger.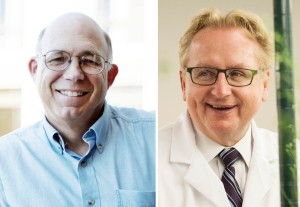 A geneticist and a chemist will co-lead the Scripps Research Institute in La Jolla, California, the biomedical research organization announced on 18 September. The institute said that Scripps chemist Peter Schultz will take over as chief executive officer and vice-chair, while molecular biologist Steve Kay, currently at the University of Southern California (USC) in Los Angeles, will assume the institute's presidency.
The appointments are the latest in a series of leadership changes at the research institute. Over the last decade, public funding from the US National Institutes of Health has flattened, competition for philanthropy has intensified and pharmaceutical companies have shifted away from providing unrestricted funds for basic research. This has meant that Scripps and other independent research organizations have struggled to stay afloat.
"The broader significance is this worldwide need to change the model for drug discovery, and to show that an effective bench-to-bedside model can be created within the not-for-profit sector," says Kay, who is currently dean of the Dornsife College of Letters, Arts and Sciences at USC. Schultz will assume his new role immediately while Kay makes the transition from USC.
Kay and Schultz's appointments come just over a year after the failure of a bid by USC to merge with Scripps. In July 2014, Scripps president and chief executive Michael Marletta departed the institute after a faculty revolt against the merger deal. The following month, James Paulson, head of the institute's cell and molecular biology department, was named acting president and chief executive. When the merger fell through, Scripps was said to be running an operating deficit of US$21 million annually.
"Looking forward, I think many scientists realize that NIH funding is a good thing if you have it, but it's not sustainable," says organic chemist Phil Baran, who was on the search committee that selected Kay and Schultz. "What is stable are endowments, which you build by having products that give you proceeds, and by philanthropy. You get philanthropy by doing the best science, so that's why there is such frenzied competition for the brightest minds."
The joint leadership announcement is aimed at giving Scripps a better shot at garnering talent and resources, especially in southern California, where competition for both has become fierce. For instance, the University of California, San Diego (UCSD) and USC are involved in a legal battle over Alzheimer's researcher Paul Aisen, who departed UCSD for USC in June. UCSD charges that he improperly attempted to take with him an Alzheimer's clinical research programme worth an estimated $100 million.
Kay says that he and Schultz will both make translational research a major priority. He praised as a model the California Institute for Biomedical Research (Calibr), an independent, non-profit venture in La Jolla that is oriented towards translational research. Founded in 2012 with $90 million from the pharmaceutical company Merck, it is led by Schultz and has partnerships with several companies and foundations in areas such as cancer, diabetes and neglected tropical diseases.
It is hoped that the combination of Schultz and Kay will help Scripps to improve its efforts to raise money from non-traditional sources, says Patrick Griffin, a biochemist at the Scripps campus in Jupiter, Florida, who was on the search committee.
"Pete [Schultz] has tremendous academic credentials, experience in commercialization and a vision of how to do bench-to-bedside research in an academic setting, while Steve Kay has shown proven leadership in recruiting top talent and fundraising," Griffin says.
Kay, who was previously at Scripps from 1996 to 2007, chaired an exploratory committee for the Scripps Florida campus, which opened in 2009. He said that he hoped his experience with the institute would ease any tensions about his arrival from USC. Less than a year ago, Kay lured renowned structural biologist Raymond Stevens to USC from Scripps.
"The faculty, Pete and myself are looking to the future and we're not going to be bogged down or dragged back to those controversies of the recent past," Kay says.
Independence was a sticking point in faculty members' dissatisfaction with the USC deal. Kay says that while he values the independence of the faculty, more alliances will probably be in the offing as he and Schultz try to position Scripps as a translational research powerhouse.
"I think it's very important that Scripps maintains its identity and faculty culture," Kay says. "That doesn't exclude us from entering into alliances either at the domain level, at the level of individual therapeutic areas, or larger therapeutic alliances across our research organization."
Related links
Related links
Related links in Nature Research
Related external links
About this article
Cite this article
Check Hayden, E. Scripps Research Institute appoints leadership duo. Nature 525, 438 (2015). https://doi.org/10.1038/nature.2015.18391
Published:

Issue Date:

DOI: https://doi.org/10.1038/nature.2015.18391