Environment of β Pictoris echoes Solar System's turbulent early years.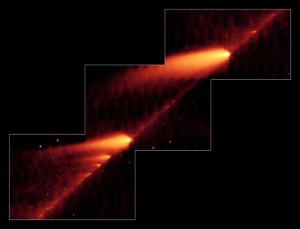 Almost 500 comets have been revealed orbiting the star β Pictoris. The busy star system, which is 19 parsecs (63 light years) from Earth, is only 23 million years old. It provides a model for conditions in the Solar System 4.6 billion years ago, when the planets had just formed and collisions with comets were more frequent than they are today.
Nature Podcast
Alain Lecavelier des Etangs tells Nature reporter Elizabeth Gibney how he and his team were able to count comets around another star.
Astronomer Alain Lecavelier des Etangs of the Paris Institute of Astrophysics and his collaborators charted the small icy comets by studying how the light emanating from the system changed when the comets' large and dusty tails passed in front of the star.
The analysis, which uses data gathered by the High Accuracy Radial velocity Planet Searcher (HARPS) instrument at the European Southern Observatory's 3.6 metre telescope in La Silla, Chile, between 2003 and 2011, is the most complete census yet of comets around a star other than the Sun. The authors, writing in Nature on 23 October1, describe the features of 493 comets orbiting the star and split them into two distinct families.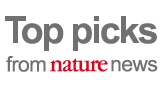 References
Kiefer, F. et al. Nature 514, 462-464 (2014).
About this article
Cite this article
Gibney, E. Heavy comet traffic around young star. Nature (2014). https://doi.org/10.1038/nature.2014.16201
Published:

DOI: https://doi.org/10.1038/nature.2014.16201