Abstract
Transmissible spongiform encephalopathies (TSEs) are fatal neurological disorders caused by prions, which are composed of a misfolded protein (PrPSc) that self-propagates in the brain of infected individuals by converting the normal prion protein (PrPC) into the pathological isoform. Here, we report a novel experimental strategy for preventing prion disease based on producing a self-replicating, but innocuous PrPSc-like form, termed anti-prion, which can compete with the replication of pathogenic prions. Our results show that a prophylactic inoculation of prion-infected animals with an anti-prion delays the onset of the disease and in some animals completely prevents the development of clinical symptoms and brain damage. The data indicate that a single injection of the anti-prion eliminated ~99% of the infectivity associated to pathogenic prions. Furthermore, this treatment caused significant changes in the profile of regional PrPSc deposition in the brains of animals that were treated, but still succumbed to the disease. Our findings provide new insights for a mechanistic understanding of prion replication and support the concept that prion replication can be separated from toxicity, providing a novel target for therapeutic intervention.
Access options
Subscribe to this journal
Receive 12 print issues and online access
$259.00 per year
only $21.58 per issue
Rent or buy this article
Prices vary by article type
from$1.95
to$39.95
Prices may be subject to local taxes which are calculated during checkout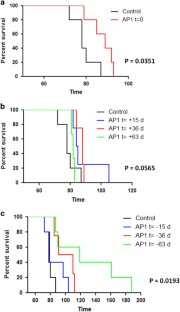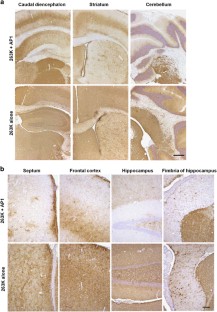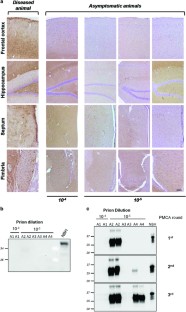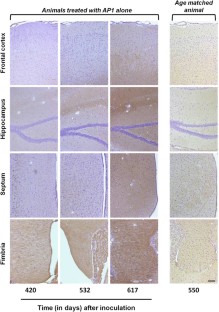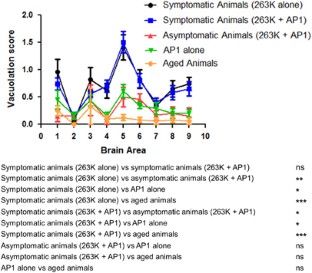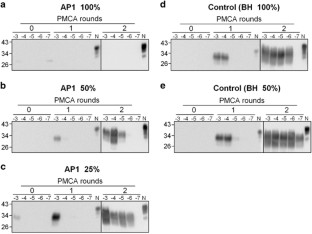 References
Soto C . Transmissible proteins: expanding the prion heresy. Cell 2012; 149: 968–977.

Prusiner SB . Biology and genetics of prions causing neurodegeneration. Annu Rev Genet 2013; 47: 601–623.

Aguzzi A, Nuvolone M, Zhu C . The immunobiology of prion diseases. Nat Rev Immunol 2013; 13: 888–902.

Stahl N, Borchelt DR, Hsiao K, Prusiner SB . Scrapie prion protein contains a phosphatidylinositol glycolipid. Cell 1987; 51: 229–240.

Caughey B, Baron GS, Chesebro B, Jeffrey M . Getting a grip on prions: oligomers, amyloids, and pathological membrane interactions. Annu Rev Biochem 2009; 78: 177–204.

Soto C, Estrada L, Castilla J . Amyloids, prions and the inherent infectious nature of misfolded protein aggregates. Trends Biochem Sci 2006; 31: 150–155.

Prusiner SB . Novel proteinaceous infectious particles cause scrapie. Science 1982; 216: 136–144.

Supattapone S . Elucidating the role of cofactors in mammalian prion propagation. Prion 2013; 8: 100–105.

Ma J . The role of cofactors in prion propagation and infectivity. PLoS Pathog 2012; 8: e1002589.

Castilla J, Saá P, Hetz C, Soto C . In vitro generation of infectious scrapie prions. Cell 2005; 121: 195–206.

Wang F, Wang X, Yuan CG, Ma J . Generating a prion with bacterially expressed recombinant prion protein. Science 2010; 327: 1132–1135.

Deleault NR, Harris BT, Rees JR, Supattapone S . Formation of native prions from minimal components in vitro. Proc Natl Acad Sci USA 2007; 104: 9741–9746.

Sailer A, Bueler H, Fischer M, Aguzzi A, Weissmann C . No propagation of prions in mice devoid of PrP. Cell 1994; 77: 967–968.

Wickner RB . Prion diseases: infectivity versus toxicity. Nature 2011; 470: 470–471.

Biasini E, Turnbaugh JA, Unterberger U, Harris DA . Prion protein at the crossroads of physiology and disease. Trends Neurosci 2012; 35: 92–103.

Sandberg MK, Al-Doujaily H, Sharps B, Clarke AR, Collinge J . Prion propagation and toxicity in vivo occur in two distinct mechanistic phases. Nature 2011; 470: 540–542.

Sandberg MK, Al-Doujaily H, Sharps B, De Oliveira MW, Schmidt C, Richard-Londt A et al. Prion neuropathology follows the accumulation of alternate prion protein isoforms after infective titre has peaked. Nat Commun 2014; 5: 4347.

Chesebro B, Trifilo M, Race R, Meade-White K, Teng C, LaCasse R et al. Anchorless prion protein results in infectious amyloid disease without clinical scrapie. Science 2005; 308: 1435–1439.

Diaz-Espinoza R, Mukherjee A, Soto C . Kosmotropic anions promote conversion of recombinant prion protein into a PrPSc-like misfolded form. PLoS ONE 2012; 7: e31678.

Baskakov IV . Switching in amyloid structure within individual fibrils: implication for strain adaptation, species barrier and strain classification. FEBS Lett 2009; 583: 2618–2622.

Smirnovas V, Kim JI, Lu X, Atarashi R, Caughey B, Surewicz WK . Distinct structures of scrapie prion protein (PrPSc)-seeded versus spontaneous recombinant prion protein fibrils revealed by hydrogen/deuterium exchange. J Biol Chem 2009; 284: 24233–24241.

Piro JR, Wang F, Walsh DJ, Rees JR, Ma J, Supattapone S . Seeding specificity and ultrastructural characteristics of infectious recombinant prions. Biochemistry 2011; 50: 7111–7116.

Timmes AG, Moore RA, Fischer ER, Priola SA . Recombinant prion protein refolded with lipid and RNA has the biochemical hallmarks of a prion but lacks in vivo infectivity. PLoS ONE 2013; 8: e71081.

Makarava N, Kovacs GG, Bocharova O, Savtchenko R, Alexeeva I, Budka H et al. Recombinant prion protein induces a new transmissible prion disease in wild-type animals. Acta Neuropathol 2010; 119: 177–187.

Makarava N, Savtchenko R, Baskakov IV . Selective amplification of classical and atypical PrPSc using modified protein misfolding cyclic amplification. J Biol Chem 2012; 288: 33–41.

Makarava N, Kovacs GG, Savtchenko R, Alexeeva I, Budka H, Rohwer RG et al. Stabilization of a prion strain of synthetic origin requires multiple serial passages. J Biol Chem 2012; 287: 30205–30214.

Dickinson AG, Fraser H, Meikle VM, Outram GW . Competition between different scrapie agents in mice. Nat New Biol 1972; 237: 244–245.

Dickinson AG, Fraser H, McConnell I, Outram GW, Sales DI, Taylor DM . Extraneural competition between different scrapie agents leading to loss of infectivity. Nature 1975; 253: 556.

Bartz JC, Aiken JM, Bessen RA . Delay in onset of prion disease for the HY strain of transmissible mink encephalopathy as a result of prior peripheral inoculation with the replication-deficient DY strain. J Gen Virol 2004; 85: 265–273.

Bartz JC, Kramer ML, Sheehan MH, Hutter JA, Ayers JI, Bessen RA et al. Prion interference is due to a reduction in strain-specific PrPSc levels. J Virol 2007; 81: 689–697.

Schutt CR, Bartz JC . Prion interference with multiple prion isolates. Prion 2008; 2: 61–63.

Kimberlin RH, Walker CA . Competition between strains of scrapie depends on the blocking agent being infectious. Intervirology 1985; 23: 74–81.

Shikiya RA, Ayers JI, Schutt CR, Kincaid AE, Bartz JC . Coinfecting prion strains compete for a limiting cellular resource. J Virol 2010; 84: 5706–5714.

Jucker M, Walker LC . Self-propagation of pathogenic protein aggregates in neurodegenerative diseases. Nature 2013; 501: 45–51.

Prusiner SB . Cell biology. A unifying role for prions in neurodegenerative diseases. Science 2012; 336: 1511–1513.

Baskakov IV, Bocharova OV . In vitro conversion of mammalian prion protein into amyloid fibrils displays unusual features. Biochemistry 2005; 44: 2339–2348.

Castilla J, Gonzalez-Romero D, Saa P, Morales R, De CJ, Soto C . Crossing the species barrier by PrP(Sc) replication in vitro generates unique infectious prions. Cell 2008; 134: 757–768.

Morales R, Duran-Aniotz C, Diaz-Espinoza R, Camacho MV, Soto C . Protein misfolding cyclic amplification of infectious prions. Nat Protoc 2012; 7: 1397–1409.

Fraser H, Dickinson AG . The sequential development of the brain lesion of scrapie in three strains of mice. J Comp Pathol 1968; 78: 301–311.

Makarava N, Kovacs GG, Savtchenko R, Alexeeva I, Budka H, Rohwer RG et al. Genesis of mammalian prions: from non-infectious amyloid fibrils to a transmissible prion disease. PLoS Pathog 2011; 7: e1002419.

Meade-White KD, Barbian KD, Race B, Favara C, Gardner D, Taubner L et al. Characteristics of 263 K scrapie agent in multiple hamster species. Emerg Infect Dis 2009; 15: 207–215.

Chen B, Morales R, Barria MA, Soto C . Estimating prion concentration in fluids and tissues by quantitative PMCA. Nat Methods 2010; 7: 519–520.

Cronier S, Gros N, Tattum MH, Jackson GS, Clarke AR, Collinge J et al. Detection and characterization of proteinase K-sensitive disease-related prion protein with thermolysin. Biochem J 2008; 416: 297–305.

Liberski PP, Ironside JW . An outline of the neuropathology of transmissible spongiform encephalopathies (prion diseases). Folia Neuropathol 2004; 42 (Suppl B): 39–58.

Sassoon J, Sadowski M, Wisniewski T, Brown DR . Therapeutics and prion disease: can immunisation or drugs be effective? Mini Rev Med Chem 2005; 5: 361–366.

Burchell JT, Panegyres PK . Prion diseases: immunotargets and therapy. Immunotargets Ther 2016; 5: 57–68.

Forloni G, Artuso V, Roiter I, Morbin M, Tagliavini F . Therapy in prion diseases. Curr Top Med Chem 2013; 13: 2465–2476.

Li Z, Silber BM, Rao S, Gever JR, Bryant C, Gallardo-Godoy A et al. 2-Aminothiazoles with improved pharmacotherapeutic properties for treatment of prion disease. Chem Med Chem 2013; 8: 847–857.

May BC, Fafarman AT, Hong SB, Rogers M, Deady LW, Prusiner SB et al. Potent inhibition of scrapie prion replication in cultured cells by bis-acridines. Proc Natl Acad Sci USA 2003; 100: 3416–3421.

Forloni G, Iussich S, Awan T, Colombo L, Angeretti N, Girola L et al. Tetracyclines affect prion infectivity. Proc Natl Acad Sci USA 2002; 99: 10849–10854.

Ladogana A, Casaccia P, Ingrosso L, Cibati M, Salvatore M, Xi YG et al. Sulphate polyanions prolong the incubation period of scrapie-infected hamsters. J Gen Virol 1992; 73 (Pt 3): 661–665.

Kocisko DA, Baron GS, Rubenstein R, Chen J, Kuizon S, Caughey B . New inhibitors of scrapie-associated prion protein formation in a library of 2000 drugs and natural products. J Virol 2003; 77: 10288–10294.

Soto C, Kascsak RJ, Saborio GP, Aucouturier P, Wisniewski T, Prelli F et al. Reversion of prion protein conformational changes by synthetic beta-sheet breaker peptides. Lancet 2000; 355: 192–197.

Sigurdsson EM, Brown DR, Daniels M, Kascsak RJ, Kascsak R, Carp R et al. Immunization delays the onset of prion disease in mice. Am J Pathol 2002; 161: 13–17.

Moroncini G, Kanu N, Solforosi L, Abalos G, Telling GC, Head M et al. Motif-grafted antibodies containing the replicative interface of cellular PrP are specific for PrPSc. Proc Natl Acad Sci USA 2004; 101: 10404–10409.

Moreno JA, Halliday M, Molloy C, Radford H, Verity N, Axten JM et al. Oral treatment targeting the unfolded protein response prevents neurodegeneration and clinical disease in prion-infected mice. Sci Transl Med 2013; 5: 206ra138.

Mukherjee A, Morales-Scheihing D, Gonzalez-Romero D, Green K, Taglialatela G, Soto C . Calcineurin Inhibition at the Clinical Phase of Prion Disease Reduces Neurodegeneration, Improves Behavioral Alterations and Increases Animal Survival. PLoS Pathogen 2010; 6: e1001138.

Soto C, Castilla J . The controversial protein-only hypothesis of prion propagation. Nat Med 2004; 10: S63–S67.

Aguzzi A, Heikenwalder M, Polymenidou M . Insights into prion strains and neurotoxicity. Nat Rev Mol Cell Biol 2007; 8: 552–561.

Morales R, Abid K, Soto C . The prion strain phenomenon: molecular basis and unprecedented features. Biochim Biophys Acta 2007; 1772: 681–691.

Collinge J, Clarke AR . A general model of prion strains and their pathogenicity. Science 2007; 318: 930–936.

Barria MA, Mukherjee A, Gonzalez-Romero D, Morales R, Soto C . De novo generation of infectious prions in vitro produces a new disease phenotype. PLoS Pathog 2009; 5: e1000421.

Zhang Y, Wang F, Wang X, Zhang Z, Xu Y, Yu G et al. Comparison of 2 synthetically generated recombinant prions. Prion 2014; 8: 215–220.

Bueler H, Raeber A, Sailer A, Fischer M, Aguzzi A, Weissmann C . High prion and PrPSc levels but delayed onset of disease in scrapie-inoculated mice heterozygous for a disrupted PrP gene. Mol Med 1994; 1: 19–30.

Hill AF, Collinge J . Prion strains and species barriers. Contrib Microbiol 2004; 11: 33–49.

White AR, Enever P, Tayebi M, Mushens R, Linehan J, Brandner S et al. Monoclonal antibodies inhibit prion replication and delay the development of prion disease. Nature 2003; 422: 80–83.

Xanthopoulos K, Lagoudaki R, Kontana A, Kyratsous C, Panagiotidis C, Grigoriadis N et al. Immunization with recombinant prion protein leads to partial protection in a murine model of TSEs through a novel mechanism. PLoS ONE 2013; 8: e59143.

Petsch B, Muller-Schiffmann A, Lehle A, Zirdum E, Prikulis I, Kuhn F et al. Biological effects and use of PrPSc- and PrP-specific antibodies generated by immunization with purified full-length native mouse prions. J Virol 2011; 85: 4538–4546.

Prusiner SB, Groth D, Serban A, Koehler R, Foster D, Torchia M et al. Ablation of the prion protein (PrP) gene in mice prevents scrapie and facilitates production of anti-PrP antibodies. Proc Natl Acad Sci USA 1993; 90: 10608–10612.

Matus S, Lisbona F, Torres M, Leon C, Thielen P, Hetz C . The stress rheostat: an interplay between the unfolded protein response (UPR) and autophagy in neurodegeneration. Curr Mol Med 2008; 8: 157–172.

Moreno JA, Radford H, Peretti D, Steinert JR, Verity N, Martin MG et al. Sustained translational repression by eIF2alpha-P mediates prion neurodegeneration. Nature 2012; 485: 507–511.
Acknowledgements
These studies were supported in part by NIH grant P01 AI106705 to CS and by FONDECYT grant 3150054 from CONICYT to RDE.
Author contributions
RDE performed most of the in vitro experiments, designed the in vivo and in vitro experiments and prepared most of the figures. RM performed all the i.c. inoculations, designed the in vivo experiments and participated in lesion profile assessments. LCM purified recombinant PrP, performed part of the biochemical analysis and carried out the experiments of in vitro competition by PMCA. IMG and FM did the histological work and analysis and IMG prepared the histology figures. CS conceived, supervised the work and prepared the final version of the manuscript.
Ethics declarations
Competing interests
The authors declare no conflict of interest.
Supplementary information
About this article
Cite this article
Diaz-Espinoza, R., Morales, R., Concha-Marambio, L. et al. Treatment with a non-toxic, self-replicating anti-prion delays or prevents prion disease in vivo. Mol Psychiatry 23, 777–788 (2018). https://doi.org/10.1038/mp.2017.84
Received:

Revised:

Accepted:

Published:

Issue Date:

DOI: https://doi.org/10.1038/mp.2017.84
This article is cited by
Claudio Soto
Sandra Pritzkow

Nature Neuroscience (2018)

Claudia Scheckel
Adriano Aguzzi

Nature Reviews Genetics (2018)

Nature Reviews Neurology (2017)