Access options
Subscribe to Journal
Get full journal access for 1 year
$399.00
only $33.25 per issue
All prices are NET prices.
VAT will be added later in the checkout.
Tax calculation will be finalised during checkout.
Rent or Buy article
Get time limited or full article access on ReadCube.
from$8.99
All prices are NET prices.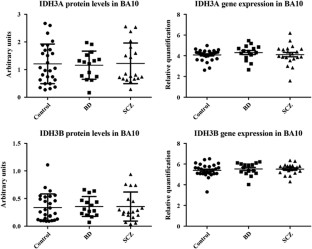 References
1

Prabakaran S, Swatton JE, Ryan MM, Huffaker SJ, Huang JT, Griffin JL et al. Mol Psychiatry 2004; 9: 684–697, 643.

2

Scola G, Kim HK, Young LT, Andreazza AC . Biological Psychiatry 2013; 73: e4–e5.

3

Yoshimi N, Futamura T, Bergen SE, Iwayama Y, Ishima T, Sellgren C et al. Mol Psychiatry 2016; 21: 1504–1510.

4

Andreazza AC, Wang JF, Salmasi F, Shao L, Young LT . J Neurochem 2013; 127: 552–561.

5

Ludwig B, Dwivedi Y . Mol Psychiatry 2016; 21: 1490–1498.
Acknowledgements
We thank Harvard Brain Tissue Resource Center, which is supported in part by PHS grant number R24MH068855, and Canadian Institutes of Health Research (CIHR) and Camh Foundation as sources of funding in support of this report. GS was supported by the Camh Foundation. LTY and ACA were supported by grants from CIHR.
Ethics declarations
Competing interests
The authors declare no conflict of interest.
Supplementary information
About this article
Cite this article
Scola, G., Andreazza, A. & Young, L. A comparative expression analysis of isocitrate dehydrogenase-3 gene and protein levels in postmortem brain tissues from subjects with bipolar disorder. Mol Psychiatry 23, 792–793 (2018). https://doi.org/10.1038/mp.2017.149