Abstract
The molecular mechanisms underlying major depressive disorder (MDD) are largely unknown. Limited success of previous genetics studies may be attributable to heterogeneity of MDD, aggregating biologically different subtypes. We examined the polygenic features of MDD and two common clinical subtypes (typical and atypical) defined by symptom profiles in a large sample of adults with established diagnoses. Data were from 1530 patients of the Netherlands Study of Depression and Anxiety (NESDA) and 1700 controls mainly from the Netherlands Twin Register (NTR). Diagnoses of MDD and its subtypes were based on DSM-IV symptoms. Genetic overlap of MDD and subtypes with psychiatric (MDD, bipolar disorder, schizophrenia) and metabolic (body mass index (BMI), C-reactive protein, triglycerides) traits was evaluated via genomic profile risk scores (GPRS) generated from meta-analysis results of large international consortia. Single nucleotide polymorphism (SNP)-heritability of MDD and subtypes was also estimated. MDD was associated with psychiatric GPRS, while no association was found for GPRS of metabolic traits. MDD subtypes had differential polygenic signatures: typical was strongly associated with schizophrenia GPRS (odds ratio (OR)=1.54, P=7.8e-9), while atypical was additionally associated with BMI (OR=1.29, P=2.7e-4) and triglycerides (OR=1.21, P=0.006) GPRS. Similar results were found when only the highly discriminatory symptoms of appetite/weight were used to define subtypes. SNP-heritability was 32% for MDD, 38% and 43% for subtypes with, respectively, decreased (typical) and increased (atypical) appetite/weight. In conclusion, MDD subtypes are characterized by partially distinct polygenic liabilities and may represent more homogeneous phenotypes. Disentangling MDD heterogeneity may help the psychiatric field moving forward in the search for molecular roots of depression.
Relevant articles
Open Access articles citing this article.
Jos A. Bosch

,

Max Nieuwdorp

…

Anja Lok

Nature Communications Open Access 06 December 2022

Konstantin A. Demin

,

Nataliya A. Krotova

…

Allan V. Kalueff

Scientific Reports Open Access 02 December 2022

Bradley S. Jermy

,

Kylie P. Glanville

…

Evangelos Vassos

Molecular Psychiatry Open Access 21 July 2021
Access options
Subscribe to this journal
Receive 12 print issues and online access
$259.00 per year
only $21.58 per issue
Rent or buy this article
Get just this article for as long as you need it
$39.95
Prices may be subject to local taxes which are calculated during checkout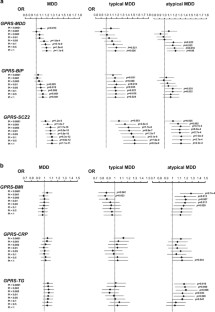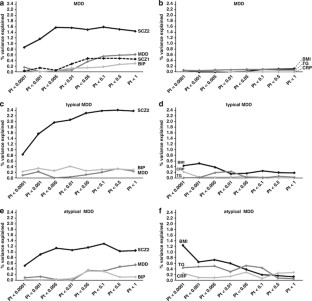 References
Kessler RC, Berglund P, Demler O, Jin R, Koretz D, Merikangas KR et al. The epidemiology of major depressive disorder: results from the National Comorbidity Survey Replication (NCS-R). JAMA 2003; 289: 3095–3105.

Vos T, Flaxman AD, Naghavi M, Lozano R, Michaud C, Ezzati M et al. Years lived with disability (YLDs) for 1160 sequelae of 289 diseases and injuries 1990-2010: a systematic analysis for the Global Burden of Disease Study 2010. Lancet 2012; 380: 2163–2196.

Sullivan PF, Neale MC, Kendler KS . Genetic epidemiology of major depression: review and meta-analysis. Am J Psychiatry 2000; 157: 1552–1562.

Ripke S, Wray NR, Lewis CM, Hamilton SP, Weissman MM, Breen G et al. A mega-analysis of genome-wide association studies for major depressive disorder. Mol Psychiatry 2013; 18: 497–511.

Flint J, Kendler KS . The genetics of major depression. Neuron 2014; 81: 484–503.

Levinson DF, Mostafavi S, Milaneschi Y, Rivera M, Ripke S, Wray NR et al. Genetic studies of major depressive disorder: why are there no genome-wide association study findings and what can we do about it? Biol Psychiatry 2014; 76: 510–512.

Manchia M, Cullis J, Turecki G, Rouleau GA, Uher R, Alda M . The impact of phenotypic and genetic heterogeneity on results of genome wide association studies of complex diseases. PLoS One 2013; 8: e76295.

Wray N, Maier R . The contribution of disease heterogeneity to missing heritability. Curr Epidemiol Rep 2014; 1: 220–227.

Lubke GH, Laurin C, Amin N, Hottenga JJ, Willemsen G, Van GG et al. Genome-wide analyses of borderline personality features. Mol Psychiatry 2014; 19: 923–929.

American Psychiatric Association Diagnostic and Statistical Manual of Mental Disorders: DSM-5. American Psychiatric Association: Washington, DC, 2013.

Penninx BW, Milaneschi Y, Lamers F, Vogelzangs N . Understanding the somatic consequences of depression: biological mechanisms and the role of depression symptom profile. BMC Med 2013; 11: 129.

Sullivan PF, Kessler RC, Kendler KS . Latent class analysis of lifetime depressive symptoms in the national comorbidity survey. Am J Psychiatry 1998; 155: 1398–1406.

Sullivan PF, Prescott CA, Kendler KS . The subtypes of major depression in a twin registry. J Affect Disord 2002; 68: 273–284.

Kendler KS, Eaves LJ, Walters EE, Neale MC, Heath AC, Kessler RC . The identification and validation of distinct depressive syndromes in a population-based sample of female twins. Arch Gen Psychiatry 1996; 53: 391–399.

Lamers F, de Jonge P, Nolen WA, Smit JH, Zitman FG, Beekman AT et al. Identifying depressive subtypes in a large cohort study: results from the Netherlands Study of Depression and Anxiety (NESDA). J Clin Psychiatry 2010; 71: 1582–1589.

Lamers F, Rhebergen D, Merikangas KR, de J P, Beekman AT, Penninx BW . Stability and transitions of depressive subtypes over a 2-year follow-up. Psychol Med 2012; 42: 2083–2093.

Gold PW, Chrousos GP . Melancholic and atypical subtypes of depression represent distinct pathophysiological entities: CRH, neural circuits, and the diathesis for anxiety and depression. Mol Psychiatry 2013; 18: 632–634.

Lamers F, Vogelzangs N, Merikangas KR, de J P, Beekman AT, Penninx BW . Evidence for a differential role of HPA-axis function, inflammation and metabolic syndrome in melancholic versus atypical depression. Mol Psychiatry 2013; 18: 692–699.

Lasserre AM, Glaus J, Vandeleur CL, Marques-Vidal P, Vaucher J, Bastardot F et al. Depression with atypical features and increase in obesity, body mass index, waist circumference, and fat mass: a prospective, population-based study. JAMA Psychiatry 2014; 71: 880–888.

Milaneschi Y, Lamers F, Mbarek H, Hottenga JJ, Boomsma DI, Penninx BW . The effect of FTO rs9939609 on major depression differs across MDD subtypes. Mol Psychiatry 2014; 19: 960–962.

Yang J, Lee SH, Goddard ME, Visscher PM . GCTA: a tool for genome-wide complex trait analysis. Am J Hum Genet 2011; 88: 76–82.

Penninx BW, Beekman AT, Smit JH, Zitman FG, Nolen WA, Spinhoven P et al. The Netherlands Study of Depression and Anxiety (NESDA): rationale, objectives and methods. Int J Methods Psychiatr Res 2008; 17: 121–140.

Boomsma DI, De Geus EJ, Vink JM, Stubbe JH, Distel MA, Hottenga JJ et al. Netherlands Twin Register: from twins to twin families. Twin Res Hum Genet 2006; 9: 849–857.

World Health Organization Thw Composite Interview Diagnostic Instrument. WHO: Geneva, 1997.

Boomsma DI, Willemsen G, Sullivan PF, Heutink P, Meijer P, Sondervan D et al. Genome-wide association of major depression: description of samples for the GAIN Major Depressive Disorder Study: NTR and NESDA biobank projects. Eur J Hum Genet 2008; 16: 335–342.

Lubke GH, Hottenga JJ, Walters R, Laurin C, De Geus EJ, Willemsen G et al. Estimating the genetic variance of major depressive disorder due to all single nucleotide polymorphisms. Biol Psychiatry 2012; 72: 707–709.

Sullivan PF, De Geus EJ, Willemsen G, James MR, Smit JH, Zandbelt T et al. Genome-wide association for major depressive disorder: a possible role for the presynaptic protein piccolo. Mol Psychiatry 2009; 14: 359–375.

Cross-Disorder Group of the Psychiatric Genomics Consortium. Identification of risk loci with shared effects on five major psychiatric disorders: a genome-wide analysis. Lancet 2013; 381: 1371–1379.

Lee SH, Ripke S, Neale BM, Faraone SV, Purcell SM, Perlis RH et al. Genetic relationship between five psychiatric disorders estimated from genome-wide SNPs. Nat Genet 2013; 45: 984–994.

Roeder K, Lynch K, Nagin K . Modeling uncertainty in latent class membership: a case study in criminology. J Am Stat Assoc 1999; 94: 766–776.

Peyrot WJ, Milaneschi Y, Abdellaoui A, Sullivan PF, Hottenga JJ, Boomsma DI et al. Effect of polygenic risk scores on depression in childhood trauma. Br J Psychiatry 2014; 205: 113–119.

Abdellaoui A, Hottenga JJ, de K P, Nivard MG, Xiao X, Scheet P et al. Population structure, migration, and diversifying selection in the Netherlands. Eur J Hum Genet 2013; 21: 1277–1285.

Psychiatric GWAS Consortium Bipolar Disorder Working Group. Large-scale genome-wide association analysis of bipolar disorder identifies a new susceptibility locus near ODZ4. Nat Genet 2011; 43: 977–983.

Schizophrenia Working Group of the Psychiatric Genomics Consortium. Biological insights from 108 schizophrenia-associated genetic loci. Nature 2014; 511: 421–427.

Speliotes EK, Willer CJ, Berndt SI, Monda KL, Thorleifsson G, Jackson AU et al. Association analyses of 249,796 individuals reveal 18 new loci associated with body mass index. Nat Genet 2010; 42: 937–948.

Dehghan A, Dupuis J, Barbalic M, Bis JC, Eiriksdottir G, Lu C et al. Meta-analysis of genome-wide association studies in >80 000 subjects identifies multiple loci for C-reactive protein levels. Circulation 2011; 123: 731–738.

Teslovich TM, Musunuru K, Smith AV, Edmondson AC, Stylianou IM, Koseki M et al. Biological, clinical and population relevance of 95 loci for blood lipids. Nature 2010; 466: 707–713.

Purcell S, Neale B, Todd-Brown K, Thomas L, Ferreira MA, Bender D et al. PLINK: a tool set for whole-genome association and population-based linkage analyses. Am J Hum Genet 2007; 81: 559–575.

Lee SH, Goddard ME, Wray NR, Visscher PM . A better coefficient of determination for genetic profile analysis. Genet Epidemiol 2012; 36: 214–224.

de Graaf R, ten Have M, van Gool C, van Dorsselaer S . Prevalence of mental disorders and trends from 1996 to 2009. Results from the Netherlands Mental Health Survey and Incidence Study-2. Soc Psychiatry Psychiatr Epidemiol 2012; 47: 203–213.

Wray NR, Lee SH, Mehta D, Vinkhuyzen AA, Dudbridge F, Middeldorp CM . Research review: Polygenic methods and their application to psychiatric traits. J Child Psychol Psychiatry 2014; 55: 1068–1087.

Schizophrenia Working Group of the Psychiatric Genomics Consortium. Genome-wide association study identifies five new schizophrenia loci. Nat Genet 2011; 43: 969–976.

Dudbridge F . Power and predictive accuracy of polygenic risk scores. PLoS Genet 2013; 9: e1003348.

Cuthbert BN, Insel TR . Toward the future of psychiatric diagnosis: the seven pillars of RDoC. BMC Med 2013; 11: 126.

Parker G, Fink M, Shorter E, Taylor MA, Akiskal H, Berrios G et al. Issues for DSM-5: whither melancholia? The case for its classification as a distinct mood disorder. Am J Psychiatry 2010; 167: 745–747.

Ziedonis D, Hitsman B, Beckham JC, Zvolensky M, Adler LE, Audrain-McGovern J et al. Tobacco use and cessation in psychiatric disorders: National Institute of Mental Health report. Nicotine Tob Res 2008; 10: 1691–1715.

Wium-Andersen MK, Orsted DD, Nordestgaard BG . Elevated C-reactive protein, depression, somatic diseases, and all-cause mortality: a mendelian randomization study. Biol Psychiatry 2014; 76: 249–257.

Serretti A, Mandelli L . Antidepressants and body weight: a comprehensive review and meta-analysis. J Clin Psychiatry 2010; 71: 1259–1272.

van Reedt Dortland AK, Giltay EJ, van VT, Zitman FG, Penninx BW . Metabolic syndrome abnormalities are associated with severity of anxiety and depression and with tricyclic antidepressant use. Acta Psychiatr Scand 2010; 122: 30–39.

Gibson-Smith D, Bot M, Milaneschi Y, Twisk JW, Visser M, Brouwer IA et al. Major depressive disorder, antidepressant use and subsequent 2-year weight change patterns in the Netherlands Study of Depression and Anxiety. J Clin Psychiatry 2015 in press.

Edvardsen J, Torgersen S, Roysamb E, Lygren S, Skre I, Onstad S et al. Unipolar depressive disorders have a common genotype. J Affect Disord 2009; 117: 30–41.
Acknowledgements
Netherlands Study of Depression and Anxiety and Netherland Twin Register: funding was obtained from the Netherlands Organization for Scientific Research (NWO) and MagW/ZonMW grants Middelgroot-911-09-032, Spinozapremie 56-464-14192, Geestkracht program of the Netherlands Organization for Health Research and Development (ZonMW 10-000-1002), Center for Medical Systems Biology (CSMB, NWO Genomics), Genetic influences on stability and change in psychopathology from childhood to young adulthood (ZonMW 912-10-020), NBIC/BioAssist/RK (2008.024), Biobanking and Biomolecular Resources Research Infrastructure (BBMRI–NL, 184.021.007), VU University's Institute for Health and Care Research (EMGO+) and Neuroscience Campus Amsterdam (NCA); the European Science Council (ERC Advanced, 230374). Part of the genotyping and analyses were funded by the Genetic Association Information Network (GAIN) of the Foundation for the National Institutes of Health, Rutgers University Cell and DNA Repository (NIMH U24 MH068457-06), the Avera Institute, Sioux Falls, South Dakota (USA) and the National Institutes of Health (NIH R01 HD042157-01A1, MH081802, Grand Opportunity grants 1RC2 MH089951 and 1RC2 MH089995). Computing was supported by BiG Grid, the Dutch e-Science Grid, which is financially supported by NWO. Funding for this research is also provided by EU FP7 MooDFOOD Project 'Multi-country cOllaborative project on the rOle of Diet, FOod-related behaviour, and Obesity in the prevention of Depression', Grant agreement no. 613598. The CHARGE inflammation working group is supported by the following grants: N01-HC 25195 1RO1 HL64753; R01 HL076784; 1 R01 AG028321. F Lamers is supported by a FP7-Marie Curie Career Integration Grant (PCIG12-GA-2012-334065). We are grateful to the Psychiatric Genomics Consortium (MDD group) and to GIANT consortium for providing the summary statistics for meta-analyses of, respectively, MDD and BMI after removal of the Dutch GWAS cohort.
Ethics declarations
Competing interests
The authors declare no conflict of interest.
Supplementary information
About this article
Cite this article
Milaneschi, Y., Lamers, F., Peyrot, W. et al. Polygenic dissection of major depression clinical heterogeneity. Mol Psychiatry 21, 516–522 (2016). https://doi.org/10.1038/mp.2015.86
Received:

Revised:

Accepted:

Published:

Issue Date:

DOI: https://doi.org/10.1038/mp.2015.86