Abstract
Prior work suggests that there may be two distinct pathways of alcohol use disorder (AUD) risk: one associated with positive emotion enhancement and behavioral impulsivity, and another associated with negative emotion relief and coping. We sought to map these two pathways onto individual differences in neural reward and threat processing assessed using blood-oxygen-level-dependent functional magnetic resonance imaging in a sample of 759 undergraduate students (426 women, mean age 19.65±1.24 years) participating in the Duke Neurogenetics Study. We demonstrate that problem drinking is highest in the context of stress and in those with one of two distinct neural phenotypes: (1) a combination of relatively low reward-related activity of the ventral striatum (VS) and high threat-related reactivity of the amygdala; or (2) a combination of relatively high VS activity and low amygdala reactivity. In addition, we demonstrate that the relationship between stress and problem alcohol use is mediated by impulsivity, as reflected in monetary delay discounting rates, for those with high VS–low amygdala reactivity, and by anxious/depressive symptomatology for those with the opposite neural risk phenotype. Across both neural phenotypes, we found that greater divergence between VS and amygdala reactivity predicted greater risk for problem drinking. Finally, for those individuals with the low VS–high amygdala risk phenotype we found that stress not only predicted the presence of AUD diagnosis at the time of neuroimaging but also subsequent problem drinking reported 3 months following study completion. These results offer new insight into the neural basis of AUD risk and suggest novel biological targets for early individualized treatment or prevention.
Relevant articles
Open Access articles citing this article.
Klara Mareckova

,

Colin Hawco

…

Yuliya S. Nikolova

Translational Psychiatry Open Access 24 November 2020

Juyoen Hur

,

Claire M. Kaplan

…

Alexander J. Shackman

Scientific Reports Open Access 12 November 2018

C Sommer

,

M Garbusow

…

U S Zimmermann

Translational Psychiatry Open Access 01 August 2017
Access options
Subscribe to Journal
Get full journal access for 1 year
$119.00
only $9.92 per issue
All prices are NET prices.
VAT will be added later in the checkout.
Tax calculation will be finalised during checkout.
Buy article
Get time limited or full article access on ReadCube.
$32.00
All prices are NET prices.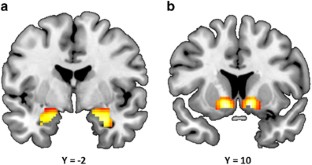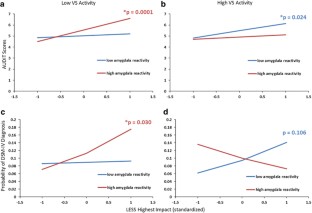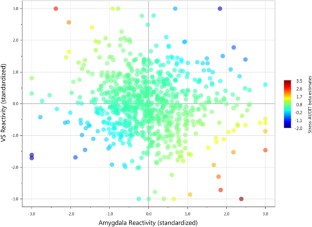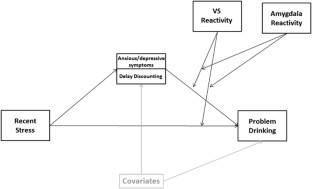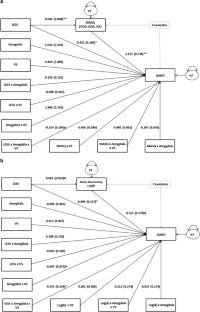 References
Hasin DS, Stinson FS, Ogburn E, Grant BF . Prevalence, correlates, disability, and comorbidity of DSM-IV alcohol abuse and dependence in the United States: results from the National Epidemiologic Survey on Alcohol and Related Conditions. Arch Gen Psychiatry 2007; 64: 830–842.

Rutledge PC, Sher KJ . Heavy drinking from the freshman year into early young adulthood: the roles of stress, tension-reduction drinking motives, gender and personality. J Stud Alcohol 2001; 62: 457–466.

Grant BF, Dawson DA . Age of onset of drug use and its association with DSM-IV drug abuse and dependence: results from the National Longitudinal Alcohol Epidemiologic Survey. J Subst Abuse 1998; 10: 163–173.

Grant BF, Stinson FS, Harford TC . Age at onset of alcohol use and DSM-IV alcohol abuse and dependence: a 12-year follow-up. J Subst Abuse 2001; 13: 493–504.

Jennison KM . The short-term effects and unintended long-term consequences of binge drinking in college: a 10-year follow-up study. Am J Drug Alcohol Abuse 2004; 30: 659–684.

Vaillant GE . A 60-year follow-up of alcoholic men. Addiction 2003; 98: 1043–1051.

Park CL, Armeli S, Tennen H . The daily stress and coping process and alcohol use among college students. J Stud Alcohol 2004; 65: 126–135.

Hingson RW, Heeren T, Winter MR . Age at drinking onset and alcohol dependence: age at onset, duration, and severity. Arch Pediatr Adolesc Med 2006; 160: 739–746.

Bingham CR, Shope JT, Tang X . Drinking behavior from high school to young adulthood: differences by college education. Alcohol Clin Exp Res 2005; 29: 2170–2180.

Dawson DA, Goldstein RB, Grant BF . Rates and correlates of relapse among individuals in remission from DSM-IV alcohol dependence: a 3-year follow-up. Alcohol Clin Exp Res 2007; 31: 2036–2045.

Mann K, Hermann D . Individualised treatment in alcohol-dependent patients. Eur Arch Psychiatry Clin Neurosci 2010; 260 (Suppl 2): S116–S120.

Hariri AR, Brown SM, Williamson DE, Flory JD, de Wit H, Manuck SB . Preference for immediate over delayed rewards is associated with magnitude of ventral striatal activity. J Neurosci 2006; 26: 13213–13217.

Forbes EE, Brown SM, Kimak M, Ferrell RE, Manuck SB, Hariri AR . Genetic variation in components of dopamine neurotransmission impacts ventral striatal reactivity associated with impulsivity. Mol Psychiatry 2009; 14: 60–70.

Kreek MJ, Nielsen DA, Butelman ER, LaForge KS . Genetic influences on impulsivity, risk taking, stress responsivity and vulnerability to drug abuse and addiction. Nat Neurosci 2005; 8: 1450–1457.

Nees F, Tzschoppe J, Patrick CJ, Vollstadt-Klein S, Steiner S, Poustka L et al. Determinants of early alcohol use in healthy adolescents: the differential contribution of neuroimaging and psychological factors. Neuropsychopharmacology 2012; 37: 986–995.

Nikolova YS, Singhi EK, Drabant EM, Hariri AR . Reward-related ventral striatum reactivity mediates gender-specific effects of a galanin remote enhancer haplotype on problem drinking. Genes Brain Behav 2013; 12: 516–524.

Bowirrat A, Oscar-Berman M . Relationship between dopaminergic neurotransmission, alcoholism, and Reward Deficiency syndrome. Am J Med Genet B Neuropsychiatr Genet 2005; 132B: 29–37.

Glahn DC, Lovallo WR, Fox PT . Reduced amygdala activation in young adults at high risk of alcoholism: studies from the Oklahoma family health patterns project. Biol Psychiatry 2007; 61: 1306–1309.

Sipe JC, Chiang K, Gerber AL, Beutler E, Cravatt BF . A missense mutation in human fatty acid amide hydrolase associated with problem drug use. Proc Natl Acad Sci USA 2002; 99: 8394–8399.

Hariri AR, Gorka A, Hyde LW, Kimak M, Halder I, Ducci F et al. Divergent effects of genetic variation in endocannabinoid signaling on human threat- and reward-related brain function. Biol Psychiatry 2009; 66: 9–16.

Nikolova YS, Hariri AR . Neural responses to threat and reward interact to predict stress-related problem drinking: a novel protective role of the amygdala. Biol Mood Anxiety Disord 2012; 2: 19.

Etkin A, Wager TD . Functional neuroimaging of anxiety: a meta-analysis of emotional processing in PTSD, social anxiety disorder, and specific phobia. Am J Psychiatry 2007; 164: 1476–1488.

Stein MB, Simmons AN, Feinstein JS, Paulus MP . Increased amygdala and insula activation during emotion processing in anxiety-prone subjects. Am J Psychiatry 2007; 164: 318–327.

Conway KP, Compton W, Stinson FS, Grant BF . Lifetime comorbidity of DSM-IV mood and anxiety disorders and specific drug use disorders: results from the National Epidemiologic Survey on Alcohol and Related Conditions. J Clin Psychiatry 2006; 67: 247–257.

Boschloo L, Vogelzangs N, Smit JH, van den Brink W, Veltman DJ, Beekman AT et al. Comorbidity and risk indicators for alcohol use disorders among persons with anxiety and/or depressive disorders: findings from the Netherlands Study of Depression and Anxiety (NESDA). J Affect Disord 2011; 131: 233–242.

Verheul R, van den Brink W, Geerlings P . A three-pathway psychobiological model of craving for alcohol. Alcohol Alcohol 1999; 34: 197–222.

Victorio-Estrada A, Mucha RF, Stephan ER . Excessive drinking situations in German alcoholics: replication of a three-factor model used for North Americans. Drug Alcohol Depend 1996; 41: 75–79.

Colder CR, O'Connor R . Attention biases and disinhibited behavior as predictors of alcohol use and enhancement reasons for drinking. Psychol Addict Behav 2002; 16: 325–332.

Kuntsche E, Knibbe R, Gmel G, Engels R . Who drinks and why? A review of socio-demographic, personality, and contextual issues behind the drinking motives in young people. Addict Behav 2006; 31: 1844–1857.

Sinha R . How does stress increase risk of drug abuse and relapse? Psychopharmacology (Berl) 2001; 158: 343–359.

Roozendaal B, McEwen BS, Chattarji S . Stress, memory and the amygdala. Nat Rev Neurosci 2009; 10: 423–433.

Koob G, Kreek MJ . Stress, dysregulation of drug reward pathways, and the transition to drug dependence. Am J Psychiatry 2007; 164: 1149–1159.

Ellis GM Jr, Mann MA, Judson BA, Schramm NT, Tashchian A . Excretion patterns of cannabinoid metabolites after last use in a group of chronic users. Clin Pharmacol Ther 1985; 38: 572–578.

Nikolova YS, Bogdan R, Brigidi BD, Hariri AR . Ventral striatum reactivity to reward and recent life stress interact to predict positive affect. Biol Psychiatry 2012; 72: 157–163.

Carre JM, Hyde LW, Neumann CS, Viding E, Hariri AR . The neural signatures of distinct psychopathic traits. Soc Neurosci 2013; 8: 122–135.

Ahs F, Davis CF, Gorka AX, Hariri AR . Feature-based representations of emotional facial expressions in the human amygdala. Soc Cogn Affect Neurosci 2014; 9: 1372–1378.

Phillips ML, Young AW, Senior C, Brammer M, Andrew C, Calder AJ et al. A specific neural substrate for perceiving facial expressions of disgust. Nature 1997; 389: 495–498.

Somerville LH, Kim H, Johnstone T, Alexander AL, Whalen PJ . Human amygdala responses during presentation of happy and neutral faces: correlations with state anxiety. Biol Psychiatry 2004; 55: 897–903.

Kim H, Somerville LH, Johnstone T, Alexander AL, Whalen PJ . Inverse amygdala and medial prefrontal cortex responses to surprised faces. Neuroreport 2003; 14: 2317–2322.

Saunders JB, Aasland OG, Babor TF, de la Fuente JR, Grant M . Development of the Alcohol Use Disorders Identification Test (AUDIT): WHO collaborative project on early detection of persons with harmful alcohol consumption—II. Addiction 1993; 88: 791–804.

Bernstein D, Stein JA, Newcomb MD, Walker E, Pogge D, Ahluvalia T et al. Development and validation of a brief screening version of the Childhood Trauma Questionnaire. Child Abuse Negl 2002; 27: 169–190.

Watson D, Weber K, Assenheimer JS, Clark LA, Strauss ME, McCormick RA . Testing a tripartite model: I. Evaluating the convergent and discriminant validity of anxiety and depression symptom scales. J Abnorm Psychol 1995; 104: 3–14.

Hayes AF . Introduction to Mediation, Moderation, and Conditional Process Analysis: A Regression-Based Approach. The Guilford Press: New York, NY, USA, 2013.

Hair JF Jr, Tatham RL, Anderson RE, Black W . Multivariate Data Analysis, 5th edn. Prentice Hall: New Jersey, USA, 1998.

Muthén LK, Muthén BO . Mplus User's Guide, 6th edn. Los Angeles, CA, USA, 1998–2010.

Harford TC, Grant BF . Prevalence and population validity of DSM-III-R alcohol abuse and dependence: the 1989 National Longitudinal Survey on Youth. J Subst Abuse 1994; 6: 37–44.

Cannon DS, Leeka JK, Patterson ET, Baker TB . Principal components analysis of the inventory of drinking situations: empirical categories of drinking by alcoholics. Addict Behav 1990; 15: 265–269.

Magid V, Maclean MG, Colder CR . Differentiating between sensation seeking and impulsivity through their mediated relations with alcohol use and problems. Addict Behav 2007; 32: 2046–2061.

Matsuoka Y, Furuyashiki T, Yamada K, Nagai T, Bito H, Tanaka Y et al. Prostaglandin E receptor EP1 controls impulsive behavior under stress. Proc Natl Acad Sci USA 2005; 102: 16066–16071.

Sun H, Green TA, Theobald DE, Birnbaum SG, Graham DL, Zeeb FD et al. Yohimbine increases impulsivity through activation of cAMP response element binding in the orbitofrontal cortex. Biol Psychiatry 2010; 67: 649–656.

Duckworth AL, Kim B, Tsukayama E . Life stress impairs self-control in early adolescence. Front Psychol 2012; 3: 608.

Fields S, Leraas K, Collins C, Reynolds B . Delay discounting as a mediator of the relationship between perceived stress and cigarette smoking status in adolescents. Behav Pharmacol 2009; 20: 455–460.

Spear LP . The adolescent brain and the college drinker: biological basis of propensity to use and misuse alcohol. J Stud Alcohol Suppl 2002; 14: 71–81.

Admon R, Lubin G, Rosenblatt JD, Stern O, Kahn I, Assaf M et al. Imbalanced neural responsivity to risk and reward indicates stress vulnerability in humans. Cereb Cortex 2013; 23: 28–35.

Cuthbert BN, Insel TR . Toward the future of psychiatric diagnosis: the seven pillars of RDoC. BMC Med 2013; 11: 126.

Kessler RC, Crum RM, Warner LA, Nelson CB, Schulenberg J, Anthony JC . Lifetime co-occurrence of DSM-III-R alcohol abuse and dependence with other psychiatric disorders in the National Comorbidity Survey. Arch Gen Psychiatry 1997; 54: 313–321.

Regier DA, Farmer ME, Rae DS, Locke BZ, Keith SJ, Judd LL et al. Comorbidity of mental disorders with alcohol and other drug abuse. Results from the Epidemiologic Catchment Area (ECA) Study. JAMA 1990; 264: 2511–2518.

Coccaro EF, McCloskey MS, Fitzgerald DA, Phan KL . Amygdala and orbitofrontal reactivity to social threat in individuals with impulsive aggression. Biol Psychiatry 2007; 62: 168–178.

Naimi TS, Brewer RD, Mokdad A, Denny C, Serdula MK, Marks JS . Binge drinking among US adults. JAMA 2003; 289: 70–75.

Fillmore KM, Hartka E, Johnstone BM, Leino EV, Motoyoshi M, Temple MT . A meta-analysis of life course variation in drinking. Br J Addict 1991; 86: 1221–1267.

Keyes KM, Hatzenbuehler ML, Hasin DS . Stressful life experiences, alcohol consumption, and alcohol use disorders: the epidemiologic evidence for four main types of stressors. Psychopharmacology (Berl) 2011; 218: 1–17.

Hariri AR . The neurobiology of individual differences in complex behavioral traits. Annu Rev Neurosci 2009; 32: 225–247.

Nikolova YS, Ferrell RE, Manuck SB, Hariri AR . Multilocus genetic profile for dopamine signaling predicts ventral striatum reactivity. Neuropsychopharmacology 2011; 36: 1940–1947.

Nikolova YS, Koenen KC, Galea S, Wang CM, Seney ML, Sibille E et al. Beyond genotype: serotonin transporter epigenetic modification predicts human brain function. Nat Neurosci 2014; 17: 1153–1155.
Acknowledgements
We thank Bartholomew Brigidi, Kelly Faig, Adam Gorka, Adrienne Romer and Matthew Scult for their assistance in DNS data collection and analysis. The DNS is supported by Duke University and NIDA grant DA033369. YSN received support through a predoctoral Howard Hughes Medical Institute International Student Research fellowship. ARH receives support through NIDA grants DA033369 and DA031579.
Ethics declarations
Competing interests
The authors declare no conflict of interest.
Supplementary information
About this article
Cite this article
Nikolova, Y., Knodt, A., Radtke, S. et al. Divergent responses of the amygdala and ventral striatum predict stress-related problem drinking in young adults: possible differential markers of affective and impulsive pathways of risk for alcohol use disorder. Mol Psychiatry 21, 348–356 (2016). https://doi.org/10.1038/mp.2015.85
Received:

Revised:

Accepted:

Published:

Issue Date:

DOI: https://doi.org/10.1038/mp.2015.85