Abstract
As the risks of tobacco use become recognized and smoking becomes stigmatized, new smokers may be increasingly driven to smoke by biological or genetic vulnerabilities rather than social desirability. Given that genetic risk for deviant proneness is shared across other psychiatric and addictive disorders, we predicted that as rates of smoking decreased through the latter half of the twentieth century, associations between smoking and psychopathology would increase. Participants (N=25 412) from a large US study—the National Epidemiologic Survey on Alcohol and Related Conditions, NESARC—were interviewed using the Alcohol Use Disorder and Associated Disabilities Interview Schedule – DSM-IV Version (AUDADIS-IV) and classified into one of five birth cohort decades (1940s to 1980s) and three smoking history (nonsmokers, never-dependent smokers and ever-dependent smokers) groups. We found that the prevalence of smoking decreased across the five birth cohorts, but associations of smoking with drug and AUDs, attention-deficit hyperactivity disorder, bipolar disorder and antisocial personality disorder, each increased monotonically in more recently born cohorts, even after adjusting for concurrent demographic and socioeconomic changes. For drug and AUDs, increases were observed among smokers both with and without a history of nicotine dependence; for other outcomes, increases were entirely driven by nicotine-dependent smokers. Findings suggest that smokers in more recent cohorts have disproportionately high psychiatric vulnerability, and may benefit from greater mental health screenings. Differentiating between casual and dependent smokers may further help prioritize those at greatest risk. Researchers should also be aware of potential variation in psychiatric comorbidity based on cohort of birth when defining groups of smokers, to minimize confounding.
Relevant articles
Open Access articles citing this article.
Shuai Yuan

,

Honghui Yao

&

Susanna C. Larsson

Scientific Reports Open Access 14 August 2020

Amy Cohn

,

Amanda Johnson

…

Raymond Niaura

Tobacco Induced Diseases Open Access 17 January 2017
Access options
Subscribe to this journal
Receive 12 print issues and online access
$259.00 per year
only $21.58 per issue
Rent or buy this article
Get just this article for as long as you need it
$39.95
Prices may be subject to local taxes which are calculated during checkout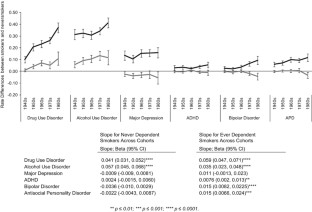 References
Brandt AM . The Cigarette Century: Thr Rise, Fall and Demise of the Product that Defined America. Perseus Books Group: New York, NY, USA, 2007.

Lopez AD, Collishaw NE, Piha T . A descriptive model of the cigarette epidemic in developed countries. Tob Control 1994; 3: 242–247.

Milmore BK, Conover AG . Tobacco Smoking Patterns in the United States. US Government Printing Office: Washington DC, 1956 Public Health Monograph No. 45.

Doll R . Tobacco: a medical history. J Urban Health 1999; 76: 289–313.

Murphy M, Di Cesare M . Use of an age-period-cohort model to reveal the impact of cigarette smoking on trends in twentieth-century adult cohort mortality in England and Wales. Popul Stud (Camb) 2012; 66: 259–277.

Centers for Disease Control and Prevention (CDC). Vital signs: current cigarette smoking among adults aged ≥18 years – United States 2005–2010. MMWR Morb Mortal Wkly Rep 2011; 60: 1207–1212.

Brown J, West R . Smoking prevalence in England is below 20% for the first time in 80 years. BMJ 2014; 348: g1378.

Hasin D, Fenton MC, Skodol A, Krueger R, Keyes K, Geier T et al. Personality disorders and the 3-year course of alcohol, drug, and nicotine use disorders. Arch Gen Psychiatry 2011; 68: 1158–1167.

Keyes KM, Schulenberg JE, O'Malley PM, Johnston LD, Bachman JG, Li G et al. Birth cohort effects on adolescent alcohol use: the influence of social norms from 1976 to 2007. Arch Gen Psychiatry 2012; 69: 1304–1313.

Keyes KM, Schulenberg JE, O'Malley PM, Johnston LD, Bachman JG, Li G et al. The social norms of birth cohorts and adolescent marijuana use in the United States, 1976-2007. Addiction 2011; 106: 1790–1800.

Rothman K, Greenland S, Lash TL . Modern Epidemiology. 3rd edn Lippincott Williams & Wilkins: Philadelphia, 2008.

Stuber J, Galea S, Link BG . Smoking and the emergence of a stigmatized social status. Soc Sci Med 2008; 67: 420–430.

Chassin LPC, Morgan-Lopez A, Sherman SJ . Deviance proneness and adolescent smoking 1980 vs. 2001: has there been a hardening of adolescent smoking? J Appl Dev Psychol 2007; 28: 264–276.

Costa ML, Cohen JE, Chaiton MO, Ip D, McDonald P, Ferrence R . "Hardcore" definitions and their application to a population-based sample of smokers. Nicotine Tob Res 2010; 12: 860–864.

Breslau N, Kilbey M, Andreski P . Nicotine dependence, major depression, and anxiety in young adults. Arch Gen Psychiatry 1991; 48: 1069–1074.

Oldmeadow C, Wood I, Mengersen K, Visscher PM, Martin NG, Duffy DL . Investigation of the relationship between smoking and appendicitis in Australian twins. Ann Epidemiol 2008; 18: 631–636.

McClave AK, McKnight-Eily LR, Davis SP, Dube SR . Smoking characteristics of adults with selected lifetime mental illnesses: results from the 2007 National Health Interview Survey. Am J Public Health 2010; 100: 2464–2472.

Breslau N, Novak SP, Kessler RC . Psychiatric disorders and stages of smoking. Biol Psychiatry 2004; 55: 69–76.

Murphy JM, Horton NJ, Monson RR, Laird NM, Sobol AM, Leighton AH . Cigarette smoking in relation to depression: historical trends from the Stirling County Study. Am J Psychiatry 2003; 160: 1663–1669.

Talati A, Wickramaratne PJ, Keyes KM, Hasin DS, Levin FR, Weissman MM . Smoking and psychopathology increasingly associated in recent birth cohorts. Drug Alcohol Depend 2013; 133: 724–732.

Grant BF, Goldstein RB, Chou SP, Huang B, Stinson FS, Dawson DA et al. Sociodemographic and psychopathologic predictors of first incidence of DSM-IV substance use, mood and anxiety disorders: results from the Wave 2 National Epidemiologic Survey on Alcohol and Related Conditions. Mol Psychiatry 2009; 14: 1051–1066.

Grant BF, Stinson FS, Dawson DA, Chou SP, Ruan WJ, Pickering RP . Co-occurrence of 12-month alcohol and drug use disorders and personality disorders in the United States: results from the National Epidemiologic Survey on Alcohol and Related Conditions. Arch Gen Psychiatry 2004; 61: 361–368.

Grant BF, Hasin DS, Chou SP, Stinson FS, Dawson DA . Nicotine dependence and psychiatric disorders in the United States: results from the national epidemiologic survey on alcohol and related conditions. Arch Gen Psychiatry 2004; 61: 1107–1115.

Grant BF, Dawson DA, Stinson FS, Chou PS, Kay W, Pickering R . The Alcohol Use Disorder and Associated Disabilities Interview Schedule-IV (AUDADIS-IV): reliability of alcohol consumption, tobacco use, family history of depression and psychiatric diagnostic modules in a general population sample. Drug Alcohol Depend 2003; 71: 7–16.

Fenton MC, Keyes K, Geier T, Greenstein E, Skodol A, Krueger B et al. Psychiatric comorbidity and the persistence of drug use disorders in the United States. Addiction 2012; 107: 599–609.

Baker TB, Breslau N, Covey L, Shiffman S . DSM criteria for tobacco use disorder and tobacco withdrawal: a critique and proposed revisions for DSM-5. Addiction 2012; 107: 263–275.

Baker TB, Piper ME, McCarthy DE, Bolt DM, Smith SS, Kim SY et al. Time to first cigarette in the morning as an index of ability to quit smoking: implications for nicotine dependence. Nicotine Tob Res 2007; 9: S555–S570.

Chen LS, Saccone NL, Culverhouse RC, Bracci PM, Chen CH, Dueker N et al. Smoking and genetic risk variation across populations of European, asian, and african american ancestry-a meta-analysis of chromosome 15q25. Genet Epidemiol 2012; 36: 340–351.

Lasser K, Boyd JW, Woolhandler S, Himmelstein DU, McCormick D, Bor DH . Smoking and mental illness: a population-based prevalence study. JAMA 2000; 284: 2606–2610.

Bernardi S, Faraone SV, Cortese S, Kerridge BT, Pallanti S, Wang S et al. The lifetime impact of attention deficit hyperactivity disorder: results from the National Epidemiologic Survey on Alcohol and Related Conditions (NESARC). Psychol Med 2012; 42: 875–887.

De Alwis D, Lynskey MT, Reiersen AM, Agrawal A . Attention-deficit/hyperactivity disorder subtypes and substance use and use disorders in NESARC. Addict Behav 2014; 39: 1278–1285.

Faraone SV, Biederman J, Spencer T, Mick E, Murray K, Petty C et al. Diagnosing adult attention deficit hyperactivity disorder: are late onset and subthreshold diagnoses valid? Am J Psychiatry 2006; 163: 1720–1729, quiz 859.

Kieling C, Kieling RR, Rohde LA, Frick PJ, Moffitt T, Nigg JT et al. The age at onset of attention deficit hyperactivity disorder. Am J Psychiatry 2010; 167: 14–16.

Ruan WJ, Goldstein RB, Chou SP, Smith SM, Saha TD, Pickering RP et al. The alcohol use disorder and associated disabilities interview schedule-IV (AUDADIS-IV): reliability of new psychiatric diagnostic modules and risk factors in a general population sample. Drug Alcohol Depend 2008; 92: 27–36.

Goldstein RB, Dawson DA, Chou SP, Ruan WJ, Saha TD, Pickering RP et al. Antisocial behavioral syndromes and past-year physical health among adults in the United States: results from the National Epidemiologic Survey on Alcohol and Related Conditions. J Clin Psychiatry 2008; 69: 368–380.

Lund M, Lund KE, Kvaavik E . Hardcore smokers in Norway 1996-2009. Nicotine Tob Res 2011; 13: 1132–1139.

Docherty G, McNeill A . The hardening hypothesis: does it matter? Tob Control 2012; 21: 267–268.

Hasin DS, Grant BF . The National Epidemiologic Survey on Alcohol and Related Conditions (NESARC) Waves 1 and 2: review and summary of findings. Soc Psychiatry Psychiatr Epidemiol 2015; 50: 1609–1640.

Sousa NO, Grevet EH, Salgado CA, Silva KL, Victor MM, Karam RG et al. Smoking and ADHD: an evaluation of self medication and behavioral disinhibition models based on comorbidity and personality patterns. J Psychiatr Res 2011; 45: 829–834.

Bron TI, Bijlenga D, Kasander MV, Spuijbroek AT, Beekman AT, Kooij JJ . Long-term relationship between methylphenidate and tobacco consumption and nicotine craving in adults with ADHD in a prospective cohort study. Eur Neuropsychopharmacol 2013; 23: 542–554.

Groenman AP, Oosterlaan J, Rommelse NN, Franke B, Greven CU, Hoekstra PJ et al. Stimulant treatment for attention-deficit hyperactivity disorder and risk of developing substance use disorder. Br J Psychiatry 2013; 203: 112–119.

Keyes KM, Utz RL, Robinson W, Li G . What is a cohort effect? Comparison of three statistical methods for modeling cohort effects in obesity prevalence in the United States, 1971-2006. Soc Sci Med. 2010; 70: 1100–1108.

Breslau N, Johnson EO, Hiripi E, Kessler R . Nicotine dependence in the United States: prevalence, trends, and smoking persistence. Arch Gen Psychiatry 2001; 58: 810–816.

Hughes JR . The hardening hypothesis: is the ability to quit decreasing due to increasing nicotine dependence? A review and commentary. Drug Alcohol Depend 2011; 117: 111–117.

Kendler KS, Thornton LM, Pedersen NL . Tobacco consumption in Swedish twins reared apart and reared together. Arch Gen Psychiatry 2000; 57: 886–892.

Hicks BM, Schalet BD, Malone SM, Iacono WG, McGue M . Psychometric and genetic architecture of substance use disorder and behavioral disinhibition measures for gene association studies. Behav Genet 2011; 41: 459–475.

Vrieze SI, McGue M, Miller MB, Hicks BM, Iacono WG . Three mutually informative ways to understand the genetic relationships among behavioral disinhibition, alcohol use, drug use, nicotine use/dependence, and their co-occurrence: twin biometry, GCTA, and genome-wide scoring. Behav Genet 2013; 43: 97–107.

Domingue BW, Conley D, Fletcher J, Boardman JD . Cohort effects in the genetic influence on smoking. Behav Genet 2015.

Oesterle S, Hawkins JD, Hill KG . Men's and women's pathways to adulthood and associated substance misuse. J Stud Alcohol Drugs 2011; 72: 763–773.

Piontek D, Kraus L, Pabst A, Legleye S . An age-period-cohort analysis of cannabis use prevalence and frequency in Germany, 1990-2009. J Epidemiol Community Health 2011; 66: 908–913.

Weissman MM, Wickramaratne P, Nomura Y, Warner V, Pilowsky D, Verdeli H . Offspring of depressed parents: 20 years later. Am J Psychiatry 2006; 163: 1001–1008.

Hayatbakhsh R, Mamun AA, Williams GM, O'Callaghan MJ, Najman JM . Early childhood predictors of early onset of smoking: a birth prospective study. Addict Behav 2013; 38: 2513–2519.

Twenge JM, Gentile B, DeWall CN, Ma D, Lacefield K, Schurtz DR . Birth cohort increases in psychopathology among young Americans, 1938-2007: a cross-temporal meta-analysis of the MMPI. Clin Psychol Rev 2010; 30: 145–154.

Simon GE, VonKorff M, Ustun TB, Gater R, Gureje O, Sartorius N . Is the lifetime risk of depression actually increasing? J Clin Epidemiol 1995; 48: 1109–1118.

Hughes JR, Weiss RD . Are differences in guidelines for the treatment of nicotine dependence and non-nicotine dependence justified? Addiction 2009; 104: 1951–1957.

Ferketich AK, Khan Y, Wewers ME . Are physicians asking about tobacco use and assisting with cessation? Results from the 2001-2004 national ambulatory medical care survey (NAMCS). Prev Med 2006; 43: 472–476.

Thorndike AN, Stafford RS, Rigotti NA . US physicians' treatment of smoking in outpatients with psychiatric diagnoses. Nicotine Tob Res 2001; 3: 85–91.

Agrawal A, Heath AC, Grant JD, Pergadia ML, Statham DJ, Bucholz KK et al. Assortative mating for cigarette smoking and for alcohol consumption in female Australian twins and their spouses. Behav Genet 2006; 36: 553–566.
Acknowledgements
The authors express their thanks to Jamie Skipper for assistance with preparation of the manuscript. Dr Talati is funded by K01DA029598 and by Young Investigator NARSAD Grants from the Brain and Behavior Research Foundation. The work of Keyes and Hasin was funded by K01AA021511 and K05AA014223, respectively, and Hasin was also supported by the New York State Psychiatric Institute. None of the funding agencies had any role in study design, in the analysis and interpretation of data; in the writing of the report; or in the decision to submit the paper for publication.
Ethics declarations
Competing interests
The authors declare no conflict of interest.
Supplementary information
About this article
Cite this article
Talati, A., Keyes, K. & Hasin, D. Changing relationships between smoking and psychiatric disorders across twentieth century birth cohorts: clinical and research implications. Mol Psychiatry 21, 464–471 (2016). https://doi.org/10.1038/mp.2015.224
Received:

Revised:

Accepted:

Published:

Issue Date:

DOI: https://doi.org/10.1038/mp.2015.224
This article is cited by
Hong-Kun Di
Yong Gan
Zu-Xun Lu

World Journal of Pediatrics (2022)

Shuai Yuan
Honghui Yao
Susanna C. Larsson

Scientific Reports (2020)

Amy Cohn
Amanda Johnson
Raymond Niaura

Tobacco Induced Diseases (2017)