Abstract
Alterations of the dopaminergic system are associated with the cognitive and functional dysfunctions that characterize complex neuropsychiatric disorders. We modeled a dysfunctional dopaminergic system using mice with targeted ablation of dopamine (DA) D2 autoreceptors in mesencephalic dopaminergic neurons. Loss of D2 autoreceptors abolishes D2-mediated control of DA synthesis and release. Here, we show that this mutation leads to a profound alteration of the genomic landscape of neurons receiving dopaminergic afferents at distal sites, specifically in the prefrontal cortex. Indeed, we observed a remarkable downregulation of gene expression in this area of ~2000 genes, which involves a widespread increase in the histone repressive mark H3K9me2/3. This reprogramming process is coupled to psychotic-like behaviors in the mutant mice. Importantly, chronic treatment with a DA agonist can revert the genomic phenotype. Thus, cortical neurons undergo a profound epigenetic reprogramming in response to dysfunctional D2 autoreceptor signaling leading to altered DA levels, a process that may underlie a number of neuropsychiatric disorders.
Relevant articles
Open Access articles citing this article.
Adeline Etiévant

,

Stella Manta

…

Jean-Martin Beaulieu

Scientific Reports Open Access 20 November 2015
Access options
Subscribe to this journal
Receive 12 print issues and online access
$259.00 per year
only $21.58 per issue
Rent or buy this article
Get just this article for as long as you need it
$39.95
Prices may be subject to local taxes which are calculated during checkout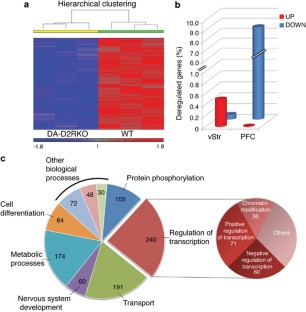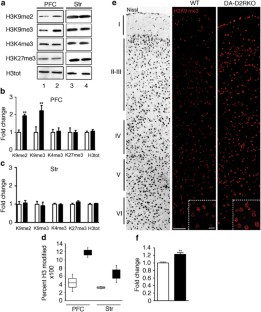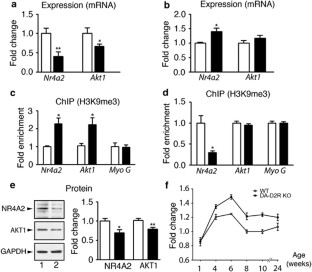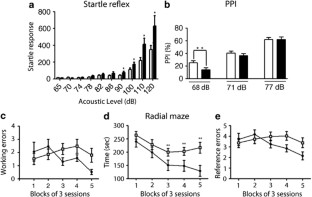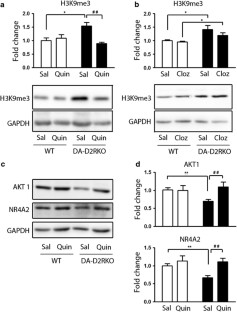 References
Jaenisch R, Bird A . Epigenetic regulation of gene expression: how the genome integrates intrinsic and environmental signals. Nat Genet 2003; 33 (Suppl): 245–254.

Borrelli E, Nestler EJ, Allis CD, Sassone-Corsi P . Decoding the epigenetic language of neuronal plasticity. Neuron 2008; 60: 961–974.

Howes OD, Kapur S . The dopamine hypothesis of schizophrenia: version III—the final common pathway. Schizophr Bull 2009; 35: 549–562.

Kuepper R, Skinbjerg M, Abi-Dargham A . The dopamine dysfunction in schizophrenia revisited: new insights into topography and course. Handb Exp Pharmacol 2012; 212: 1–26.

Lyon GJ, Abi-Dargham A, Moore H, Lieberman JA, Javitch JA, Sulzer D . Presynaptic regulation of dopamine transmission in schizophrenia. Schizophr Bull 2011; 37: 108–117.

Miyake N, Thompson J, Skinbjerg M, Abi-Dargham A . Presynaptic dopamine in schizophrenia. CNS Neurosci Ther 2011; 17: 104–109.

Heinz A, Romero B, Gallinat J, Juckel G, Weinberger DR . Molecular brain imaging and the neurobiology and genetics of schizophrenia. Pharmacopsychiatry 2003; 36 (Suppl 3): S152–S157.

Howes O, Bose S, Turkheimer F, Valli I, Egerton A, Stahl D, et al. Progressive increase in striatal dopamine synthesis capacity as patients develop psychosis: a PET study. Mol Psychiatry 2011; 16: 885–886.

Howes OD, Egerton A, Allan V, McGuire P, Stokes P, Kapur S . Mechanisms underlying psychosis and antipsychotic treatment response in schizophrenia: insights from PET and SPECT imaging. Curr Pharm Des 2009; 15: 2550–2559.

Bertolino A, Knable MB, Saunders RC, Callicott JH, Kolachana B, Mattay VS, et al. The relationship between dorsolateral prefrontal N-acetylaspartate measures and striatal dopamine activity in schizophrenia. Biol Psychiatry 1999; 45: 660–667.

Meyer-Lindenberg A, Miletich RS, Kohn PD, Esposito G, Carson RE, Quarantelli M, et al. Reduced prefrontal activity predicts exaggerated striatal dopaminergic function in schizophrenia. Nat Neurosci 2002; 5: 267–271.

Rice ME, Patel JC, Cragg SJ . Dopamine release in the basal ganglia. Neuroscience 2011; 198: 112–137.

Rouge-Pont F, Usiello A, Benoit-Marand M, Gonon F, Piazza PV, Borrelli E . Changes in extracellular dopamine induced by morphine and cocaine: crucial control by D2 receptors. J Neurosci 2002; 22: 3293–3301.

Benoit-Marand M, Borrelli E, Gonon F . Inhibition of dopamine release via presynaptic D2 receptors: time course and functional characteristics in vivo. J Neurosci 2001; 21: 9134–9141.

Anzalone A, Lizardi-Ortiz JE, Ramos M, De Mei C, Hopf FW, Iaccarino C, et al. Dual control of dopamine synthesis and release by presynaptic and postsynaptic dopamine D2 receptors. J Neurosci 2012; 32: 9023–9034.

Jasencakova Z, Scharf AN, Ask K, Corpet A, Imhof A, Almouzni G, et al. Replication stress interferes with histone recycling and predeposition marking of new histones. Mol Cell 2010; 37: 736–743.

Kumar A, Choi KH, Renthal W, Tsankova NM, Theobald DE, Truong HT, et al. Chromatin remodeling is a key mechanism underlying cocaine-induced plasticity in striatum. Neuron 2005; 48: 303–314.

Paylor R, Crawley JN . Inbred strain differences in prepulse inhibition of the mouse startle response. Psychopharmacology 1997; 132: 169–180.

Errico F, Rossi S, Napolitano F, Catuogno V, Topo E, Fisone G, et al. D-aspartate prevents corticostriatal long-term depression and attenuates schizophrenia-like symptoms induced by amphetamine and MK-801. J Neurosci 2008; 28: 10404–10414.

Wood MA, Kaplan MP, Brensinger CM, Guo W, Abel T . Ubiquitin C-terminal hydrolase L3 (Uchl3) is involved in working memory. Hippocampus 2005; 15: 610–621.

Maze I, Noh KM, Allis CD . Histone regulation in the CNS: basic principles of epigenetic plasticity. Neuropsychopharmacology 2013; 38: 3–22.

Akbarian S, Huang HS . Epigenetic regulation in human brain—focus on histone lysine methylation. Biol Psychiatry 2009; 65: 198–203.

Russo SJ, Nestler EJ . The brain reward circuitry in mood disorders. Nat Rev Neurosci 2013; 14: 609–625.

Barski A, Cuddapah S, Cui K, Roh TY, Schones DE, Wang Z, et al. High-resolution profiling of histone methylations in the human genome. Cell 2007; 129: 823–837.

Fodor BD, Kubicek S, Yonezawa M, O'Sullivan RJ, Sengupta R, Perez-Burgos L, et al. Jmjd2b antagonizes H3K9 trimethylation at pericentric heterochromatin in mammalian cells. Genes Dev 2006; 20: 1557–1562.

Rojas P, Joodmardi E, Hong Y, Perlmann T, Ogren SO . Adult mice with reduced Nurr1 expression: an animal model for schizophrenia. Mol Psychiatry 2007; 12: 756–766.

Emamian ES, Hall D, Birnbaum MJ, Karayiorgou M, Gogos JA . Convergent evidence for impaired AKT1-GSK3beta signaling in schizophrenia. Nat Genet 2004; 36: 131–137.

Arguello PA, Gogos JA . Modeling madness in mice: one piece at a time. Neuron 2006; 52: 179–196.

Jones CA, Watson DJ, Fone KC . Animal models of schizophrenia. Br J Pharmacol 2011; 164: 1162–1194.

Seeman P . All roads to schizophrenia lead to dopamine supersensitivity and elevated dopamine D2(high) receptors. CNS Neurosci Ther 2011; 17: 118–132.

Yoon T, Okada J, Jung MW, Kim JJ . Prefrontal cortex and hippocampus subserve different components of working memory in rats. Learn Mem 2008; 15: 97–105.

Papaleo F, Yang F, Garcia S, Chen J, Lu B, Crawley JN, et al. Dysbindin-1 modulates prefrontal cortical activity and schizophrenia-like behaviors via dopamine/D2 pathways. Mol Psychiatry 2012; 17: 85–98.

Goto Y, Grace AA . The dopamine system and the pathophysiology of schizophrenia: a basic science perspective. Int Rev Neurobiol 2007; 78: 41–68.

Whetstine JR, Nottke A, Lan F, Huarte M, Smolikov S, Chen Z, et al. Reversal of histone lysine trimethylation by the JMJD2 family of histone demethylases. Cell 2006; 125: 467–481.
Acknowledgements
We thank Drs F Torri and C De Mei for assistance and interest in the initial phase of this study; Dr P Sassone-Corsi for critical discussions and reading of the manuscript. This work was supported by NIH Grant DA024689 and INSERM-44790 (to EB).
Ethics declarations
Competing interests
The authors declare no conflict of interest.
Supplementary information
About this article
Cite this article
Brami-Cherrier, K., Anzalone, A., Ramos, M. et al. Epigenetic reprogramming of cortical neurons through alteration of dopaminergic circuits. Mol Psychiatry 19, 1193–1200 (2014). https://doi.org/10.1038/mp.2014.67
Received:

Revised:

Accepted:

Published:

Issue Date:

DOI: https://doi.org/10.1038/mp.2014.67
This article is cited by
Gabor Egervari
Alexey Kozlenkov
Yasmin L. Hurd

Molecular Psychiatry (2019)

Adeline Etiévant
Stella Manta
Jean-Martin Beaulieu

Scientific Reports (2015)