Abstract
The vasopressin 1b receptor (Avpr1b) is critical for social memory and social aggression in rodents, yet little is known about its specific roles in these behaviors. Some clues to Avpr1b function can be gained from its profile of expression in the brain, which is largely limited to the pyramidal neurons of the CA2 region of the hippocampus, and from experiments showing that inactivation of the gene or antagonism of the receptor leads to a reduction in social aggression. Here we show that partial replacement of the Avpr1b through lentiviral delivery into the dorsal CA2 region restored the probability of socially motivated attack behavior in total Avpr1b knockout mice, without altering anxiety-like behaviors. To further explore the role of the Avpr1b in this hippocampal region, we examined the effects of Avpr1b agonists on pyramidal neurons in mouse and rat hippocampal slices. We found that selective Avpr1b agonists induced significant potentiation of excitatory synaptic responses in CA2, but not in CA1 or in slices from Avpr1b knockout mice. In a way that is mechanistically very similar to synaptic potentiation induced by oxytocin, Avpr1b agonist-induced potentiation of CA2 synapses relies on NMDA (N-methyl-D-aspartic acid) receptor activation, calcium and calcium/calmodulin-dependent protein kinase II activity, but not on cAMP-dependent protein kinase activity or presynaptic mechanisms. Our data indicate that the hippocampal CA2 is important for attacking in response to a male intruder and that the Avpr1b, likely through its role in regulating CA2 synaptic plasticity, is a necessary mediator.
Relevant articles
Open Access articles citing this article.
Nicholas M. Grebe

,

Annika Sharma

…

Christine M. Drea

Scientific Reports Open Access 12 February 2021

Katharine E. McCann

,

Daniel J. Lustberg

…

Serena M. Dudek

Molecular Psychiatry Open Access 19 November 2019

Torcato Meira

,

Felix Leroy

…

Steven A. Siegelbaum

Nature Communications Open Access 09 October 2018
Access options
Subscribe to Journal
Get full journal access for 1 year
$119.00
only $9.92 per issue
All prices are NET prices.
VAT will be added later in the checkout.
Tax calculation will be finalised during checkout.
Buy article
Get time limited or full article access on ReadCube.
$32.00
All prices are NET prices.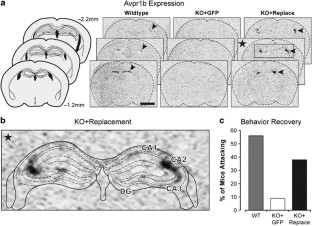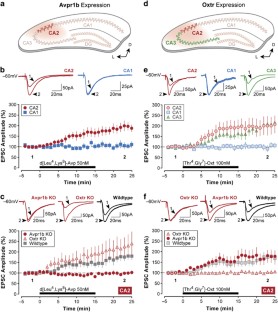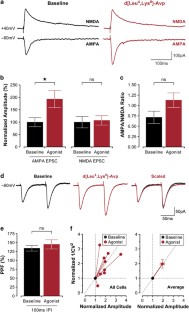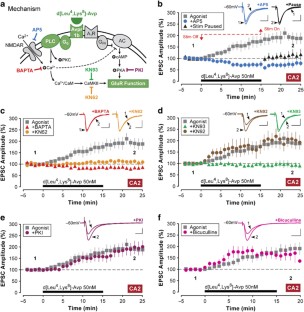 Accession codes
Accessions
GenBank/EMBL/DDBJ
References
Bosch OJ . Maternal aggression in rodents: brain oxytocin and vasopressin mediate pup defence. Philos Trans R Soc Lond B Biol Sci 2013; 368: 20130085.

Takahashi A, Miczek KA . Neurogenetics of aggressive behavior: studies in rodents. Curr Top Behav Neurosci advance online publication, 7 December 2013 (e-pub ahead of print).

Meyer-Lindenberg A, Domes G, Kirsch P, Heinrichs M . Oxytocin and vasopressin in the human brain: social neuropeptides for translational medicine. Nat Rev Neurosci 2011; 12: 524–538.

Loup F, Tribollet E, Dubois-Dauphin M, Pizzolato G, Dreifuss JJ . Localization of oxytocin binding sites in the human brainstem and upper spinal cord: an autoradiographic study. Brain Res 1989; 500: 223–230.

Loup F, Tribollet E, Dubois-Dauphin M, Dreifuss JJ . Localization of high-affinity binding sites for oxytocin and vasopressin in the human brain. An autoradiographic study. Brain Res 1991; 555: 220–232.

Ostrowski NL, Lolait SJ, Young WS 3rd . Cellular localization of vasopressin V1a receptor messenger ribonucleic acid in adult male rat brain, pineal, and brain vasculature. Endocrinology 1994; 135: 1511–1528.

Young WS, Li J, Wersinger SR, Palkovits M . The vasopressin 1b receptor is prominent in the hippocampal area CA2 where it is unaffected by restraint stress or adrenalectomy. Neuroscience 2006; 143: 1031–1039.

Caldwell HK, Lee HJ, Macbeth AH, Young WS 3rd . Vasopressin: behavioral roles of an 'original' neuropeptide. Prog Neurobiol 2008; 84: 1–24.

Wersinger SR, Ginns EI, O'Carroll AM, Lolait SJ, Young WS 3rd . Vasopressin V1b receptor knockout reduces aggressive behavior in male mice. Mol Psychiatry 2002; 7: 975–984.

Lorente de Nó R . Studies on the structure of the cerebral cortex. II. Continuation of the study of the ammonic system. J Psychol Neurol (Leipzig) 1934; 46: 113–177.

Jones MW, McHugh TJ . Updating hippocampal representations: CA2 joins the circuit. Trends Neurosci 2011; 34: 526–535.

Piskorowski RA, Chevaleyre V . Synaptic integration by different dendritic compartments of hippocampal CA1 and CA2 pyramidal neurons. Cell Mol Life Sci 2012; 69: 75–88.

Dam AM . Epilepsy and neuron loss in the hippocampus. Epilepsia 1980; 21: 617–629.

Williamson A, Spencer DD . Electrophysiological characterization of CA2 pyramidal cells from epileptic humans. Hippocampus 1994; 4: 226–237.

Honkaniemi J, Sharp FR . Prolonged expression of zinc finger immediate-early gene mRNAs and decreased protein synthesis following kainic acid induced seizures. Eur J Neurosci 1999; 11: 10–17.

Sperk G . Kainic acid seizures in the rat. Prog Neurobiol 1994; 42: 1–32.

Brierley JB Graham DI . Hypoxia and vascular disorders of the central nervous system. Greenfield's Neuropathology. 4th edn. John Wiley & Sons: New York, NY, USA, 1984, p 137.

Meldrum BS Corsellis JAN . Epilepsy. Greenfield's Neuropathology. 4th edn. John Wiley & Sons: New York, NY, USA, 1984, pp 928–929.

Benes FM, Kwok EW, Vincent SL, Todtenkopf MS . A reduction of nonpyramidal cells in sector CA2 of schizophrenics and manic depressives. Biol Psychiatry 1998; 44: 88–97.

Benes FM, Sorensen I, Bird ED . Reduced neuronal size in posterior hippocampus of schizophrenic patients. Schizophr Bull 1991; 17: 597–608.

Lein E, Zhao X, Gage F . Defining a molecular atlas of the hippocampus using DNA microarrays and high-throughput in situ hybridization. J Neurosci 2004; 24: 3879–3889.

Lein E, Callaway E, Albright T, Gage F . Redefining the boundaries of the hippocampal CA2 subfield in the mouse using gene expression and 3-dimensional reconstruction. J Comp Neurol 2005; 485: 1–10.

Zhao M, Choi YS, Obrietan K, Dudek SM . Synaptic plasticity (and the lack thereof) in hippocampal CA2 neurons. J Neurosci 2007; 27: 12025–12032.

Simons SB, Escobedo Y, Yasuda R, Dudek SM . Regional differences in hippocampal calcium handling provide a cellular mechanism for limiting plasticity. Proc Natl Acad Sci USA 2009; 106: 14080–14084.

Lee SE, Simons SB, Heldt SA, Zhao M, Schroeder JP, Vellano CP et al. RGS14 is a natural suppressor of both synaptic plasticity in CA2 neurons and hippocampal-based learning and memory. Proc Natl Acad Sci USA 2010; 107: 16994–16998.

Wersinger SR, Temple JL, Caldwell HK, Young WS 3rd . Inactivation of the oxytocin and the vasopressin (Avp) 1b receptor genes, but not the Avp 1a receptor gene, differentially impairs the Bruce effect in laboratory mice (Mus musculus). Endocrinology 2008; 149: 116–121.

Hitti FL, Siegelbaum SA . The hippocampal CA2 region is essential for social memory. Nature 2014; 508: 88–92.

Wersinger SR, Caldwell HK, Christiansen M, Young WS 3rd . Disruption of the vasopressin 1b receptor gene impairs the attack component of aggressive behavior in mice. Genes Brain Behav 2007; 6: 653–660.

Neumann ID, Veenema AH, Beiderbeck DI . Aggression and anxiety: social context and neurobiological links. Front Behav Neurosci 2010; 4: 12.

Blanchard RJ, Griebel G, Farrokhi C, Markham C, Yang M, Blanchard DC . AVP V1b selective antagonist SSR149415 blocks aggressive behaviors in hamsters. Pharmacol Biochem Behav 2005; 80: 189–194.

Serradeil-Le Gal C, Wagnon J, Tonnerre B, Roux R, Garcia G, Griebel G et al. An overview of SSR149415, a selective nonpeptide vasopressin V(1b) receptor antagonist for the treatment of stress-related disorders. CNS Drug Rev 2005; 11: 53–68.

Lee HJ, Caldwell HK, Macbeth AH, Tolu SG, Young WS 3rd . A conditional knockout mouse line of the oxytocin receptor. Endocrinology 2008; 149: 3256–3263.

Dull T, Zufferey R, Kelly M, Mandel R, Nguyen M, Trono D et al. A third-generation lentivirus vector with a conditional packaging system. J Virol 1998; 72: 8463–8471.

Caldwell HK, Stewart J, Wiedholz LM, Millstein RA, Iacangelo A, Holmes A et al. The acute intoxicating effects of ethanol are not dependent on the vasopressin 1a or 1b receptors. Neuropeptides 2006; 40: 325–337.

Wersinger SR, Caldwell HK, Martinez L, Gold P, Hu SB, Young WS 3rd . Vasopressin 1a receptor knockout mice have a subtle olfactory deficit but normal aggression. Genes Brain Behav 2007; 6: 540–551.

Simons SB, Caruana DA, Zhao M, Dudek SM . Caffeine-induced synaptic potentiation in hippocampal CA2 neurons. Nat Neurosci 2012; 15: 23–25.

Tomizawa K, Iga N, Lu YF, Moriwaki A, Matsushita M, Li ST et al. Oxytocin improves long-lasting spatial memory during motherhood through MAP kinase cascade. Nat Neurosci 2003; 6: 384–390.

Pagani JH, Lee HJ, Young WS 3rd . Postweaning, forebrain-specific perturbation of the oxytocin system impairs fear conditioning. Genes Brain Behav 2011; 10: 710–719.

Zingg HH . Vasopressin and oxytocin receptors. Baillieres Clin Endocrinol Metab 1996; 10: 75–96.

Bard P, Mountcastle VB . Some forebrain mechanisms involved in expression of rage with special reference to suppression of angry behavior. Res Publ Assoc Res Nerv Ment Dis 1948; 27: 362–404.

Siegel A, Flynn JP . Differential effects of electrical stimulation and lesions of the hippocampus and adjacent regions upon attack behavior in cats. Brain Res 1968; 7: 252–267.

Watson RE Jr, Edinger HM, Siegel A . An analysis of the mechanisms underlying hippocampal control of hypothalamically-elicited aggression in the cat. Brain Res 1983; 269: 327–345.

Psatta DM . Emotional and other effects of hypothalamic stimulation oppositely modified by dorsal and ventral hippocampus lesions. Neurol Psychiatr (Bucur) 1979; 17: 121–131.

Kolb B, Nonneman AJ . Frontolimbic lesions and social behavior in the rat. Physiol Behav 1974; 13: 637–643.

Eichelman BS Jr . Effect of subcortical lesions on shock-induced aggression in the rat. J Comp Physiol Psychol 1971; 74: 331–339.

Ely D, Greene EG, Henry JP . Minicomputer monitored social behavior of mice with hippocampus lesions. Behav Biol 1976; 16: 1–29.

Zetzsche T, Preuss UW, Frodl T, Schmitt G, Seifert D, Munchhausen E et al. Hippocampal volume reduction and history of aggressive behaviour in patients with borderline personality disorder. Psychiatry Res 2007; 154: 157–170.

Sala M, Caverzasi E, Lazzaretti M, Morandotti N, De Vidovich G, Marraffini E et al. Dorsolateral prefrontal cortex and hippocampus sustain impulsivity and aggressiveness in borderline personality disorder. J Affect Disord 2011; 131: 417–421.

Lai MK, Chen CP, Hope T, Esiri MM . Hippocampal neurofibrillary tangle changes and aggressive behaviour in dementia. Neuroreport 2010; 21: 1111–1115.

Pagani JH, Wersinger SR, Young WS 3rd . The Roles of vasopressin and oxytocin in aggression. In: Choleris E, Pfaff DW, Kavaliers M (eds). Oxytocin, Vasopressin and Related Peptides in the Regulation of Behavior. Cambridge University Press: Cambridge, UK, 2012.

Ferris CF, Potegal M . Vasopressin receptor blockade in the anterior hypothalamus suppresses aggression in hamsters. Physiol Behav 1988; 44: 235–239.

Tribollet E, Barberis C, Dubois-Dauphin M, Dreifuss JJ . Localization and characterization of binding sites for vasopressin and oxytocin in the brain of the guinea pig. Brain Res 1992; 589: 15–23.

Kremarik P, Freund-Mercier MJ, Stoeckel ME . Histoautoradiographic detection of oxytocin- and vasopressin-binding sites in the telencephalon of the rat. J Comp Neurol 1993; 333: 343–359.

Johnson AE, Audigier S, Rossi F, Jard S, Tribollet E, Barberis C . Localization and characterization of vasopressin binding sites in the rat brain using an iodinated linear AVP antagonist. Brain Res 1993; 622: 9–16.

Insel TR, Wang ZX, Ferris CF . Patterns of brain vasopressin receptor distribution associated with social organization in microtine rodents. J Neurosci 1994; 14: 5381–5392.

Insel TR, Gelhard R, Shapiro LE . The comparative distribution of forebrain receptors for neurohypophyseal peptides in monogamous and polygamous mice. Neuroscience 1991; 43: 623–630.

Griebel G, Simiand J, Stemmelin J, Gal CS, Steinberg R . The vasopressin V1b receptor as a therapeutic target in stress-related disorders. Curr Drug Targets CNS Neurol Disord 2003; 2: 191–200.

Hodgson RA, Higgins GA, Guthrie DH, Lu SX, Pond AJ, Mullins DE et al. Comparison of the V1b antagonist, SSR149415, and the CRF1 antagonist, CP-154,526, in rodent models of anxiety and depression. Pharmacol Biochem Behav 2007; 86: 431–440.

Amikishieva AV, Ilnitskaya SI, Nikolin VP, Popova NA . Effect of vasopressin V1b receptor antagonist, SSR149415, on anxiety-like behavior and Lewis lung carcinoma metastasis in mice. Exp Oncol 2011; 33: 126–129.

Shimazaki T, Iijima M, Chaki S . The pituitary mediates the anxiolytic-like effects of the vasopressin V1B receptor antagonist, SSR149415, in a social interaction test in rats. Eur J Pharmacol 2006; 543: 63–67.

Nehrenberg DL, Rodriguiz RM, Cyr M, Zhang X, Lauder JM, Gariepy JL et al. An anxiety-like phenotype in mice selectively bred for aggression. Behav Brain Res 2009; 201: 179–191.

Landgraf R, Neumann I, Pittman QJ . Septal and hippocampal release of vasopressin and oxytocin during late pregnancy and parturition in the rat. Neuroendocrinology 1991; 54: 378–383.

Albeck D, Bullock N, Marrs K, Cooper R, Smock T, De Vries GJ . Antidromic activation of a peptidergic pathway in the limbic system of the male rat. Brain Res 1993; 606: 171–174.

Cui Z, Gerfen CR, Young WS 3rd . Hypothalamic and other connections with the dorsal CA2 area of the mouse hippocampus. J Comp Neurol 2013; 521: 1844–1866.

Zhang L, Hernandez VS . Synaptic innervation to rat hippocampus by vasopressin-immuno-positive fibres from the hypothalamic supraoptic and paraventricular nuclei. Neuroscience 2013; 228: 139–162.

Hazell GG, Hindmarch CC, Pope GR, Roper JA, Lightman SL, Murphy D et al. G protein-coupled receptors in the hypothalamic paraventricular and supraoptic nuclei—serpentine gateways to neuroendocrine homeostasis. Front Neuroendocrinol 2012; 33: 45–66.

Antoni F, Holmes M, Makara G, Karteszi M, Laszlo F . Evidence that the effects of arginine-8-vasopressin (AVP) on pituitary corticotropin (ACTH) release are mediated by a novel type of receptor. Peptides 1984; 5: 519–522.

Zai CC, Muir KE, Nowrouzi B, Shaikh SA, Choi E, Berall L et al. Possible genetic association between vasopressin receptor 1B and child aggression. Psychiatry Res 2012; 200: 784–788.

Chakrabarti B, Dudbridge F, Kent L, Wheelwright S, Hill-Cawthorne G, Allison C et al. Genes related to sex steroids, neural growth, and social-emotional behavior are associated with autistic traits, empathy, and Asperger syndrome. Autism Res 2009; 2: 157–177.

van West D, Del-Favero J, Aulchenko Y, Oswald P, Souery D, Forsgren T et al. A major SNP haplotype of the arginine vasopressin 1B receptor protects against recurrent major depression. Mol Psychiatry 2004; 9: 287–292.

Mizuno Y, Oomura Y, Hori N, Carpenter DO . Action of vasopressin on CA1 pyramidal neurons in rat hippocampal slices. Brain Res 1984; 309: 241–246.

Albeck D, Smock T, McMechen P, Purves D, Floyd L . Peptidergic transmission in the brain. I. Vasopressin-like signal in the hippocampus. Brain Res 1990; 511: 7–14.

Chen C, Diaz Brinton RD, Shors TJ, Thompson RF . Vasopressin induction of long-lasting potentiation of synaptic transmission in the dentate gyrus. Hippocampus 1993; 3: 193–203.

Sakurai E, Maeda T, Kaneko S, Akaike A, Satoh M . Inhibition by [Arg8]-vasopressin of long term potentiation in guinea pig hippocampal slice. Jpn J Pharmacol 1998; 77: 103–105.

Chepkova AN, French P, De Wied D, Ontskul AH, Ramakers GM, Skrebitski VG et al. Long-lasting enhancement of synaptic excitability of CA1/subiculum neurons of the rat ventral hippocampus by vasopressin and vasopressin(4-8). Brain Res 1995; 701: 255–266.

Urban IJ . Effects of vasopressin and related peptides on neurons of the rat lateral septum and ventral hippocampus. Prog Brain Res 1998; 119: 285–310.

Chafai M, Corbani M, Guillon G, Desarmenien MG . Vasopressin inhibits LTP in the CA2 mouse hippocampal area. PLoS One 2012; 7: e49708.

Lynch G, Larson J, Kelso S, Barrionuevo G, Schottler F . Intracellular injections of EGTA block induction of hippocampal long-term potentiation. Nature 1983; 305: 719–721.

Wersinger SR, Kelliher KR, Zufall F, Lolait SJ, O'Carroll AM, Young WS 3rd . Social motivation is reduced in vasopressin 1b receptor null mice despite normal performance in an olfactory discrimination task. Horm Behav 2004; 46: 638–645.

Save E, Nerad L, Poucet B . Contribution of multiple sensory information to place field stability in hippocampal place cells. Hippocampus 2000; 10: 64–76.

Zhang S, Manahan-Vaughan D . Spatial Olfactory Learning Contributes to Place Field Formation in the Hippocampus. Cereb Cortex 2013 (e-pub ahead of print).

Franklin KBJ Paxinos G . The Mouse Brain in Stereotaxic Coordinates. 3rd edn. Academic Press: San Diego, CA, USA, 2007.
Acknowledgements
We would like to thank Emily Shepard and June Song for their technical assistance as well as the NIMH Animal Program and NIEHS Comparative Medicine Branch. This research was supported by the Intramural Research Program of the National Institutes of Health, National Institute of Mental Health (Z01-MH-002498-24) and National Institute of Environmental Health Sciences (Z01-ES-100221).
Ethics declarations
Competing interests
The authors declare no conflict of interest.
Supplementary information
About this article
Cite this article
Pagani, J., Zhao, M., Cui, Z. et al. Role of the vasopressin 1b receptor in rodent aggressive behavior and synaptic plasticity in hippocampal area CA2. Mol Psychiatry 20, 490–499 (2015). https://doi.org/10.1038/mp.2014.47
Received:

Revised:

Accepted:

Published:

Issue Date:

DOI: https://doi.org/10.1038/mp.2014.47