Abstract
Ankyrin-G is a scaffolding protein required for the formation of the axon initial segment in neurons. Recent genome-wide association studies and whole-exome sequencing have identified ANK3, the gene coding for ankyrin-G, to be a risk gene for multiple neuropsychiatric disorders, such as bipolar disorder, schizophrenia and autism spectrum disorder. Here, we describe a novel role for ankyrin-G in neural progenitor proliferation in the developing cortex. We found that ankyrin-G regulates canonical Wnt signaling by altering the subcellular localization and availability of β-catenin in proliferating cells. Ankyrin-G loss-of-function increases β-catenin levels in the nucleus, thereby promoting neural progenitor proliferation. Importantly, abnormalities in proliferation can be rescued by reducing Wnt pathway signaling. Taken together, these results suggest that ankyrin-G is required for proper brain development.
Relevant articles
Open Access articles citing this article.
Santosh Kumar

,

Kurt Reynolds

…

Chengji J. Zhou

Journal of Neurodevelopmental Disorders Open Access 15 June 2019

Paige E. Herman

,

Angelos Papatheodorou

…

Ona Bloom

Scientific Reports Open Access 15 January 2018
Access options
Subscribe to this journal
Receive 12 print issues and online access
$259.00 per year
only $21.58 per issue
Rent or buy this article
Get just this article for as long as you need it
$39.95
Prices may be subject to local taxes which are calculated during checkout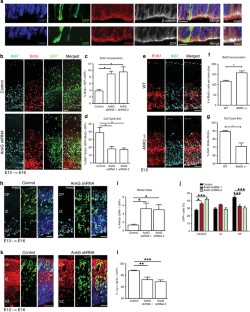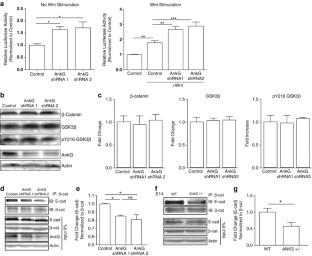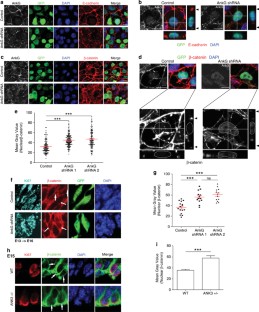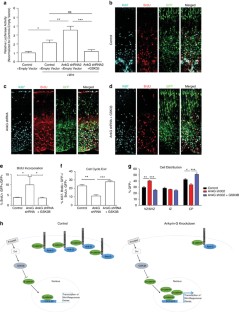 References
International Schizophrenia Consortium. Rare chromosomal deletions and duplications increase risk of schizophrenia. Nature 2008; 455: 237–241.

Walsh T, McClellan JM, McCarthy SE, Addington AM, Pierce SB, Cooper GM et al. Rare structural variants disrupt multiple genes in neurodevelopmental pathways in schizophrenia. Science 2008; 320: 539–543.

Wellcome Trust Case Control Consortium. Genome-wide association study of 14 000 cases of seven common diseases and 3000 shared controls. Nature 2007; 447: 661–678.

Baum AE, Akula N, Cabanero M, Cardona I, Corona W, Klemens B et al. A genome-wide association study implicates diacylglycerol kinase eta (DGKH) and several other genes in the etiology of bipolar disorder. Mol Psychiatry 2007; 13: 197–207.

Sklar P, Smoller JW, Fan J, Ferreira MA, Perlis RH, Chambert K et al. Whole-genome association study of bipolar disorder. Mol Psychiatry 2008; 13: 558–569.

Ferreira MA, O'Donovan MC, Meng YA, Jones IR, Ruderfer DM, Jones L et al. Collaborative genome-wide association analysis supports a role for ANK3 and CACNA1C in bipolar disorder. Nat Genet 2008; 40: 1056–1058.

Smith EN, Bloss CS, Badner JA, Barrett T, Belmonte PL, Berrettini W et al. Genome-wide association study of bipolar disorder in European American and African American individuals. Mol Psychiatry 2009; 14: 755–763.

Pandey A, Davis NA, White BC, Pajewski NM, Savitz J, Drevets WC et al. Epistasis network centrality analysis yields pathway replication across two GWAS cohorts for bipolar disorder. Transl Psychiatry 2012; 2: e154.

Hatzimanolis A, Smyrnis N, Avramopoulos D, Stefanis CN, Evdokimidis I, Stefanis NC . Bipolar disorder ANK3 risk variant effect on sustained attention is replicated in a large healthy population. Psychiatr Genet 2012; 22: 210–213.

Linke J, Witt SH, King AV, Nieratschker V, Poupon C, Gass A et al. Genome-wide supported risk variant for bipolar disorder alters anatomical connectivity in the human brain. NeuroImage 2012; 59: 3288–3296.

Roussos P, Katsel P, Davis KL, Bitsios P, Giakoumaki SG, Jogia J et al. MOlecular and genetic evidence for abnormalities in the nodes of ranvier in schizophrenia. Arch Gen Psychiatry 2012; 69: 7–15.

Bi C, Wu J, Jiang T, Liu Q, Cai W, Yu P et al. Mutations of ANK3 identified by exome sequencing are associated with autism susceptibility. Hum Mutat 2012; 33: 1635–1638.

Iqbal Z, Vandeweyer G, van der Voet M, Waryah AM, Zahoor MY, Besseling JA et al. Homozygous and heterozygous disruptions of ANK3: at the crossroads of neurodevelopmental and psychiatric disorders. Hum Mol Genet 2013; 22: 1960–1970.

Shi L, Zhang X, Golhar R, Otieno FG, He M, Hou C et al. Whole-genome sequencing in an autism multiplex family. Mol Autism 2013; 4: 8.

Kordeli E, Lambert S, Bennett V . Ankyrin. J Biol Chem 1995; 270: 2352–2359.

Grubb MS, Burrone J . Building and maintaining the axon initial segment. Curr Opin Neurobiol 2010; 20: 481–488.

Hedstrom KL, Ogawa Y, Rasband MN . AnkyrinG is req uired for maintenance of the axon initial segment and neuronal polarity. J Cell Biol 2008; 183: 635–640.

Sobotzik JM, Sie JM, Politi C, Del Turco D, Bennett V, Deller T et al. AnkyrinG is required to maintain axo-dendritic polarity in vivo. Proc Natl Acad Sci USA 2009; 106: 17564–17569.

Kizhatil K, Davis JQ, Davis L, Hoffman J, Hogan BL, Bennett V . Ankyrin-G is a molecular partner of E-cadherin in epithelial cells and early embryos. J Biol Chem 2007; 282: 26552–26561.

Chenn A, Walsh CA . Regulation of cerebral cortical size by control of cell cycle exit in neural precursors. Science 2002; 297: 365–369.

Woodhead GJ, Mutch CA, Olson EC, Chenn A . Cell-autonomous beta-catenin signaling regulates cortical precursor proliferation. J Neurosci 2006; 26: 12620–12630.

Zhou C-J, Zhao C, Pleasure SJ . Wnt signaling mutants have decreased dentate granule cell production and radial glial scaffolding abnormalities. J Neurosci 2004; 24: 121–126.

Kim WY, Wang X, Wu Y, Doble BW, Patel S, Woodgett JR et al. GSK-3 is a master regulator of neural progenitor homeostasis. Nat Neurosci 2009; 12: 1390–1397.

O'Roak BJ, Vives L, Girirajan S, Karakoc E, Krumm N, Coe BP et al. Sporadic autism exomes reveal a highly interconnected protein network of de novo mutations. Nature 2012; 485: 246–250.

Talkowski ME, Rosenfeld JA, Blumenthal I, Pillalamarri V, Chiang C, Heilbut A et al. Sequencing chromosomal abnormalities reveals neurodevelopmental loci that confer risk across diagnostic boundaries. Cell 2012; 149: 525–537.

Mao Y, Ge X, Frank CL, Madison JM, Koehler AN, Doud MK et al. Disrupted in schizophrenia 1 regulates neuronal progenitor proliferation via modulation of GSK3beta/beta-catenin signaling. Cell 2009; 136: 1017–1031.

Duan X, Chang JH, Ge S, Faulkner RL, Kim JY, Kitabatake Y et al. Disrupted-in-schizophrenia 1 regulates integration of newly generated neurons in the adult brain. Cell 2007; 130: 1146–1158.

Singh KK, Ge X, Mao Y, Drane L, Meletis K, Samuels BA et al. Dixdc1 is a critical regulator of DISC1 and embryonic cortical development. Neuron 2010; 67: 33–48.

Wexler EM, Geschwind DH . DISC1: A Schizophrenia Gene with Multiple Personalities. Neuron 2011; 72: 501–503.

Buchman JJ, Durak O, Tsai LH . ASPM regulates Wnt signaling pathway activity in the developing brain. Genes Dev 2011; 25: 1909–1914.

Nelson WJ, Nusse R . Convergence of Wnt, beta-catenin, and cadherin pathways. Science 2004; 303: 1483–1487.

Heuberger J, Birchmeier W . Interplay of cadherin-mediated cell adhesion and canonical Wnt signaling. Cold Spring Harbor Perspect Biol 2010; 2: a002915.

Yu X, Malenka RC . [Beta]-catenin is critical for dendritic morphogenesis. Nat Neurosci 2003; 6: 1169–1177.

Noles SR, Chenn A . Cadherin inhibition of beta-catenin signaling regulates the proliferation and differentiation of neural precursor cells. Mol Cell Neurosci 2007; 35: 549–558.

Leussis MP, Berry-Scott EM, Saito M, Jhuang H, de Haan G, Alkan O et al. The ANK3 bipolar disorder gene regulates psychiatric-related behaviors that are modulated by lithium and stress. Biol Psychiatry 2013; 73: 683–690.

Zhou D, Lambert S, Malen PL, Carpenter S, Boland LM, Bennett V . AnkyrinG is required for clustering of voltage-gated Na channels at axon initial segments and for normal action potential firing. J Cell Biol 1998; 143: 1295–1304.

Xie Z, Moy LY, Sanada K, Zhou Y, Buchman JJ, Tsai LH . Cep120 and TACCs control interkinetic nuclear migration and the neural progenitor pool. Neuron 2007; 56: 79–93.

Dehay C, Kennedy H . Cell-cycle control and cortical development. Nat Rev Neurosci 2007; 8: 438–450.

Bultje RS, Castaneda-Castellanos DR, Jan LY, Jan YN, Kriegstein AR, Shi SH . Mammalian Par3 regulates progenitor cell asymmetric division via notch signaling in the developing neocortex. Neuron 2009; 63: 189–202.

Molenaar M, van de Wetering M, Oosterwegel M, Peterson-Maduro J, Godsave S, Korinek V et al. XTcf-3 transcription factor mediates β-catenin-induced axis formation in Xenopus embryos. Cell 1996; 86: 391–399.

van de Wetering M, Cavallo R, Dooijes D, van Beest M, van Es J, Loureiro J et al. Armadillo coactivates transcription driven by the product of the Drosophila segment polarity gene dTCF. Cell 1997; 88: 789–799.

Orsulic S, Huber O, Aberle H, Arnold S, Kemler R . E-cadherin binding prevents beta-catenin nuclear localization and beta-catenin/LEF-1-mediated transactivation. J Cell Sci 1999; 112: 1237–1245.

Aberle H, Bauer A, Stappert J, Kispert A, Kemler R . [Beta]-catenin is a target for the ubiquitin–proteasome pathway. EMBO J 1997; 16: 3797–3804.

Hart M, Concordet JP, Lassot I, Albert I, del los Santos R, Durand H et al. The F-box protein β-TrCP associates with phosphorylated β-catenin and regulates its activity in the cell. Curr Biol 1999; 9: 207–211.

Fatemi SH, Folsom TD . The neurodevelopmental hypothesis of schizophrenia, revisited. Schizophr Bull 2009; 35: 528–548.

Insel TR . Rethinking schizophrenia. Nature 2010; 468: 187–193.

Paez-Gonzalez P, Abdi K, Luciano D, Liu Y, Soriano-Navarro M, Rawlins E et al. Ank3-dependent SVZ niche assembly is required for the continued production of new neurons. Neuron 2011; 71: 61–75.

Gould TD, Manji HK . The Wnt signaling pathway in bipolar disorder. Neuroscientist 2002; 8: 497–511.
Acknowledgements
We thank Drs A Mungenast, Y Mao, A Bero and J Gräff for critical reading of the manuscript. We are thankful to Y Mao, D Rei, T Soda, P Giusti and J Gräff for technical help and suggestions with the project. Super8XTOPFLASH luciferase reporter construct was a kind gift from Dr Randall Moon (University of Washington). We also thank ME Taylor and AS Gomes for their help with production of Ank3 mice. OD is a Henry Singleton (1940) Fellow (Brain and Cognitive Sciences, Massachusetts Institute of Technology). FCdA was supported by a postdoctoral fellowship from the Simons Foundation (Simons Center for the Social Brain, Massachusetts Institute of Technology). This work was partially supported by an NIH RO1 Grant (MH091115) to L-HT, a grant from the Stanley Medical Research Institute to L-HT and TLP, and the Howard Hughes Medical Institute.
Ethics declarations
Competing interests
The authors declare no conflict of interest.
Supplementary information
About this article
Cite this article
Durak, O., de Anda, F., Singh, K. et al. Ankyrin-G regulates neurogenesis and Wnt signaling by altering the subcellular localization of β-catenin. Mol Psychiatry 20, 388–397 (2015). https://doi.org/10.1038/mp.2014.42
Received:

Revised:

Accepted:

Published:

Issue Date:

DOI: https://doi.org/10.1038/mp.2014.42