Abstract
High ethanol intake is well known to induce both anxiolytic and anxiogenic effects, in correlation with chromatin remodeling in the amygdaloid brain region and deficits in cell proliferation and survival in the hippocampus of rodents. Whether only moderate but chronic ethanol intake in C57BL/6J mice could also have an impact on chromatin remodeling and neuroplasticity was addressed here. Chronic ethanol consumption in a free choice paradigm was found to induce marked changes in the expression of genes implicated in neural development and histone post-translational modifications in the mouse hippocampus. Transcripts encoding neural bHLH activators and those from Bdnf exons II, III and VI were upregulated, whereas those from Bdnf exon VIII and Hdacs were downregulated by ethanol compared with water consumption. These ethanol-induced changes were associated with enrichment in both acetylated H3 at Bdnf promoter PVI and trimethylated H3 at PII and PIII. Conversely, acetylated H3 at PIII and PVIII and trimethylated H3 at PVIII were decreased in ethanol-exposed mice. In parallel, hippocampal brain-derived neurotrophic factor (BDNF) levels and TrkB-mediated neurogenesis in the dentate gyrus were significantly enhanced by ethanol consumption. These results suggest that, in C57BL/6J mice, chronic and moderate ethanol intake produces marked epigenetic changes underlying BDNF overexpression and downstream hippocampal neurogenesis.
Relevant articles
Open Access articles citing this article.
Jing Liu

,

Fantao Meng

…

Chen Li

Molecular Brain Open Access 12 June 2020

Li Zhou

,

Jing Xiong

…

Xin-Fu Zhou

Translational Psychiatry Open Access 09 March 2018

E Stragier

,

V Martin

…

L Lanfumey

Translational Psychiatry Open Access 15 December 2015
Access options
Subscribe to Journal
Get full journal access for 1 year
$119.00
only $9.92 per issue
All prices are NET prices.
VAT will be added later in the checkout.
Tax calculation will be finalised during checkout.
Buy article
Get time limited or full article access on ReadCube.
$32.00
All prices are NET prices.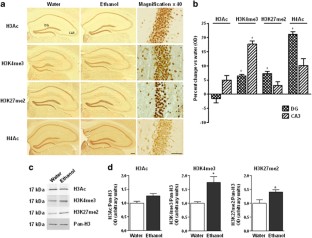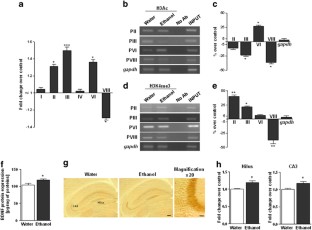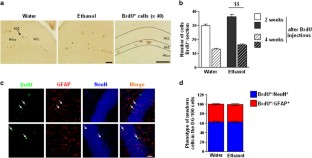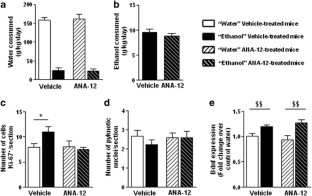 References
Nixon K, Morris SA, Liput DJ, Kelso ML . Roles of neural stem cells and adult neurogenesis in adolescent alcohol use disorders. Alcohol 2010; 44: 39–56.

Brailowsky S, García O . Ethanol, GABA and epilepsy. Arch Med Res 1999; 30: 3–9.

Crews FT, Nixon K . Mechanisms of neurodegeneration and regeneration in alcoholism. Alcohol Alcohol 2009; 44: 115–127.

Lee E, Son H . Adult hippocampal neurogenesis and related neurotrophic factors. BMB Rep 2009; 42: 239–244.

Lee J, Duan W, Mattson MP . Evidence that brain-derived neurotrophic factor is required for basal neurogenesis and mediates, in part, the enhancement of neurogenesis by dietary restriction in the hippocampus of adult mice. J Neurochem 2002; 82: 1367–1375.

Bergami M, Rimondini R, Santi S, Blum R, Gotz M, Canossa M . Deletion of TrkB in adult progenitors alters newborn neuron integration into hippocampal circuits and increases anxiety-like behavior. Proc Natl Acad Sci USA 2008; 105: 15570–15575.

Sairanen M, Lucas G, Ernfors P, Castren M, Castren E . Brain-derived neurotrophic factor and antidepressant drugs have different but coordinated effects on neuronal turnover, proliferation, and survival in the adult dentate gyrus. J Neurosci 2005; 25: 1089–1094.

Covic M, Karaca E, Lie DC . Epigenetic regulation of neurogenesis in the adult hippocampus. Heredity 2010; 105: 122–134.

Bonaguidi MA, Song J, Ming GL, Song H . A unifying hypothesis on mammalian neural stem cell properties in the adult hippocampus. Curr Opin Neurobiol 2012; 22: 754–761.

Juliandi B, Abematsu M, Nakashima K . Epigenetic regulation in neural stem cell differentiation. Dev Growth Differ 2010; 52: 493–504.

Juliandi B, Abematsu M, Nakashima K . Chromatin remodeling in neural stem cell differentiation. Curr Opin Neurobiol 2010; 20: 408–415.

Gonzales ML, LaSalle JM . The role of MeCP2 in brain development and neurodevelopmental disorders. Curr Psychiatry Rep 2010; 12: 127–134.

Akbarian S, Chen RZ, Gribnau J, Rasmussen TP, Fong H, Jaenisch R et al. Expression pattern of the Rett syndrome gene MeCP2 in primate prefrontal cortex. Neurobiol Dis 2001; 8: 784–791.

Shahbazian MD, Antalffy B, Armstrong DL, Zoghbi HY . Insight into Rett syndrome: MeCP2 levels display tissue- and cell-specific differences and correlate with neuronal maturation. Hum Mol Genet 2002; 11: 115–124.

Na ES, Nelson ED, Kavalali ET, Monteggia LM . The impact of MeCP2 loss- or gain-of-function on synaptic plasticity. Neuropsychopharmacology 2013; 38: 212–219.

Pandey SC, Ugale R, Zhang H, Tang L, Prakash A . Brain chromatin remodeling: a novel mechanism of alcoholism. J Neurosci 2008; 28: 3729–3737.

Moonat S, Starkman BG, Sakharkar A, Pandey SC . Neuroscience of alcoholism: molecular and cellular mechanisms. Cell Mol Life Sci 2010; 67: 73–88.

Crews FT, Nixon K . Alcohol, neural stem cells, and adult neurogenesis. Alcohol Res Health 2003; 27: 197–204.

Hansson AC, Nixon K, Rimondini R, Damadzic R, Sommer WH, Eskay R et al. Long-term suppression of forebrain neurogenesis and loss of neuronal progenitor cells following prolonged alcohol dependence in rats. Int J Neuropsychopharmacol 2010; 13: 583–593.

Paizanis E, Kelai S, Renoir T, Hamon M, Lanfumey L . Life-long hippocampal neurogenesis: environmental, pharmacological and neurochemical modulations. Neurochem Res 2007; 32: 1762–1771.

Stevenson JR, Schroeder JP, Nixon K, Besheer J, Crews FT, Hodge CW . Abstinence following alcohol drinking produces depression-like behavior and reduced hippocampal neurogenesis in mice. Neuropsychopharmacology 2009; 34: 1209–1222.

Aberg E, Hofstetter CP, Olson L, Brene S . Moderate ethanol consumption increases hippocampal cell proliferation and neurogenesis in the adult mouse. Int J Neuropsychopharmacol 2005; 8: 557–567.

Kelai S, Renoir T, Chouchana L, Saurini F, Hanoun N, Hamon M et al. Chronic voluntary ethanol intake hypersensitizes 5-HT(1A) autoreceptors in C57BL/6J mice. J Neurochem 2008; 107: 1660–1670.

Molet J, Bouaziz E, Hamon M, Lanfumey L . Early exposure to ethanol differentially affects ethanol preference at adult age in two inbred mouse strains. Neuropharmacology 2012; 63: 338–348.

Cazorla M, Premont J, Mann A, Girard N, Kellendonk C, Rognan D . Identification of a low-molecular weight TrkB antagonist with anxiolytic and antidepressant activity in mice. J Clin Invest 2011; 121: 1846–1857.

Paizanis E, Renoir T, Lelievre V, Saurini F, Melfort M, Gabriel C et al. Behavioural and neuroplastic effects of the new-generation antidepressant agomelatine compared to fluoxetine in glucocorticoid receptor-impaired mice. Int J Neuropsychopharmacol 2010; 13: 759–774.

Kirk RE . Experimental Design: Procedures for the Behavioral Sciences. 2nd edn, Brooks/Cole Publishing Company: Pacific Groove, USA, 1982.

Sakharkar AJ, Zhang H, Tang L, Shi G, Pandey SC . Histone deacetylases (HDAC)-induced histone modifications in the amygdala: a role in rapid tolerance to the anxiolytic effects of ethanol. Alcohol Clin Exp Res 2012; 36: 61–71.

Lee S, Lee SK . Crucial roles of histone-modifying enzymes in mediating neural cell-type specification. Curr Opin Neurobiol 2010; 20: 29–36.

Hsieh J, Nakashima K, Kuwabara T, Mejia E, Gage FH . Histone deacetylase inhibition-mediated neuronal differentiation of multipotent adult neural progenitor cells. Proc Natl Acad Sci USA 2004; 101: 16659–16664.

Kim HJ, Leeds P, Chuang DM . The HDAC inhibitor, sodium butyrate, stimulates neurogenesis in the ischemic brain. J Neurochem 2009; 110: 1226–1240.

Zeng Y, Tan M, Kohyama J, Sneddon M, Watson JB, Sun YE et al. Epigenetic enhancement of BDNF signaling rescues synaptic plasticity in aging. J Neurosci 2011; 31: 17800–17810.

Guan JS, Haggarty SJ, Giacometti E, Dannenberg JH, Joseph N, Gao J et al. HDAC2 negatively regulates memory formation and synaptic plasticity. Nature 2009; 459: 55–60.

Lim DA, Huang YC, Swigut T, Mirick AL, Garcia-Verdugo JM, Wysocka J et al. Chromatin remodelling factor Mll1 is essential for neurogenesis from postnatal neural stem cells. Nature 2009; 458: 529–533.

Wu M, Zhang Y, Wu NH, Shen YF . Histone marks and chromatin remodelers on the regulation of neurogenin1 gene in RA induced neuronal differentiation of P19 cells. J Cell Biochem 2009; 107: 264–271.

Miller MW . Repeated episodic exposure to ethanol affects neurotrophin content in the forebrain of the mature rat. Exp Neurol 2004; 189: 173–181.

Okamoto H, Miki T, Lee KY, Yokoyama T, Kuma H, Gu H et al. Effects of chronic ethanol administration on the expression levels of neurotrophic factors in the rat hippocampus. Okajimas Folia Anat Jpn 2006; 83: 1–6.

Miller R, King MA, Heaton MB, Walker DW . The effects of chronic ethanol consumption on neurotrophins and their receptors in the rat hippocampus and basal forebrain. Brain Res 2002; 950: 137–147.

MacLennan AJ, Lee N, Walker DW . Chronic ethanol administration decreases brain-derived neurotrophic factor gene expression in the rat hippocampus. Neurosci Lett 1995; 197: 105–108.

Hauser SR, Getachew B, Taylor RE, Tizabi Y . Alcohol induced depressive-like behavior is associated with a reduction in hippocampal BDNF. Pharmacol Biochem Behav 2011; 100: 253–258.

Murphy JM, Gatto GJ, Waller MB, McBride WJ, Lumeng L, Li TK . Effects of scheduled access on ethanol intake by the alcohol-preferring (P) line of rats. Alcohol 1986; 3: 331–336.

Crabbe JC, Metten P, Rhodes JS, Yu CH, Brown LL, Phillips TJ et al. A line of mice selected for high blood ethanol concentrations shows drinking in the dark to intoxication. Biol Psychiatry 2009; 65: 662–670.

Sasaki T, Kitagawa K, Yagita Y, Sugiura S, Omura-Matsuoka E, Tanaka S et al. Bcl2 enhances survival of newborn neurons in the normal and ischemic hippocampus. J Neurosci Res 2006; 84: 1187–1196.

Ponomarev I, Wang S, Zhang L, Harris RA, Mayfield RD . Gene coexpression networks in human brain identify epigenetic modifications in alcohol dependence. J Neurosci 2012; 32: 1884–1897.

Boulle F, van den Hove DL, Jakob SB, Rutten BP, Hamon M, van Os J et al. Epigenetic regulation of the BDNF gene: implications for psychiatric disorders. Mol Psychiatry 2012; 17: 584–596.

Krazem A, Marighetto A, Higueret P, Jaffard R . Age-dependent effects of moderate chronic ethanol administration on different forms of memory expression in mice. Behav Brain Res 2003; 147: 17–29.

Krazem A, Mons N, Higueret P, Jaffard R . Chronic ethanol consumption restores the age-related decrease in neurogranin mRNA level in the hippocampus of mice. Neurosci Lett 2003; 338: 62–66.
Acknowledgements
We thank Dr Jean-François Bernard and Anne Gautier for their expert help in image acquisition. This research was supported by grants from the Institut National de la Santé et de la Recherche Médicale (France), MILDT (APE07005DSA), IREB (2010/10 and 2011/15) and ANR (2011-BSV-017-01). E Stragier was recipient of a fellowship from the Ministère de l'Enseignement Supérieur et de la Recherche (France) during performance of this work.
Ethics declarations
Competing interests
The authors declare no conflict of interest.
Supplementary information
About this article
Cite this article
Stragier, E., Massart, R., Salery, M. et al. Ethanol-induced epigenetic regulations at the Bdnf gene in C57BL/6J mice. Mol Psychiatry 20, 405–412 (2015). https://doi.org/10.1038/mp.2014.38
Received:

Revised:

Accepted:

Published:

Issue Date:

DOI: https://doi.org/10.1038/mp.2014.38