Abstract
Many women with schizophrenia remain symptomatic despite optimal use of current therapies. While previous studies suggest that adjunctive oestrogen therapy might be effective, large-scale clinical trials are required before clinical applications are possible. This study is the first large-scale randomized-controlled trial in women with treatment-resistant schizophrenia. This Definitive Oestrogen Patch Trial was an 8-week, three-arm, double-blind, randomized-controlled trial conducted between 2006 and 2011. The 183 female participants were aged between 18 and 45 (mean=35 years), with schizophrenia or schizoaffective disorder and ongoing symptoms of psychosis (Positive and Negative Syndrome Scale, PANSS score>60) despite a stable dose of antipsychotic medication for at least 4 weeks. Mean duration of illness was more than 10 years. Participants received transdermal estradiol 200 μg, transdermal estradiol 100 μg or an identical placebo patch. For the 180 women who completed the study, the a priori outcome measure was the change in PANSS score measured at baseline and days 7, 14, 28 and 56. Cognition was assessed at baseline and day 56 using the Repeatable Battery of Neuropsychological Status. Data were analysed using latent growth curve modelling. Both estradiol groups had greater decreases in PANSS positive, general and total symptoms compared with the placebo group (P<0.01), with a greater effect seen for 200 μg than 100 μg estradiol. The largest effect size was for the positive subscale of PANSS in the estradiol 200 μg treatment group (effect size 0.44, P<0.01). This study shows estradiol is an effective and clinically significant adjunctive therapy for women with treatment-resistant schizophrenia, particularly for positive symptoms.
Relevant articles
Open Access articles citing this article.
Jingqi He

,

Yisen Wei

…

Jinsong Tang

BMC Psychiatry Open Access 27 June 2023

Melissa J. M. Walsh

,

Kathryn Gibson

…

Crystal E. Schiller

Trials Open Access 28 February 2023

Megan Herson

&

Jayashri Kulkarni

Drugs & Aging Open Access 30 July 2022
Access options
Subscribe to this journal
Receive 12 print issues and online access
$259.00 per year
only $21.58 per issue
Rent or buy this article
Prices vary by article type
from$1.95
to$39.95
Prices may be subject to local taxes which are calculated during checkout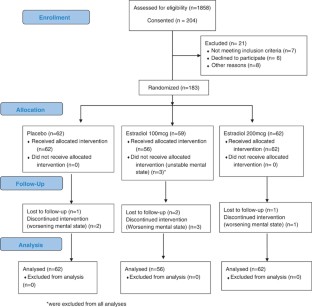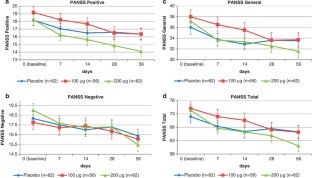 References
Arevalo MA, Santos-Galindo M, Bellini MJ, Azcoitia I, Garcia-Segura LM . Actions of estrogens on glial cells: Implications for neuroprotection. Biochim Biophys Acta 2010; 1800: 1106–1112.

Behl C . Estrogen can protect neurons: modes of action. J Steroid Biochem Mol Biol 2002; 83: 195–197.

Rao ML, Kölsch H . Effects of estrogen on brain development and neuroprotection—implications for negative symptoms in schizophrenia. Psychoneuroendocrinology 2003; 28:(Suppl 2) 83–96.

Bishop J, Simpkins James W . Role of estrogens in peripheral and cerebral glucose utilization. Rev Neurosci 1992; 3: 121–138.

Garcia-Segura LM, Azcoitia I, DonCarlos LL . Neuroprotection by estradiol. Prog Neurobiol 2001; 63: 29–60.

Li J, Siegel M, Yuan M, Zeng Z, Finnucan L, Persky R et al. Estrogen enhances neurogenesis and behavioral recovery after stroke. J Cereb Blood Flow Metab 2011; 31: 413–425.

Liu M, Kelley MH, Herson PS, Hurn PD . Neuroprotection of sex steroids. Minerva Endocrinol 2010; 35: 127–143.

Yang LC, Zhang QG, Zhou CF, Yang F, Zhang YD, Wang RM et al. Extranuclear estrogen receptors mediate the neuroprotective effects of estrogen in the rat hippocampus. Plos One 2010; 5: 1–13.

Begemann MJH, Dekker CF, van Lunenburg M, Sommer IE . Estrogen augmentation in schizophrenia: a quantitative review of current evidence. Schizophr Res 2012; 141: 179–184.

Riecher-Rössler A . Oestrogen effects in schizophrenia and their potential therapeutic implications - Review. Archives of Women's Mental Health 2002; 5: 111–118.

Aleman A, Kahn RS, Selten JP . Sex differences in the risk of schizophrenia: evidence from meta-analysis. Arch Gen Psychiatry 2003; 60: 565–571.

Kendell RE, Chalmers JC, Platz . Epidemiology of puerperal psychoses. Br J Psychiatry 1987; 150: 662–673.

Seeman MV . Current outcome in schizophrenia: women vs men. Acta Psychiatr Scand 1986; 73: 609–617.

Bergemann N, Parzer P, Runnebaum B, Resch F, Mundt C . Estrogen, menstrual cycle phases, and psychopathology in women suffering from schizophrenia. Psychol Med 2007; 37: 1427–1436.

Riecher-Rössler A, Häfner H, Stumbaum M, Maurer K, Schmidt R . Can oestradiol modulate schizophrenic symptomatology? Schizophr Bull 1994; 2: 203–214.

Akhondzadeh S, Nejatisafa AA, Amini H, Mohammadi MR, Larijani B, Kashani L et al. Adjunctive estrogen treatment in women with chronic schizophrenia: a double-blind, randomized, and placebo-controlled trial. Prog Neuropsychopharmacol Biol Psychiatry 2003; 27: 1007–1012.

Thompson K, Sergejew A, Kulkarni J . Estrogen affects cognition in women with psychosis. Psychiatry Res 2000; 94: 201–209.

Vasudevan N, Pfaff DW . Non-genomic actions of estrogens and their interaction with genomic actions in the brain. Front Neuroendocrinol 2008; 29: 238–257.

Bethea CL, Mirkes SJ, Shively CA, Adams MR . Steroid regulation of tryptophan hydroxylase protein in the dorsal raphe of macaques. Biol Psychiatry 2000; 47: 562–576.

Fink G, Sumner BE, McQueen JK, Wilson H, Rosie R . Sex steroid control of mood, mental state and memory. Clin Exp Pharmacol Physiol 1998; 25: 764–775.

Fink G, Sumner BH, Rosie R, Grace O, Quinn J . Estrogen control of central neurotransmission: effect on mood, mental state, and memory. Cell Mol Neurobiol 1996; 16: 325–344.

Hafner H, Behrens S, De Vry J, Gattaz WF . An animal model for the effects of estradiol on dopamine-mediated behavior: implications for sex differences in schizophrenia. Psychiatry Res 1991; 38: 125–134.

Hafner H, Behrens S, De Vry J, Gattaz WF . Oestradiol enhances the vulnerability threshold for schizophrenia in women by an early effect on dopaminergic neurotransmission. Evidence from an epidemiological study and from animal experiments. Eur Arch Psychiatry Clin Neurosci 1991; 241: 65–68.

Hiroi R, McDevitt RA, Neumaier JF . Estrogen selectively increases tryptophan hydroxylase-2 mRNA expression in distinct subregions of rat midbrain raphe nucleus: association between gene expression and anxiety behavior in the open field. Biol Psychiatry 2006; 60: 288–295.

Dean B . Neurochemistry of schizophrenia: the contribution of neuroimaging postmortem pathology and nNeurochemistry in schizophrenia. Curr Top Med Chem 2013; 12: 2375–2392.

Meltzer HY, Horiguchi M, Massey BW . The role of serotonin in the NMDA receptor antagonist models of psychosis and cognitive impairment. Psychopharmacology (Berl) 2011; 213: 289–305.

Meltzer HY, Massey BW . The role of serotonin receptors in the action of atypical antipsychotic drugs. Curr Opin Pharmacol 2011; 11: 59–67.

Sanchez MG, Morissette M, Di Paolo T . Oestradiol modulation of serotonin reuptake transporter and serotonin metabolism in the brain of monkeys. J Neuroendocrinol 2013; 25: 560–569.

Meitzen J, Mermelstein PG . Estrogen receptors stimulate brain region specific metabotropic glutamate receptors to rapidly initiate signal transduction pathways. J Chem Neuroanat 2011; 42: 236–241.

Pasqualini C, Olivier V, Guibert B, Frain O, Leviel V . Acute stimulatory effect of estradiol on striatal dopamine synthesis. J Neurochem 1995; 65: 1651–1657.

Becker JB . Oestrogen effects on dopaminergic function in striatum. Novartis Found Symp 2000; 230: 134–145, discussion 145-154.

Becker JB . Estrogen rapidly potentiates amphetamine-induced striatal dopamine release and rotational behavior during microdialysis. Neurosci Lett 1990; 118: 169–171.

Pecins-Thompson M, Brown NA, Kohama SG, Bethea CL . Ovarian Steroid Regulation of Tryptophan Hydroxylase mRNA Expression in Rhesus Macaques. J Neurosci 1996; 16: 7021–7029.

Häfner H, Behrens S, Vry J, Gattaz W . Oestradiol enhances the vulnerability threshold for schizophrenia in women by an early effect on dopaminergic neurotransmission. Eur Arch Psychiatry Clin Neurosci 1991; 241: 65–68.

Seeman P . Dopamine receptors and the dopamine hypothesis of schizophrenia. Synapse 1987; 1: 133–152.

Adams MM, Fink SE, Janssen WGM, Shah RA, Morrison JH . Estrogen modulates synaptic N-methyl-D-aspartate receptor subunit distribution in the aged hippocampus. J Comp Neurol 2004; 474: 419–426.

Xiao L, Becker JB . Quantitative microdialysis determination of extracellular striatal dopamine concentration in male and female rats: effects of estrous cycle and gonadectomy. Neurosci Lett 1994; 180: 155–158.

Hampson E . Estrogen-related variations in human spatial and articulatory-motor skills. Psychoneuroendocrinology 1990; 15: 97–111.

Riecher-Rossler A, Hafner H, Stumbaum M, Maurer K, Schmidt R . Can estradiol modulate schizophrenic symptomatology? Schizophr Bull 1994; 20: 203–214.

Ko YH, Joe SH, Cho W, Park JH, Lee JJ, Jung IK et al. Estrogen, cognitive function and negative symptoms in female schizophrenia. Neuropsychobiology 2006; 53: 169–175.

Hoff AL, Kremen WS, Wieneke MH, Lauriello J, Blankfeld HM, Faustman WO et al. Association of estrogen levels with neuropsychological performance in women with schizophrenia. Am J Psychiatry 2001; 158: 1134–1139.

Riecher-Rossler A, Kulkarni J . Estrogens and gonadal function in schizophrenia and related psychoses. Curr Top Behav Neurosci 2011; 8: 155–171.

Goff DC, Coyle JT . The emerging role of glutamate in the pathophysiology and treatment of schizophrenia. Am J Psychiatry 2001; 158: 1367–1377.

Carranza-Lira S, Valentino-Figueroa ML . Estrogen therapy for depression in postmenopausal women. Int J Gynecol Obstet 1999; 65: 35–38.

Schmidt PJ, Nieman L, Danaceau MA, Tobin MB, Roca CA, Murphy JH et al. Estrogen replacement in perimenopause-related depression: a preliminary report. Am J Obstet Gynecol 2000; 183: 414–420.

Ghafari E, Fararouie M, Shirazi HG, Farhangfar A, Ghaderi F, Mohammadi A . Combination of estrogen and antipsychotics in the treatment of women with chronic schizophrenia: a double-blind, randomized, placebo-controlled clinical trial. Clin Schizophr Relat Psychoses 2013; 6: 172–176.

Kulkarni J, de Castella A, Smith D, Taffe J, Keks N, Copolov D . A clinical trial of the effects of estrogen in acutely psychotic women. Schizophr Res 1996; 20: 247–252.

Kulkarni J, Riedel A, de Castella AR, Fitzgerald PB, Rolfe TJ, Taffe J et al. Estrogen - a potential treatment for schizophrenia. Schizophr Res 2001; 48: 137–144.

Kulkarni J, de Castella A, Fitzgerald PB, Gurvich CT, Bailey M, Bartholomeusz C et al. Estrogen in severe mental illness: a potential new treatment approach. Arch Gen Psychiatry 2008; 65: 955–960.

Erhart SM, Marder SR, Carpenter WT . Treatment of schizophrenia negative symptoms: future prospects. Schizophr Bull 2006; 32: 234–237.

Begemann MJ, Dekker CF, van Lunenburg M, Sommer IE . Estrogen augmentation in schizophrenia: a quantitative review of current evidence. Schizophr Res 2012; 141: 179–184.

First MB . Diagnostic and Statistical Manual of Mental Disorders – Fourth Edition (DSM-IV-TR™). American Psychiatric Association: Washington, DC, USA, 2000.

Kay SR, Fiszbein A, Opler LA . The positive and negative syndrome scale (PANSS) for schizophrenia. Schizophr Bull 1987; 13: 261–276.

Randolph C . RBANS Repeatable Battery for the Assessment of Neuropsychological Status: Manual. Ncs Pearson Incorporated: San Antonio, TX, USA, 1999.

Montgomery SA, Asberg M . A new depression scale designed to be sensitive to change. Br J Psychiatry 1979; 134: 382–389.

Simpson GM, Angus JW . A rating scale for extrapyramidal side effects. Acta Psychiatr Scand Suppl 1970; 212: 11–19.

Branch NIoMHPR. Abnormal Involuntary Movement Scale (AIMS). Psychopharmacol Bull 1988; 24: 781–783.

Duncan TE, Duncan SC . An introduction to latent growth curve modeling. Behav Ther 2004; 35: 333–363.

Muthén B, Curran PJ . General longitudinal modeling of individual differences in experimental designs: a latent variable framework for analysis and power estimation. Psychol Methods 1997; 2: 371–402.

Leucht S, Kane JM, Kissling W, Hamann J, Etschel E, Engel RR . What does the PANSS mean? Schizophr Res 2005; 79: 231–238.

Cohen J . A power primer. Psychol Bull 1992; 112: 155–159.

Kulkarni J, Gurvich C, Gilbert H, Mehmedbegovic F, Mu L, Marston N et al. Hormone modulation: a novel therapeutic approach for women with severe mental illness. Aust N Z J Psychiatry 2008; 42: 83–88.

Lawrie TA, Hofmeyr GJ, De Jager M, Berk M, Paiker J, Viljoen E . A double-blind randomised placebo controlled trial of postnatal norethisterone enanthate: the effect on postnatal depression and serum hormones. Br J Obstet Gynaecol 1998; 105: 1082–1090.

Backstrom T, Haage D, Lofgren M, Johansson IM, Stromberg J, Nyberg S et al. Paradoxical effects of GABA-A modulators may explain sex steroid induced negative mood symptoms in some persons. Neuroscience 2011; 191: 46–54.
Acknowledgements
Professor Kulkarni is the Principal Investigator and Dr Wei Wang performed the statistical analysis. This trial was funded by The Stanley Medical Research Institute, Washington USA. Grant ID: 05 T-742. The design and conduct of the study; collection, management, analysis and interpretation of the data; preparation, review and approval of the manuscript; and decision to submit the manuscript for publication were performed by the authors without interference from the funder.
Ethics declarations
Competing interests
The authors declare no conflict of interest.
About this article
Cite this article
Kulkarni, J., Gavrilidis, E., Wang, W. et al. Estradiol for treatment-resistant schizophrenia: a large-scale randomized-controlled trial in women of child-bearing age. Mol Psychiatry 20, 695–702 (2015). https://doi.org/10.1038/mp.2014.33
Received:

Revised:

Accepted:

Published:

Issue Date:

DOI: https://doi.org/10.1038/mp.2014.33