Abstract
The role of distinct limbic areas in emotion regulation has been largely inferred from neuroimaging studies. Recently, the opportunity for intracranial recordings from limbic areas has arisen in patients undergoing deep brain stimulation (DBS) for neuropsychiatric disorders including major depressive disorder (MDD) and obsessive compulsive disorder (OCD). Here we test the hypothesis that distinct temporal patterns of local field potential (LFP) activity in the human limbic system reflect disease state and symptom severity in MDD and OCD patients. To this end, we recorded LFPs via implanted DBS electrodes from the bed nucleus of stria terminalis (BNST area) in 12 patients (5 OCD, 7 MDD) and from the subgenual cingulate cortex in 7 MDD patients (CG25 area). We found a distinct pattern of oscillatory activity with significantly higher α-power in MDD compared with OCD in the BNST area (broad α-band 8–14 Hz; P<0.01) and a similar level of α-activity in the CG25 area as in the BNST area in MDD patients. The mean α-power correlated with severity of depressive symptoms as assessed by the Beck depression inventory in MDD (n=14, r=0.55, P=0.042) but not with severity of obsessive compulsive symptoms in OCD. Here we show larger α-band activity in MDD patients compared with OCD recorded from intracranial DBS targets. Our results suggest that α-activity in the limbic system may be a signature of symptom severity in MDD and may serve as a potential state biomarker for closed loop DBS in MDD.
Relevant articles
Open Access articles citing this article.
Mohammad S. E. Sendi

,

Allison C. Waters

…

Babak Mahmoudi

Translational Psychiatry Open Access 03 November 2021

Alena Damborská

,

Eliška Honzírková

…

Maria Rubega

Scientific Reports Open Access 10 March 2020

Koen Schruers

,

Samantha Baldi

…

Wolfgang Viechtbauer

Translational Psychiatry Open Access 05 August 2019
Access options
Subscribe to this journal
Receive 12 print issues and online access
$259.00 per year
only $21.58 per issue
Rent or buy this article
Get just this article for as long as you need it
$39.95
Prices may be subject to local taxes which are calculated during checkout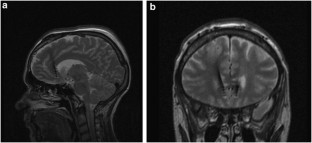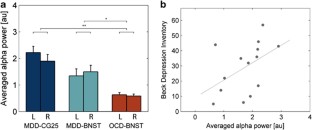 References
Goodman WK, Alterman RL . Deep brain stimulation for intractable psychiatric disorders. Annu Rev Med 2012; 63: 511–524.

Ackermans L, Duits A, van der Linden C, Tijssen M, Schruers K, Temel Y et al. Double-blind clinical trial of thalamic stimulation in patients with Tourette syndrome. Brain 2011; 134: 832–844.

Holtzheimer PE, Kelley ME, Gross RE, Filkowski MM, Garlow SJ, Barrocas A et al. Subcallosal cingulate deep brain stimulation for treatment-resistant unipolar and bipolar depression. Arch Gen Psychiatry 2012; 69: 150–158.

Mayberg HS, Lozano AM, Voon V, McNeely HE, Seminowicz D, Hamani C et al. Deep brain stimulation for treatment-resistant depression. Neuron 2005; 45: 651–660.

Muller UJ, Voges J, Steiner J, Galazky I, Heinze HJ, Moller M et al. Deep brain stimulation of the nucleus accumbens for the treatment of addiction. Ann N Y Acad Sci 2013; 1282: 119–128.

Wu H, Van Dyck-Lippens PJ, Santegoeds R, van Kuyck K, Gabriels L, Lin G et al. Deep-brain stimulation for anorexia nervosa. World Neurosurg 2012; 80: S29.

Lipsman N, Woodside DB, Giacobbe P, Hamani C, Carter JC, Norwood SJ et al. Subcallosal cingulate deep brain stimulation for treatment-refractory anorexia. Lancet 2013; 381: 1361–1370.

Wichmann T, Delong MR . Deep brain stimulation for neurologic and neuropsychiatric disorders. Neuron 2006; 52: 197–204.

Brown P . Abnormal oscillatory synchronisation in the motor system leads to impaired movement. Curr Opin Neurobiol 2007; 17: 656–664.

Brown P . Oscillatory nature of human basal ganglia activity: relationship to the pathophysiology of Parkinson's disease. Mov Disord 2003; 18: 357–363.

Brown P, Eusebio A . Paradoxes of functional neurosurgery: clues from basal ganglia recordings. Mov Disord 2008; 23: 12–20, quiz 158.

Jenkinson N, Brown P . New insights into the relationship between dopamine, beta oscillations and motor function. Trends Neurosci 2011; 34: 611–618.

Eusebio A, Brown P . Synchronisation in the beta frequency-band—the bad boy of parkinsonism or an innocent bystander? Exp Neurol 2009; 217: 1–3.

Silberstein P, Kuhn AA, Kupsch A, Trottenberg T, Krauss JK, Wohrle JC et al. Patterning of globus pallidus local field potentials differs between Parkinson's disease and dystonia. Brain 2003; 126: 2597–2608.

Kuhn AA, Kempf F, Brucke C, Gaynor Doyle L, Martinez-Torres I, Pogosyan A et al. High-frequency stimulation of the subthalamic nucleus suppresses oscillatory beta activity in patients with Parkinson's disease in parallel with improvement in motor performance. J Neurosci 2008; 28: 6165–6173.

Eusebio A, Thevathasan W, Doyle Gaynor L, Pogosyan A, Bye E, Foltynie T et al. Deep brain stimulation can suppress pathological synchronisation in parkinsonian patients. J Neurol Neurosurg Psychiatry 2011; 82: 569–573.

Rosin B, Slovik M, Mitelman R, Rivlin-Etzion M, Haber SN, Israel Z et al. Closed-loop deep brain stimulation is superior in ameliorating parkinsonism. Neuron 2011; 72: 370–384.

Uhlhaas PJ, Singer W . Neuronal dynamics and neuropsychiatric disorders: toward a translational paradigm for dysfunctional large-scale networks. Neuron 2012; 75: 963–980.

Greenberg BD, Malone DA, Friehs GM, Rezai AR, Kubu CS, Malloy PF et al. Three-year outcomes in deep brain stimulation for highly resistant obsessive-compulsive disorder. Neuropsychopharmacology 2006; 31: 2384–2393.

Bewernick BH, Hurlemann R, Matusch A, Kayser S, Grubert C, Hadrysiewicz B et al. Nucleus accumbens deep brain stimulation decreases ratings of depression and anxiety in treatment-resistant depression. Biol Psychiatry 2010; 67: 110–116.

Schlaepfer TE, Bewernick BH, Kayser S, Madler B, Coenen VA . Rapid effects of deep brain stimulation for treatment-resistant major depression. Biol Psychiatry 2013; 73: 1204–1212.

Jimenez F, Nicolini H, Lozano AM, Piedimonte F, Salin R, Velasco F . Electrical stimulation of the inferior thalamic peduncle in the treatment of major depression and obsessive compulsive disorders. World Neurosurg 2012; 80: S30.

Blomstedt P, Sjoberg RL, Hansson M, Bodlund O, Hariz MI . Deep brain stimulation in the treatment of obsessive compulsive disorder. World Neurosurg 2012; 80: e245–e253.

Goodman WK, Foote KD, Greenberg BD, Ricciuti N, Bauer R, Ward H et al. Deep brain stimulation for intractable obsessive compulsive disorder: pilot study using a blinded, staggered-onset design. Biol Psychiatry 2010; 67: 535–542.

Haynes WI, Mallet L . High-frequency stimulation of deep brain structures in obsessive-compulsive disorder: the search for a valid circuit. Eur J Neurosci 2010; 32: 1118–1127.

Mallet L, Polosan M, Jaafari N, Baup N, Welter ML, Fontaine D et al. Subthalamic nucleus stimulation in severe obsessive-compulsive disorder. N Engl J Med 2008; 359: 2121–2134.

Jimenez-Ponce F, Velasco-Campos F, Castro-Farfan G, Nicolini H, Velasco AL, Salin-Pascual R et al. Preliminary study in patients with obsessive-compulsive disorder treated with electrical stimulation in the inferior thalamic peduncle. Neurosurgery 2009; 65: 203–209, discussion 209.

Greenberg BD, Gabriels LA, Malone DA Jr, Rezai AR, Friehs GM, Okun MS et al. Deep brain stimulation of the ventral internal capsule/ventral striatum for obsessive-compulsive disorder: worldwide experience. Mol Psychiatry 2010; 15: 64–79.

Lozano AM, Giacobbe P, Hamani C, Rizvi SJ, Kennedy SH, Kolivakis TT et al. A multicenter pilot study of subcallosal cingulate area deep brain stimulation for treatment-resistant depression. J Neurosurg 2012; 116: 315–322.

Kennedy SH, Giacobbe P, Rizvi SJ, Placenza FM, Nishikawa Y, Mayberg HS et al. Deep brain stimulation for treatment-resistant depression: follow-up after 3 to 6 years. Am J Psychiatry 2011; 168: 502–510.

Van Laere K, Nuttin B, Gabriels L, Dupont P, Rasmussen S, Greenberg BD et al. Metabolic imaging of anterior capsular stimulation in refractory obsessive-compulsive disorder: a key role for the subgenual anterior cingulate and ventral striatum. J Nucl Med 2006; 47: 740–747.

Nuttin B, Cosyns P, Demeulemeester H, Gybels J, Meyerson B . Electrical stimulation in anterior limbs of internal capsules in patients with obsessive-compulsive disorder. Lancet 1999; 354: 1526.

Alheid GF, Heimer L . New perspectives in basal forebrain organization of special relevance for neuropsychiatric disorders: the striatopallidal, amygdaloid, and corticopetal components of substantia innominata. Neuroscience 1988; 27: 1–39.

Alheid GF, Beltramino CA, De Olmos JS, Forbes MS, Swanson DJ, Heimer L . The neuronal organization of the supracapsular part of the stria terminalis in the rat: the dorsal component of the extended amygdala. Neuroscience 1998; 84: 967–996.

Davis M, Walker DL, Miles L, Grillon C . Phasic vs sustained fear in rats and humans: role of the extended amygdala in fear vs anxiety. Neuropsychopharmacology 2010; 35: 105–135.

Jennings JH, Sparta DR, Stamatakis AM, Ung RL, Pleil KE, Kash TL et al. Distinct extended amygdala circuits for divergent motivational states. Nature 2013; 496: 224–228.

Nuttin B, Gielen F, van Kuyck K, Wu H, Luyten L, Welkenhuysen M et al. Targeting bed nucleus of the stria terminalis for severe obsessive-compulsive disorder: more unexpected lead placement in obsessive-compulsive disorder than in surgery for movement disorders. World Neurosurg 2012; 80: S30.

Bhatia KD, Henderson L, Ramsey-Stewart G, May J . Diffusion tensor imaging to aid subgenual cingulum target selection for deep brain stimulation in depression. Stereotact Funct Neurosurg 2012; 90: 225–232.

Hamani C, Mayberg H, Snyder B, Giacobbe P, Kennedy S, Lozano AM . Deep brain stimulation of the subcallosal cingulate gyrus for depression: anatomical location of active contacts in clinical responders and a suggested guideline for targeting. J Neurosurg 2009; 111: 1209–1215.

Riva-Posse P, Holtzheimer PE, Garlow SJ, Mayberg HS . Practical considerations in the development and refinement of subcallosal cingulate white matter deep brain stimulation for the treatment resistant depression. World Neurosurg 2012; 80: S27.

Good P . Permutation, Parametric and Bootstrap Tests of Hypotheses. Springer Science+Business Media, Incorporated: Berlin, Heidelberg, New York, 2005.

Benjamini Y, Krieger AM, Yekutieli D . Adaptive linear step-up procedures that control the false discovery rate. Biometrika 2006; 93: 491–507.

Kwon JS, Youn T, Jung HY . Right hemisphere abnormalities in major depression: quantitative electroencephalographic findings before and after treatment. J Affect Disord 1996; 40: 169–173.

Shagass C, Roemer RA, Josiassen RC . Some quantitative EEG findings in unmedicated and medicated major depressives. Neuropsychobiology 1988; 19: 169–175.

Bruder GE, Fong R, Tenke CE, Leite P, Towey JP, Stewart JE et al. Regional brain asymmetries in major depression with or without an anxiety disorder: a quantitative electroencephalographic study. Biol Psychiatry 1997; 41: 939–948.

Saxena S, Brody AL, Ho ML, Alborzian S, Ho MK, Maidment KM et al. Cerebral metabolism in major depression and obsessive-compulsive disorder. Biol Psychiatry 2001; 50: 159–170.

Kuhn AA, Kupsch A, Schneider GH, Brown P . Reduction in subthalamic 8-35 Hz oscillatory activity correlates with clinical improvement in Parkinson's disease. Eur J Neurosci 2006; vol. 23, Francepp 1956–1960.

Little S, Pogosyan A, Kuhn AA, Brown P . Beta band stability over time correlates with Parkinsonian rigidity and bradykinesia. Exp Neurol 2012; 236: 383–388.

McIntyre CC, Hahn PJ . Network perspectives on the mechanisms of deep brain stimulation. 2010; 38: 329–337.

Leuchter AF, Cook IA, Hunter AM, Cai C, Horvath S . Resting-state quantitative electroencephalography reveals increased neurophysiologic connectivity in depression. PLoS One 2012; 7: e32508.

Fingelkurts AA, Rytsala H, Suominen K, Isometsa E, Kahkonen S . Impaired functional connectivity at EEG alpha and theta frequency bands in major depression. Hum Brain Mapp 2007; 28: 247–261.

Pollock VE, Schneider LS . Quantitative, waking EEG research on depression. Biol Psychiatry 1990; 27: 757–780.

Roemer RA, Shagass C, Dubin W, Jaffe R, Siegal L . Quantitative EEG in elderly depressives. Brain Topogr 1992; 4: 285–290.

Baehr E, Rosenfeld JP, Baehr R, Earnest C . Comparison of two EEG asymmetry indices in depressed patients vs normal. Int J Psychophysiol 1998; 31: 89–92.

Ricardo-Garcell J, Gonzalez-Olvera JJ, Miranda E, Harmony T, Reyes E, Almeida L et al. EEG sources in a group of patients with major depressive disorders. Int J Psychophysiol 2009; 71: 70–74.

Kemp AH, Griffiths K, Felmingham KL, Shankman SA, Drinkenburg W, Arns M et al. Disorder specificity despite comorbidity: resting EEG alpha asymmetry in major depressive disorder and post-traumatic stress disorder. Biol Psychol 2010; 85: 350–354.

Davidson RJ . Brain Asymmetry (Bradford Books). MIT Press: Cambridge, MA, USA, 1996, pp 752.

Henriques JB, Davidson RJ . Regional brain electrical asymmetries discriminate between previously depressed and healthy control subjects. J Abnorm Psychol 1990; 99: 22–31.

Debener S, Beauducel A, Nessler D, Brocke B, Heilemann H, Kayser J . Is resting anterior EEG alpha asymmetry a trait marker for depression? Findings for healthy adults and clinically depressed patients. Neuropsychobiology 2000; 41: 31–37.

Aftanas L, Varlamov A, Pavlov S, Makhnev V, Reva N . Event-related synchronization and desynchronization during affective processing: emergence of valence-related time-dependent hemispheric asymmetries in theta and upper alpha band. Int J Neurosci 2001; 110: 197–219.

Popov T, Steffen A, Weisz N, Miller GA, Rockstroh B . Cross-frequency dynamics of neuromagnetic oscillatory activity: two mechanisms of emotion regulation. Psychophysiology 2012; 49: 1545–1557.

Kühn AA, Hariz MI, Silberstein P, Tisch S, Kupsch A, Schneider GH et al. Activation of the subthalamic region during emotional processing in Parkinson disease. Neurology 2005; 65: 707–713.

Brücke C, Kupsch A, Schneider GH, Hariz MI, Nuttin B, Kopp U et al. The subthalamic region is activated during valence-related emotional processing in patients with Parkinson's disease. Eur J Neurosci 2007; 26: 767–774.

Huebl J, Schoenecker T, Siegert S, Brücke C, Schneider GH, Kupsch A et al. Modulation of subthalamic alpha activity to emotional stimuli correlates with depressive symptoms in Parkinson's disease. Mov Disord 2011; 26: 477–483.

Klimesch W, Fellinger R, Freunberger R . Alpha oscillations and early stages of visual encoding. Front Psychol 2011; 2: 118.

Pfurtscheller G, Lopes da Silva FH . Event-related EEG/MEG synchronization and desynchronization: basic principles. Clin Neurophysiol 1999; 110: 1842–1857.

Ewing SG, Grace AA . Long-term high frequency deep brain stimulation of the nucleus accumbens drives time-dependent changes in functional connectivity in the rodent limbic system. Brain Stimul 2013; 6: 274–285.

Chen CC, Pogosyan A, Zrinzo LU, Tisch S, Limousin P, Ashkan K et al. Intra-operative recordings of local field potentials can help localize the subthalamic nucleus in Parkinson's disease surgery. Exp Neurol 2006; 198: 214–221.

Little S, Brown P . What brain signals are suitable for feedback control of deep brain stimulation in Parkinson's disease? Ann N Y Acad Sci 2012; 1265: 9–24.
Acknowledgements
This work was supported by the German Research Foundation (DFG, grant KFO 247). We thank Jens Kuhn and Sabine Aust for help with some of the patients operated in Berlin. Medtronic provided all implanted material for free for all patients.
Ethics declarations
Competing interests
The authors declare no conflict of interest.
Additional information
Disclosure
WJN received travel grants from St Jude medical. JH received speaker's honoraria from Merz Pharmaceuticals. BN and LG hold a chair 'Neurosurgery for psychiatric disorders', a donation from Medtronic. BN received grants for travel, research and education from Medtronic. PB received honoraries from Medtronic and Sapiens. AAK received honoraries from Medtronic, St Jude Medical, Boston Scientific, Novartis, Bayer AG and support for travel to conferences by Ipsen Pharma.
Supplementary Information accompanies the paper on the Molecular Psychiatry website
Supplementary information
About this article
Cite this article
Neumann, WJ., Huebl, J., Brücke, C. et al. Different patterns of local field potentials from limbic DBS targets in patients with major depressive and obsessive compulsive disorder. Mol Psychiatry 19, 1186–1192 (2014). https://doi.org/10.1038/mp.2014.2
Received:

Revised:

Accepted:

Published:

Issue Date:

DOI: https://doi.org/10.1038/mp.2014.2
Keywords
alpha oscillations

deep brain stimulation

depressive disorder

local field potential

obsessive compulsive disorder