Abstract
Antidepressants are widely used in clinical practice for the treatment of depression and other mood disorders. Numerous neuroimaging studies have recently examined how antidepressants influence emotional processes. However, both clinical trials and neuroimaging studies have reported inconsistent responses to antidepressants. Moreover, the neuropsychological mechanisms by which antidepressants act to improve depressive features remain underspecified. This systematic meta-analysis summarizes pharmacological neuroimaging studies (before February 2013) and the antidepressant effects on human brain activity underlying emotional processes. Sixty fMRI studies (involving 1569 subjects) applying antidepressants vs control were included in the current quantitative Activation Likelihood Estimation (ALE) meta-analysis. Pooling of results by ALE meta-analyses was stratified for population (mood disorder patients/healthy volunteers), emotional valence (positive/negative emotions) and treatment effects (increased/decreased brain activity). For both patients and healthy volunteers, the medial prefrontal and core limbic parts of the emotional network (for example, anterior cingulate, amygdala and thalamus) were increased in response to positive emotions but decreased to negative emotions by repeated antidepressant administration. Moreover, selective antidepressant effects were uncovered in patients and healthy volunteers, respectively. Antidepressants increased activity in the dorsolateral prefrontal (dlPFC), a key region mediating emotion regulation, during both negative and positive emotions in patients. Repeated antidepressant administration decreased brain responses to positive emotions in the nucleus accumbens, putamen, medial prefrontal and midbrain in healthy volunteers. Antidepressants act to normalize abnormal neural responses in depressed patients by increasing brain activity to positive stimuli and decreasing activity to negative stimuli in the emotional network, and increasing engagement of the regulatory mechanism in dlPFC.
Relevant articles
Open Access articles citing this article.
Jared Kopelman

,

Timothy A. Keller

…

Rebecca B. Price

Translational Psychiatry Open Access 09 May 2023

Ann-Kathrin Domke

,

Moritz Hempel

…

Simone Grimm

European Archives of Psychiatry and Clinical Neuroscience Open Access 30 January 2023

Daniel Aaron Vazquez-Matias

,

Erik F. J. de Vries

…

Janine Doorduin

European Journal of Nuclear Medicine and Molecular Imaging Open Access 16 January 2023
Access options
Subscribe to this journal
Receive 12 print issues and online access
$259.00 per year
only $21.58 per issue
Rent or buy this article
Get just this article for as long as you need it
$39.95
Prices may be subject to local taxes which are calculated during checkout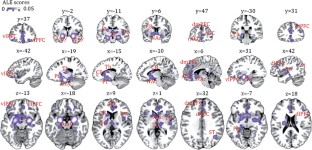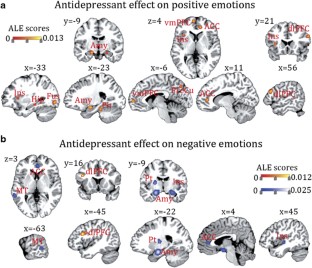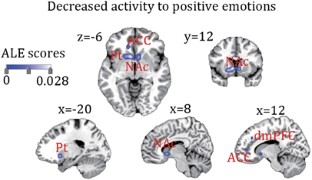 References
Kessler RC, Berglund P, Demler O, Jin R, Koretz D, Merikangas KR et al. The epidemiology of major depressive disorder: results from the National Comorbidity Survey Replication (NCS-R). JAMA 2003; 289: 3095–3105.

Berton O, Nestler EJ . New approaches to antidepressant drug discovery: beyond monoamines. Nat Rev Neurosci 2006; 7: 137–151.

American Psychiatric Association Practice guideline for the treatment of patients with major depressive disorder. American Psychiatric Association. Practice Guidelines for the Treatment of Psychiatric Disorders: Compendium 2006, 2nd edn, American Psychiatric Association: Arlington, VA, USA, pp 763–840.

Harmer CJ . Serotonin and emotional processing: does it help explain antidepressant drug action? Neuropharmacology 2008; 55: 1023–1028.

Pringle A, Browning M, Cowen PJ, Harmer CJ . A cognitive neuropsychological model of antidepressant drug action. Prog Neuropsychopharmacol Biol Psychiatry 2011; 35: 1586–1592.

Fava M . Diagnosis and definition of treatment-resistant depression. Biol Psychiatry 2003; 53: 649–659.

Trivedi MH, Rush AJ, Wisniewski SR, Nierenberg AA, Warden D, Ritz L et al. Evaluation of outcomes with citalopram for depression using measurement-based care in STAR*D: implications for clinical practice. Am J Psychiatry 2006; 163: 28–40.

Bigos KL, Pollock BG, Aizenstein HJ, Fisher PM, Bies RR, Hariri AR . Acute 5-HT reuptake blockade potentiates human amygdala reactivity. Neuropsychopharmacology 2008; 33: 3221–3225.

Del-Ben CM, Deakin JF, Mckie S, Delvai NA, Williams SR, Elliott R et al. The effect of citalopram pretreatment on neuronal responses to neuropsychological tasks in normal volunteers: an fMRI study. Neuropsychopharmacology 2005; 30: 1724–1734.

Gotlib IH, Krasnoperova E, Yue DN, Joormann J . Attentional biases for negative interpersonal stimuli in clinical depression. J Abnorm Psychol 2004; 113: 127–135.

Denny EB, Hunt RR . Affective valence and memory in depression: Dissociation of recall and fragment completion. J Abnorm Psychol 1992; 101: 575–580.

Ridout N, Astell AJ, Reid IC, Glen T, O'Carroll RE . Memory bias for emotional facial expressions in major depression. Cognit Emotion 2003; 17: 101–122.

Gur RC, Erwin RJ, Gur RE, Zwil AS, Heimberg C, Kraemer HC . Facial emotion discrimination: II. Behavioral findings in depression. Psychiatry Res 1992; 42: 241–251.

Bouhuys AL, Geerts E, Gordijn MC . Depressed patients' perceptions of facial emotions in depressed and remitted states are associated with relapse: a longitudinal study. J Nerv Ment Dis 1999; 187: 595–602.

Surguladze SA, Young AW, Senior C, Brebion G, Travis MJ, Phillips ML . Recognition accuracy and response bias to happy and sad facial expressions in patients with major depression. Neuropsychology 2004; 18: 212–218.

Leppänen JM . Emotional information processing in mood disorders: a review of behavioral and neuroimaging findings. Curr Opin Psychiatry 2006; 19: 34–39.

Fawcett J, Clark DC, Schnefter WA, Gibson RD . Assessing anhedonia in psychiatric patients: the pleasure scale. Arch Gen Psychiatry 1983; 40: 79–84.

Schlaepfer TE, Cohen MX, Frick C, Kosel M, Brodesser D, Axmacher N et al. Deep brain stimulation to reward circuitry alleviates anhedonia in refractory major depression. Neuropsychopharmacology 2008; 33: 368–377.

Phillips ML, Drevets WC, Rauch SL, Lane R . Neurobiology of emotion perception II: Implications for major psychiatric disorders. Biol Psychiatry 2003; 54: 515–528.

Mayberg HS . Defining the neural circuitry of depression: toward a new nosology with therapeutic implications. Biol Psychiatry 2007; 61: 729–730.

Phillips ML, Ladouceur CD, Drevets WC . A neural model of voluntary and automatic emotion regulation: implications for understanding the pathophysiology and neurodevelopment of bipolar disorder. Mol Psychiatry 2008; 13: 833–857.

Stuhrmann A, Suslow T, Dannlowski U . Facial emotion processing in major depression: a systematic review of neuroimaging findings. Biol Mood Anxiety Disord 2011; 1: 10.

Drevets WC, Price JL, Furey ML . Brain structural and functional abnormalities in mood disorders: implications for neurocircuitry models of depression. Brain Struct Funct 2008; 213: 93–118.

Elliott R, Rubinsztein JS, Sahakian BJ, Dolan RJ . The Neural Basis of Mood-Congruent Processing Biases in Depression. Arch Gen Psychiatry 2002; 59: 597–604.

Phillips ML, Drevets WC, Rauch SL, Lane R . Neurobiology of emotion perception I: The neural basis of normal emotion perception. Biol Psychiatry 2003; 54: 504–514.

Ohman A . The role of the amygdala in human fear:automatic detection of threat. Psychoneuroendocrinology 2005; 30: 953–958.

Pessoa L, Ungerleider LG . Neuroimaging studies of attention and the processing of emotion-laden stimuli. Prog Brain Res 2004; 144: 171–182.

Kober H, Barrett LF, Joseph J, Bliss-Moreau E, Lindquist K, Wager TD . Functional grouping and cortical-subcortical interactions in emotion: A meta-analysis of neuroimaging studies. Neuroimage 2008; 42: 998–1031.

Epstein J, Pan H, Kocsis JH, Yang Y, Butler T, Chusid J et al. Lack of ventral striatal response to positive stimuli in depressed versus normal subjects. Am J of Psychiatry 2006; 163: 1784–1790.

Keedwell PA, Andrew C, Williams SC, Brammer MJ, Phillips ML . The neural correlates of anhedonia in major depressive disorder. Biol Psychiatry 2005; 58: 843–853.

Campbell S, MacQueen G . An update on regional brain volume differences associated with mood disorders. Curr Opin Psychiatry 2006; 19: 25–33.

Koolschijn PC, van Haren NE, Lensvelt-Mulders GJ, Hulshoff Pol HE, Kahn RS . Brain volume abnormalities in major depressive disorder: a meta-analysis of magnetic resonance imaging studies. Hum Brain Mapp 2009; 30: 3719–3735.

Garnefski N, Kraaij V . Relationships between cognitive emotion regulation strategies and depressive symptoms: A comparative study of five specific samples. Pers Individ Dif 2006; 40: 1659–1669.

Beauregard M, Paquette V, Levesque J . Dysfunction in the neural circuitry of emotional self-regulation in major depressive disorder. Neuroreport 2006; 17: 843–846.

Siegle GJ, Thompson W, Carter CS, Steinhauer SR, Thase ME . Increased amygdala and decreased dorsolateral prefrontal BOLD responses in unipolar depression: Related and independent features. Biol Psychiatry 2007; 61: 198–209.

DeRubeis RJ, Siegle GJ, Hollon SD . Cognitive therapy versus medication for depression: treatment outcomes and neural mechanisms. Nat Rev Neurosci 2008; 9: 788–796.

Beck AT . The evolution of the cognitive model of depression and its neurobiological correlates. Am J of Psychiatry 2008; 165: 969–977.

Ochsner KN, Bunge SA, Gross JJ, Gabrieli JDE . Rethinking feelings: an fMRI study of the cognitive regulation of emotion. J Cogn Neurosci 2002; 14: 1215–1229.

Ochsner KN, Gross JJ . The cognitive control of emotion. Trends Cogn Sci 2005; 9: 242–249.

Fitzgerald PB, Laird AR, Maller J, Daskalakis ZJ . A meta-analytic study of changes in brain activation in depression. Hum Brain Mapp 2008; 29: 683–695.

Del-Ben CM, Ferreira CA, Alves-Neto WC, Graeff FG . Serotonergic modulation of face-emotion recognition. Braz J Med Biol Res 2008; 41: 263–269.

Bellani M, Dusi N, Yeh PH, Soares JC, Brambilla P . The effects of antidepressants on human brain as detected by imaging studies. Focus on major depression. Prog Neuropsychopharmacol Biol Psychiatry 2011; 35: 1544–1552.

Delaveau P, Jabourian M, Lemogne C, Guionnet S, Bergouignan L, Fossati P . Brain effects of antidepressants in major depression: a meta-analysis of emotional processing studies. J Affect Disord 2011; 130: 66–74.

Patin A, Hurlemann R . Modulating amygdala responses to emotion: evidence from pharmacological fMRI. Neuropsychologia 2011; 49: 706–717.

Turkeltaub PE, Eden GF, Jones KM, Zeffiro TA . Meta-analysis of the functional neuroanatomy of single-word reading: method and validation. Neuroimage 2002; 16: 765–780.

Laird AR, Fox M, Price CJ, Glahn DC, Uecker AM, Lancaster JL et al. ALE meta-analysis: Controlling the false discovery rate and performing statistical contrasts. Hum Brain Mapp 2005; 25: 155–164.

Collins DL, Zijdenbos A, Kollokian V, Sled JG, Kabani NJ, Holmes CJ et al. Design and construction of a realistic digital brain phantom. IEEE Trans Med Imag 1998; 17: 463–468.

Talairach J, Tournoux P . Co-Planar Stereotactic Atlas of Human Brain. Thieme Medical Publisher: New York, 1998.

Turkeltaub PE, Eickhoff SB, Laird AR, Fox M, Wiener M, Fox P . Minimizing within-experiment and within-group effects in activation likelihood estimation meta-analyses. Hum Brain Mapp 2012; 33: 1–13.

Eickhoff SB, Laird AR, Grefkes C, Wang LE, Zilles K, Fox PT . Coordinate-based activation likelihood estimation meta-analysis of neuroimaging data: A random-effects approach based on empirical estimates of spatial uncertainty. Hum Brain Mapp 2009, 30: 2907–2926.

Minzenberg MJ, Laird AR, Thelen SM, Carter CS, Glahn DC . Meta-analysis of 41 functional neuroimaging studies of executive cognition reveals dysfunction in a general-purpose cognitive control system in schizophrenia. Arch Gen Psychiatry 2009; 66: 811–822.

Menzies LAC, Chamberlain SR, Laird AR, Thelen SM, Sahakian BJ, Bullmore ET . Integrating evidence from neuroimaging and neuropsychological studies of obsessive compulsive disorder: the orbitofronto-striatal model revisited. Neurosci Biobehav Rev 2008; 32: 525–549.

Surguladze S, Brammer MJ, Keedwell P, Giampietro V, Young AW, Travis MJ et al. A differential pattern of neural response toward sad versus happy facial expressions in major depressive disorder. Biol Psychiatry 2005; 57: 201–209.

Suslow T, Konrad C, Kugel H, Rumstadt D, Zwitserlood P, Schöning S et al. Automatic mood-congruent amygdala responses to masked facial expressions in major depression. Biol Psychiatry 2010; 67: 155–160.

Whalen PJ, Shin LM, Somerville LH, McLean AA, Kim H . Functional neuroimaging studies of the amygdala in depression. Semin Clin Neuropsychiatry 2002; 7: 234–242.

Lévesque J, Eugène F, Joanette Y, Paquette V, Mensour B, Beaudoin G et al. Neural circuitry underlying voluntary suppression of sadness. Biol Psychiatry 2003; 53: 502–510.

van Stegeren AH, Goekoop R, Everaerd W, Scheltens P, Barkhof F, Kuijer JP et al. Noradrenaline mediates amygdala activation in men and women during encoding of emotional material. Neuroimage 2005; 24: 898–909.

Beck AT, Rush AJ, Shaw BF, Emery G . Cognitive Therapy of Depression. Guilford: New York, 1979.

Rush AJ, Beck AT, Kovacs M, Weissenburger J, Hollon SD . Comparison of the effects of cognitive therapy and pharmacotherapy on hopelessness and self-concept. Am J Psychiatry 1982; 139: 862–866.

Koob GF . Drugs of abuse: anatomy, pharmacology and function of reward pathways. Trends Pharmacol Sci 1992; 13: 177–184.

Pierce RC, Kumaresan V . The mesolimbic dopamine system: the final common pathway for the reinforcing effect of drugs of abuse? Neurosci Biobehav Rev 2006; 30: 215–238.

Mitterschiffthaler MT, Kumari V, Malhi GS, Brown RG, Giampietro VP, Brammer MJ et al. Neural response to pleasant stimuli in anhedonia: an fMRI study. Neuroreport 2003; 14: 177–182.

Weinshilboum R . Inheritance and drug response. N Engl J Med 2003; 348: 529–537.

Roden DM, George AL Jr. . The genetic basis of variability in drug responses. Nat Rev Drug Discov 2002; 1: 37–44.

Serretti A, Kato M, De Ronchi D, Kinoshita T . Meta-analysis of serotonin transporter gene promoter polymorphism (5-HTTLPR) association with selective serotonin reuptake inhibitor efficacy in depressed patients. Mol Psychiatry 2007; 12: 247–257.

Ma Y, Li B, Wang C, Zhang W, Rao Y, Han S . Genetic modulation of acute citalopram effects on human emotional network (under review).
Acknowledgements
I thank Dr Daniel R Weinberger, Dr Catherine J Harmer and Dr Hao-Yang Tan for their valuable suggestions on an early draft. This work was supported by the National Institute of Mental Health (R01MH059282).
Ethics declarations
Competing interests
The author declares no conflict of interest.
Supplementary information
About this article
Cite this article
Ma, Y. Neuropsychological mechanism underlying antidepressant effect: a systematic meta-analysis. Mol Psychiatry 20, 311–319 (2015). https://doi.org/10.1038/mp.2014.24
Received:

Revised:

Accepted:

Published:

Issue Date:

DOI: https://doi.org/10.1038/mp.2014.24