Abstract
Adolescence is a period of heightened vulnerability both to addictive behaviors and drug-induced brain damage. Yet, only limited information exists on the brain mechanisms underlying these adolescent-specific characteristics. Moreover, distinctions in brain correlates between predisposition to drug use and effects of drugs in adolescents are unclear. Using cortical thickness and diffusion tensor image analyses, we found greater and more widespread gray and white matter alterations, particularly affecting the frontostriatal system, in adolescent methamphetamine (MA) users compared with adult users. Among adolescent-specific gray matter alterations related to MA use, smaller cortical thickness in the orbitofrontal cortex was associated with family history of drug use. Our findings highlight that the adolescent brain, which undergoes active myelination and maturation, is more vulnerable to MA-related alterations than the adult brain. Furthermore, MA-use-related executive dysfunction was greater in adolescent MA users than in adult users. These findings may provide explanation for the severe behavioral complications and relapses that are common in adolescent-onset drug addiction. Additionally, these results may provide insights into distinguishing the neural mechanisms that underlie the predisposition to drug addiction from effects of drugs in adolescents.
Relevant articles
Open Access articles citing this article.
Xuelin Gu

,

Banghua Yang

…

Wen Wang

Journal of Biomedical Semantics Open Access 25 November 2021

An Xie

,

Qiuxia Wu

…

Jinsong Tang

Scientific Reports Open Access 08 April 2021

Lukas Andreas Basedow

,

Sören Kuitunen-Paul

…

Yulia Golub

BMC Psychiatry Open Access 25 March 2021
Access options
Subscribe to this journal
Receive 12 print issues and online access
$259.00 per year
only $21.58 per issue
Rent or buy this article
Prices vary by article type
from$1.95
to$39.95
Prices may be subject to local taxes which are calculated during checkout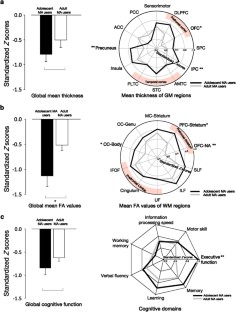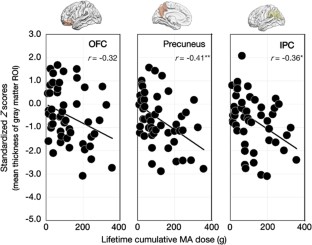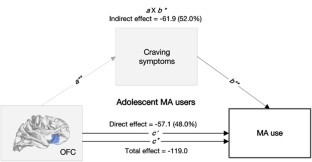 References
Giedd JN, Blumenthal J, Jeffries NO, Castellanos FX, Liu H, Zijdenbos A et al. Brain development during childhood and adolescence: a longitudinal MRI study. Nat Neurosci 1999; 2: 861–863.

Rapoport JL, Gogtay N . Brain neuroplasticity in healthy, hyperactive and psychotic children: insights from neuroimaging. Neuropsychopharmacology 2008; 33: 181–197.

Baicy K, London ED . Corticolimbic dysregulation and chronic methamphetamine abuse. Addiction 2007; 102: 5–15.

Chang L, Alicata D, Ernst T, Volkow N . Structural and metabolic brain changes in the striatum associated with methamphetamine abuse. Addiction 2007; 102: 16–32.

Ersche KD, Jones PS, Williams GB, Turton AJ, Robbins TW, Bullmore ET . Abnormal brain structure implicated in stimulant drug addiction. Science 2012; 335: 601–604.

Kim SJ, Lyoo IK, Hwang J, Chung A, Hoon Sung Y, Kim J et al. Prefrontal grey-matter changes in short-term and long-term abstinent methamphetamine abusers. Int J Neuropsychopharmacol 2006; 9: 221–228.

Schwartz DL, Mitchell AD, Lahna DL, Luber HS, Huckans MS, Mitchell SH et al. Global and local morphometric differences in recently abstinent methamphetamine-dependent individuals. NeuroImage 2010; 50: 1392–1401.

Thompson PM, Hayashi KM, Simon SL, Geaga JA, Hong MS, Sui Y et al. Structural abnormalities in the brains of human subjects who use methamphetamine. J Neurosci 2004; 24: 6028–6036.

Alicata D, Chang L, Cloak C, Abe K, Ernst T . Higher diffusion in striatum and lower fractional anisotropy in white matter of methamphetamine users. Psychiatry Res 2009; 174: 1–8.

Chung A, Lyoo IK, Kim SJ, Hwang J, Bae SC, Sung YH et al. Decreased frontal white-matter integrity in abstinent methamphetamine abusers. Int J Neuropsychopharmacol 2007; 10: 765–775.

Salo R, Nordahl TE, Buonocore MH, Natsuaki Y, Waters C, Moore CD et al. Cognitive control and white matter callosal microstructure in methamphetamine-dependent subjects: a diffusion tensor imaging study. Biol Psychiatry 2009; 65: 122–128.

Tobias MC, O'Neill J, Hudkins M, Bartzokis G, Dean AC, London ED . White-matter abnormalities in brain during early abstinence from methamphetamine abuse. Psychopharmacology 2010; 209: 13–24.

Casey BJ, Jones RM . Neurobiology of the adolescent brain and behavior: implications for substance use disorders. J Am Acad Child Adolesc Psychiatry 2010; 49: 1189–1201.

Johnston LD, O'Malley PM, Bachman JG, Schulenberg JE . Monitoring the Future: National Results on Adolescent Drug Use: Overviewof Key, Findings, 2011. Institute for Social Research. The University of Michigan: Ann Arbor, USA, 2012.

United Nations Office on Drugs and Crime (UNODC) Patterns and Trends of Amphetamine-Type Stimulants and other Drugs: Challenges for Asia and the Pacific 2013. A Report from the Global SMART Programme. UNODC: Vienna, Austria, 2013.

Weissman MM, Wickramaratne P, Adams P, Wolk S, Verdeli H, Olfson M . Brief screening for family psychiatric history: the family history screen. Arch Gen Psychiatry 2000; 57: 675–682.

Srisurapanont M, Jarusuraisin N, Jittiwutikan J . Amphetamine withdrawal: I. Reliability, validity and factor structure of a measure. Aust N Z J Psychiatry 1999; 33: 89–93.

Tiffany ST, Singleton E, Haertzen CA, Henningfield JE . The development of a cocaine craving questionnaire. Drug Alcohol Depend 1993; 34: 19–28.

Eidels A, Townsend JT, Algom D . Comparing perception of Stroop stimuli in focused versus divided attention paradigms: evidence for dramatic processing differences. Cognition 2010; 114: 129–150.

Goldstein RZ, Volkow ND . Dysfunction of the prefrontal cortex in addiction: neuroimaging findings and clinical implications. Nat Rev Neurosci 2011; 12: 652–669.

Uttl B, Graf P . Color-Word Stroop test performance across the adult life span. J Clin Exp Neuropsychol 1997; 19: 405–420.

Stroop JR . Studies of interference in serial verbal reactions. J Exp Psychol 1935; 18: 643–662.

Scott JC, Woods SP, Matt GE, Meyer RA, Heaton RK, Atkinson JH et al. Neurocognitive effects of methamphetamine: a critical review and meta-analysis. Neuropsychol Rev 2007; 17: 275–297.

MacKinnon DP, Fairchild AJ, Fritz MS . Mediation analysis. Annu Rev Psychol 2007; 58: 593–614.

Wheeler AL, Lerch JP, Chakravarty MM, Friedel M, Sled JG, Fletcher PJ et al. Adolescent cocaine exposure causes enduring macroscale changes in mouse brain structure. J Neurosci 2013; 33: 1797–1803.

Rhee SH, Hewitt JK, Young SE, Corley RP, Crowley TJ, Stallings MC . Genetic and environmental influences on substance initiation, use, and problem use in adolescents. Arch Gen Psychiatry 2003; 60: 1256–1264.

Lotfipour S, Ferguson E, Leonard G, Perron M, Pike B, Richer L et al. Orbitofrontal cortex and drug use during adolescence: role of prenatal exposure to maternal smoking and BDNF genotype. Arch Gen Psychiatry 2009; 66: 1244–1252.

Cheetham A, Allen NB, Whittle S, Simmons JG, Yucel M, Lubman DI . Orbitofrontal volumes in early adolescence predict initiation of cannabis use: a 4-year longitudinal and prospective study. Biol Psychiatry 2012; 71: 684–692.

Whelan R, Conrod PJ, Poline JB, Lourdusamy A, Banaschewski T, Barker GJ et al. Adolescent impulsivity phenotypes characterized by distinct brain networks. Nat Neurosci 2012; 15: 920–925.

Ersche KD, Jones PS, Williams GB, Smith DG, Bullmore ET, Robbins TW . Distinctive personality traits and neural correlates associated with stimulant drug use versus familial risk of stimulant dependence. Biol Psychiatry 2013; 74: 137–144.

Lucantonio F, Stalnaker TA, Shaham Y, Niv Y, Schoenbaum G . The impact of orbitofrontal dysfunction on cocaine addiction. Nat Neurosci 2012; 15: 358–366.

Crombag HS, Gorny G, Li Y, Kolb B, Robinson TE . Opposite effects of amphetamine self-administration experience on dendritic spines in the medial and orbital prefrontal cortex. Cereb Cortex 2005; 15: 341–348.

Franklin TR, Acton PD, Maldjian JA, Gray JD, Croft JR, Dackis CA et al. Decreased gray matter concentration in the insular, orbitofrontal, cingulate, and temporal cortices of cocaine patients. Biol Psychiatry 2002; 51: 134–142.

Benes FM, Turtle M, Khan Y, Farol P . Myelination of a key relay zone in the hippocampal formation occurs in the human brain during childhood, adolescence, and adulthood. Arch Gen Psychiatry 1994; 51: 477–484.

Crews F, He J, Hodge C . Adolescent cortical development: a critical period of vulnerability for addiction. Pharmacol Biochem Behav 2007; 86: 189–199.

Chudasama Y, Robbins TW . Functions of frontostriatal systems in cognition: comparative neuropsychopharmacological studies in rats, monkeys and humans. Biol Psychol 2006; 73: 19–38.

Anthony JC, Petronis KR . Early-onset drug use and risk of later drug problems. Drug Alcohol Depend 1995; 40: 9–15.

Dean AC, Groman SM, Morales AM, London ED . An evaluation of the evidence that methamphetamine abuse causes cognitive decline in humans. Neuropsychopharmacology 2013; 38: 259–274.

The National Institute on Drug Abuse National Institute on Drug Abuse Methamphetamine Abuse: Epidemiologic Issues and Implications. Department of Health and Human Services: Rockville, MD, USA, 1991 Available at: http://archives.drugabuse.gov/pdf/monographs/115.pdf.

Degenhardt L, Mathers B, Guarinieri M, Panda S, Phillips B, Strathdee S et al. The Global Epidemiology of Methamphetamine Injection: A Review of the Evidence of Use and Associations with HIV and Other Harm. National Drug and Alcohol Research Centre, University of New South Wales: Sydney, Australia, 2007.

Morales AM, Ghahremani D, Kohno M, Hellemann GS, London ED . Cigarette exposure, dependence, and craving are related to insula thickness in young adult smokers. Neuropsychopharmacology 2014; 39: 1816–1822.

Morales AM, Lee B, Hellemann G, O'Neill J, London ED . Gray-matter volume in methamphetamine dependence: cigarette smoking and changes with abstinence from methamphetamine. Drug Alcohol Depend 2012; 125: 230–238.

Almeida OP, Garrido GJ, Lautenschlager NT, Hulse GK, Jamrozik K, Flicker L . Smoking is associated with reduced cortical regional gray matter density in brain regions associated with incipient Alzheimer disease. Am J Geriatr Psychiatry 2008; 16: 92–98.

Brody AL, Mandelkern MA, Jarvik ME, Lee GS, Smith EC, Huang JC et al. Differences between smokers and nonsmokers in regional gray matter volumes and densities. Biol Psychiatry 2004; 55: 77–84.

Hudkins M, O'Neill J, Tobias MC, Bartzokis G, London ED . Cigarette smoking and white matter microstructure. Psychopharmacology 2012; 221: 285–295.

World Health Organization International Guide for Monitoring Alcohol Consumption And Related Harm. Department of Mental Health and Substance Dependence, World Health Organization: Geneva, Switzerland, 2000.

Fein G, Di Sclafani V, Cardenas VA, Goldmann H, Tolou-Shams M, Meyerhoff DJ . Cortical gray matter loss in treatment-naive alcohol dependent individuals. Alcohol Clin Exp Res 2002; 26: 558–564.

Kril JJ, Halliday GM, Svoboda MD, Cartwright H . The cerebral cortex is damaged in chronic alcoholics. Neuroscience 1997; 79: 983–998.

Pfefferbaum A, Sullivan EV, Rosenbloom MJ, Mathalon DH, Lim KO . A controlled study of cortical gray matter and ventricular changes in alcoholic men over a 5-year interval. Arch Gen Psychiatry 1998; 55: 905–912.

Goldman D, Oroszi G, Ducci F . The genetics of addictions: uncovering the genes. Nat Rev Genet 2005; 6: 521–532.
Acknowledgements
This work was supported by NIDA Grants 1R01 DA024070 (to IK Lyoo and PF Renshaw), K05 DA031247 (to PF Renshaw), Grant KRF-2008-220-E00021 from the Global Research Network Program funded by the Korea Research Foundation (to IK Lyoo), the Global Top 5 program from the Ewha W University (to IK Lyoo) and Grant 2012R1A2A2A01010739 from the National Research Foundation of Korea (to IK Lyoo). We thank Y Cheon, SY Won, YS Kim and YS Kwon for assistance with data collection and recruitment and JS Kim, KM Kim and KI Yang for technical assistance.
Ethics declarations
Competing interests
Professor IK Lyoo has received research support from Lundbeck, Eli Lilly, AstraZeneca, GSK, Nongshim and Pulmuone Holdings and Professor PFR has been a consultant for Ridge Diagnostics and Kyowa Hakko. The other authors declare no conflict of interest.
Supplementary information
About this article
Cite this article
Lyoo, I., Yoon, S., Kim, T. et al. Predisposition to and effects of methamphetamine use on the adolescent brain. Mol Psychiatry 20, 1516–1524 (2015). https://doi.org/10.1038/mp.2014.191
Received:

Revised:

Accepted:

Published:

Issue Date:

DOI: https://doi.org/10.1038/mp.2014.191