Abstract
Dioxin levels in the breast milk of mothers residing near a contaminated former airbase in Vietnam remain much higher than in unsprayed areas, suggesting high perinatal dioxin exposure for their infants. The present study investigated the association of perinatal dioxin exposure with autistic traits in 153 3-year-old children living in a contaminated area in Vietnam. The children were followed up from birth using the neurodevelopmental battery Bayley-III. The high-2,3,7,8-tetrachlorodibenzo-p-dioxin (TCDD) exposed groups (⩾3.5 pg per g fat) showed significantly higher Autism Spectrum Rating Scale (ASRS) scores for both boys and girls than the mild-TCDD exposed groups, without differences in neurodevelopmental scores. In contrast, the high total dioxin-exposed group, indicated by polychlorinated dibenzo-p-dioxins/furans (PCDDs/Fs)—the toxic equivalents (TEQ) levels⩾17.9 pg-TEQ per g fat, had significantly lower neurodevelopmental scores than the mild-exposed group in boys, but there was no difference in the ASRS scores. The present study demonstrates a specific impact of perinatal TCDD on autistic traits in childhood, which is different from the neurotoxicity of total dioxins (PCDDs/Fs).
Relevant articles
Open Access articles citing this article.
Eiki Kimura

,

Masanobu Kohda

…

Chiharu Tohyama

Histochemistry and Cell Biology Open Access 08 May 2021

Anh Thi Nguyet Nguyen

,

Muneko Nishijo

…

Hisao Nishijo

BMC Pediatrics Open Access 05 July 2018

Joon Seo Lim

,

Mi Young Lim

…

GwangPyo Ko

Molecular Brain Open Access 20 April 2017
Access options
Subscribe to this journal
Receive 12 print issues and online access
$259.00 per year
only $21.58 per issue
Rent or buy this article
Get just this article for as long as you need it
$39.95
Prices may be subject to local taxes which are calculated during checkout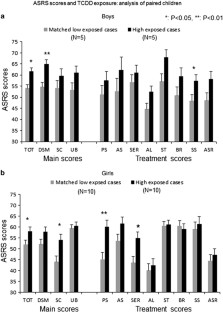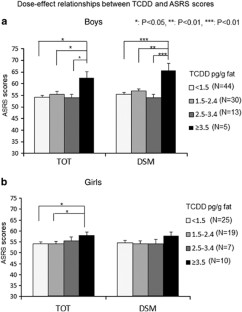 References
Baird G, Simonoff E, Pickles A, Chandler S, Loucas T, Meldrum D et al. Prevalence of disorders of the autism spectrum in a population cohort of children in South Thames: the Special Needs and Autism Project (SNAP). Lancet 2006; 368: 210–215.

Baron-Cohen S, Scott FJ, Allison C, Williams J, Bolton P, Matthews FE et al. Prevalence of autism-spectrum conditions: UK school-based population study. Br J Psychiatry 2009; 194: 500–509.

Croen L, Grether J, Hoogstrate J, Selvin S . The changing prevalence of autism in California. J Autism Dev Disord 2002; 32: 207–215.

Landrigan PJ . What causes autism? Exploring the environmental contribution. Curr Opin Pediatr 2010; 22: 219–225.

Seo BW, Sparks AJ, Medra K, Amin S, Schantz SL . Learning and memory in rats gestationally and lactationally exposed to 2,3,7,8-tetrachlorodibenzo-p-dioxin (TCDD). Neurotoxicol Teratol 1991; 21: 231–239.

Schantz SL, Bowman RE . Learning in monkeys exposed perinatally to 2,3,7,8-tetrachlorodibenzo-p-dioxin (TCDD). Neurotoxico Teratol 1989; 11: 13–19.

Nishijo M, Kuriwaki J, Hori E, Tawara K, Nakagawa H, Nishijo H et al. Effects of maternal exposure to 2,3,7,8-tetrachlorodibenzo-p-dioxin on fetal brain growth and motor and behavioral development in offspring rats. Toxicol Lett 2007; 173: 41–47.

Nguyen AT, Nishijo M, Hori E, Nguyen NM, Pham TT, Fukunaga K et al. Effects of maternal exposure to 2,3,7,8-tetrachlorodibenzo-p-dioxin on socio-emotional behaviors in offspring rats. Environ Health Insights 2013; 7: 1–14.

Rodier PM . Developing brain as a target of toxicity. Environ Health Perspect 1995; 103: 73–76.

Weiss B . Vulnerability of children and the developing brain to neurotoxic hazards. Environ Health Perspect 2000; 108: 375–381.

Koopman-Esseboom C, Weisglas-Kuperus N, Ridder MA, Van der Paauw CG, Tuinstra LG, Sauer PJ . Effects of polychlorinated biphenyl/dioxin exposure and feeding type on infants' mental and psychomotor development. Pediatrics 1996; 97: 700–706.

Nakajima S, Saijo Y, Kato S, Sasaki S, Uno A, Kanagami N et al. Effects of prenatal exposure to polychlorinated biphenyls and dioxins on mental and motor development in japanese children at 6 months of age. Environ. Heath Perspect 2006; 114: 773–778.

Nishijo M, Tai PT, Morikawa Y, Maruzeni S, Anh NT, Luong HV et al. Impact of perinatal dioxin exposure on infant growth: a cross-sectional and longitudinal studies in dioxin-contaminated areas in Vietnam. PLoS One 2012; 7: e40273.

Tai PT, Nishijo M, Anh NT, Maruzeni S, Nakagawa H, Luong HV et al. Dioxin exposure in breast milk and infant neurodevelopment in Vietnam. Occup Environ Med 2013; 70: 656–662.

Tai PT, Kido T, Nishijo M, Nakagawa N, Maruzeni S, Anh NT et al. Dioxin concentrations in breast milk of Vietnamese nursing mothers: a survey four decades after the herbicides spraying. Environ Sci Technol 2011; 45: 6625–6632.

Nishijo M, Tai PT, Nui NM, Anh NT, Hai NM, Maruzeni S et al. Effects of dioxins exposure on social emotional behavior of children living in a hot spot area, Vietnam. Organohalogen Compounds 2012; 74: 1332–1335.

Dwernychuk LW . Dioxin hot spots in Vietnam. Chemosphere 2005; 60: 998–999.

Minh NH, Boivin T, Canh PN, Son LK . Comprehensive assessment of dioxin contamination in Da Nang airbase and its vicinities: Environmental levels, human exposure and options for mitigating impacts. In: Obayashi Y, Isobe T, Subramanian A, Suzuki S, Tanabe S (eds). Interdisciplinary Studies on Environmental Chemistry—Environmental Research in Asia. TERRAPUB: Tokyo, Japan, 2009 pp 21–29.

Hatfield Consultants, Office of National Committee 33. Assessment of dioxin contamination in the environment and human population in the vicinity of Da Nang airbase, Vietnam. http://www.hatfieldgroup.com/UserFiles/File/AgentOrangeReports/DANDI1283/DANDI1283_Final_Report.pdf.

Bayley N . Evidence of Validity. The Bayley-III Technical Manual. Pearson Education Inc.: San Antonio, TX, USA, 2006, pp 69–103.

Tawara K, Honda R, Nishijo M, Nakagawa H . Pretreatment procedure of dioxin analysis for a small volume of human breast milk (in Japanese). J Kanazawa Med Univ 2003; 28: 17–25.

Van den Berg M, Birnbaum LS, Denison M, De Vito M, Farland W, Feeley M et al. The 2005 World Health Organization Reevaluation of human and mammalian toxic equivalency factors for dioxins and dioxin-like compounds. Toxicol Sci 2006; 93: 223–241.

Weiss J, Papke O, Bignert A, Jensen S, Greyerz E, Agostoni C et al. Concentrations of dioxins and other organochlorines (PCBs, DDTs, HCHs) in human milk from Seveso, Milan and a Lombardian rural area in Italy: a study performed 25 years after the heavy dioxin exposure in Seveso. Acta Paediatr 2003; 92: 467–472.

Mocarelli P, Gerthoux PM, Ferrari E, Patterson DG Jr, Kieszak SM, Brambilla P et al. Paternal concentrations of dioxin and sex ratio of offspring. Lancet 2000; 355: 1858–1863.

Baccarelli A, Giacomini SM, Corbetta C, Landi MT, Bonzini M, Consonni D et al. Neonatal thyroid function in Seveso 25 years after maternal exposure to dioxin. PLoS Med 2008; 5: 1133–1142.

Mocarelli P, Gerthoux PM, Needham LL, Patterson DG Jr, Limonta G, Falbo R et al. Perinatal exposure to low doses of dioxin can permanently impair human semen quality. Environ Health Perspect 2011; 119: 713–718.

Patandin S, Dagnelie PC, Mulder PGH, Op de Coul E, Weisglas-Kuperus N, Sauter PJJ . Dietary exposure to polychlorinated biphenyls and dioxins from infancy until adulthood: a comparison between breast-feeding, toddler, and long term exposure. Environ Health Perspect 1999; 107: 45–51.

Schellart NAM, Reits D . Influences of perinatal dioxin load to visual motion and oddball stimuli examined with an EEG and MEG analysis. Clin Neurophysiol 2008; 119: 1486–1495.

Koppe JG, Pluim HJ, Olie K, van Wijnen J . Breast milk, dioxins and the possible effects on the health of newborn infants. Sci Total Environ 1991; 106: 33–41.

Teitelbaum O, Benton T, Shah PK, Prince A, Kelly JL, Teitelbaum P . Eshkol-Wachman movement notation in diagnosis: The early detection of Asperger's syndrome. Proc Natl Acad Sci USA 2004; 101: 11909–11914.

Teitelbaum P, Teitelbaum O, Nye J, Fryman J, Maurer RG . Movement analysis in infancy may be useful for early diagnosis of autism. Proc Natl Acad Sci USA 1998; 95: 13982–13987.

Baht AN, Galloway JC, Landa RJ . Relation between early motor delay and later communication delay in infants at risk for autism. Infant Behav Dev 2012; 35: 838–846.

Nguyen MN, Nishijo M, Nguyen AT, Bor A, Nakamura T, Hori E et al. Effects of maternal exposure to 2,3,7,8-tetrachlorodibenzo-p-dioxin on parvalbumin- and calbindin-immunoreactive neurons in the limbic system and superior colliculus in rat offspring. Toxicol 2013; 314: 125–134.

Ilsen A, Briet JM, Koppe JG, Pluim HJ, Oosting J . Signs of enhanced neuromotor maturation in children due to perinatal load with background levels of dioxins. Chemosphere 1996; 33: 1317–1326.

Marz KD, Green J, Dumont-Mathieu T, Makin S, Fein D . Correlates of head circumference growth in infants later diagnosed with autism spectrum disorders. J Child Neurol 2007; 22: 700–713.

Gillberg C, de Souza L . Head circumference in autism, Asperger's syndrome and ADHD: a comparative study. Dev Med Child Neurol 2002; 44: 296–300.

Grandgeorge M, Lemonnier E, Jallot N . Autism spectrum disorders: head circumference and body length at birth are both relative. Acta Paediatr 2013; 102: 901–907.

Tsukimori K, Uchin H, Mitoma C, Yasukawa F, Chiba T, Todaka T et al. Maternal exposure to high levels of dioxins in relation to birth weight in women affected by Yusho disease. Environ Int 2012; 38: 79–86.

Hays LE, Carpenter CD, Petersen SL . Evidence that GABAergic neurons in the preoptic area of the rat brain are targets of 2,3,7,8-tetrachlorodibenzo-p-dioxin during development. Environ Health Perspect 2002; 110: 369–376.

Pollack MH, Jensen JE, Simon NM, Kaufman RE, Renshaw PF . High-field MRS study of GABA, glutamate and glutamine in social anxiety disorder: response to treatment with levetiracetam. Prog Neuropsychopharmacol Biol Psychiatry 2008; 32: 739–743.

Lewis DA, Hashimoto T, Volk DW . Cortical inhibitory neurons and schizophrenia. Nature Rev 2005; 6: 312–324.

Gogolla N, Le blan JJ, Quast KB, Südhof T, Fagiolini M, Hensch TK . Common circuit defect of excitatory-inhibitory balance in mouse models of autism. J Neurodev Disord 2009; 1: 172–181.

Nguyen PT, Nakamura T, Hori E, Urakawa S, Uwano T, Zhao J et al. Cognitive and socio-emotional deficits in platelet-derived growth factor receptor-β gene knockout mice. PLoS One 2011; 6: e18004.
Acknowledgements
We thank the medical staffs in the Health Department of Da Nang city, Thanh Khe and Son Tra district hospitals and 17 commune health centers of Thanh Khe and Son Tra districts for their enthusiastic collaborations. This work was supported by the JSPS (Japan Society for the Promotion of Science) Asian Core Program and the Japan Society for the Promotion of Science (Grant-in-Aid for Scientific Research (B) (25305024) and (25290005)). None of the founders had role in the study design, sample collection, analysis, interpretation of data, writing the report or decision to submit the manuscript for publication.
Ethics declarations
Competing interests
The authors declare no conflict of interest.
About this article
Cite this article
Nishijo, M., Pham, T., Nguyen, A. et al. 2,3,7,8-Tetrachlorodibenzo-p-dioxin in breast milk increases autistic traits of 3-year-old children in Vietnam. Mol Psychiatry 19, 1220–1226 (2014). https://doi.org/10.1038/mp.2014.18
Received:

Revised:

Accepted:

Published:

Issue Date:

DOI: https://doi.org/10.1038/mp.2014.18