Abstract
Endogenous opioid and non-opioid mechanisms (for example, dopamine (DA), endocannabinoids (eCB)) have been implicated in the formation of placebo analgesic effects, with initial reports dating back three decades. Besides the perspective that placebo effects confound randomized clinical trials, the information so far acquired points to neurobiological systems that when activated by positive expectations and maintained through conditioning and reward learning are capable of inducing physiological changes that lead to the experience of analgesia and improvements in emotional state. Molecular neuroimaging techniques with positron emission tomography and the selective μ-opioid and D2/3 radiotracers [11C]carfentanil and [11C]raclopride have significantly contributed to our understanding of the neurobiological systems involved in the formation of placebo effects. This line of research has described neural and neurotransmitter networks implicated in placebo responses and provided the technical tools to examine inter-individual differences in the function of placebo-responsive mechanisms, and potential surrogates (biomarkers). As a consequence, the formation of biological placebo effects is now being linked to the concept of resiliency mechanisms, partially determined by genetic factors, and uncovered by the cognitive emotional integration of the expectations created by the therapeutic environment and its maintenance through learning mechanisms. Further work needs to extend this research into clinical conditions where the rates of placebo responses are high and its neurobiological mechanisms have been largely unexplored (for example, mood and anxiety disorders, persistent pain syndromes or even Parkinson disease and multiple sclerosis). The delineation of these processes within and across diseases would point to biological targets that have not been contemplated in traditional drug development.
Relevant articles
Open Access articles citing this article.
Gene-Jack Wang

,

Corinde E. Wiers

…

Nora D. Volkow

Translational Psychiatry Open Access 15 February 2019

Zsolt Turi

,

Espen Bjørkedal

…

Matthias Mittner

Scientific Reports Open Access 28 November 2018

N Jayaram-Lindström

,

J Guterstam

…

J Franck

Translational Psychiatry Open Access 25 April 2017
Access options
Subscribe to Journal
Get full journal access for 1 year
$119.00
only $9.92 per issue
All prices are NET prices.
VAT will be added later in the checkout.
Tax calculation will be finalised during checkout.
Buy article
Get time limited or full article access on ReadCube.
$32.00
All prices are NET prices.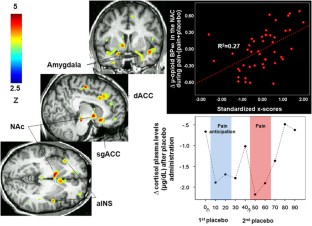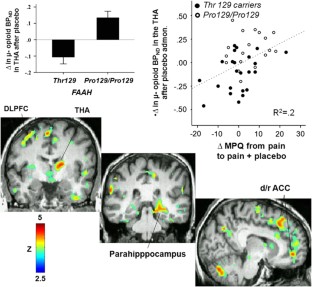 References
Price DD, Finniss DG, Benedetti F . A comprehensive review of the placebo effect: recent advances and current thought. Annu Rev Psychol 2008; 59: 565–590.

Colloca L, Benedetti F . Placebos and painkillers: is mind as real as matter? Nat Rev Neurosci 2005; 6: 545–552.

Kirsch I . Conditioning, expectancy, and the placebo effect: comment on Stewart-Williams and Podd (2004). Psychol Bull 2004; 130: 341–343, discussion 344-345.

Stewart-Williams S, Podd J . The placebo effect: dissolving the expectancy versus conditioning debate. Psychol Bull 2004; 130: 324–340.

Wager TD, Rilling JK, Smith EE, Sokolik A, Casey KL, Davidson RJ et al. Placebo-induced changes in FMRI in the anticipation and experience of pain. Science 2004; 303: 1162–1167.

Wager TD, Scott DJ, Zubieta JK . Placebo effects on human μ-opioid activity during pain. Proc Natl Acad Sci USA 2007; 104: 11056–11061.

Zubieta JK, Bueller JA, Jackson LR, Scott DJ, Xu Y, Koeppe RA et al. Placebo effects mediated by endogenous opioid activity on mu-opioid receptors. J Neurosci 2005; 25: 7754–7762.

Scott DJ, Stohler CS, Egnatuk CM, Wang H, Koeppe RA, Zubieta JK . Placebo and nocebo effects are defined by opposite opioid and dopaminergic responses. Arch Gen Psychiatry 2008; 65: 220–231.

Mayberg HS, Silva JA, Brannan SK, Tekell JL, Mahurin RK, McGinnis S et al. The functional neuroanatomy of the placebo effect. Am J Psychiatry 2002; 159: 728–737.

de la Fuente-Fernandez R, Ruth TJ, Sossi V, Schulzer M, Calne DB, Stoessl AJ . Expectation and dopamine release: mechanism of the placebo effect in Parkinson's disease. Science 2001; 293: 1164–1166.

de la Fuente-Fernandez R, Phillips AG, Zamburlini M, Sossi V, Calne DB, Ruth TJ et al. Dopamine release in human ventral striatum and expectation of reward. Behav Brain Res 2002; 136: 359–363.

Volkow ND, Wang GJ, Ma Y, Fowler JS, Zhu W, Maynard L et al. Expectation enhances the regional brain metabolic and the reinforcing effects of stimulants in cocaine abusers. J Neurosci 2003; 23: 11461–11468.

Kennedy SE, Koeppe RA, Young EA, Zubieta JK . Dysregulation of endogenous opioid emotion regulation circuitry in major depression in women. Arch Gen Psychiatry 2006; 63: 1199–1208.

Kreek MJ, Koob GF . Drug dependence: stress and dysregulation of brain reward pathways. Drug Alcohol Depend 1998; 51: 23–47.

Vaccarino AL, Kastin AJ . Endogenous opiates: 1999. Peptides 2000; 21: 1975–2034.

Zubieta JK, Ketter TA, Bueller JA, Xu Y, Kilbourn MR, Young EA et al. Regulation of human affective responses by anterior cingulate and limbic mu-opioid neurotransmission. Arch Gen Psychiatry 2003; 60: 1145–1153.

Pecina S, Berridge KC . Hedonic hot spot in nucleus accumbens shell: where do mu-opioids cause increased hedonic impact of sweetness? J Neurosci 2005; 25: 11777–11786.

Herman BH, Panksepp J . Effects of morphine and naloxone on separation distress and approach attachment: evidence for opiate mediation of social affect. Pharmacol Biochem Behav 1978; 9: 213–220.

Hsu DT, Sanford BJ, Meyers KK, Love TM, Hazlett KE, Wang H et al. Response of the mu-opioid system to social rejection and acceptance. Mol Psychiatry 2013; 18: 1211–1217.

Ellingsen DM, Wessberg J, Eikemo M, Liljencrantz J, Endestad T, Olausson H et al. Placebo improves pleasure and pain through opposite modulation of sensory processing. Proc Natl Acad Sci USA 2013; 110: 17993–17998.

Manning BH . A lateralized deficit in morphine antinociception after unilateral inactivation of the central amygdala. J Neurosci 1998; 18: 9453–9470.

Oroszi G, Goldman D . Alcoholism: genes and mechanisms. Pharmacogenomics 2004; 5: 1037–1048.

Amanzio M, Benedetti F . Neuropharmacological dissection of placebo analgesia: expectation-activated opioid systems versus conditioning-activated specific subsystems. J Neurosci 1999; 19: 484–494.

Gracely RH, Dubner R, Wolskee PJ, Deeter WR . Placebo and naloxone can alter post-surgical pain by separate mechanisms. Nature 1983; 306: 264–265.

Levine J, Gordon N, Fields H . The mechanism of placebo analgesia. Lancet 1978; 2: 654–657.

Petrovic P, Kalso E, Petersson KM, Ingvar M . Placebo and opioid analgesia— imaging a shared neuronal network. Science 2002; 295: 1737–1740.

Pecina M, Azhar H, Love TM, Lu T, Fredrickson BL, Stohler CS et al. Personality trait predictors of placebo analgesia and neurobiological correlates. Neuropsychopharmacology 2013; 38: 639–646.

Pecina M, Martinez-Jauand M, Hodgkinson C, Stohler CS, Goldman D, Zubieta JK . FAAH selectively influences placebo effects. Mol Psychiatry 2014; 19: 385–391.

Pecina M, Stohler CS, Zubieta JK . Neurobiology of placebo effects: expectations or learning? Soc Cogn Affect Neurosci 2013; 9: 1013–1021.

Wager TD, Scott DJ, Zubieta JK . Placebo effects on human mu-opioid activity during pain. Proc Natl Acad Sci USA 2007; 104: 11056–11061.

Zubieta JK, Yau WY, Scott DJ, Stohler CS . Belief or Need? Accounting for individual variations in the neurochemistry of the placebo effect. Brain Behav Immun 2006; 20: 15–26.

Zhang X, Ashton-Miller JA, Stohler CS . A closed-loop system for maintaining constant experimental muscle pain in man. IEEE Trans Biomed Eng 1993; 40: 344–352.

Stohler C, Kowalski C . Spatial and temporal summation of sensory and affective dimensions of deep somatic pain. Pain 1999; 79: 165–173.

Watson D, Clark LA, Tellegen A . Development and validation of brief measures of positive and negative affect: the PANAS scales. J Personal Soc Psychol 1988; 54: 1063–1070.

Melzack R, Katz J . The McGill Pain Questionnaire: Appraisal and Current Status. In: Turk D, Melzack R (eds). Handbook of Pain Assessment. Guilford Press: New York, 2000 pp 152–168.

Fields H . State-dependent opioid control of pain. Nat Rev Neurosci 2004; 5: 565–575.

Irizarry KJ, Licinio J . An explanation for the placebo effect? Science 2005; 307: 1411–1412.

Buchel C, Geuter S, Sprenger C, Eippert F . Placebo analgesia: a predictive coding perspective. Neuron 2014; 81: 1223–1239.

Rescorla RA, Wagner AR . A theory of Pavlovian conditioning: variations in the effectiveness of reinforcement and nonreinformecement. In: Black AH, Prokasy WF (eds). Classical Conditioning, II, Current Research and Theory. Appleton Century Crofts: New York, 1972 pp 64–69.

Zubieta JK, Smith YR, Bueller JA, Xu Y, Kilbourn MR, Jewett DM et al. Regional mu opioid receptor regulation of sensory and affective dimensions of pain. Science 2001; 293: 311–315.

Pecina M, Stohler CS, Zubieta JK . Role of mu-opioid system in the formation of memory of placebo responses. Mol Psychiatry 2012; 18: 135–137.

Adcock RA, Thangavel A, Whitfield-Gabrieli S, Knutson B, Gabrieli JD . Reward-motivated learning: mesolimbic activation precedes memory formation. Neuron 2006; 50: 507–517.

Ribeiro SC, Kennedy SE, Smith YR, Stohler CS, Zubieta JK . Interface of physical and emotional stress regulation through the endogenous opioid system and mu-opioid receptors. Prog Neuropsychopharmacol Biol Psychiatry 2005; 29: 1264–1280.

Jaksic N, Aukst-Margetic B, Jakovljevic M . Does personality play a relevant role in the placebo effect? Psychiatr Danub 2013; 25: 17–23.

Pecina M, Azhar H, Love TM, Lu T, Fredrickson BL, Stohler CS et al. Personality trait predictors of placebo analgesia and neurobiological correlates. Neuropsychopharmacology 2012; 38: 639–646.

Costa P, McRae R . Normal personality assessment in clinical plactice: the NEO Personality Inventory. Psychological Assessment 1992; 4: 5–13.

Yu R, Gollub RL, Vangel M, Kaptchuk T, Smoller JW, Kong J . Placebo analgesia and reward processing: Integrating genetics, personality, and intrinsic brain activity. Hum Brain Mapp 2014; 35: 4583–4593.

Vase L, Robinson ME, Verne GN, Price DD . Increased placebo analgesia over time in irritable bowel syndrome (IBS) patients is associated with desire and expectation but not endogenous opioid mechanisms. Pain 2005; 115: 338–347.

Schweinhardt P, Seminowicz DA, Jaeger E, Duncan GH, Bushnell MC . The anatomy of the mesolimbic reward system: a link between personality and the placebo analgesic response. J Neurosci 2009; 29: 4882–4887.

Morton DL, Watson A, El-Deredy W, Jones AK . Reproducibility of placebo analgesia: Effect of dispositional optimism. Pain 2009; 146: 194–198.

Geers AL, Wellman JA, Fowler SL, Helfer SG, France CR . Dispositional optimism predicts placebo analgesia. J Pain 2010; 11: 1165–1171.

Benedetti F, Colloca L, Torre E, Lanotte M, Melcarne A, Pesare M et al. Placebo-responsive Parkinson patients show decreased activity in single neurons of subthalamic nucleus. Nat Neurosci 2004; 7: 587–588.

Scott DJ, Stohler CS, Egnatuk CM, Wang H, Koeppe RA, Zubieta JK . Individual differences in reward responding explain placebo-induced expectations and effects. Neuron 2007; 55: 325–336.

Knutson B, Bjork JM, Fong GW, Hommer D, Mattay VS, Weinberger DR . Amphetamine modulates human incentive processing. Neuron 2004; 43: 261–269.

Hall KT, Lembo AJ, Kirsch I, Ziogas DC, Douaiher J, Jensen KB et al. Catechol-O-methyltransferase val158met polymorphism predicts placebo effect in irritable bowel syndrome. PloS One 2012; 7: e48135.

Pecina M, Martinez-Jauand M, Love T, Heffernan J, Montoya P, Hodgkinson C et al. Valence-specific effects of BDNF Val66Met polymorphism on dopaminergic stress and reward processing in humans. J Neurosci 2014; 34: 5874–5881.

Kogan NM, Mechoulam R . The chemistry of endocannabinoids. J Endocrinol Invest 2006; 29: 3–14.

Hohmann AG . Spinal and peripheral mechanisms of cannabinoid antinociception: behavioral, neurophysiological and neuroanatomical perspectives. Chem Phys Lipids 2002; 121: 173–190.

Gardner EL, Vorel SR . Cannabinoid transmission and reward-related events. Neurobiol Dis 1998; 5: 502–533.

Colloca L, Sigaudo M, Benedetti F . The role of learning in nocebo and placebo effects. Pain 2008; 136: 211–218.

Benedetti F, Amanzio M, Rosato R, Blanchard C . Nonopioid placebo analgesia is mediated by CB1 cannabinoid receptors. Nat Med 2011; 17: 1228–1230.

Salio C, Fischer J, Franzoni MF, Mackie K, Kaneko T, Conrath M . CB1-cannabinoid and mu-opioid receptor co-localization on postsynaptic target in the rat dorsal horn. Neuroreport 2001; 12: 3689–3692.

Ledent C, Valverde O, Cossu G, Petitet F, Aubert JF, Beslot F et al. Unresponsiveness to cannabinoids and reduced addictive effects of opiates in CB1 receptor knockout mice. Science 1999; 283: 401–404.

Pecina M, Martinez-Jauand M, Hodgkinson C, Stohler CS, Goldman D, Zubieta JK . FAAH selectively influences placebo effects. Mol Psychiatry 2013; 19: 385–391.

Chiang KP, Gerber AL, Sipe JC, Cravatt BF . Reduced cellular expression and activity of the P129T mutant of human fatty acid amide hydrolase: evidence for a link between defects in the endocannabinoid system and problem drug use. Hum Mol Gen 2004; 13: 2113–2119.

Fattore L, Vigano D, Fadda P, Rubino T, Fratta W, Parolaro D . Bidirectional regulation of mu-opioid and CB1-cannabinoid receptor in rats self-administering heroin or WIN 55,212-2. Eur J Neurosci 2007; 25: 2191–2200.

Fattore L, Deiana S, Spano SM, Cossu G, Fadda P, Scherma M et al. Endocannabinoid system and opioid addiction: behavioural aspects. Pharmacol Biochem Behav 2005; 81: 343–359.

Navarro M, Carrera MR, Fratta W, Valverde O, Cossu G, Fattore L et al. Functional interaction between opioid and cannabinoid receptors in drug self-administration. J Neurosci 2001; 21: 5344–5350.
Acknowledgements
This work was supported by R01 AT 001415, R01 DA 022520, R01 DA 27494 (JKZ) and the Phil F Jenkins Foundation. We would also like to acknowledge the contribution of the technologists of the PET Center at the University of Michigan.
Ethics declarations
Competing interests
The authors declare no conflict of interest.
About this article
Cite this article
Peciña, M., Zubieta, JK. Molecular mechanisms of placebo responses in humans. Mol Psychiatry 20, 416–423 (2015). https://doi.org/10.1038/mp.2014.164
Received:

Revised:

Accepted:

Published:

Issue Date:

DOI: https://doi.org/10.1038/mp.2014.164