Abstract
Converging epidemiological studies indicate that cannabis abuse during adolescence increases the risk of developing psychosis and prefrontal cortex (PFC)-dependent cognitive impairments later in life. However, the mechanisms underlying the adolescent susceptibility to chronic cannabis exposure are poorly understood. Given that the psychoactive constituent of cannabis binds to the CB1 cannabinoid receptor, the present study was designed to determine the impact of a CB1 receptor agonist (WIN) during specific windows of adolescence on the functional maturation of the rat PFC. By means of local field potential recordings and ventral hippocampal stimulation in vivo, we found that a history of WIN exposure during early (postnatal days – P35–40) or mid-(P40–45) adolescence, but not in late adolescence (P50–55) or adulthood (P75–80), is sufficient to yield a state of frequency-dependent prefrontal disinhibition in adulthood comparable to that seen in the juvenile PFC. Remarkably, this prefrontal disinhibition could be normalized following a single acute local infusion of the GABA-Aα1 positive allosteric modulator Indiplon, suggesting that adolescent exposure to WIN causes a functional downregulation of GABAergic transmission in the PFC. Accordingly, in vitro recordings from adult rats exposed to WIN during adolescence demonstrate that local prefrontal GABAergic transmission onto layer V pyramidal neurons is markedly reduced to the level seen in the P30–35 PFC. Together, these results indicate that early and mid-adolescence constitute a critical period during which repeated CB1 receptor stimulation is sufficient to elicit an enduring state of PFC network disinhibition resulting from a developmental impairment of local prefrontal GABAergic transmission.
Relevant articles
Open Access articles citing this article.
Rendiconti Lincei. Scienze Fisiche e Naturali Open Access 21 January 2021

Clara Garcia-Mompo

,

Yasmina Curto

…

Juan Nacher

Translational Psychiatry Open Access 01 June 2020

Adán de Salas-Quiroga

,

Daniel García-Rincón

…

Ismael Galve-Roperh

Neuropsychopharmacology Open Access 26 January 2020
Access options
Subscribe to this journal
Receive 12 print issues and online access
$259.00 per year
only $21.58 per issue
Rent or buy this article
Get just this article for as long as you need it
$39.95
Prices may be subject to local taxes which are calculated during checkout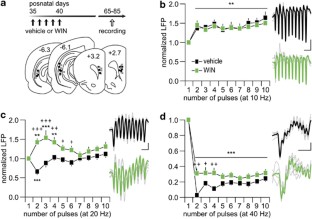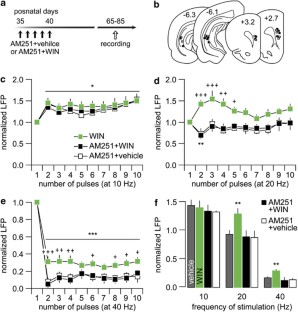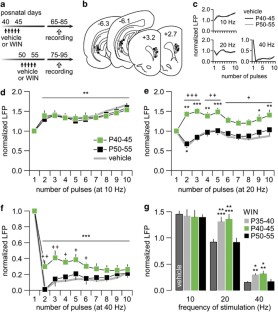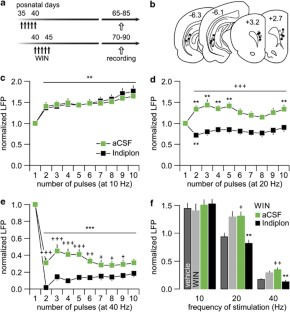 References
Andersen SL . Trajectories of brain development: point of vulnerability or window of opportunity? Neurosci Biobehav Rev 2003; 27: 3–18.

Chambers RA, Taylor JR, Potenza MN . Developmental neurocircuitry of motivation in adolescence: a critical period of addiction vulnerability. Am J Psychiatry 2003; 160: 1041–1052.

Paus T, Keshavan M, Giedd JN . Why do many psychiatric disorders emerge during adolescence? Nat Rev Neurosci 2008; 9: 947–957.

Caspi A, Moffitt TE, Cannon M, McClay J, Murray R, Harrington H et al. Moderation of the effect of adolescent-onset cannabis use on adult psychosis by a functional polymorphism in the catechol-O-methyltransferase gene: longitudinal evidence of a gene X environment interaction. Biol Psychiatry 2005; 57: 1117–1127.

Henquet C, Murray R, Linszen D, van Os J . The environment and schizophrenia: the role of cannabis use. Schizophr Bull 2005; 31: 608–612.

Moore TH, Zammit S, Lingford-Hughes A, Barnes TR, Jones PB, Burke M et al. Cannabis use and risk of psychotic or affective mental health outcomes: a systematic review. Lancet 2007; 370: 319–328.

Meier MH, Caspi A, Ambler A, Harrington H, Houts R, Keefe RS et al. Persistent cannabis users show neuropsychological decline from childhood to midlife. Proc Natl Acad Sci USA 2012; 109: E2657–E2664.

McGrath J, Welham J, Scott J, Varghese D, Degenhardt L, Hayatbakhsh MR et al. Association between cannabis use and psychosis-related outcomes using sibling pair analysis in a cohort of young adults. Arch Gen Psychiatry 2010; 67: 440–447.

Kanayama G, Rogowska J, Pope HG, Gruber SA, Yurgelun-Todd DA . Spatial working memory in heavy cannabis users: a functional magnetic resonance imaging study. Psychopharmacology (Berl) 2004; 176: 239–247.

Schweinsburg AD, Brown SA, Tapert SF . The influence of marijuana use on neurocognitive functioning in adolescents. Curr Drug Abuse Rev 2008; 1: 99–111.

Solowij N, Stephens RS, Roffman RA, Babor T, Kadden R, Miller M et al. Cognitive functioning of long-term heavy cannabis users seeking treatment. Jama 2002; 287: 1123–1131.

Best JR, Miller PH . A developmental perspective on executive function. Child Dev 2010; 81: 1641–1660.

Casey BJ, Giedd JN, Thomas KM . Structural and functional brain development and its relation to cognitive development. Biol Psychol 2000; 54: 241–257.

O'Shea M, Singh ME, McGregor IS, Mallet PE . Chronic cannabinoid exposure produces lasting memory impairment and increased anxiety in adolescent but not adult rats. J Psychopharmacol 2004; 18: 502–508.

Raver SM, Haughwout SP, Keller A . Adolescent cannabinoid exposure permanently suppresses cortical oscillations in adult mice. Neuropsychopharmacology 2013; 38: 2338–2347.

Renard J, Krebs MO, Jay TM, Le Pen G . Long-term cognitive impairments induced by chronic cannabinoid exposure during adolescence in rats: a strain comparison. Psychopharmacology (Berl) 2013; 225: 781–790.

Schneider M, Koch M . Chronic pubertal, but not adult chronic cannabinoid treatment impairs sensorimotor gating, recognition memory, and the performance in a progressive ratio task in adult rats. Neuropsychopharmacology 2003; 28: 1760–1769.

Schneider M, Schomig E, Leweke FM . Acute and chronic cannabinoid treatment differentially affects recognition memory and social behavior in pubertal and adult rats. Addict Biol 2008; 13: 345–357.

Elsohly MA, Slade D . Chemical constituents of marijuana: the complex mixture of natural cannabinoids. Life Sci 2005; 78: 539–548.

Caballero A, Tseng KY . Association of cannabis use during adolescence, prefrontal CB1 receptor signaling, and schizophrenia. Front Pharmacol 2012; 3: 101.

Realini N, Rubino T, Parolaro D . Neurobiological alterations at adult age triggered by adolescent exposure to cannabinoids. Pharmacol Res 2009; 60: 132–138.

Hajos M, Hoffmann WE, Kocsis B . Activation of cannabinoid-1 receptors disrupts sensory gating and neuronal oscillation: relevance to schizophrenia. Biol Psychiatry 2008; 63: 1075–1083.

Uhlhaas PJ, Linden DE, Singer W, Haenschel C, Lindner M, Maurer K et al. Dysfunctional long-range coordination of neural activity during Gestalt perception in schizophrenia. J Neurosci 2006; 26: 8168–8175.

Uhlhaas PJ, Singer W . Neural synchrony in brain disorders: relevance for cognitive dysfunctions and pathophysiology. Neuron 2006; 52: 155–168.

Caballero A, Flores-Barrera E, Cass DK, Tseng KY . Differential regulation of parvalbumin and calretinin interneurons in the prefrontal cortex during adolescence. Brain Struct Funct 2014; 219: 395–406.

Thomases DR, Cass DK, Tseng KY . Periadolescent exposure to the NMDA receptor antagonist MK-801 impairs the functional maturation of local GABAergic circuits in the adult prefrontal cortex. J Neurosci 2013; 33: 26–34.

Cass DK, Thomases DR, Caballero A, Tseng KY . Developmental disruption of gamma-aminobutyric acid function in the medial prefrontal cortex by noncontingent cocaine exposure during early adolescence. Biol Psychiatry 2013; 74: 490–501.

Tagliaferro P, Javier Ramos A, Onaivi ES, Evrard SG, Lujilde J, Brusco A . Neuronal cytoskeleton and synaptic densities are altered after a chronic treatment with the cannabinoid receptor agonist WIN 55,212-2. Brain Res 2006; 1085: 163–176.

Wegener N, Koch M . Behavioural disturbances and altered Fos protein expression in adult rats after chronic pubertal cannabinoid treatment. Brain Res 2009; 1253: 81–91.

Paxinos G, Watson C . The Rat Brain in Stereotaxic Coordinates. Academic Press: New York, 1998.

Flores-Barrera E, Thomases DR, Heng LJ, Cass DK, Caballero A, Tseng KY . Late adolescent expression of GluN2B transmission in the prefrontal cortex is input-specific and requires postsynaptic PKA and D1 dopamine receptor signaling. Biol Psychiatry 2014; 75: 508–516.

Heng LJ, Markham JA, Hu XT, Tseng KY . Concurrent upregulation of postsynaptic L-type Ca(2+) channel function and protein kinase A signaling is required for the periadolescent facilitation of Ca(2+) plateau potentials and dopamine D1 receptor modulation in the prefrontal cortex. Neuropharmacology 2011; 60: 953–962.

Becker B, Wagner D, Koester P, Bender K, Kabbasch C, Gouzoulis-Mayfrank E et al. Memory-related hippocampal functioning in ecstasy and amphetamine users: a prospective fMRI study. Psychopharmacology (Berl) 2012; 225: 923–934.

Ehrenreich H, Rinn T, Kunert HJ, Moeller MR, Poser W, Schilling L et al. Specific attentional dysfunction in adults following early start of cannabis use. Psychopharmacology (Berl) 1999; 142: 295–301.

Fontes MA, Bolla KI, Cunha PJ, Almeida PP, Jungerman F, Laranjeira RR et al. Cannabis use before age 15 and subsequent executive functioning. Br J Psychiatry 2011; 198: 442–447.

Caballero A, Thomases DR, Flores-Barrera E, Cass DK, Tseng KY . Emergence of GABAergic-dependent regulation of input-specific plasticity in the adult rat prefrontal cortex during adolescence. Psychopharmacology (Berl) advance online publication, 2 August 2013; doi:10.1007/s00213-013-3216-4(e-pub ahead of print).

Heng L, Beverley JA, Steiner H, Tseng KY . Differential developmental trajectories for CB1 cannabinoid receptor expression in limbic/associative and sensorimotor cortical areas. Synapse 2011; 65: 278–286.

Tseng KY, O'Donnell P . Post-pubertal emergence of prefrontal cortical up states induced by D1-NMDA co-activation. Cereb Cortex 2005; 15: 49–57.

Tseng KY, O'Donnell P . Dopamine modulation of prefrontal cortical interneurons changes during adolescence. Cereb Cortex 2007; 17: 1235–1240.

Tseng KY, O'Donnell P . D2 dopamine receptors recruit a GABA component for their attenuation of excitatory synaptic transmission in the adult rat prefrontal cortex. Synapse 2007; 61: 843–850.

Atakan Z . Cannabis, a complex plant: different compounds and different effects on individuals. Ther Adv Psychopharmacol 2012; 2: 241–254.

Pertwee RG . The diverse CB1 and CB2 receptor pharmacology of three plant cannabinoids: delta9-tetrahydrocannabinol, cannabidiol and delta9-tetrahydrocannabivarin. Br J Pharmacol 2008; 153: 199–215.

Loberg EM, Hugdahl K . Cannabis use and cognition in schizophrenia. Front Hum Neurosci 2009; 3: 53.

D'Souza DC, Perry E, MacDougall L, Ammerman Y, Cooper T, Wu YT et al. The psychotomimetic effects of intravenous delta-9-tetrahydrocannabinol in healthy individuals: implications for psychosis. Neuropsychopharmacology 2004; 29: 1558–1572.

D'Souza DC, Abi-Saab WM, Madonick S, Forselius-Bielen K, Doersch A, Braley G et al. Delta-9-tetrahydrocannabinol effects in schizophrenia: implications for cognition, psychosis, and addiction. Biol Psychiatry 2005; 57: 594–608.

Spaderna M, Addy PH, D'Souza DC . Spicing things up: synthetic cannabinoids. Psychopharmacology (Berl) 2013; 228: 525–540.

Gunderson EW, Haughey HM, Ait-Daoud N, Joshi AS, Hart CL . "Spice" and "K2" herbal highs: a case series and systematic review of the clinical effects and biopsychosocial implications of synthetic cannabinoid use in humans. Am J Addict 2012; 21: 320–326.

Lovinger DM, Zimmerman SA, Levitin M, Jones MV, Harrison NL . Trichloroethanol potentiates synaptic transmission mediated by gamma-aminobutyric acidA receptors in hippocampal neurons. J Pharmacol Exp Ther 1993; 264: 1097–1103.
Acknowledgements
We thank Dr Anthony West for helpful comments, and Ruvini Jayasinghe and Chanalee Hocharoen for technical assistance. Supported by Rosalind Franklin University of Medicine and Science, the Brain Research Foundation and NIH Grant R01-MH086507 to KYT.
Ethics declarations
Competing interests
The authors declare no conflict of interest.
Supplementary information
About this article
Cite this article
Cass, D., Flores-Barrera, E., Thomases, D. et al. CB1 cannabinoid receptor stimulation during adolescence impairs the maturation of GABA function in the adult rat prefrontal cortex. Mol Psychiatry 19, 536–543 (2014). https://doi.org/10.1038/mp.2014.14
Received:

Revised:

Accepted:

Published:

Issue Date:

DOI: https://doi.org/10.1038/mp.2014.14
Keywords
adolescence

cannabinoid

CB1 receptor

GABA

prefrontal cortex

ventral hippocampus