Abstract
Postpartum depression (PPD) affects ∼10–18% of women in the general population and results in serious consequences to both the mother and offspring. We hypothesized that predisposition to PPD risk is due to an altered sensitivity to estrogen-mediated epigenetic changes that act in a cell autonomous manner detectable in the blood. We investigated estrogen-mediated epigenetic reprogramming events in the hippocampus and risk to PPD using a cross-species translational design. DNA methylation profiles were generated using methylation microarrays in a prospective sample of the blood from the antenatal period of pregnant mood disorder patients who would and would not develop depression postpartum. These profiles were cross-referenced with syntenic locations exhibiting hippocampal DNA methylation changes in the mouse responsive to long-term treatment with 17β-estradiol (E2). DNA methylation associated with PPD risk correlated significantly with E2-induced DNA methylation change, suggesting an enhanced sensitivity to estrogen-based DNA methylation reprogramming exists in those at risk for PPD. Using the combined mouse and human data, we identified two biomarker loci at the HP1BP3 and TTC9B genes that predicted PPD with an area under the receiver operator characteristic (ROC) curve (area under the curve (AUC)) of 0.87 in antenatally euthymic women and 0.12 in a replication sample of antenatally depressed women. Incorporation of blood count data into the model accounted for the discrepancy and produced an AUC of 0.96 across both prepartum depressed and euthymic women. Pathway analyses demonstrated that DNA methylation patterns related to hippocampal synaptic plasticity may be of etiological importance to PPD.
Relevant articles
Open Access articles citing this article.
Qingqin S. Li

,

Randall L. Morrison

…

Wayne C. Drevets

Scientific Reports Open Access 01 November 2022

Faten Taki

&

Inmaculada de Melo-Martin

Clinical Epigenetics Open Access 08 May 2021
Access options
Subscribe to this journal
Receive 12 print issues and online access
$259.00 per year
only $21.58 per issue
Rent or buy this article
Prices vary by article type
from$1.95
to$39.95
Prices may be subject to local taxes which are calculated during checkout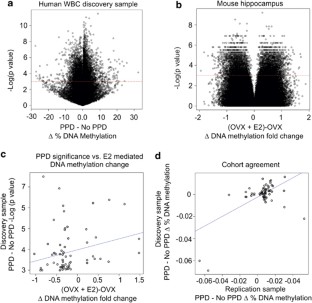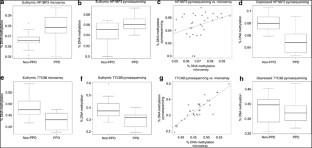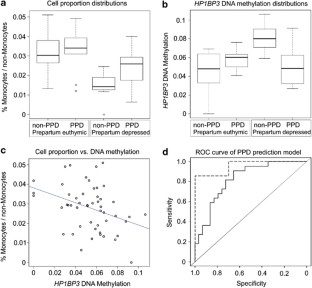 References
O'Hara MW . Postpartum depression: what we know. J Clin Psychol 2009; 65: 1258–1269.

Soufia M, Aoun J, Gorsane MA, Krebs MO . SSRIs and pregnancy: a review of the literatur]. Encephale 2010; 36: 513–516.

Field T . Prenatal depression effects on early development: a review. Infant Behav Dev 2011; 34: 1–14.

Breese McCoy SJ . Postpartum depression: an essential overview for the practitioner. South Med J 2011; 104: 128–132.

Cuijpers P, Brannmark JG, van Straten A . Psychological treatment of postpartum depression: a meta-analysis. J Clin Psychol 2008; 64: 103–118.

Hirst KP, Moutier CY . Postpartum major depression. Am Fam Physician 2010; 82: 926–933.

Marcus SM . Depression during pregnancy: rates, risks and consequences—Motherisk Update 2008. Can J Clin Pharmacol 2009; 16: e15–e22.

Pinette MG, Wax JR . The management of depression during pregnancy: a report from the American Psychiatric Association and the American College of Obstetricians and Gynecologists. Obstet Gynecol 2010; 115: 188–189, author reply 189.

Studd JW . A guide to the treatment of depression in women by estrogens. Climacteric 2011; 14: 637–642.

Bloch M, Schmidt PJ, Danaceau M, Murphy J, Nieman L, Rubinow DR . Effects of gonadal steroids in women with a history of postpartum depression. Am J Psychiatry 2000; 157: 924–930.

Bloch M, Rubinow DR, Schmidt PJ, Lotsikas A, Chrousos GP, Cizza G . Cortisol response to ovine corticotropin-releasing hormone in a model of pregnancy and parturition in euthymic women with and without a history of postpartum depression. J Clin Endocrinol Metab 2005; 90: 695–699.

Kangaspeska S, Stride B, Metivier R, Polycarpou-Schwarz M, Ibberson D, Carmouche RP et al. Transient cyclical methylation of promoter DNA. Nature 2008; 452: 112–115.

Walf AA, Frye CA . ERbeta-selective estrogen receptor modulators produce antianxiety behavior when administered systemically to ovariectomized rats. Neuropsychopharmacology 2005; 30: 1598–1609.

MacLusky NJ, Luine VN, Hajszan T, Leranth C . The 17alpha and 17beta isomers of estradiol both induce rapid spine synapse formation in the CA1 hippocampal subfield of ovariectomized female rats. Endocrinology 2005; 146: 287–293.

ter Horst GJ . Estrogen in the limbic system. Vitam Horm 2010; 82: 319–338.

Suda S, Segi-Nishida E, Newton SS, Duman RS . A postpartum model in rat: behavioral and gene expression changes induced by ovarian steroid deprivation. Biol Psychiatry 2008; 64: 311–319.

Kaminsky ZA, Tang T, Wang SC, Ptak C, Oh GH, Wong AH et al. DNA methylation profiles in monozygotic and dizygotic twins. Nat Genet 2009; 41: 240–245.

Schumacher A, Kapranov P, Kaminsky Z, Flanagan J, Assadzadeh A, Yau P et al. Microarray-based DNA methylation profiling: technology and applications. Nucleic Acids Res 2006; 34: 528–542.

Guintivano J, Arad M, Tamashiro KL, Gould TD, Kaminsky ZA . BioTile, A Perl based tool for the identification of differentially enriched regions in tiling microarray data. BMC Bioinform 2013; 14: 76.

Houseman EA, Accomando WP, Koestler DC, Christensen BC, Marsit CJ, Nelson HH et al. DNA methylation arrays as surrogate measures of cell mixture distribution. BMC Bioinform 2012; 13: 86.

Langfelder P, Horvath S . WGCNA: an R package for weighted correlation network analysis. BMC Bioinform 2008; 9: 559.

Walf AA, Koonce CJ, Frye CA . Estradiol or diarylpropionitrile decrease anxiety-like behavior of wildtype, but not estrogen receptor beta knockout, mice. Behav Neurosci 2008; 122: 974–981.

Osterlund MK, Witt MR, Gustafsson JA . Estrogen action in mood and neurodegenerative disorders: estrogenic compounds with selective properties-the next generation of therapeutics. Endocrine 2005; 28: 235–242.

Lund TD, Rovis T, Chung WC, Handa RJ . Novel actions of estrogen receptor-beta on anxiety-related behaviors. Endocrinology 2005; 146: 797–807.

Walf AA, Rhodes ME, Frye CA . Antidepressant effects of ERbeta-selective estrogen receptor modulators in the forced swim test. Pharmacol Biochem Behav 2004; 78: 523–529.

Green AD, Galea LA . Adult hippocampal cell proliferation is suppressed with estrogen withdrawal after a hormone-simulated pregnancy. Horm Behav 2008; 54: 203–211.

Beissbarth T, Speed TP . GOstat: find statistically overrepresented Gene Ontologies within a group of genes. Bioinformatics 2004; 20: 1464–1465.

Reimand J, Kull M, Peterson H, Hansen J, Vilo J . g:Profiler—a web-based toolset for functional profiling of gene lists from large-scale experiments. Nucleic Acids Res 2007; 35: W193–W200.

Shimamiya T, Terada N, Wakabayashi S, Mohri M . Mood change and immune status of human subjects in a 10-day confinement study. Aviat Space Environ Med 2005; 76: 481–485.

Lutgendorf SK, Lamkin DM, DeGeest K, Anderson B, Dao M, McGinn S et al. Depressed and anxious mood and T-cell cytokine expressing populations in ovarian cancer patients. Brain Behav Immun 2008; 22: 890–900.

Snel B, Lehmann G, Bork P, Huynen MA . STRING: a web-server to retrieve and display the repeatedly occurring neighbourhood of a gene. Nucleic Acids Res 2000; 28: 3442–3444.

Guido C, Panza S, Santoro M, Avena P, Panno ML, Perrotta I et al. Estrogen receptor beta (ERbeta) produces autophagy and necroptosis in human seminoma cell line through the binding of the Sp1 on the phosphatase and tensin homolog deleted from chromosome 10 (PTEN) promoter gene. Cell Cycle 2012; 11: 2911–2921.

Bartella V, Rizza P, Barone I, Zito D, Giordano F, Giordano C et al. Estrogen receptor beta binds Sp1 and recruits a corepressor complex to the estrogen receptor alpha gene promoter. Breast Cancer Res Treat 2012; 134: 569–581.

Ruegg J, Cai W, Karimi M, Kiss NB, Swedenborg E, Larsson C et al. Epigenetic regulation of glucose transporter 4 by estrogen receptor beta. Mol Endocrinol 2011; 25: 2017–2028.

Vivar OI, Zhao X, Saunier EF, Griffin C, Mayba OS, Tagliaferri M et al. Estrogen receptor beta binds to and regulates three distinct classes of target genes. J Biol Chem 2010; 285: 22059–22066.

Ramanan VK, Kim S, Holohan K, Shen L, Nho K, Risacher SL et al. Genome-wide pathway analysis of memory impairment in the Alzheimer's Disease Neuroimaging Initiative (ADNI) cohort implicates gene candidates, canonical pathways, and networks. Brain Imaging Behav 2012; 6: 634–648.

Nassa G, Tarallo R, Ambrosino C, Bamundo A, Ferraro L, Paris O et al. A large set of estrogen receptor beta-interacting proteins identified by tandem affinity purification in hormone-responsive human breast cancer cell nuclei. Proteomics 2011; 11: 159–165.

Cao S, Iyer JK, Lin V . Identification of tetratricopeptide repeat domain 9, a hormonally regulated protein. Biochem Biophys Res Commun 2006; 345: 310–317.

Gerges NZ, Tran IC, Backos DS, Harrell JM, Chinkers M, Pratt WB et al. Independent functions of hsp90 in neurotransmitter release and in the continuous synaptic cycling of AMPA receptors. J Neurosci 2004; 24: 4758–4766.

Kuijpens JL, Vader HL, Drexhage HA, Wiersinga WM, van Son MJ, Pop VJ . Thyroid peroxidase antibodies during gestation are a marker for subsequent depression postpartum. Eur J Endocrinol 2001; 145: 579–584.

Skrundz M, Bolten M, Nast I, Hellhammer DH, Meinlschmidt G . Plasma oxytocin concentration during pregnancy is associated with development of postpartum depression. Neuropsychopharmacology 2011; 36: 1886–1893.

Yim IS, Glynn LM, Schetter CD, Hobel CJ, Chicz-Demet A, Sandman CA . Prenatal beta-endorphin as an early predictor of postpartum depressive symptoms in euthymic women. J Affect Disord 2010; 125: 128–133.

Licinio J . Potential diagnostic markers for postpartum depression point out to altered immune signaling. Mol Psychiatry 2010; 15: 1.

Albacar G, Sans T, Martin-Santos R, Garcia-Esteve L, Guillamat R, Sanjuan J et al. Thyroid function 48h after delivery as a marker for subsequent postpartum depression. Psychoneuroendocrinology 2010; 35: 738–742.

Segman RH, Goltser-Dubner T, Weiner I, Canetti L, Galili-Weisstub E, Milwidsky A et al. Blood mononuclear cell gene expression signature of postpartum depression. Mol Psychiatry 2010; 15: 93–100, 102.
Acknowledgements
We thank The Solomon R and Rebecca D Baker Foundation for their generous support of this research. This work was funded, in part, by MH093967 to TDG and a NARSAD 2010 Young Investigator Award to ZK. The Sidney Kimmel Cancer Center Microarray Core Facility at Johns Hopkins University was supported by NIH Grant P30 CA006973. All animal treatments were approved by the University of Maryland, Baltimore Animal Care and Use Committee and were conducted in full accordance with the NIH Guide for the Care and Use of Laboratory Animals. Human subjects research was conducted under IRB protocol no. 00008149 and subjects were collected with funding from K23 MH074799-01A2 to JP.
Ethics declarations
Competing interests
ZK, JP and TDG are coinventors listed on a patent application for DNA methylation at biomarker loci related to PPD. The remaining authors declare no conflict of interest.
About this article
Cite this article
Guintivano, J., Arad, M., Gould, T. et al. Antenatal prediction of postpartum depression with blood DNA methylation biomarkers. Mol Psychiatry 19, 560–567 (2014). https://doi.org/10.1038/mp.2013.62
Received:

Accepted:

Published:

Issue Date:

DOI: https://doi.org/10.1038/mp.2013.62
Keywords
biomarker

DNA methylation

estrogen

HP1BP3

postpartum depression

TTC9B