Abstract
Endocannabinoids and their attending cannabinoid type 1 (CB1) receptor have been implicated in animal models of post-traumatic stress disorder (PTSD). However, their specific role has not been studied in people with PTSD. Herein, we present an in vivo imaging study using positron emission tomography (PET) and the CB1-selective radioligand [11C]OMAR in individuals with PTSD, and healthy controls with lifetime histories of trauma (trauma-exposed controls (TC)) and those without such histories (healthy controls (HC)). Untreated individuals with PTSD (N=25) with non-combat trauma histories, and TC (N=12) and HC (N=23) participated in a magnetic resonance imaging scan and a resting PET scan with the CB1 receptor antagonist radiotracer [11C]OMAR, which measures the volume of distribution (VT) linearly related to CB1 receptor availability. Peripheral levels of anandamide, 2-arachidonoylglycerol, oleoylethanolamide, palmitoylethanolamide and cortisol were also assessed. In the PTSD group, relative to the HC and TC groups, we found elevated brain-wide [11C]OMAR VT values (F(2,53)=7.96, P=0.001; 19.5% and 14.5% higher, respectively), which were most pronounced in women (F(1,53)=5.52, P=0.023). Anandamide concentrations were reduced in the PTSD relative to the TC (53.1% lower) and HC (58.2% lower) groups. Cortisol levels were lower in the PTSD and TC groups relative to the HC group. Three biomarkers examined collectively—OMAR VT, anandamide and cortisol—correctly classified nearly 85% of PTSD cases. These results suggest that abnormal CB1 receptor-mediated anandamide signaling is implicated in the etiology of PTSD, and provide a promising neurobiological model to develop novel, evidence-based pharmacotherapies for this disorder.
Relevant articles
Open Access articles citing this article.
Lauren J. Rice

,

Lisa Cannon

…

Elizabeth J. Elliott

European Child & Adolescent Psychiatry Open Access 03 March 2023

A. Murkar

,

T. Kendzerska

…

R. Robillard

BMC Psychiatry Open Access 17 August 2022

Jennifer Spohrs

,

Martin Ulrich

…

Birgit Abler

European Archives of Psychiatry and Clinical Neuroscience Open Access 10 December 2021
Access options
Subscribe to this journal
Receive 12 print issues and online access
$259.00 per year
only $21.58 per issue
Rent or buy this article
Prices vary by article type
from$1.95
to$39.95
Prices may be subject to local taxes which are calculated during checkout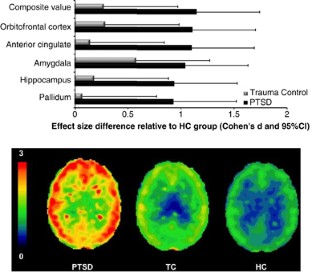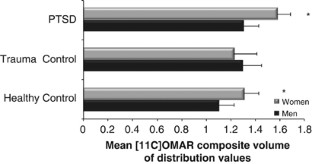 References
Yehuda R . Post-traumatic stress disorder. N Engl J Med 2002; 346: 108–114.

Roozendaal B, McGaugh JL . Memory modulation. Behav Neurosci 2011; 125: 797–824.

Roozendaal B, Okuda S, de Quervain DJ, McGaugh JL . Glucocorticoids interact with emotion-induced noradrenergic activation in influencing different memory functions. Neuroscience 2006; 138: 901–910.

Roozendaal B, Barsegyan A, Lee S . Adrenal stress hormones, amygdala activation, and memory for emotionally arousing experiences. Progr Brain Res 2008; 167: 79–97.

Atsak P, Roozendaal B, Campolongo P . Role of the endocannabinoid system in regulating glucocorticoid effects on memory for emotional experiences. Neuroscience 2012; 204: 104–116.

Campolongo P, Roozendaal B, Trezza V, Hauer D, Schelling G, McGaugh JL et al. Endocannabinoids in the rat basolateral amygdala enhance memory consolidation and enable glucocorticoid modulation of memory. Proc Natl Acad Sci USA 2009; 106: 4888–4893.

Hill MN, McEwen BS . Endocannabinoids: the silent partner of glucocorticoids in the synapse. Proc Natl Acad Sci USA 2009; 106: 4579–4580.

Marsicano G, Wotjak CT, Azad SC, Bisogno T, Rammes G, Cascio MG et al. The endogenous cannabinoid system controls extinction of aversive memories. Nature 2002; 418: 530–534.

Pamplona FA, Bitencourt RM, Takahashi RN . Short- and long-term effects of cannabinoids on the extinction of contextual fear memory in rats. Neurobiol Learn Mem 2008; 90: 290–293.

Gunduz-Cinar O, Macpherson KP, Cinar R, Gamble-George J, Sugden K, Williams B et al. Convergent translational evidence of a role for anandamide in amygdala-mediated fear extinction, threat processing and stress-reactivity. Mol Psychiatry, advance online publication, 12 June 2012; doi:10.1038/mp.2012.72 (e-pub ahead of print).

Neumeister A . The endocannabinoid system provides an avenue for evidence-based treatment development for PTSD. Depress Anxiety 2013; 30: 93–96.

Glass M, Dragunow M, Faull RL . Cannabinoid receptors in the human brain: a detailed anatomical and quantitative autoradiographic study in the fetal, neonatal and adult human brain. Neuroscience 1997; 77: 299–318.

Herkenham M, Lynn AB, Little MD, Johnson MR, Melvin LS, de Costa BR et al. Cannabinoid receptor localization in brain. Proc Natl Acad Sci USA 1990; 87: 1932–1936.

Rogan MT, Staubli UV, LeDoux JE . Fear conditioning induces associative long-term potentiation in the amygdala. Nature 1997; 390: 604–607.

LeDoux JE . Emotion circuits in the brain. Annu Rev Neurosci 2000; 23: 155–184.

Rodrigues SM, Schafe GE, LeDoux JE . Molecular mechanisms underlying emotional learning and memory in the lateral amygdala. Neuron 2004; 44: 75–91.

Hill MN, Patel S, Carrier EJ, Rademacher DJ, Ormerod BK, Hillard CJ et al. Downregulation of endocannabinoid signaling in the hippocampus following chronic unpredictable stress. Neuropsychopharmacology 2005; 30: 508–515.

Reich CG, Taylor ME, McCarthy MM . Differential effects of chronic unpredictable stress on hippocampal CB1 receptors in male and female rats. Behav Brain Res 2009; 203: 264–269.

Hill MN, Carrier EJ, McLaughlin RJ, Morrish AC, Meier SE, Hillard CJ et al. Regional alterations in the endocannabinoid system in an animal model of depression: effects of concurrent antidepressant treatment. J Neurochem 2008; 106: 2322–2336.

Haller J, Bakos N, Szirmay M, Ledent C, Freund TF . The effects of genetic and pharmacological blockade of the CB1 cannabinoid receptor on anxiety. Eur J Neurosci 2002; 16: 1395–1398.

Haller J, Varga B, Ledent C, Freund TF . CB1 cannabinoid receptors mediate anxiolytic effects: convergent genetic and pharmacological evidence with CB1-specific agents. Behav Pharmacol 2004; 15: 299–304.

Horti AG, Fan H, Kuwabara H, Hilton J, Ravert HT, Holt DP et al. 11C-JHU75528: a radiotracer for PET imaging of CB1 cannabinoid receptors. J Nucl Med 2006; 47: 1689–1696.

Viveros MP, Llorente R, Lopez-Gallardo M, Suarez J, Bermudez-Silva F, De la Fuente M et al. Sex-dependent alterations in response to maternal deprivation in rats. Psychoneuroendocrinology 2009; 34 (Suppl 1): S217–S226.

Hill MN, Patel S, Campolongo P, Tasker JG, Wotjak CT, Bains JS . Functional interactions between stress and the endocannabinoid system: from synaptic signaling to behavioral output. J Neurosci 2010; 30: 14980–14986.

First MB, Spitzer RL, Gibbons M, Williams JBW . Structured Clinical Interview for DSM-IV Axis I Disorders. New York State Psychiatric Institute, Biometrics Research: New York, NY, USA, 1995.

DSM-IV APATFo. Diagnostic and Statisical Manual of Mental Disorders: DSM-IV-TR, 4th, Text Revision Edn. American Psychiatric Association: Washington, DC, USA, 2000.

Blake DD, Weathers FW, Nagy LM, Kaloupek DG, Gusman FD, Charney DS et al. The development of a Clinician-Administered PTSD Scale. J Trauma Stress 1995; 8: 75–90.

Kubany ES, Haynes SN, Leisen MB, Owens JA, Kaplan AS, Watson SB et al. Development and preliminary validation of a brief broad-spectrum measure of trauma exposure: the Traumatic Life Events Questionnaire. Psychol Assess 2000; 12: 210–224.

Hamilton M . The assessment of anxiety states by rating. Br J Med Psychol 1959; 32: 50–55.

Montgomery SA, Asberg M . A new depression scale designed to be sensitive to change. Br J Psychiatry 1979; 134: 382–389.

McLellan AT, Luborsky L, Woody GE, O'Brien CP . An improved diagnostic evaluation instrument for substance abuse patients. The Addiction Severity Index. J Nerv Ment Dis 1980; 168: 26–33.

Heatherton TF, Kozlowski LT, Frecker RC, Fagerstrom KO . The Fagerstrom Test for nicotine dependence: a revision of the Fagerstrom Tolerance Questionnaire. Br J Addict 1991; 86: 1119–1127.

Mangieri RA, Hong KI, Piomelli D, Sinha R . An endocannabinoid signal associated with desire for alcohol is suppressed in recently abstinent alcoholics. Psychopharmacology (Berl) 2009; 205: 63–72.

Hilton J, Yokoi F, Dannals RF, Ravert HT, Szabo Z, Wong DF . Column-switching HPLC for the analysis of plasma in PET imaging studies. Nucl Med Biol 2000; 27: 627–630.

Gandelman MS, Baldwin RM, Zoghbi SS, Zea-Ponce Y, Innis RB . Evaluation of ultrafiltration for the free-fraction determination of single photon emission computed tomography (SPECT) radiotracers: beta-CIT, IBF, and iomazenil. J Pharm Sci 1994; 83: 1014–1019.

de Jong HW, van Velden FH, Kloet RW, Buijs FL, Boellaard R, Lammertsma AA . Performance evaluation of the ECAT HRRT: an LSO-LYSO double layer high resolution, high sensitivity scanner. Phys Med Biol 2007; 52: 1505–1526.

Design of a motion-compensation OSEM List-mode Algorithm for Resolution-Recovery Reconstruction of the HRRT. Proceedings of the Conf Record IEEE Nuclear Science Symposium and Medical Imaging. Portland, OR, 2003.

Tzourio-Mazoyer N, Landeau B, Papathanassiou D, Crivello F, Etard O, Delcroix N et al. Automated anatomical labeling of activations in SPM using a macroscopic anatomical parcellation of the MNI MRI single-subject brain. NeuroImage 2002; 15: 273–289.

Ichise M, Toyama H, Innis RB, Carson RE . Strategies to improve neuroreceptor parameter estimation by linear regression analysis. J Cereb Blood Flow Metab 2002; 22: 1271–1281.

Innis RB, Cunningham VJ, Delforge J, Fujita M, Gjedde A, Gunn RN et al. Consensus nomenclature for in vivo imaging of reversibly binding radioligands. J Cereb Blood Flow Metab 2007; 27: 1533–1539.

Murrough JW, Czermak C, Henry S, Nabulsi N, Gallezot JD, Gueorguieva R et al. The effect of early trauma exposure on serotonin type 1B receptor expression revealed by reduced selective radioligand binding. Arch Gen Psychiatry 2011; 68: 892–900.

Terry G, Liow JS, Chernet E, Zoghbi SS, Phebus L, Felder CC et al. Positron emission tomography imaging using an inverse agonist radioligand to assess cannabinoid CB1 receptors in rodents. NeuroImage 2008; 41: 690–698.

Gatley SJ, Gifford AN, Volkow ND, Lan R, Makriyannis A . 123I-labeled AM251: a radioiodinated ligand which binds in vivo to mouse brain cannabinoid CB1 receptors. Eur J Pharmacol 1996; 307: 331–338.

Berding G, Muller-Vahl K, Schneider U, Gielow P, Fitschen J, Stuhrmann M et al. [123I]AM281 single-photon emission computed tomography imaging of central cannabinoid CB1 receptors before and after Delta9-tetrahydrocannabinol therapy and whole-body scanning for assessment of radiation dose in Tourette patients. Biol Psychiatry 2004; 55: 904–915.

Gifford AN, Bruneus M, Gatley SJ, Lan R, Makriyannis A, Volkow ND . Large receptor reserve for cannabinoid actions in the central nervous system. J Pharmacol Exp Ther 1999; 288: 478–483.

Bortolato M, Mangieri RA, Fu J, Kim JH, Arguello O, Duranti A et al. Antidepressant-like activity of the fatty acid amide hydrolase inhibitor URB597 in a rat model of chronic mild stress. Biol Psychiatry 2007; 62: 1103–1110.

Morris MC, Compas BE, Garber J . Relations among posttraumatic stress disorder, comorbid major depression, and HPA function: a systematic review and meta-analysis. Clin Psychol Rev 2012; 32: 301–315.

Vetter S, Rossegger A, Rossler W, Bisson JI, Endrass J . Exposure to the Tsunami disaster, PTSD symptoms and increased substance use—an Internet based survey of male and female residents of Switzerland. BMC Public Health 2008; 8: 92.

Cornelius JR, Kirisci L, Reynolds M, Clark DB, Hayes J, Tarter R . PTSD contributes to teen and young adult cannabis use disorders. Addict Behav 2010; 35: 91–94.

Fraser GA . The use of a synthetic cannabinoid in the management of treatment-resistant nightmares in posttraumatic stress disorder (PTSD). CNS Neurosci Ther 2009; 15: 84–88.

Passie T, Emrich HM, Karst M, Brandt SD, Halpern JH . Mitigation of post-traumatic stress symptoms by Cannabis resin: a review of the clinical and neurobiological evidence. Drug Test Anal 2012; 4: 649–659.

Hirvonen J, Goodwin RS, Li CT, Terry GE, Zoghbi SS, Morse C et al. Reversible and regionally selective downregulation of brain cannabinoid CB(1) receptors in chronic daily cannabis smokers. Mol Psychiatry 2012; 17: 642–649.

Leweke FM, Koethe D . Cannabis and psychiatric disorders: it is not only addiction. Addict Biol 2008; 13: 264–275.

Beyer CE, Dwyer JM, Piesla MJ, Platt BJ, Shen R, Rahman Z et al. Depression-like phenotype following chronic CB1 receptor antagonism. Neurobiol Dis 2010; 39: 148–155.

Klugmann M, Klippenstein V, Leweke FM, Spanagel R, Schneider M . Cannabinoid exposure in pubertal rats increases spontaneous ethanol consumption and NMDA receptor associated protein levels. Int J Neuropsychopharmacol 2011; 14: 505–517.

Riebe CJ, Hill MN, Lee TT, Hillard CJ, Gorzalka BB . Estrogenic regulation of limbic cannabinoid receptor binding. Psychoneuroendocrinology 2010; 35: 1265–1269.

Rubino T, Vigano D, Realini N, Guidali C, Braida D, Capurro V et al. Chronic delta 9-tetrahydrocannabinol during adolescence provokes sex-dependent changes in the emotional profile in adult rats: behavioral and biochemical correlates. Neuropsychopharmacology 2008; 33: 2760–2771.

Rodriguez de Fonseca F, Cebeira M, Ramos JA, Martin M, Fernandez-Ruiz JJ . Cannabinoid receptors in rat brain areas: sexual differences, fluctuations during estrous cycle and changes after gonadectomy and sex steroid replacement. Life Sci 1994; 54: 159–170.

Van Laere K, Goffin K, Casteels C, Dupont P, Mortelmans L, de Hoon J et al. Gender-dependent increases with healthy aging of the human cerebral cannabinoid-type 1 receptor binding using [(18)F]MK-9470 PET. NeuroImage 2008; 39: 1533–1541.

Normandin MD, Zheng M-Q, Ropchan J, Najafzadeh S, Hull R, Qian W et al. Test–retest reproducibility and gender differences in binding of CB1 PET tracer [11C]OMAR in humans. 57th Annual Meeting of SNM. Salt Lake City, UT, 2010.

Stein MB, Walker JR, Forde DR . Gender differences in susceptibility to posttraumatic stress disorder. Behav Res Ther 2000; 38: 619–628.

Fegley D, Gaetani S, Duranti A, Tontini A, Mor M, Tarzia G et al. Characterization of the fatty acid amide hydrolase inhibitor cyclohexyl carbamic acid 3′-carbamoyl-biphenyl-3-yl ester (URB597): effects on anandamide and oleoylethanolamide deactivation. J Pharmacol Exp Ther 2005; 313: 352–358.

Piomelli D . The endocannabinoid system: a drug discovery perspective. Curr Opin Invest Drugs 2005; 6: 672–679.

Hill MN, Kumar SA, Filipski SB, Iverson M, Stuhr KL, Keith JM et al. Disruption of fatty acid amide hydrolase activity prevents the effects of chronic stress on anxiety and amygdalar microstructure. Mol Psychiatry, advance online publication, 10 July 2012; doi:10.1038/mp.2012.90 (e-pub ahead of print).
Acknowledgements
We acknowledge the excellent work of the staff of the Yale PET Center and the nursing support from Brenda Breault, RN, BSN, Cynthia D'Amico, RN, BSN, Michelle San Pedro, RN, CCRC, Jamie Cyr, RN, CCRN and Deborah Campbell, RN for their contributions with patient care during the PET scans. The project described was supported by the National Institutes of Health through the following awards: R21MH096105, R21MH085627 and R01MH096876. This publication was also made possible by CTSA Grant Number UL1 RR024139 from the National Center for Research Resources (NCRR) and the National Center for Advancing Translational Science (NCATS), components of the National Institutes of Health (NIH), and NIH roadmap for Medical Research. Its contents are solely the responsibility of the authors and do not necessarily represent the official view of NIH.
Ethics declarations
Competing interests
The authors declare no conflict of interest.
About this article
Cite this article
Neumeister, A., Normandin, M., Pietrzak, R. et al. Elevated brain cannabinoid CB1 receptor availability in post-traumatic stress disorder: a positron emission tomography study. Mol Psychiatry 18, 1034–1040 (2013). https://doi.org/10.1038/mp.2013.61
Received:

Revised:

Accepted:

Published:

Issue Date:

DOI: https://doi.org/10.1038/mp.2013.61
Keywords