Abstract
The common APOE2 gene variant is neuroprotective against Alzheimer's disease (AD) and reduces risk by nearly 50%. However, the mechanisms by which APOE2 confers neuroprotection are largely unknown. Here we showed that ApoE protein abundance in human postmortem cortex follows an isoform-dependent pattern (E2>E3>E4). We also identified a unique downstream transcriptional profile determined by microarray and characterized by downregulation of long-term potentiation (LTP) related transcripts and upregulation of extracellular matrix (ECM)/integrin-related transcripts in E2 cases and corroborated this finding at the protein level by demonstrating increases in ECM collagens and laminins. In vivo studies of healthy older individuals demonstrated a unique and advantageous biomarker signature in E2 carriers. APOE2 also reduced the risk of mild cognitive impairment to AD conversion by half. Our findings suggest that ApoE2 protein abundance, coupled with its inability to bind to LDLRs, may act to increase amyloid-beta (Ab) clearance. In addition, increased ECM and reduced LTP-related expression results in diminished activity-dependent Ab secretion and/or excitotoxicity, and thus also promotes neuroprotection.
Access options
Subscribe to this journal
Receive 12 print issues and online access
$259.00 per year
only $21.58 per issue
Rent or buy this article
Prices vary by article type
from$1.95
to$39.95
Prices may be subject to local taxes which are calculated during checkout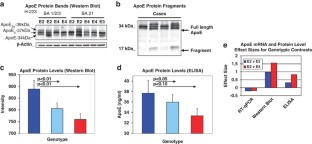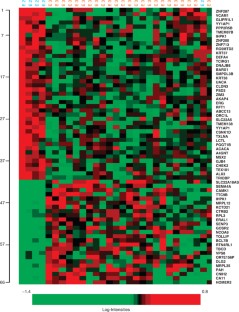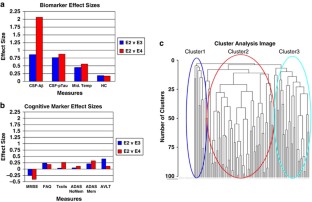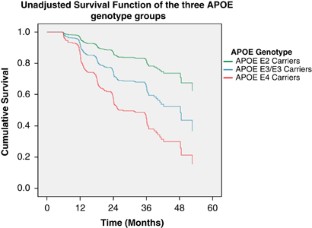 Similar content being viewed by others
References
Mahley RW, Huang Y . Apolipoprotein e sets the stage: response to injury triggers neuropathology. Neuron 2012; 76: 871–885.

Mahley RW, Weisgraber KH, Huang Y . Apolipoprotein E4: a causative factor and therapeutic target in neuropathology, including Alzheimer's disease. Proc Natl Acad Sci USA 2006; 103: 5644–5651.

Corder EH, Saunders AM, Risch NJ, Strittmatter WJ, Schmechel DE, Gaskell PC Jr et al Protective effect of apolipoprotein E type 2 allele for late onset Alzheimer disease. Nat Genet 1994; 7: 180–184.

Bertram L, McQueen MB, Mullin K, Blacker D, Tanzi RE . Systematic meta-analyses of Alzheimer disease genetic association studies: the AlzGene database. Nat Genet 2007; 39: 17–23.

Sudlow C, Martinez Gonzalez NA, Kim J, Clark C . Does apolipoprotein E genotype influence the risk of ischemic stroke, intracerebral hemorrhage, or subarachnoid hemorrhage? Systematic review and meta-analyses of 31 studies among 5961 cases and 17,965 controls. Stroke 2006; 37: 364–370.

Ghebremedhin E, Schultz C, Botez G, Rub U, Sassin I, Braak E et al. Argyrophilic grain disease is associated with apolipoprotein E epsilon 2 allele. Acta Neuropathol 1998; 96: 222–224.

Togo T, Cookson N, Dickson DW . Argyrophilic grain disease: neuropathology, frequency in a dementia brain bank and lack of relationship with apolipoprotein E. Brain Pathol 2002; 12: 45–52.

Huang X, Chen PC, Poole C . APOE-[epsilon]2 allele associated with higher prevalence of sporadic Parkinson disease. Neurology 2004; 62: 2198–2202.

Verpillat P, Camuzat A, Hannequin D, Thomas-Anterion C, Puel M, Belliard S et al. Apolipoprotein E gene in frontotemporal dementia: an association study and meta-analysis. Eur J Hum Genet 2002; 10: 399–405.

Mahley RW, Huang Y, Rall SC Jr . Pathogenesis of type III hyperlipoproteinemia (dysbetalipoproteinemia). Questions, quandaries, and paradoxes. J Lipid Res 1999; 40: 1933–1949.

Bennet AM, Di Angelantonio E, Ye Z, Wensley F, Dahlin A, Ahlbom A et al. Association of apolipoprotein E genotypes with lipid levels and coronary risk. JAMA 2007; 298: 1300–1311.

Drenos F, Kirkwood TB . Selection on alleles affecting human longevity and late-life disease: the example of apolipoprotein E. PLoS One 2010; 5: e10022.

Gerdes LU, Jeune B, Ranberg KA, Nybo H, Vaupel JW . Estimation of apolipoprotein E genotype-specific relative mortality risks from the distribution of genotypes in centenarians and middle-aged men: apolipoprotein E gene is a 'frailty gene,' not a 'longevity gene'. Genet Epidemiol 2000; 19: 202–210.

Ward H, Mitrou PN, Bowman R, Luben R, Wareham NJ, Khaw KT et al. APOE genotype, lipids, and coronary heart disease risk: a prospective population study. Arch Intern Med 2009; 169: 1424–1429.

Bu G, Apolipoprotein E . and its receptors in Alzheimer's disease: pathways, pathogenesis and therapy. Nat Rev Neurosci 2009; 10: 333–344.

Di Paolo G, Kim TW . Linking lipids to Alzheimer's disease: cholesterol and beyond. Nat Rev Neurosci 2011 May; 12: 284–296.

Leduc V, Domenger D, De Beaumont L, Lalonde D, Belanger-Jasmin S, Poirier J . Function and comorbidities of apolipoprotein e in Alzheimer's disease. Int J Alzheimers Dis 2011; 2011: 974361.

Yang DS, Smith JD, Zhou Z, Gandy SE, Martins RN . Characterization of the binding of amyloid-beta peptide to cell culture-derived native apolipoprotein E2, E3, and E4 isoforms and to isoforms from human plasma. J Neurochem 1997; 68: 721–725.

Kim J, Basak JM, Holtzman DM . The role of apolipoprotein E in Alzheimer's disease. Neuron 2009; 63: 287–303.

Aleshkov S, Abraham CR, Zannis VI . Interaction of nascent ApoE2, ApoE3, and ApoE4 isoforms expressed in mammalian cells with amyloid peptide beta (1-40). Relevance to Alzheimer's disease. Biochemistry 1997; 36: 10571–10580.

Deane R, Sagare A, Hamm K, Parisi M, Lane S, Finn MB et al. apoE isoform-specific disruption of amyloid beta peptide clearance from mouse brain. J Clin Invest 2008; 118: 4002–4013.

Jiang Q, Lee CY, Mandrekar S, Wilkinson B, Cramer P, Zelcer N et al. ApoE promotes the proteolytic degradation of Abeta. Neuron 2008; 58: 681–693.

Conejero-Goldberg C, Hyde TM, Chen S, Dreses-Werringloer U, Herman MM, Kleinman JE et al. Molecular signatures in post-mortem brain tissue of younger individuals at high risk for Alzheimer's disease as based on APOE genotype. Mol Psychiatry 2011; 16: 836–847.

Gomar JJ, Bobes-Bascaran MT, Conejero-Goldberg C, Davies P, Goldberg TE . Utility of combinations of biomarkers, cognitive markers, and risk factors to predict conversion from mild cognitive impairment to Alzheimer disease in patients in the Alzheimer's disease neuroimaging initiative. Arch Gen Psychiatry 2011; 68: 961–969.

Brendza RP, Bales KR, Paul SM, Holtzman DM . Role of apoE/Abeta interactions in Alzheimer's disease: insights from transgenic mouse models. Mol Psychiatry 2002; 7: 132–135.

Tolar M, Marques MA, Harmony JA, Crutcher KA . Neurotoxicity of the 22 kDa thrombin-cleavage fragment of apolipoprotein E and related synthetic peptides is receptor-mediated.. J Neurosci. 1997; 17: 5678–5686.

Harris FM, Brecht WJ, Xu Q, Tesseur I, Kekonius L, Wyss-Coray T et al. Carboxyl-terminal-truncated apolipoprotein E4 causes Alzheimer's disease-like neurodegeneration and behavioral deficits in transgenic mice. Proc Natl Acad Sci USA 2003; 100: 10966–10971.

Soares HD, Potter WZ, Pickering E, Kuhn M, Immermann FW, Shera DM et al. Plasma biomarkers associated with the apolipoprotein E genotype and Alzheimer disease. Arch Neurol 2012; 69: 1310–1317.

Riddell DR, Zhou H, Atchison K, Warwick HK, Atkinson PJ, Jefferson J et al. Impact of apolipoprotein E (ApoE) polymorphism on brain ApoE levels. J Neurosci 2008; 28: 11445–11453.

Bales KR, Liu F, Wu S, Lin S, Koger D, DeLong C et al. Human APOE isoform-dependent effects on brain beta-amyloid levels in PDAPP transgenic mice. J Neurosci 2009; 29: 6771–6779.

Xu PT, Schmechel D, Qiu HL, Herbstreith M, Rothrock-Christian T, Eyster M et al. Sialylated human apolipoprotein E (apoEs) is preferentially associated with neuron-enriched cultures from APOE transgenic mice. Neurobiol Dis 1999; 6: 63–75.

Bell RD, Winkler EA, Singh I, Sagare AP, Deane R, Wu Z et al. Apolipoprotein E controls cerebrovascular integrity via cyclophilin A. Nature. 2012; 485: 512–516.

Zlokovic BV . Cerebrovascular effects of apolipoprotein E: implications for Alzheimer disease. JAMA Neurol 2013; 70: 440–444.

Chan CS, Weeber EJ, Kurup S, Sweatt JD, Davis RL . Integrin requirement for hippocampal synaptic plasticity and spatial memory. J Neurosci 2003; 23: 7107–7116.

Reymann KG, Frey JU . The late maintenance of hippocampal LTP: requirements, phases, 'synaptic tagging', 'late-associativity' and implications. Neuropharmacology 2007; 52: 24–40.

Trommer BL, Shah C, Yun SH, Gamkrelidze G, Pasternak ES, Ye GL et al. ApoE isoform affects LTP in human targeted replacement mice. Neuroreport 2004; 15: 2655–2658.

Buckner RL, Sepulcre J, Talukdar T, Krienen FM, Liu H, Hedden T et al. Cortical hubs revealed by intrinsic functional connectivity: mapping, assessment of stability, and relation to Alzheimer's disease. J Neurosci 2009; 29: 1860–1873.

Bero AW, Yan P, Roh JH, Cirrito JR, Stewart FR, Raichle ME et al. Neuronal activity regulates the regional vulnerability to amyloid-beta deposition. Nat Neurosci 2011; 14: 750–756.

Cirrito JR, Yamada KA, Finn MB, Sloviter RS, Bales KR, May PC et al. Synaptic activity regulates interstitial fluid amyloid-beta levels In vivo. Neuron 2005; 48: 913–922.

Suberbielle E, Sanchez PE, Kravitz AV, Wang X, Ho K, Eilertson K et al. Physiologic brain activity causes DNA double-strand breaks in neurons, with exacerbation by amyloid-beta. Nat Neurosci 2013; 16: 613–621.

de Vivo L, Landi S, Panniello M, Baroncelli L, Chierzi S, Mariotti L et al. Extracellular matrix inhibits structural and functional plasticity of dendritic spines in the adult visual cortex. Nat Commun 2013; 4: 1484.

Wang D, Fawcett J . The perineuronal net and the control of CNS plasticity. Cell Tissue Res 2012; 349: 147–160.

Lendvai D, Morawski M, Negyessy L, Gati G, Jager C, Baksa G et al. Neurochemical mapping of the human hippocampus reveals perisynaptic matrix around functional synapses in Alzheimer's disease. Acta Neuropathol 2013; 125: 215–229.

Davis GE, Senger DR . Endothelial extracellular matrix: biosynthesis, remodeling, and functions during vascular morphogenesis and neovessel stabilization. Circ Res 2005; 97: 1093–1107.

Morris JC, Roe CM, Xiong C, Fagan AM, Goate AM, Holtzman DM et al. APOE predicts amyloid-beta but not tau Alzheimer pathology in cognitively normal aging. Ann Neurol 2010; 67: 122–131.

Chiang GC, Insel PS, Tosun D, Schuff N, Truran-Sacrey D, Raptentsetsang ST et al. Hippocampal atrophy rates and CSF biomarkers in elderly APOE2 normal subjects. Neurology 2010; 75: 1976–1981.

Castellano JM, Kim J, Stewart FR, Jiang H, DeMattos RB, Patterson BW et al. Human apoE isoforms differentially regulate brain amyloid-beta peptide clearance. Sci Transl Med 2011; 3: 89ra57.

Wilson RS, Bienias JL, Berry-Kravis E, Evans DA, Bennett DA . The apolipoprotein E epsilon 2 allele and decline in episodic memory. J Neurol Neurosurg Psychiatry 2002; 73: 672–677.

Helkala EL, Koivisto K, Hanninen T, Vanhanen M, Kervinen K, Kuusisto J et al. The association of apolipoprotein E polymorphism with memory: a population based study. Neurosci Lett 1995; 191: 141–144.

Deary IJ, Whiteman MC, Pattie A, Starr JM, Hayward C, Wright AF et al. Apolipoprotein e gene variability and cognitive functions at age 79: a follow-up of the Scottish mental survey of 1932. Psychol Aging 2004; 19: 367–371.

Jack CR Jr, Knopman DS, Jagust WJ, Shaw LM, Aisen PS, Weiner MW et al. Hypothetical model of dynamic biomarkers of the Alzheimer's pathological cascade. Lancet Neurol 2010; 9: 119–128.

Shaw LM, Vanderstichele H, Knapik-Czajka M, Clark CM, Aisen PS, Petersen RC et al. Cerebrospinal fluid biomarker signature in Alzheimer's disease neuroimaging initiative subjects. Ann Neurol 2009; 65: 403–413.

Jones PB, Adams KW, Rozkalne A, Spires-Jones TL, Hshieh TT, Hashimoto T et al. Apolipoprotein E: isoform specific differences in tertiary structure and interaction with amyloid-beta in human Alzheimer brain. PLoS One 2011; 6: e14586.

Palop JJ, Mucke L . Synaptic depression and aberrant excitatory network activity in Alzheimer's disease: two faces of the same coin? Neuromolecular Med 2010; 12: 48–55.

Holtzman DM, Herz J, Bu G . Apolipoprotein E and apolipoprotein E receptors: normal biology and roles in Alzheimer disease. Cold Spring Harb Perspect Med 2012; 2: a006312.
Acknowledgements
Funding for this study was provided by the Litwin Zucker Alzheimer's Disease Center (CCG, TEG, JJG, TBB, SC, PD) and GCAPP, IRP, NIMH (TMH, JEK, MH). Data collection and sharing for this project was funded by the Alzheimer's Disease Neuroimaging Initiative (ADNI) (National Institutes of Health Grant U01 AG024904). ADNI is funded by the National Institute on Aging, the National Institute of Biomedical Imaging and Bioengineering, and through generous contributions from the following: Abbott, AstraZeneca AB, Bayer Schering Pharma AG, Bristol-Myers Squibb, Eisai Global Clinical Development, Elan Corporation, Genentech, GE Healthcare, GlaxoSmithKline, Innogenetics, Johnson and Johnson, Eli Lilly, Medpace, Merck, Novartis AG, Pfizer, F. Hoffman-La Roche, Schering-Plough, Synarc, as well as non-profit partners like the Alzheimer's Association and Alzheimer's Drug Discovery Foundation, with participation from the US Food and Drug Administration. Private sector contributions to ADNI are facilitated by the Foundation for the National Institutes of Health (http://www.fnih.org). The grantee organization is the Northern California Institute for Research and Education, and the study is coordinated by the Alzheimer's Disease Cooperative Study at the University of California, San Diego, CA, USA. ADNI data are disseminated by the Laboratory for Neuro Imaging at the University of California, Los Angeles, CA, USA. This research was also supported by NIH grants P30 AG010129, K01 AG030514, and the Dana Foundation.The ADNI investigators contributed to the design of ADNI, diagnoses, and data collection of biomarkers, but not to the analyses and writing of this report.
Ethics declarations
Competing interests
TG has consulted for Neurocog Trials. He receives royalties for use of a cognitive test battery in clinical trials, the BACS. PD has received research support from and served as a consultant to Applied Neurosolutions. The remaining authors declare no conflict of interest.
Supplementary information
About this article
Cite this article
Conejero-Goldberg, C., Gomar, J., Bobes-Bascaran, T. et al. APOE2 enhances neuroprotection against Alzheimer's disease through multiple molecular mechanisms. Mol Psychiatry 19, 1243–1250 (2014). https://doi.org/10.1038/mp.2013.194
Received:

Revised:

Accepted:

Published:

Issue Date:

DOI: https://doi.org/10.1038/mp.2013.194
Keywords