Abstract
Dopamine 2 receptor (DRD2) is of major interest to the pathophysiology of schizophrenia (SCZ) both as a target for antipsychotic drug action as well as a SCZ-associated risk gene. The dopamine 1 receptor (DRD1) is thought to mediate some of the cognitive deficits in SCZ, including impairment of working memory that relies on normal dorsolateral prefrontal cortex (DLPFC) function. To better understand the association of dopamine receptors with SCZ, we studied the expression of three DRD2 splice variants and the DRD1 transcript in DLPFC, hippocampus and caudate nucleus in a large cohort of subjects (~700), including patients with SCZ, affective disorders and nonpsychiatric controls (from 14th gestational week to 85 years of age), and examined genotype-expression associations of 278 single-nucleotide polymorphisms (SNPs) located in or near DRD2 and DRD1 genes. Expression of D2S mRNA and D2S/D2-long (D2L) ratio were significantly increased in DLPFC of patients with SCZ relative to controls (P<0.0001 and P<0.0001, respectively), whereas D2L, D2Longer and DRD1 were decreased (P<0.0001). Patients with affective disorders showed an opposite pattern: reduced expression of D2S (major depressive disorder, P<0.0001) and increased expression of D2L and DRD1 (bipolar disorder, P<0.0001). Moreover, SCZ-associated risk alleles at rs1079727, rs1076560 and rs2283265 predicted increased D2S/D2L expression ratio (P<0.05) in control individuals. Our data suggest that altered splicing of DRD2 and expression of DRD1 may constitute a pathophysiological mechanism in risk for SCZ and affective disorders. The association between SCZ risk-associated polymorphism and the ratio of D2S/D2L is consistent with this possibility.
Relevant articles
Open Access articles citing this article.
Simon Sanwald

,

Christian Montag

&

Markus Kiefer

Journal of Molecular Neuroscience Open Access 30 May 2022

Sha-Sha Wang

,

Chun-Xue Zhou

…

Guang-Hui Zhao

Parasites & Vectors Open Access 10 January 2022

Kana Yamamoto

,

Toshihiko Kuriu

…

Takanobu Nakazawa

Translational Psychiatry Open Access 25 October 2021
Access options
Subscribe to this journal
Receive 12 print issues and online access
$259.00 per year
only $21.58 per issue
Rent or buy this article
Get just this article for as long as you need it
$39.95
Prices may be subject to local taxes which are calculated during checkout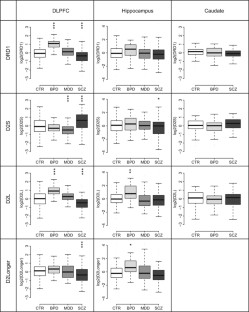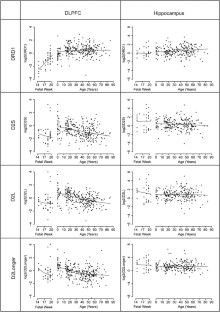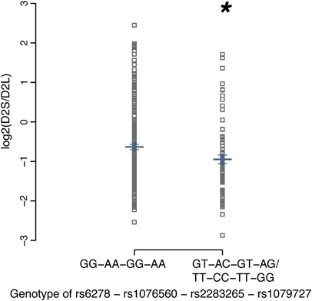 References
Creese I, Burt DR, Snyder SH . Dopamine receptor binding predicts clinical and pharmacological potencies of antischizophrenic drugs. Science 1976; 192: 481–483.

Seeman P, Lee T . Antipsychotic drugs: direct correlation between clinical potency and presynaptic action on dopamine neurons. Science 1975; 188: 1217–1219.

Laruelle M, Abi-Dargham A, van Dyck CH, Gil R, D'Souza CD, Erdos J et al. Single photon emission computerized tomography imaging of amphetamine-induced dopamine release in drug-free schizophrenic subjects. Proc Natl Acad Sci USA 1996; 93: 9235–9240.

Kumakura Y, Cumming P, Vernaleken I, Buchholz HG, Siessmeier T, Heinz A et al. Elevated [18F]fluorodopamine turnover in brain of patients with schizophrenia: an [18F]fluorodopa/positron emission tomography study. J Neurosci 2007; 27: 8080–8087.

Hietala J, Syvälahti E, Vuorio K, Räkköläinen V, Bergman J, Haaparanta M et al. Presynaptic dopamine function in striatum of neuroleptic-naive schizophrenic patients. Lancet 1995; 346: 1130–1131.

Abi-Dargham A, Rodenhiser J, Printz D, Zea-Ponce Y, Gil R, Kegeles LS et al. Increased baseline occupancy of D2 receptors by dopamine in schizophrenia. Proc Natl Acad Sci USA 2000; 97: 8104–8109.

Wong DF, Wagner HN, Tune LE, Dannals RF, Pearlson GD, Links JM et al. Positron emission tomography reveals elevated D2 dopamine receptors in drug-naive schizophrenics. Science 1986; 234: 1558–1563.

Glatt SJ, Faraone SV, Lasky-Su JA, Kanazawa T, Hwu HG, Tsuang MT . Family-based association testing strongly implicates DRD2 as a risk gene for schizophrenia in Han Chinese from Taiwan. Mol Psychiatry 2009; 14: 885–893.

Glatt SJ, Faraone SV, Tsuang MT . Meta-analysis identifies an association between the dopamine D2 receptor gene and schizophrenia. Mol Psychiatry 2003; 8: 911–915.

Zhang Y, Bertolino A, Fazio L, Blasi G, Rampino A, Romano R et al. Polymorphisms in human dopamine D2 receptor gene affect gene expression, splicing, and neuronal activity during working memory. Proc Natl Acad Sci USA 2007; 104: 20552–20557.

Bertolino A, Taurisano P, Pisciotta NM, Blasi G, Fazio L, Romano R et al. Genetically determined measures of striatal D2 signaling predict prefrontal activity during working memory performance. PLoS ONE 2010; 5: e9348.

Usiello A, Baik JH, Rougé-Pont F, Picetti R, Dierich A, LeMeur M et al. Distinct functions of the two isoforms of dopamine D2 receptors. Nature 2000; 408: 199–203.

Seeman P, Nam D, Ulpian C, Liu IS, Tallerico T . New dopamine receptor, D2(Longer), with unique TG splice site, in human brain. Brain Res Mol Brain Res 2000; 76: 132–141.

Xie J, Lee JA, Kress TL, Mowry KL, Black DL . Protein kinase A phosphorylation modulates transport of the polypyrimidine tract-binding protein. Proc Natl Acad Sci USA 2003; 100: 8776–8781.

Sasabe T, Futai E, Ishiura S . Polypyrimidine tract-binding protein 1 regulates the alternative splicing of dopamine receptor D(2). J Neurochem 2011; 116: 76–81.

Khan ZU, Mrzljak L, Gutierrez A, de la Calle A, Goldman-Rakic PS . Prominence of the dopamine D2 short isoform in dopaminergic pathways. Proc Natl Acad Sci USA 1998; 95: 7731–7736.

Lindgren N, Usiello A, Goiny M, Haycock J, Erbs E, Greengard P et al. Distinct roles of dopamine D2L and D2S receptor isoforms in the regulation of protein phosphorylation at presynaptic and postsynaptic sites. Proc Natl Acad Sci USA 2003; 100: 4305–4309.

Takahashi H, Yamada M, Suhara T . Functional significance of central D1 receptors in cognition: beyond working memory. J Cereb Blood Flow Metab 2012; 32: 1248–1258.

Zhu F, Yan CX, Wang Q, Zhu YS, Zhao Y, Huang J et al. An association study between dopamine D1 receptor gene polymorphisms and the risk of schizophrenia. Brain Res 2011; 1420: 106–113.

Rothmond DA, Weickert CS, Webster MJ . Developmental changes in human dopamine neurotransmission: cortical receptors and terminators. BMC Neurosci 2012; 13: 18.

Nieoullon A . Dopamine and the regulation of cognition and attention. Prog Neurobiol 2002; 67: 53–83.

Morikawa T, Manabe T . Aberrant regulation of alternative pre-mRNA splicing in schizophrenia. Neurochem Int 2010; 57: 691–704.

Lipska BK, Deep-Soboslay A, Weickert CS, Hyde TM, Martin CE, Herman MM et al. Critical factors in gene expression in postmortem human brain: Focus on studies in schizophrenia. Biol Psychiatry 2006; 60: 650–658.

Kunii Y, Hyde TM, Ye T, Li C, Kolachana B, Dickinson D et al. Revisiting DARPP-32 in postmortem human brain: changes in schizophrenia and bipolar disorder and genetic associations with t-DARPP-32 expression. Mol Psychiatry advance online publication, 8 January 2013; doi: 10.1038/mp.2012.174 (e-pub ahead of print).

Colantuoni C, Lipska BK, Ye T, Hyde TM, Tao R, Leek JT et al. Temporal dynamics and genetic control of transcription in the human prefrontal cortex. Nature 2011; 478: 519–523.

Rieckmann A, Karlsson S, Karlsson P, Brehmer Y, Fischer H, Farde L et al. Dopamine D1 receptor associations within and between dopaminergic pathways in younger and elderly adults: links to cognitive performance. Cereb Cortex 2011; 21: 2023–2032.

Dubertret C, Bardel C, Ramoz N, Martin PM, Deybach JC, Adès J et al. A genetic schizophrenia-susceptibility region located between the ANKK1 and DRD2 genes. Prog Neuropsychopharmacol Biol Psychiatry 2010; 34: 492–499.

Allen NC, Bagade S, McQueen MB, Ioannidis JP, Kavvoura FK, Khoury MJ et al. Systematic meta-analyses and field synopsis of genetic association studies in schizophrenia: the SzGene database. Nat Genet 2008; 40: 827–834.

Arinami T, Gao M, Hamaguchi H, Toru M . A functional polymorphism in the promoter region of the dopamine D2 receptor gene is associated with schizophrenia. Hum Mol Genet 1997; 6: 577–582.

Duan J, Wainwright MS, Comeron JM, Saitou N, Sanders AR, Gelernter J et al. Synonymous mutations in the human dopamine receptor D2 (DRD2) affect mRNA stability and synthesis of the receptor. Hum Mol Genet 2003; 12: 205–216.

Sawaguchi T, Goldman-Rakic PS . D1 dopamine receptors in prefrontal cortex: involvement in working memory. Science 1991; 251: 947–950.

Bamford NS, Zhang H, Schmitz Y, Wu NP, Cepeda C, Levine MS et al. Heterosynaptic dopamine neurotransmission selects sets of corticostriatal terminals. Neuron 2004; 42: 653–663.

Centonze D, Gubellini P, Usiello A, Rossi S, Tscherter A, Bracci E et al. Differential contribution of dopamine D2S and D2L receptors in the modulation of glutamate and GABA transmission in the striatum. Neuroscience 2004; 129: 157–166.

Wang JQ, McGinty JF . Differential effects of D1 and D2 dopamine receptor antagonists on acute amphetamine- or methamphetamine-induced up-regulation of zif/268 mRNA expression in rat forebrain. J Neurochem 1995; 65: 2706–2715.

Brady AM, O'Donnell P . Dopaminergic modulation of prefrontal cortical input to nucleus accumbens neurons in vivo. J Neurosci 2004; 24: 1040–1049.

O'Donnell P, Grace AA . Tonic D2-mediated attenuation of cortical excitation in nucleus accumbens neurons recorded in vitro. Brain Res 1994; 634: 105–112.

De Mei C, Ramos M, Iitaka C, Borrelli E . Getting specialized: presynaptic and postsynaptic dopamine D2 receptors. Curr Opin Pharmacol 2009; 9: 53–58.

Lee FJ, Pei L, Moszczynska A, Vukusic B, Fletcher PJ, Liu F . Dopamine transporter cell surface localization facilitated by a direct interaction with the dopamine D2 receptor. EMBO J 2007; 26: 2127–2136.

Beaulieu JM, Sotnikova TD, Marion S, Lefkowitz RJ, Gainetdinov RR, Caron MG . An Akt/beta-arrestin 2/PP2A signaling complex mediates dopaminergic neurotransmission and behavior. Cell 2005; 122: 261–273.

Beaulieu JM, Tirotta E, Sotnikova TD, Masri B, Salahpour A, Gainetdinov RR et al. Regulation of Akt signaling by D2 and D3 dopamine receptors in vivo. J Neurosci 2007; 27: 881–885.

Zhang LJ, Lachowicz JE, Sibley DR . The D2S and D2L dopamine receptor isoforms are differentially regulated in Chinese hamster ovary cells. Mol Pharmacol 1994; 45: 878–889.

Akil M, Pierri JN, Whitehead RE, Edgar CL, Mohila C, Sampson AR et al. Lamina-specific alterations in the dopamine innervation of the prefrontal cortex in schizophrenic subjects. Am J Psychiatry 1999; 156: 1580–1589.

Roberts DA, Balderson D, Pickering-Brown SM, Deakin JF, Owen F . The abundance of mRNA for dopamine D2 receptor isoforms in brain tissue from controls and schizophrenics. Brain Res Mol Brain Res 1994; 25: 173–175.

Meador-Woodruff JH, Haroutunian V, Powchik P, Davidson M, Davis KL, Watson SJ . Dopamine receptor transcript expression in striatum and prefrontal and occipital cortex. Focal abnormalities in orbitofrontal cortex in schizophrenia. Arch Gen Psychiatry 1997; 54: 1089–1095.

Urigüen L, García-Fuster MJ, Callado LF, Morentin B, La Harpe R, Casadó V et al. Immunodensity and mRNA expression of A2A adenosine, D2 dopamine, and CB1 cannabinoid receptors in postmortem frontal cortex of subjects with schizophrenia: effect of antipsychotic treatment. Psychopharmacology 2009; 206: 313–324.

Zhan L, Kerr JR, Lafuente MJ, Maclean A, Chibalina MV, Liu B et al. Altered expression and coregulation of dopamine signalling genes in schizophrenia and bipolar disorder. Neuropathol Appl Neurobiol 2011; 37: 206–219.

Rothmond D, Akil M, Weickert C . Alterations in Dopamine d2 receptor isoform gene expression in the DLPFC of patients with schizophrenia. Annual Meeting for Society for Neuroscience 2010 40th Annual Meeting: Poster 326.316/Z313.

Janowsky A, Neve KA, Kinzie JM, Taylor B, de Paulis T, Belknap JK . Extrastriatal dopamine D2 receptors: distribution, pharmacological characterization and region-specific regulation by clozapine. J Pharmacol Exp Ther 1992; 261: 1282–1290.

Lidow MS, Elsworth JD, Goldman-Rakic PS . Down-regulation of the D1 and D5 dopamine receptors in the primate prefrontal cortex by chronic treatment with antipsychotic drugs. J Pharmacol Exp Ther 1997; 281: 597–603.

Lidow MS, Goldman-Rakic PS . Differential regulation of D2 and D4 dopamine receptor mRNAs in the primate cerebral cortex vs neostriatum: effects of chronic treatment with typical and atypical antipsychotic drugs. J Pharmacol Exp Ther 1997; 283: 939–946.

Leysen JE, Gommeren W, Mertens J, Luyten WH, Pauwels PJ, Ewert M et al. Comparison of in vitro binding properties of a series of dopamine antagonists and agonists for cloned human dopamine D2S and D2L receptors and for D2 receptors in rat striatal and mesolimbic tissues, using [125I] 2'-iodospiperone. Psychopharmacology (Berl) 1993; 110: 27–36.

Malmberg A, Jackson DM, Eriksson A, Mohell N . Unique binding characteristics of antipsychotic agents interacting with human dopamine D2A, D2B, and D3 receptors. Mol Pharmacol 1993; 43: 749–754.

Xu R, Hranilovic D, Fetsko LA, Bucan M, Wang Y . Dopamine D2S and D2L receptors may differentially contribute to the actions of antipsychotic and psychotic agents in mice. Mol Psychiatry 2002; 7: 1075–1082.

Abi-Dargham A, Xu X, Thompson JL, Gil R, Kegeles LS, Urban N et al. Increased prefrontal cortical D(1) receptors in drug naive patients with schizophrenia: a PET study with [(1)(1)C]NNC112. J Psychopharmacol 2012; 26: 794–805.

Nakata K, Lipska BK, Hyde TM, Ye T, Newburn EN, Morita Y et al. DISC1 splice variants are upregulated in schizophrenia and associated with risk polymorphisms. Proc Natl Acad Sci USA 2009; 106: 15873–15878.

Law AJ, Kleinman JE, Weinberger DR, Weickert CS . Disease-associated intronic variants in the ErbB4 gene are related to altered ErbB4 splice-variant expression in the brain in schizophrenia. Hum Mol Genet 2007; 16: 129–141.

Sartorius LJ, Weinberger DR, Hyde TM, Harrison PJ, Kleinman JE, Lipska BK . Expression of a GRM3 splice variant is increased in the dorsolateral prefrontal cortex of individuals carrying a schizophrenia risk SNP. Neuropsychopharmacology 2008; 33: 2626–2634.

Tao R, Li C, Newburn EN, Ye T, Lipska BK, Herman MM et al. Transcript-specific associations of SLC12A5 (KCC2) in human prefrontal cortex with development, schizophrenia, and affective disorders. J Neurosci 2012; 32: 5216–5222.

Wu JQ, Wang X, Beveridge NJ, Tooney PA, Scott RJ, Carr VJ et al. Transcriptome sequencing revealed significant alteration of cortical promoter usage and splicing in schizophrenia. PLoS ONE 2012; 7: e36351.
Acknowledgements
We thank Liqin Wang and Vesna Imamovic for their technical expertise, and Dr Llewellyn Bigelow for his diagnostic contributions. We thank the Offices of the Chief Medical Examiner of Washington, DC and of Northern Virginia-Northern District, and Dr Ronald Zielke, Robert Johnson and Robert Vigorito at the National Institute of Child Health and Human Brain Development Brain and Tissue Bank for Developmental Disorders, University of Maryland School of Medicine, as well as Dr Maree Webster at the Stanley Medical Institute for their collection of brains. We also thank the families of the deceased for the donations of brain tissue and their time and effort devoted to the consent process and interviews. This research was supported by the Intramural Research Program of the National Institute of Mental Health at the National Institutes of Health, and by the Copenhagen Graduate School of Health Science, University of Copenhagen and Julie von Müellens Foundation (to SSK). 
Ethics declarations
Competing interests
The authors declare no conflict of interest.
About this article
Cite this article
Kaalund, S., Newburn, E., Ye, T. et al. Contrasting changes in DRD1 and DRD2 splice variant expression in schizophrenia and affective disorders, and associations with SNPs in postmortem brain. Mol Psychiatry 19, 1258–1266 (2014). https://doi.org/10.1038/mp.2013.165
Received:

Revised:

Accepted:

Published:

Issue Date:

DOI: https://doi.org/10.1038/mp.2013.165
Keywords
bipolar disorder

depression

development

dopamine receptors

genotype

schizophrenia