Abstract
The heritability of borderline personality (BP) features has been established in multiple twin and family studies. Using data from the borderline subscale of the Personality Assessment Inventory Borderline Features Scale (PAI-BOR) collected in two Dutch cohorts (N=7125), the Netherlands Twin Register and The Netherlands Study of Depression and Anxiety, we show that heritability of the PAI-BOR total score using genome-wide single-nucleotide polymorphism (SNPs) is estimated at 23%, and that the genetic variance is substantially higher in affect instability items compared with the other three subscales of the PAI-BOR (42.7% vs non-significant estimates for self-harm, negative relations and identity problems). We present results from a first genome-wide association study of BP features, which shows a promising signal on chromosome 5 corresponding to SERINC5, a protein involved in myelination. Reduced myelination has been suggested as possibly having a role in the development of psychiatric disorders characterized by lack of social interaction. The signal was confirmed in a third independent Dutch cohort drawn from the Erasmus Rucphen Family study (N=1301). Our analyses were complemented by investigating the heterogeneity that was implied by the differences in genetic variance components in the four subscales of the PAI-BOR. These analyses show that the association of SNPs tagging SERINC5 differs substantially across the 24 items of the PAI-BOR. Further, using reverse regression we showed that the effects were present only in subjects with higher scores on the PAI-BOR. Taken together, these results suggest that future genome-wide analyses can benefit substantially by taking into account the phenotypic and genetic heterogeneity of BP features.
Relevant articles
Open Access articles citing this article.
Fabian Streit

,

Stephanie H. Witt

…

Ole A. Andreassen

Translational Psychiatry Open Access 11 April 2022

Charlotte Skoglund

,

Annika Tiger

…

Ralf Kuja-Halkola

Molecular Psychiatry Open Access 03 June 2019

Talar R. Moukhtarian

,

Ruth S. Mintah

…

Philip Asherson

Borderline Personality Disorder and Emotion Dysregulation Open Access 20 May 2018
Access options
Subscribe to Journal
Get full journal access for 1 year
$119.00
only $9.92 per issue
All prices are NET prices.
VAT will be added later in the checkout.
Tax calculation will be finalised during checkout.
Buy article
Get time limited or full article access on ReadCube.
$32.00
All prices are NET prices.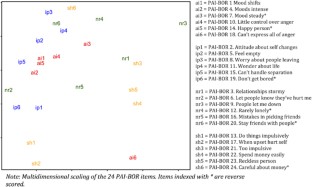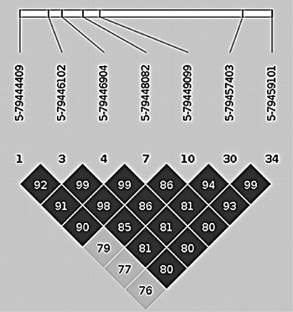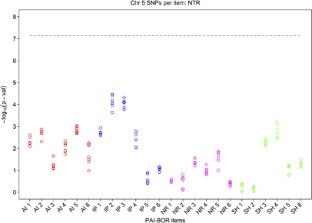 References
Grant BF, Goldstein RB, Chou SP, Huang B, Stinson FS, Dawson DA et al. Sociodemographic and psychopathologic predictors of first incidence of DSM-IV substance use, mood and anxiety disorders: results from the wave 2 national epidemiologic survey on alcohol and related conditions. Mol Psychiatry 2008; 14: 1051–1066.

Friborg O, Martinussen M, Kaiser S, Øvergård KT, Rosenvinge JH . Comorbidity of personality disorders in anxiety disorders: a meta-analysis of 30 years of research. J Affect Disord 2012; 145: 143–155.

Distel MA, Carlier A, Middeldorp CM, Derom CA, Lubke GH, Boomsma DI . Borderline personality traits and adult attention-deficit hyperactivity disorder symptoms: a genetic analysis of comorbidity. Am J Med Genet Part B 2011; 156: 817–825.

Bornovalova MA, Hicks BM, Iacono WG, McGue M . Stability, change, and heritability of borderline personality disorder traits from adolescence to adulthood: a longitudinal twin study. Dev Psychopathol 2009; 21: 1353.

Clark LA . Stability and change in personality disorder. Curr Dir Psychol Sci 2009; 18: 27–31.

Distel MA, Trull TJ, Derom CA, Thiery EW, Grimmer MA, Martin NG et al. Heritability of borderline personality disorder features is similar across three countries. Psychol Med 2008; 38: 1219–1229.

Distel MA, Trull TJ, Willemsen G, Vink JM, Derom CA, Lynskey M et al. The five-factor model of personality and borderline personality disorder: a genetic analysis of comorbidity. Biol Psychiatry 2009; 66: 1131–1138.

Boomsma DI, de Geus EJ, Vink JM, Stubbe JH, Distel MA, Hottenga JJ et al. Netherlands Twin Register: from twins to twin families. Twin Res Hum Genet 2006; 9: 849–857.

Penninx BW, Beekman AT, Smit JH, Zitman FG, Nolen WA, Spinhoven P et al. The Netherlands Study of Depression and Anxiety (NESDA): rationale, objectives and methods. Int J Meth Psych Res 2008; 17: 121–140.

Pardo LM, MacKay I, Oostra B, van Duijn CM, Aulchenko YS . The effect of genetic drift in a young genetically isolated population. Ann Hum Genet 2005; 69: 288–295.

Morey LC . The Personality Assessment Inventory: Professional manual. Psychological Assessment Resources: Odessa, FL, USA, 1991.

Jackson KM, Trull TJ . The Factor Structure of the Personality Assessment Inventory-Borderline Features (PAI-BOR) Scale in a nonclinical sample. J Personal Disord 2001; 15: 536–545.

Gardner K, Qualter P . Reliability and validity of three screening measures of borderline personality disorder in a nonclinical population. Pers Individ Differ 2009; 46: 636–641.

Stein MB, Pinsker-Aspen JH, Hilsenroth MJ . Borderline pathology and the personality assessment inventory (PAI): an evaluation of criterion and concurrent validity. J Pers Assess 2007; 88: 81–89.

Bell-Pringle VJ, Pate JL, Brown RC . Assessment of borderline personality disorder using the MMPI-2 and the Personality Assessment Inventory. Assessment 1997; 4: 131–139.

Kurtz J, Morey L . Use of structured self-report assessment to diagnose borderline personality disorder during major depressive episodes. Assessment 2001; 8: 291–300.

Johansen M, Karterud S, Pedersen G, Gude T, Falkum E . An investigation of the prototype validity of the borderline DSM‐IV construct. Acta Psychiatr Scand 2004; 109: 289–298.

Sanislow CA, Grilo CM, Morey LC, Bender SD, Skodol AE, Gunderson JG et al. Confirmatory factor analysis of the DSM-IV criteria for borderline personality disorder: findings from the Collaborative Longitudinal Personality Disorders Study. Am J Psychiatry 2002; 159: 284–290.

Andión Ó, Ferrer M, Gancedo B, Calvo N, Barral C, Torrubia R et al. Confirmatory factor analysis of borderline personality disorder symptoms based on two different interviews: the structured clinical interview for DSM-IV Axis II disorder and the revised diagnostic interview for borderlines. Psychiatry Res 2011; 190: 304–308.

Skodol AE, Gunderson JG, Pfohl B, Widiger TA, Livesley WJ, Siever LJ . The borderline diagnosis I: psychopathology, comorbidity, and personality structure. Biol Psychiatry 2002; 51: 936–950.

Skodol AE, Siever LJ, Livesley WJ, Gunderson JG, Pfohl B, Widiger TA . The borderline diagnosis II: biology, genetics, and clinical course. Biol Psychiatry 2002; 51: 951–963.

Aggen SH, Neale MC, Røysamb E, Reichborn-Kjennerud T, Kendler KS . A psychometric evaluation of the DSM-IV borderline personality disorder criteria: age and sex moderation of criterion functioning. Psychol Med 2009; 39: 1967–1978.

Banzhaf A, Ritter K, Merkl A, Schulte-Herbrüggen O, Lammers CH, Roepke S . Gender differences in a clinical sample of patients with borderline personality disorder. J Personal Disord 2012; 26: 368–380.

Distel MA, Willemsen G, Ligthart L, Derom CA, Martin NG, Neale MC et al. Genetic covariance structure of the four main features of borderline personality disorder. J Personal Disord 2010; 24: 427–444.

Yang J, Wray NR, Visscher PM . Comparing apples and oranges: equating the power of case-control and quantitative trait association studies. Genet Epidemiol 2010; 34: 254–257.

Yang J, Benyamin B, McEvoy BP, Gordon S, Henders AK, Nyholt DR et al. Common SNPs explain a large proportion of the heritability for human height. Nat Genet 2010; 42: 565–569.

Torgersen S, Czajkowski N, Jacobson K, Reichborn-Kjennerud T, Røysamb E, Neale MC et al. Dimensional representations of DSM-IV cluster B personality disorders in a population-based sample of Norwegian twins: a multivariate study. Psychol Med 2008; 38: 1617–1625.

Purcell S, Neale B, Todd-Brown K, Thomas L, Ferreira MAR, Bender D et al. PLINK: a toolset for whole-genome association and population-based linkage analysis. Am J Hum Genet 2007; 81: 559–575.

R Development Core Team. R: A Language and Environment for Statistical Computing. R Foundation for Statistical Computing: Vienna, Austria, 2011.

Rush AJ, Giles DE, Schlesser MA, Fulton CI, Weissenburger JE, Burns CT . The Inventory of Depressive Symptomatology (IDS): preliminary findings. Psychiatry Res 1986; 18: 65–87.

Kruskal JB . Nonmetric multidimensional scaling: a numerical method. Psychometrika 1964; 29: 115–129.

Zeger SL, Liang KY, Albert PS . Models for longitudinal data: a generalized estimating equation approach. Biometrics 1988; 44: 1049–1060.

Svishcheva GR, Axenovich TI, Belonogova NM, van Duijn CM, Aulchenko YS . Rapid variance components-based method for whole-genome association analysis. Nat Genet 2012; 44: 1166–1170.

Nyholt DR . A simple correction for multiple testing for single-nucleotide polymorphisms in linkage disequilibrium with each other. Am J Hum Genet 2004; 74: 765–769.

Hunter JE, Schmidt FL, Jackson GB . Meta-Analysis. Sage publications: Beverly Hills, CA, USA, 1982.

Krueger WHH, Gonye GE, Madison DL, Murray KE, Kumar M, Spoerel N et al. TPO1, a member of a novel protein family, is developmentally regulated in cultured oligodendrocytes. J Neurochem 1997; 69: 1343–1355.

Liu Jia, Dietz Karen, DeLoyht Jacqueline M, Pedre Xiomara, Kelkar Dipti, Kaur Jasbir et al. Impaired adult myelination in the prefrontal cortex of socially isolated mice. Nat Neurosci 2012; 15: 1621–1623.

van Elst LT, Thiel T, Hesslinger B, Lieb K, Bohus M, Hennig J et al. Subtle prefrontal neuropathology in a pilot magnetic resonance spectroscopy study in patients with borderline personality disorder. J Neuropsychiatry Clin Neurosci 2001; 13: 511–514.

Chakraborty G, Mekala P, Yahya D, Wu G, Ledeen RW . Intraneuronal N‐acetylaspartate supplies acetyl groups for myelin lipid synthesis: evidence for myelin‐associated aspartoacylase. J Neurochem 2001; 78: 736–745.

Rose JE, Behm FM, Drgon T, Johnson C, Uhl GR . Personalized smoking cessation: interactions between nicotine dose, dependence and quit-success genotype score. Mol Med 2010; 16: 247–253.

van der Sluis S, Posthuma D, Dolan CV . TATES: Efficient multivariate Genotype-Phenotype analysis for genome-wide association studies. PLoS Genet 2013; 9: e1003235.

Lamers F, Vogelzangs N, Merikangas KR, de Jonge P, Beekman AT, Penninx BW . Evidence for a differential role of HPA-axis function, inflammation and metabolic syndrome in melancholic versus atypical depression. Mol Psychiatry 2012; 18: 692–699.
Acknowledgements
NESDA: the infrastructure for the NESDA study (www.nesda.nl) is funded through the Geestkracht program of the Netherlands Organisation for Health Research and Development (ZonMw, grant number 10-000-1002) and is supported by participating universities and mental health-care organizations (VU University Medical Center, GGZinGeest, Arkin, Leiden University Medical Center, GGZ Rivierduinen, University Medical Center Groningen, Lentis, GGZ Friesland, GGZ Drenthe, IQ Healthcare, the Netherlands Institute for Health Services Research (NIVEL) and Netherlands Institute of Mental Health and Addiction (Trimbos). NTR (www.tweelingenregister.org): phenotype and sample collection was supported by the European Research Council (ERC Advanced Grant 230374 PI Boomsma), Netherlands Organization for Scientific Research (NWO: MagW/ZonMW grants 904-61-090, 985-10-002, 904-61-193, 480-04-004, 400-05-717, Addiction-31160008 Middelgroot-911-09-032, Spinozapremie 56-464-14192), Center for Medical Systems Biology (CSMB, NWO Genomics), NBIC/BioAssist/RK(2008.024). Genotyping in NESDA and NTR was supported by Biobanking and Biomolecular Resources Research Infrastructure (BBMRI-NL, 184.021.007), the VU University's Institute for Health and Care Research (EMGO+), Neuroscience Campus Amsterdam (NCA), the European Community's Seventh Framework Program (FP7/2007–2013), ENGAGE (HEALTH-F4-2007-201413), Rutgers University Cell and DNA Repository (NIMH U24 MH068457-06), the Avera Institute, Sioux Falls, South Dakota (USA), Genetic Association Information Network (GAIN) of the Foundation for the US National Institutes of Health, and the US National Institutes of Mental Health (NIMH, MH081802, 1RC2MH089951-01 PI Sullivan, 1RC2 MH089995-01 PI Hudziak). ERF: the study as a part of EUROSPAN (European Special Populations Research Network) was supported by European Commission FP6 STRP grant number 018947 (LSHG-CT-2006-01947) and also received funding from the European Community's Seventh Framework Programme (FP7/2007–2013)/grant agreement HEALTH-F4-2007-201413 by the European Commission under the program 'Quality of Life and Management of the Living Resources' of 5th Framework Programme (no. QLG2-CT-2002-01254). High-throughput analysis of data was supported by joint grant from the Netherlands Organisation for Scientific Research and the Russian Foundation for Basic Research (NWO-RFBR 047.017.043). We thank general practitioners and neurologists for their contributions and to P Veraart for her help in genealogy, J Vergeer for the supervision of the laboratory work and P Snijders for his help in data collection. We are grateful to all study participants.
Ethics declarations
Competing interests
The authors declare no conflict of interest.
About this article
Cite this article
Lubke, G., Laurin, C., Amin, N. et al. Genome-wide analyses of borderline personality features. Mol Psychiatry 19, 923–929 (2014). https://doi.org/10.1038/mp.2013.109
Received:

Accepted:

Published:

Issue Date:

DOI: https://doi.org/10.1038/mp.2013.109
Keywords
borderline personality disorder

GCTA

GWAS

heterogeneity

PAI-BOR