Abstract
Autism is a severe neurodevelopmental disorder, the aetiology of which remains mainly unknown. Family and twin studies provide strong evidence that genetic factors have a major role in the aetiology of this disease. Recently, whole exome sequencing (WES) efforts have focused mainly on rare de novo variants in singleton families. Although these studies have provided pioneering insights, de novo variants probably explain only a small proportion of the autism risk variance. In this study, we performed exome sequencing of 10 autism multiplex families with the aim of investigating the role of rare variants that are coinherited in the affected sibs. The pool of variants selected in our study is enriched with genes involved in neuronal functions or previously reported in psychiatric disorders, as shown by Gene Ontology analysis and by browsing the Neurocarta database. Our data suggest that rare truncating heterozygous variants have a predominant role in the aetiology of autism. Using a multiple linear regression model, we found that the burden of truncating mutations correlates with a lower non-verbal intelligence quotient (NVIQ). Also, the number of truncating mutations that were transmitted to the affected sibs was significantly higher (twofold) than those not transmitted. Protein–protein interaction analysis performed with our list of mutated genes revealed that the postsynaptic YWHAZ is the most interconnected node of the network. Among the genes found disrupted in our study, there is evidence suggesting that YWHAZ and also the X-linked DRP2 may be considered as novel autism candidate genes.
Relevant articles
Open Access articles citing this article.
Mohammad Ahangari

,

Amanda E. Gentry

…

Brien P. Riley

Translational Psychiatry Open Access 21 July 2022

Yi Zhang

,

Tao Wang

…

Zhongsheng Sun

Molecular Neurobiology Open Access 15 April 2021

Yukihide Momozawa

&

Keijiro Mizukami

Journal of Human Genetics Open Access 18 September 2020
Access options
Subscribe to this journal
Receive 12 print issues and online access
$259.00 per year
only $21.58 per issue
Rent or buy this article
Prices vary by article type
from$1.95
to$39.95
Prices may be subject to local taxes which are calculated during checkout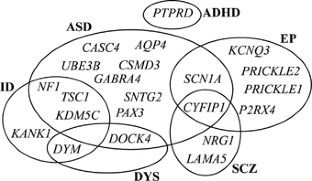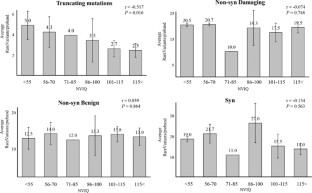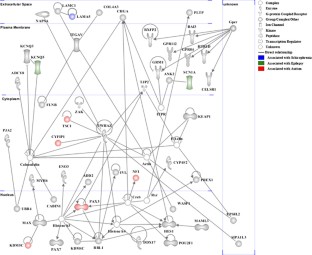 References
Lord C, Jones RM . Annual research review: re-thinking the classification of autism spectrum disorders. J Child Psychol Psychiatry 2012; 53: 490–509.

Elsabbagh M, Divan G, Koh YJ, Kim YS, Kauchali S, Marcin C et al. Global prevalence of autism and other pervasive developmental disorders. Autism Res 2012; 5: 160–179.

Ozonoff S, Young GS, Carter A, Messinger D, Yirmiya N, Zwaigenbaum L et al. Recurrence risk for autism spectrum disorders: a Baby Siblings Research Consortium study. Pediatrics 2011; 128: e488–e495.

Ronald A, Hoekstra RA . Autism spectrum disorders and autistic traits: a decade of new twin studies. Am J Med Genet B 2011; 156B: 255–274.

Sanders SJ, Ercan-Sencicek AG, Hus V, Luo R, Murtha MT, Moreno-De-Luca D et al. Multiple recurrent de novo CNVs, including duplications of the 7q11.23 Williams syndrome region, are strongly associated with autism. Neuron 2011; 70: 863–885.

O'Roak BJ, Vives L, Fu W, Egertson JD, Stanaway IB, Phelps IG et al. Multiplex targeted sequencing identifies recurrently mutated genes in autism spectrum disorders. Science 2012; 338: 1619–1622.

O'Roak BJ, Vives L, Girirajan S, Karakoc E, Krumm N, Coe BP et al. Sporadic autism exomes reveal a highly interconnected protein network of de novo mutations. Nature 2012; 485: 246–250.

Neale BM, Kou Y, Liu L, Ma'ayan A, Samocha KE, Sabo A et al. Patterns and rates of exonic de novo mutations in autism spectrum disorders. Nature 2012; 485: 242–245.

Iossifov I, Ronemus M, Levy D, Wang Z, Hakker I, Rosenbaum J et al. De novo gene disruptions in children on the autistic spectrum. Neuron 2012; 74: 285–299.

Sanders SJ, Murtha MT, Gupta AR, Murdoch JD, Raubeson MJ, Willsey AJ et al. De novo mutations revealed by whole-exome sequencing are strongly associated with autism. Nature 2012; 485: 237–241.

Schaaf CP, Sabo A, Sakai Y, Crosby J, Muzny D, Hawes A et al. Oligogenic heterozygosity in individuals with high-functioning autism spectrum disorders. Hum Mol Genet 2011; 20: 3366–3375.

Leblond CS, Heinrich J, Delorme R, Proepper C, Betancur C, Huguet G et al. Genetic and functional analyses of SHANK2 mutations suggest a multiple hit model of autism spectrum disorders. PLoS Genet 2012; 8: e1002521.

Bailey A, Le Couteur A, Gottesman I, Bolton P, Simonoff E, Yuzda E et al. Autism as a strongly genetic disorder: evidence from a British twin study. Psychol Med 1995; 25: 63–77.

Sebat J, Lakshmi B, Malhotra D, Troge J, Lese-Martin C, Walsh T et al. Strong association of de novo copy number mutations with autism. Science 2007; 316: 445–449.

Marshall CR, Noor A, Vincent JB, Lionel AC, Feuk L, Skaug J et al. Structural variation of chromosomes in autism spectrum disorder. Am J Hum Genet 2008; 82: 477–488.

Chahrour MH, Yu TW, Lim ET, Ataman B, Coulter ME, Hill RS et al. Whole-exome sequencing and homozygosity analysis implicate depolarization-regulated neuronal genes in autism. PLoS Genet 2012; 8: e1002635.

Puffenberger EG, Jinks RN, Wang H, Xin B, Fiorentini C, Sherman EA et al. A homozygous missense mutation in HERC2 associated with global developmental delay and autism spectrum disorder. Hum Mutat 2012; 33: 1639–1646.

Lim ET, Raychaudhuri S, Sanders SJ, Stevens C, Sabo A, Macarthur DG et al. Rare complete knockouts in humans: population distribution and significant role in autism spectrum disorders. Neuron 2013; 77: 235–242.

Li H, Durbin R . Fast and accurate short read alignment with Burrows–Wheeler transform. Bioinformatics 2009; 25: 1754–1760.

Li H, Handsaker B, Wysoker A, Fennell T, Ruan J, Homer N et al. The Sequence Alignment/Map format and SAMtools. Bioinformatics 2009; 25: 2078–2079.

Puente XS, Pinyol M, Quesada V, Conde L, Ordonez GR, Villamor N et al. Whole-genome sequencing identifies recurrent mutations in chronic lymphocytic leukaemia. Nature 2011; 475: 101–105.

Fuentes Fajardo KV, Adams D, Mason CE, Sincan M, Tifft C, Toro C et al. Detecting false-positive signals in exome sequencing. Hum Mutat 2012; 33: 609–613.

Kumar P, Henikoff S, Ng PC . Predicting the effects of coding non-synonymous variants on protein function using the SIFT algorithm. Nat Protoc 2009; 4: 1073–1081.

Adzhubei IA, Schmidt S, Peshkin L, Ramensky VE, Gerasimova A, Bork P et al. A method and server for predicting damaging missense mutations. Nat Methods 2010; 7: 248–249.

Medina I, Carbonell J, Pulido L, Madeira SC, Goetz S, Conesa A et al. Babelomics: an integrative platform for the analysis of transcriptomics, proteomics and genomic data with advanced functional profiling. Nucleic Acids Res 2010; 38: W210–W213.

He WZ, Liu WQ, Zhong XQ, Chen XL, Li SY, Zhang HM et al. Analysis of de novo copy number variations in a family affected with autism spectrum disorders using high-resolution array-based comparative genomic hybridization. Zhonghua Yi Xue Yi Chuan Xue Za Zhi 2012; 29: 266–269.

Guilmatre A, Dubourg C, Mosca AL, Legallic S, Goldenberg A, Drouin-Garraud V et al. Recurrent rearrangements in synaptic and neurodevelopmental genes and shared biologic pathways in schizophrenia, autism, and mental retardation. Arch Gen Psychiatry 2009; 66: 947–956.

Brooks-Kayal A . Epilepsy and autism spectrum disorders: are there common developmental mechanisms? Brain Dev 2010; 32: 731–738.

Anney R, Klei L, Pinto D, Almeida J, Bacchelli E, Baird G et al. Individual common variants exert weak effects on the risk for autism spectrum disorderspi. Hum Mol Genet 2012; 21: 4781–4792.

Kleppe R, Martinez A, Doskeland SO, Haavik J . The 14-3-3 proteins in regulation of cellular metabolism. Semin Cell Dev Biol 2011; 22: 713–719.

Foote M, Zhou Y . 14-3-3 Proteins in neurological disorders. Int J Biochem Mol Biol 2012; 3: 152–164.

Cardoso C, Leventer RJ, Ward HL, Toyo-Oka K, Chung J, Gross A et al. Refinement of a 400-kb critical region allows genotypic differentiation between isolated lissencephaly, Miller–Dieker syndrome, and other phenotypes secondary to deletions of 17p13.3. Am J Hum Genet 2003; 72: 918–930.

Bruno DL, Anderlid BM, Lindstrand A, van Ravenswaaij-Arts C, Ganesamoorthy D, Lundin J et al. Further molecular and clinical delineation of co-locating 17p13.3 microdeletions and microduplications that show distinctive phenotypes. J Med Genet 2010; 47: 299–311.

Capra V, Mirabelli-Badenier M, Stagnaro M, Rossi A, Tassano E, Gimelli S et al. Identification of a rare 17p13.3 duplication including the BHLHA9 and YWHAE genes in a family with developmental delay and behavioural problems. BMC Med Genet 2012; 13: 93.

Ikeda M, Hikita T, Taya S, Uraguchi-Asaki J, Toyo-oka K, Wynshaw-Boris A et al. Identification of YWHAE, a gene encoding 14-3-3epsilon, as a possible susceptibility gene for schizophrenia. Hum Mol Genet 2008; 17: 3212–3222.

Middleton FA, Peng L, Lewis DA, Levitt P, Mirnics K . Altered expression of 14-3-3 genes in the prefrontal cortex of subjects with schizophrenia. Neuropsychopharmacology 2005; 30: 974–983.

Ramocki MB, Bartnik M, Szafranski P, Kolodziejska KE, Xia Z, Bravo J et al. Recurrent distal 7q11.23 deletion including HIP1 and YWHAG identified in patients with intellectual disabilities, epilepsy, and neurobehavioral problems. Am J Hum Genet 2010; 87: 857–865.

Grover D, Verma R, Goes FS, Mahon PL, Gershon ES, McMahon FJ et al. Family-based association of YWHAH in psychotic bipolar disorder. Am J Med Genet B 2009; 150B: 977–983.

Pers TH, Hansen NT, Lage K, Koefoed P, Dworzynski P, Miller ML et al. Meta-analysis of heterogeneous data sources for genome-scale identification of risk genes in complex phenotypes. Genet Epidemiol 2011; 35: 318–332.

Cheah PS, Ramshaw HS, Thomas PQ, Toyo-Oka K, Xu X, Martin S et al. Neurodevelopmental and neuropsychiatric behaviour defects arise from 14-3-3zeta deficiency. Mol Psychiatry 2012; 17: 451–466.

English JA, Pennington K, Dunn MJ, Cotter DR . The neuroproteomics of schizophrenia. Biol Psychiatry 2011; 69: 163–172.

Sherman DL, Wu LM, Grove M, Gillespie CS, Brophy PJ . Drp2 and periaxin form Cajal bands with dystroglycan but have distinct roles in Schwann cell growth. J Neurosci 2012; 32: 9419–9428.

Sediva A, Smith CI, Asplund AC, Hadac J, Janda A, Zeman J et al. Contiguous X-chromosome deletion syndrome encompassing the BTK, TIMM8A, TAF7L, and DRP2 genes. J Clin Immunol 2007; 27: 640–646.

Jyonouchi H, Geng L, Toruner GA, Vinekar K, Feng D, Fitzgerald-Bocarsly P . Monozygous twins with a microdeletion syndrome involving BTK, DDP1, and two other genes; evidence of intact dendritic cell development and TLR responses. Eur J Pediatr 2008; 167: 317–321.

Arai T, Zhao M, Kanegane H, van Zelm MC, Futatani T, Yamada M et al. Genetic analysis of contiguous X-chromosome deletion syndrome encompassing the BTK and TIMM8A genes. J Hum Genet 2011; 56: 577–582.
Acknowledgements
We are grateful to all families for their participation in our study. We thank Patricia Romarís (Hospital Universitari Mútua de Terrassa) for contributing to clinical delineation of patients and Lara Nonell and Eulàlia Puigdecanet (Servei d'Anàlisi de Micorarrays, IMIM-Hospital del Mar, Parc de Recerca Biomèdica de Barcelona) for their contribution to the CNV studies. Exome sequencing services were provided by the National Centre for Genomic Analysis (CNAG). CT was supported by the European Union (Marie Curie, PIEF-GA-2009-254930) and BT by AGAUR (FI grant). Financial support was received from 'Fundació La Marató de TV3' (092010), 'Fundación Alicia Koplowitz', AGAUR (2009SGR00971) and 'Ministerio de Economía y Competitividad, Spain' (SAF2012-33484, SAF2010-21165).
Ethics declarations
Competing interests
The authors declare no conflict of interest.
Supplementary information
About this article
Cite this article
Toma, C., Torrico, B., Hervás, A. et al. Exome sequencing in multiplex autism families suggests a major role for heterozygous truncating mutations. Mol Psychiatry 19, 784–790 (2014). https://doi.org/10.1038/mp.2013.106
Received:

Revised:

Accepted:

Published:

Issue Date:

DOI: https://doi.org/10.1038/mp.2013.106
Keywords