Abstract
The prevalence of major depression has increased in recent decades and women are twice as likely as men to develop the disorder. Recent environmental changes almost certainly have a role in this phenomenon, but a complete set of contributors remains unspecified. Exposure to artificial light at night (LAN) has surged in prevalence during the past 50 years, coinciding with rising rates of depression. Chronic exposure to LAN is linked to increased risk of breast cancer, obesity and mood disorders, although the relationship to mood is not well characterized. In this study, we investigated the effects of chronic exposure to 5 lux LAN on depression-like behaviors in female hamsters. Using this model, we also characterized hippocampal brain-derived neurotrophic factor expression and hippocampal dendritic morphology, and investigated the reversibility of these changes 1, 2 or 4 weeks following elimination of LAN. Furthermore, we explored the mechanism of action, focusing on hippocampal proinflammatory cytokines given their dual role in synaptic plasticity and the pathogenesis of depression. Using reverse transcription-quantitative PCR, we identified a reversible increase in hippocampal tumor necrosis factor (TNF), but not interleukin-1β, mRNA expression in hamsters exposed to LAN. Direct intracerebroventricular infusion of a dominant-negative inhibitor of soluble TNF, XPro1595, prevented the development of depression-like behavior under LAN, but had no effect on dendritic spine density in the hippocampus. These results indicate a partial role for TNF in the reversible depression-like phenotype observed under chronic dim LAN. Recent environmental changes, such as LAN exposure, may warrant more attention as possible contributors to rising rates of mood disorders.
Relevant articles
Open Access articles citing this article.
Yves Lecarpentier

,

Olivier Schussler

…

Alexandre Vallée

Current Hypertension Reports Open Access 13 July 2020

William H. Walker

,

James C. Walton

…

Randy J. Nelson

Translational Psychiatry Open Access 23 January 2020

Yasmine M. Cissé

,

Kathryn L.G. Russart

&

Randy J. Nelson

Scientific Reports Open Access 31 March 2017
Access options
Subscribe to this journal
Receive 12 print issues and online access
$259.00 per year
only $21.58 per issue
Rent or buy this article
Prices vary by article type
from$1.95
to$39.95
Prices may be subject to local taxes which are calculated during checkout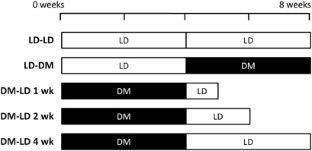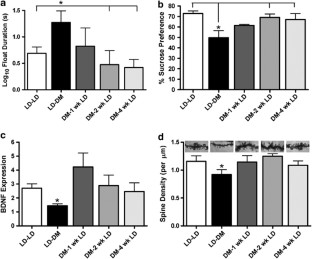 References
Compton WM, Conway KP, Stinson FS, Grant BF . Changes in the prevalence of major depression and comorbid substance use disorders in the United States between 1991–1992 and 2001–2002. Am J Psychiatry 2006; 163: 2141–2147.

Kessler RC, McGonagle KA, Swartz M, Blazer DG, Nelson CB . Sex and depression in the National Comorbidity Survey. I: lifetime prevalence, chronicity and recurrence. J Affect Disord 1993; 29: 85–96.

Simon GE, VonKorff M . Reevaluation of secular trends in depression rates. Am J Epidemiol 1992; 135: 1411–1422.

Dumont M, Beaulieu C . Light exposure in the natural environment: relevance to mood and sleep disorders. Sleep Med 2007; 8: 557–565.

Ha M, Park J . Shiftwork and metabolic risk factors of cardiovascular disease. J Occup Health 2005; 47: 89–95.

Kloog I, Haim A, Stevens RG, Barchana M, Portnov BA . Light at night co-distributes with incident breast but not lung cancer in the female population of Israel. Chronobiol Int 2008; 25: 65–81.

Wyse CA, Selman C, Page MM, Coogan AN, Hazlerigg DG . Circadian desynchrony and metabolic dysfunction; did light pollution make us fat? Med Hypotheses 2011; 77: 1139–1144.

Navara KJ, Nelson RJ . The dark side of light at night: physiological, epidemiological, and ecological consequences. J Pineal Res 2007; 43: 215–224.

Frodl T, Meisenzahl EM, Zetzsche T, Born C, Groll C, Jager M et al. Hippocampal changes in patients with a first episode of major depression. Am J Psychiatry 2002; 159: 1112–1118.

Sheline YI, Sanghavi M, Mintun MA, Gado MH . Depression duration but not age predicts hippocampal volume loss in medically healthy women with recurrent major depression. J Neurosci 1999; 19: 5034–5043.

Gallassi R, Di Sarro R, Morreale A, Amore M . Memory impairment in patients with late-onset major depression: the effect of antidepressant therapy. J Affect Disord 2006; 91: 243–250.

Halbreich U, Asnis GM, Shindledecker R, Zumoff B, Nathan RS . Cortisol secretion in endogenous depression. I. Basal plasma levels. Arch Gen Psychiatry 1985; 42: 904–908.

McEwen BS . Mood disorders and allostatic load. Biol Psychiatry 2003; 54: 200–207.

Hajszan T, Dow A, Warner-Schmidt JL, Szigeti-Buck K, Sallam NL, Parducz A et al. Remodeling of hippocampal spine synapses in the rat learned helplessness model of depression. Biol Psychiatry 2009; 65: 392–400.

Hajszan T, MacLusky NJ, Leranth C . Short-term treatment with the antidepressant fluoxetine triggers pyramidal dendritic spine synapse formation in rat hippocampus. Eur J Neurosci 2005; 21: 1299–1303.

Hajszan T, Szigeti-Buck K, Sallam NL, Bober J, Parducz A, Maclusky NJ et al. Effects of estradiol on learned helplessness and associated remodeling of hippocampal spine synapses in female rats. Biol Psychiatry 2010; 67: 168–174.

Duman RS, Monteggia LM . A neurotrophic model for stress-related mood disorders. Biol Psychiatry 2006; 59: 1116–1127.

Maier SF, Watkins LR . Cytokines for psychologists: implications of bidirectional immune-to-brain communication for understanding behavior, mood, and cognition. Psychol Rev 1998; 105: 83–107.

Richwine AF, Parkin AO, Buchanan JB, Chen J, Markham JA, Juraska JM et al. Architectural changes to CA1 pyramidal neurons in adult and aged mice after peripheral immune stimulation. Psychoneuroendocrinology 2008; 33: 1369–1377.

Raison CL, Capuron L, Miller AH . Cytokines sing the blues: inflammation and the pathogenesis of depression. Trends Immunol 2006; 27: 24–31.

Steptoe A . Depression and Physical Illness. Cambridge University Press: Cambridge, 2007.

Yirmiya R . Endotoxin produces a depressive-like episode in rats. Brain Res 1996; 711: 163–174.

Dantzer R, Wollman EE, Vitkovic L, Yirmiya R . Cytokines, stress, and depression. Conclusions and perspectives. Adv Exp Med Biol 1999; 461: 317–329.

Muller N, Schwarz MJ, Dehning S, Douhe A, Cerovecki A, Goldstein-Muller B et al. The cyclooxygenase-2 inhibitor celecoxib has therapeutic effects in major depression: results of a double-blind, randomized, placebo controlled, add-on pilot study to reboxetine. Mol Psychiatry 2006; 11: 680–684.

Hickie IB, Rogers NL . Novel melatonin-based therapies: potential advances in the treatment of major depression. Lancet 2011; 378: 621–631.

Crupi R, Mazzon E, Marino A, La Spada G, Bramanti P, Cuzzocrea S et al. Melatonin treatment mimics the antidepressant action in chronic corticosterone-treated mice. J Pineal Res 2010; 49: 123–129.

Ochoa JJ, Diaz-Castro J, Kajarabille N, Garcia C, Guisado IM, De Teresa C et al. Melatonin supplementation ameliorates oxidative stress and inflammatory signaling induced by strenuous exercise in adult human males. J Pineal Res 2011; 51: 373–380.

Tyagi E, Agrawal R, Nath C, Shukla R . Effect of melatonin on neuroinflammation and acetylcholinesterase activity induced by LPS in rat brain. Eur J Pharmacol 2010; 640: 206–210.

Brainard GC, Richardson BA, Petterborg LJ, Reiter RJ . The effect of different light intensities on pineal melatonin content. Brain Res 1982; 233: 75–81.

Woolley CS, McEwen BS . Estradiol mediates fluctuation in hippocampal synapse density during the estrous cycle in the adult rat. J Neurosci 1992; 12: 2549–2554.

Zalevsky J, Secher T, Ezhevsky SA, Janot L, Steed PM, O'Brien C et al. Dominant-negative inhibitors of soluble TNF attenuate experimental arthritis without suppressing innate immunity to infection. J Immunol 2007; 179: 1872–1883.

Porsolt RD, Bertin A, Jalfre M . Behavioral despair in mice: a primary screening test for antidepressants. Arch Int Pharmacodyn Ther 1977; 229: 327–336.

Willner P, Muscat R, Papp M . An animal model of anhedonia. Clin Neuropharmacol 1992; 15 (Suppl 1 Pt A): 550A–551A.

Pyter LM, Samuelsson AR, Quan N, Nelson RJ . Photoperiod alters hypothalamic cytokine gene expression and sickness responses following immune challenge in female Siberian hamsters (Phodopus sungorus). Neuroscience 2005; 131: 779–784.

Benca R, Duncan MJ, Frank E, McClung C, Nelson RJ, Vicentic A . Biological rhythms, higher brain function, and behavior: gaps, opportunities, and challenges. Brain Res Rev 2009; 62: 57–70.

Bedrosian TA, Fonken LK, Walton JC, Haim A, Nelson RJ . Dim light at night provokes depression-like behaviors and reduces CA1 dendritic spine density in female hamsters. Psychoneuroendocrinology 2011; 36: 1062–1069.

Fonken LK, Finy MS, Walton JC, Weil ZM, Workman JL, Ross J et al. Influence of light at night on murine anxiety- and depressive-like responses. Behav Brain Res 2009; 205: 349–354.

Megias M, Emri Z, Freund TF, Gulyas AI . Total number and distribution of inhibitory and excitatory synapses on hippocampal CA1 pyramidal cells. Neuroscience 2001; 102: 527–540.

von Bohlen Und Halbach O . Structure and function of dendritic spines within the hippocampus. Ann Anat 2009; 191: 518–531.

Fischer M, Kaech S, Knutti D, Matus A . Rapid actin-based plasticity in dendritic spines. Neuron 1998; 20: 847–854.

Yoshihara Y, De Roo M, Muller D . Dendritic spine formation and stabilization. Curr Opin Neurobiol 2009; 19: 146–153.

McEwen BS . Central effects of stress hormones in health and disease: understanding the protective and damaging effects of stress and stress mediators. Eur J Pharmacol 2008; 583: 174–185.

Law AJ, Weickert CS, Hyde TM, Kleinman JE, Harrison PJ . Reduced spinophilin but not microtubule-associated protein 2 expression in the hippocampal formation in schizophrenia and mood disorders: molecular evidence for a pathology of dendritic spines. Am J Psychiatry 2004; 161: 1848–1855.

Norrholm SD, Ouimet CC . Altered dendritic spine density in animal models of depression and in response to antidepressant treatment. Synapse 2001; 42: 151–163.

Altar CA . Neurotrophins and depression. Trends Pharmacol Sci 1999; 20: 59–61.

Angelucci F, Brene S, Mathe AA . BDNF in schizophrenia, depression and corresponding animal models. Mol Psychiatry 2005; 10: 345–352.

Garcia LS, Comim CM, Valvassori SS, Reus GZ, Barbosa LM, Andreazza AC et al. Acute administration of ketamine induces antidepressant-like effects in the forced swimming test and increases BDNF levels in the rat hippocampus. Prog Neuropsychopharmacol Biol Psychiatry 2008; 32: 140–144.

Li N, Lee B, Liu RJ, Banasr M, Dwyer JM, Iwata M et al. mTOR-dependent synapse formation underlies the rapid antidepressant effects of NMDA antagonists. Science 2010; 329: 959–964.

Irwin M . Immune correlates of depression. Adv Exp Med Biol 1999; 461: 1–24.

Maes M . Evidence for an immune response in major depression: a review and hypothesis. Prog Neuropsychopharmacol Biol Psychiatry 1995; 19: 11–38.

Nunes SO, Reiche EM, Morimoto HK, Matsuo T, Itano EN, Xavier EC et al. Immune and hormonal activity in adults suffering from depression. Braz J Med Biol Res 2002; 35: 581–587.

Yirmiya R, Weidenfeld J, Pollak Y, Morag M, Morag A, Avitsur R et al. Cytokines, 'depression due to a general medical condition,' and antidepressant drugs. Adv Exp Med Biol 1999; 461: 283–316.

Bedrosian TA, Fonken LK, Walton JC, Nelson RJ . Chronic exposure to dim light at night suppresses immune responses in Siberian hamsters. Biol Lett 2011; 7: 468–471.

Fonken LK, Haim A, Nelson RJ . Dim light at night increases immune function in Nile grass rats, a diurnal rodent. Chronobiol Int 2012; 29: 26–34.

Reiter RJ . The melatonin rhythm: both a clock and a calendar. Experientia 1993; 49: 654–664.

Goodwin GM, Emsley R, Rembry S, Rouillon F . Agomelatine prevents relapse in patients with major depressive disorder without evidence of a discontinuation syndrome: a 24-week randomized, double-blind, placebo-controlled trial. J Clin Psychiatry 2009; 70: 1128–1137.

Kennedy SH, Rizvi SJ . Agomelatine in the treatment of major depressive disorder: potential for clinical effectiveness. CNS Drugs 2010; 24: 479–499.

Maldonado MD, Reiter RJ, Perez-San-Gregorio MA . Melatonin as a potential therapeutic agent in psychiatric illness. Hum Psychopharmacol 2009; 24: 391–400.

Sacco S, Aquilini L, Ghezzi P, Pinza M, Guglielmotti A . Mechanism of the inhibitory effect of melatonin on tumor necrosis factor production in vivo and in vitro. Eur J Pharmacol 1998; 343: 249–255.
Acknowledgements
This research was supported by the National Science Foundation (IOS-1118792 and IOS-0838098). TAB was supported by the Department of Defense through a National Defense Science and Engineering Graduate (NDSEG) fellowship. XPro1595 was a generous gift from David Szymkowski at Xencor. We thank Kamillya Herring, Mara Ford, Nicole Maher and Shannon Chen for technical assistance.
Ethics declarations
Competing interests
The authors declare no conflict of interest.
About this article
Cite this article
Bedrosian, T., Weil, Z. & Nelson, R. Chronic dim light at night provokes reversible depression-like phenotype: possible role for TNF. Mol Psychiatry 18, 930–936 (2013). https://doi.org/10.1038/mp.2012.96
Received:

Revised:

Accepted:

Published:

Issue Date:

DOI: https://doi.org/10.1038/mp.2012.96
Keywords
BDNF

cytokine

hamster

hippocampus

light pollution

Phodopus sungorus