Abstract
Numerous prospective studies have shown that children diagnosed with attention deficit/hyperactivity disorder (ADHD) are at higher risk of long-term substance abuse/dependence. However, there are three important limits to these studies: (a) most did not differentiate the role of hyperactivity and inattention; (b) most did not control for associated behavioral problems; and (c) most did not consider females. Our aim was to clarify the unique and interactive contributions of childhood inattention and hyperactivity symptoms to early adulthood substance abuse/dependence. Behavioral problems of 1803 participants (814 males) in a population-based longitudinal study were assessed yearly between 6 and 12 years by mothers and teachers. The prevalence of substance abuse/dependence at age 21 years was 30.7% for nicotine, 13.4% for alcohol, 9.1% for cannabis and 2.0% for cocaine. The significant predictors of nicotine dependence were inattention (odds ratio (OR): 2.25; 95% confidence interval (CI): 1.63–3.11) and opposition (OR: 1.65; 95%: 1.20–2.28). Only opposition contributed to the prediction of cannabis dependence (OR: 2.33; 95% CI: 1.40–3.87) and cocaine dependence (OR: 2.97; 95% CI: 1.06–8.57). The best behavioral predictor of alcohol abuse/dependence (opposition) was only marginally significant (OR: 1.38; 95% CI: 0.98–1.95). Frequent oppositional behaviors during elementary school were clearly the most pervasive predictors of substance abuse/dependence in early adulthood. The association of childhood ADHD with substance abuse/dependence is largely attributable to its association with opposition problems during childhood. However, inattention remained an important predictor of nicotine dependence, in line with genetic and molecular commonalities between the two phenotypes suggested in the literature.
Relevant articles
Open Access articles citing this article.
Gregory R. Niklason

,

Eric Rawls

…

Anna Zilverstand

Scientific Reports Open Access 17 September 2022

María Francisca Morales

,

Angus MacBeth

…

Lisa-Christine Girard

Research on Child and Adolescent Psychopathology Open Access 03 August 2022

Research on Child and Adolescent Psychopathology Open Access 19 July 2021
Access options
Subscribe to this journal
Receive 12 print issues and online access
$259.00 per year
only $21.58 per issue
Rent or buy this article
Get just this article for as long as you need it
$39.95
Prices may be subject to local taxes which are calculated during checkout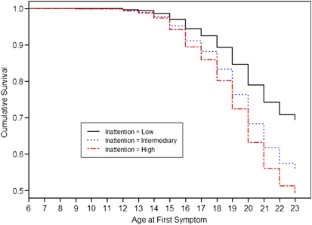 References
Frazier TW, Youngstrom EA, Glutting JJ, Watkins MW . ADHD and achievement: meta-analysis of the child, adolescent, and adult literatures and a concomitant study with college students. J Learn Disabil 2007; 40: 49–65.

Polderman TJC, Boomsma DI, Bartels M, Verhulst FC, Huizink AC . A systematic review of prospective studies on attention problems and academic achievement. Acta Psychiatr Scand 2010; 122: 271–284.

Hofvander B, Ossowski D, Lundström S, Anckarsäter H . Continuity of aggressive antisocial behavior from childhood to adulthood: the question of phenotype definition. Int J Law Psychiatry 2009; 32: 224–234.

Mannuzza S, Klein RG, Moulton III JL . Lifetime criminality among boys with attention deficit hyperactivity disorder: a prospective follow-up study into adulthood using official arrest records. Psychiatry Res 2008; 160: 237–246.

Rasmussen P, Gillberg C . Natural outcome of ADHD with developmental coordination disorder at age 22 years: a controlled, longitudinal, community-based study. J Am Acad Child Adolesc Psychiatry 2000; 39: 1424–1431.

Charach A, Yeung E, Climans T, Lillie E . Childhood attention-deficit/hyperactivity disorder and future substance use disorders: comparative meta-analyses. J Am Acad Child Adolesc Psychiatry 2011; 50: 9–21.

Lee SS, Humphreys KL, Flory K, Liu R, Glass K . Prospective association of childhood attention-deficit/hyperactivity disorder (ADHD) and substance use and abuse/dependence: a meta-analytic review. Clin Psychol Rev 2011; 31: 328–341.

Looby A . Childhood attention deficit hyperactivity disorder and the development of substance use disorders: valid concern or exaggeration? Addict Behav 2008; 33: 451–463.

Lee SS, Hinshaw SP . Predictors of adolescent functioning in girls with attention deficit hyperactivity disorder (ADHD): the role of childhood ADHD, conduct problems, and peer status. J Clin Child Adolesc Psychol 2006; 35: 356–368.

Molina BSG, Pelham Jr WE . Childhood predictors of adolescent substance use in a longitudinal study of children with ADHD. J Abnorm Psychol 2003; 112: 497–507.

McClernon FJ, Kollins SH . ADHD and smoking: from genes to brain to behavior. Ann N Y Acad Sci 2008; 1141: 131–147.

Maughan B, Rowe R, Messer J, Goodman R, Meltzer H . Conduct disorder and oppositional defiant disorder in a national sample: developmental epidemiology. J Child Psychol Psychiatry 2004; 45: 609–621.

Elkins IJ, McGue M, Iacono WG . Prospective effects of attention-deficit/hyperactivity disorder, conduct disorder, and sex on adolescent substance use and abuse. Arch Gen Psychiatry 2007; 64: 1145–1152.

Snowling M . Editorial: multiple perspectives on ADHD: implications for future research. J Child Psychol Psychiatry 2009; 50: 1039–1041.

Fergusson DM, Horwood LJ, Ridder EM . Conduct and attentional problems in childhood and adolescence and later substance use, abuse and dependence: results of a 25-year longitudinal study. Drug Alcohol Depend 2007; 88 (Suppl 1): S14–S26.

Levy F . Synaptic gating and ADHD: a biological theory of comorbidity of ADHD and anxiety. Neuropsychopharmacology 2004; 29: 1589–1596.

Zoccolillo M, Vitaro F, Tremblay RE . Problem drug and alcohol use in a community sample of adolescents. J Am Acad Child Adolesc Psychiatry 1999; 38: 900–907.

Vitaro F, Brendgen M, Larose S, Tremblay RE . Kindergarten disruptive behaviors, protective factors, and educational achievement by early adulthood. J Educ Psychol 2005; 97: 617–629.

Pingault JB, Tremblay RE, Vitaro F, Carbonneau R, Genolini C, Falissard B et al. Childhood trajectories of inattention and hyperactivity and prediction of educational attainment in early adulthood: a 16-year longitudinal population-based study. Am J Psychiatry 2011; 168: 1164–1170.

Breton JJ, Bergeron L, Valla JP, Berthiaume C, St-Georges M . Diagnostic interview schedule for children (DISC-2.25) in Quebec: reliability findings in light of the MECA study. J Am Acad Child Adolesc Psychiatry 1998; 37: 1167–1174.

Shaffer D, Fisher P, Dulcan MK, Davies M, Piacentini J, Schwab-Stone ME et al. The NIMH diagnostic interview schedule for children version 2.3 (DISC-2.3): description, acceptability, prevalence rates, and performance in the MECA Study. J Am Acad Child Adolesc Psychiatry 1996; 35: 865–877.

Tremblay RE, Loeber R, Gagnon C, Charlebois P, Larivée S, LeBlanc M . Disruptive boys with stable and unstable high fighting behavior patterns during junior elementary school. J Abnorm Child Psychol 1991; 19: 285–300.

Rutter M . A children's behaviour questionnaire for completion by teachers: preliminary findings. J Child Psychol Psychiatry 1967; 8: 1–11.

Behar L, Strinfield S . A behavior rating scale for the preschool child. Dev Psychol 1974; 10: 601–610.

Blishen BR, Carroll WK, Moore C . The 1982 socioeconomic index for occupations in Canada. Can Rev Soc Anthrop 1987; 24: 465–488.

Genolini C, Falissard B . KmL: K-means for longitudinal data. Comput Stat 2010; 25: 317–328.

Achenbach TM, McConaughy SH, Howell CT . Child/adolescent behavioral and emotional problems: implications of cross-informant correlations for situational specificity. Psychol Bull 1987; 101: 213–232.

Fox J . Cox proportional-hazards regression for survival data. Appendix. In: Sage Publications:, 2002.

van Buuren S, Groothuis-Oudshoorn K . Mice: multivariate imputation by chained equations in R. J Stat Softw 2011; 45: 1–67.

Falissard B . Comprendre et utiliser les statistiques dans les sciences de la vie [Understanding and use of statistics in life sciences]. Masson: Paris, 2005.

Zeileis A, Kleiber C, Jackman S . Regression models for count data in R. J Stat Softw 2008; 27: 2–25.

Cummings P . The relative merits of risk ratios and odds ratios. Arch Pediatr Adolesc Med 2009; 163: 438–445.

Fergusson DM, Horwood LJ . Early disruptive behavior, IQ, and later school achievement and delinquent behavior. J Abnorm Child Psychol 1995; 23: 183–199.

Nagin DS, Tremblay RE . Trajectories of boys' physical aggression, opposition, and hyperactivity on the path to physically violent and nonviolent juvenile delinquency. Child Dev 1999; 70: 1181–1196.

Swan GE, Lessov-Schlaggar CN . The effects of tobacco smoke and nicotine on cognition and the brain. Neuropsychol Rev 2007; 17: 259–273.

Gehricke J-G, Whalen CK, Jamner LD, Wigal TL, Steinhoff K . The reinforcing effects of nicotine and stimulant medication in the everyday lives of adult smokers with ADHD: a preliminary examination. Nicotine Tob Res 2006; 8: 37–47.

Van Voorhees EE, Mitchell JT, McClernon FJ, Beckham JC, Kollins SH . Sex, ADHD symptoms, and smoking outcomes: an integrative model. Med Hypotheses 2012; 78: 585–593.

Coté S, Tremblay RE, Nagin DS, Zoccolillo M, Vitaro F . Childhood behavioral profiles leading to adolescent conduct disorder: risk trajectories for boys and girls. J Am Acad Child Adolesc Psychiatry 2002; 41: 1086–1094.

Fontaine N, Carbonneau R, Barker ED, Vitaro F, Hébert M, Côté SM et al. Girls' hyperactivity and physical aggression during childhood and adjustment problems in early adulthood: a 15-year longitudinal study. Arch Gen Psychiatry 2008; 65: 320–328.
Acknowledgements
This study was supported by grants from the Fonds québecois de la Recherche sur la Société et la Culture; grants from the Social Sciences and Humanities Research Council of Canada; grants from the Canadian Institutes of Health Research (National Health Research and Development Program/Canadian Institutes of Health Research); grant SES-9911370 from the US National Science Foundation; grant RO1 MH65611-01A2 from the US National Institute of Mental Health; and a grant from the National Consortium on Violence Research (supported by grant SBR-9513040 from the National Science Foundation). Dr Pingault received a Government of Canada Post-doctoral Research Fellowship (PDRF) and a post-doctoral fellowship from the Research Unit on Children's Psychosocial Maladjustment via a grant from the Fonds de la recherche et de la Santé du Québec (no. 16031) attributed to Dr Côté.
Additional Contributions
We thank the participants, their families and their teachers for their long-term commitment to this project; Qian Xu and Charles-Edouard Giguère for statistical expertise; Hélène Beaumont, the many research assistants and the Research Unit on Children's Psychosocial Maladjustment staff for their assistance in data collection and administration of the project.
Ethics declarations
Competing interests
The authors declare no conflict of interest.
About this article
Cite this article
Pingault, JB., Côté, S., Galéra, C. et al. Childhood trajectories of inattention, hyperactivity and oppositional behaviors and prediction of substance abuse/dependence: a 15-year longitudinal population-based study. Mol Psychiatry 18, 806–812 (2013). https://doi.org/10.1038/mp.2012.87
Received:

Accepted:

Published:

Issue Date:

DOI: https://doi.org/10.1038/mp.2012.87
Keywords
alcohol

cannabis

hyperactivity

inattention

nicotine

opposition