Abstract
There is increasing interest in discovering mechanisms that mediate the effects of childhood stress on late-life disease morbidity and mortality. Previous studies have suggested one potential mechanism linking stress to cellular aging, disease and mortality in humans: telomere erosion. We examined telomere erosion in relation to children's exposure to violence, a salient early-life stressor, which has known long-term consequences for well-being and is a major public-health and social-welfare problem. In the first prospective-longitudinal study with repeated telomere measurements in children while they experienced stress, we tested the hypothesis that childhood violence exposure would accelerate telomere erosion from age 5 to age 10 years. Violence was assessed as exposure to maternal domestic violence, frequent bullying victimization and physical maltreatment by an adult. Participants were 236 children (49% females; 42% with one or more violence exposures) recruited from the Environmental-Risk Longitudinal Twin Study, a nationally representative 1994–1995 birth cohort. Each child's mean relative telomere length was measured simultaneously in baseline and follow-up DNA samples, using the quantitative PCR method for T/S ratio (the ratio of telomere repeat copy numbers to single-copy gene numbers). Compared with their counterparts, the children who experienced two or more kinds of violence exposure showed significantly more telomere erosion between age-5 baseline and age-10 follow-up measurements, even after adjusting for sex, socioeconomic status and body mass index (B=−0.052, s.e.=0.021, P=0.015). This finding provides support for a mechanism linking cumulative childhood stress to telomere maintenance, observed already at a young age, with potential impact for life-long health.
Relevant articles
Open Access articles citing this article.
Roselinde Janowski

,

Ohad Green

…

Lucie D. Cluver

BMC Public Health Open Access 23 June 2023

Trevor Doherty

,

Emma Dempster

…

Therese M. Murphy

BMC Bioinformatics Open Access 01 May 2023
Access options
Subscribe to this journal
Receive 12 print issues and online access
$259.00 per year
only $21.58 per issue
Rent or buy this article
Prices vary by article type
from$1.95
to$39.95
Prices may be subject to local taxes which are calculated during checkout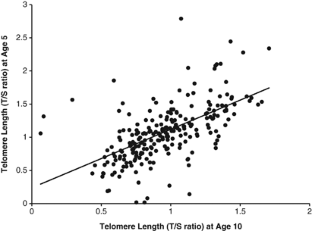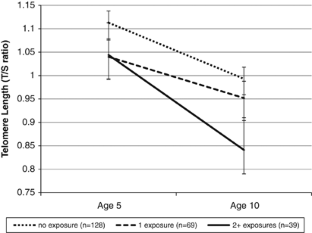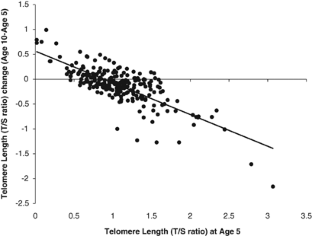 References
Wegman HL, Stetler C . A meta-analytic review of the effects of childhood abuse on medical outcomes in adulthood. Psychosom Med 2009; 71: 805–812.

Rich-Edwards JW, Spiegelman D, Lividoti Hibert EN, Jun HJ, Todd TJ, Kawachi I et al. Abuse in childhood and adolescence as a predictor of type 2 diabetes in adult women. Am J Prev Med 2010; 39: 529–536.

Riley EH, Wright RJ, Jun HJ, Hibert EN, Rich-Edwards JW . Hypertension in adult survivors of child abuse: observations from the Nurses' Health Study II. J Epidemiol Community Health 2010; 64: 413–418.

Dong M, Giles WH, Felitti VJ, Dube SR, Williams JE, Chapman DP et al. Insights into causal pathways for ischemic heart disease: adverse childhood experiences study. Circulation 2004; 110: 1761–1766.

Nanni V, Uher R, Danese A . Childhood maltreatment predicts unfavorable course of illness and treatment outcome in depression: a meta-analysis. Am J Psychiatry 2012; 169: 141–151.

Miller GE, Chen E, Parker KJ . Psychological stress in childhood and susceptibility to the chronic diseases of aging: moving toward a model of behavioral and biological mechanisms. Psychol Bull 2011; 137: 959–997.

Resilience in children. Proceedings of a conference sponsored by the New York Academy of Sciences and Brown Medical School. Arlington, VA, USA. Ann NY Acad Sci 2006; 1094: 1–368.

Danese A, McEwen BS . Adverse childhood experiences, allostasis, allostatic load, and age-related disease. Physiol Behav 2012; 106: 29–39.

Epel ES . Telomeres in a life-span perspective: a new ″psychobiomarker″? Curr Dir Psychol Sci 2009; 18: 6–10.

Hayflick L, Moorhead PS . The serial cultivation of human diploid cell strains. Exp Cell Res 1961; 25: 585–621.

Olovnikov AM . A theory of marginotomy. The incomplete copying of template margin in enzymic synthesis of polynucleotides and biological significance of the phenomenon. J Theor Biol 1973; 41: 181–190.

Harley CB, Futcher AB, Greider CW . Telomeres shorten during ageing of human fibroblasts. Nature 1990; 345: 458–460.

Blackburn EH, Gall JG . A tandemly repeated sequence at the termini of the extrachromosomal ribosomal RNA genes in Tetrahymena. J Mol Biol 1978; 120: 33–53.

Valdes AM, Andrew T, Gardner JP, Kimura M, Oelsner E, Cherkas LF et al. Obesity, cigarette smoking, and telomere length in women. Lancet 2005; 366: 662–664.

Buxton JL, Walters RG, Visvikis-Siest S, Meyre D, Froguel P, Blakemore AI . Childhood obesity is associated with shorter leukocyte telomere length. J Clin Endocrinol Metabol 2011; 96: 1500–1505.

Nordfjall K, Eliasson M, Stegmayr B, Melander O, Nilsson P, Roos G . Telomere length is associated with obesity parameters but with a gender difference. Obesity (Silver Spring) 2008; 16: 2682–2689.

Yu WY, Chang HW, Lin CH, Cho CL . Short telomeres in patients with chronic schizophrenia who show a poor response to treatment. J Psychiatry Neurosci 2008; 33: 244–247.

Simon NM, Smoller JW, McNamara KL, Maser RS, Zalta AK, Pollack MH et al. Telomere shortening and mood disorders: preliminary support for a chronic stress model of accelerated aging. Biol Psychiatry 2006; 60: 432–435.

Epel ES, Blackburn EH, Lin J, Dhabhar FS, Adler NE, Morrow JD et al. Accelerated telomere shortening in response to life stress. Proc Natl Acad Sci USA 2004; 101: 17312–17315.

Kiecolt-Glaser JK, Gouin JP, Weng NP, Malarkey WB, Beversdorf DQ, Glaser R . Childhood adversity heightens the impact of later-life caregiving stress on telomere length and inflammation. Psychosom Med 2011; 73: 16–22.

Tyrka AR, Price LH, Kao HT, Porton B, Marsella SA, Carpenter LL . Childhood maltreatment and telomere shortening: preliminary support for an effect of early stress on cellular aging. Biol Psychiatry 2010; 67: 531–534.

Kananen L, Surakka I, Pirkola S, Suvisaari J, Lonnqvist J, Peltonen L et al. Childhood adversities are associated with shorter telomere length at adult age both in individuals with an anxiety disorder and controls. PloS One 2010; 5: e10826.

O'Donovan A, Epel E, Lin J, Wolkowitz O, Cohen B, Maguen S et al. Childhood trauma associated with short leukocyte telomere length in posttraumatic stress disorder. Biol Psychiatry 2011; 70: 465–471.

Glass D, Parts L, Knowles D, Aviv A, Spector TD . No correlation between childhood maltreatment and telomere length. Biol Psychiatry 2010; 68: e21–e22; author reply e23-24.

Drury SS, Theall K, Gleason MM, Smyke AT, De Vivo I, Wong JY et al. Telomere length and early severe social deprivation: linking early adversity and cellular aging. Mol Psychiatry; advance online publication, 17 May 2011; doi:10.1038/mp.2011.53.

Aviv A, Chen W, Gardner JP, Kimura M, Brimacombe M, Cao X et al. Leukocyte telomere dynamics: longitudinal findings among young adults in the Bogalusa Heart Study. Am J Epidemiol 2009; 169: 323–329.

Chen W, Kimura M, Kim S, Cao X, Srinivasan SR, Berenson GS et al. Longitudinal versus cross-sectional evaluations of leukocyte telomere length dynamics: age-dependent telomere shortening is the rule. J Gerontol Ser A Biol Sci Med Sci 2011; 66: 312–319.

Ehrlenbach S, Willeit P, Kiechl S, Willeit J, Reindl M, Schanda K et al. Influences on the reduction of relative telomere length over 10 years in the population-based Bruneck Study: introduction of a well-controlled high-throughput assay. Int J Epidemiol 2009; 38: 1725–1734.

Epel ES, Merkin SS, Cawthon R, Blackburn EH, Adler NE, Pletcher MJ et al. The rate of leukocyte telomere shortening predicts mortality from cardiovascular disease in elderly men. Aging 2009; 1: 81–88.

Farzaneh-Far R, Lin J, Epel E, Lapham K, Blackburn E, Whooley MA . Telomere length trajectory and its determinants in persons with coronary artery disease: longitudinal findings from the heart and soul study. PloS One 2010; 5: e8612.

Nordfjall K, Svenson U, Norrback KF, Adolfsson R, Lenner P, Roos G . The individual blood cell telomere attrition rate is telomere length dependent. PLoS Genet 2009; 5: e1000375.

Zeichner SL, Palumbo P, Feng Y, Xiao X, Gee D, Sleasman J et al. Rapid telomere shortening in children. Blood 1999; 93: 2824–2830.

Felitti VJ, Anda RF, Nordenberg D, Williamson DF, Spitz AM, Edwards V et al. Relationship of childhood abuse and household dysfunction to many of the leading causes of death in adults. The Adverse Childhood Experiences (ACE) Study. Am J Prev Med 1998; 14: 245–258.

Trouton A, Spinath FM, Plomin R . Twins early development study (TEDS): a multivariate, longitudinal genetic investigation of language, cognition and behavior problems in childhood. Twin Res Off J In Soc Twin Stud 2002; 5: 444–448.

Moffitt TE . Teen-aged mothers in contemporary Britain. J Child Psychol Psychiatry Allied Disciplines 2002; 43: 727–742.

Ouellet-Morin I, Odgers CL, Danese A, Bowes L, Shakoor S, Papadopoulos AS et al. Blunted cortisol responses to stress signal social and behavioral problems among maltreated/bullied 12-year-old children. Biol Psychiatry 2011; 70: 1016–1023.

Danese A, Caspi A, Williams B, Ambler A, Sugden K, Mika J et al. Biological embedding of stress through inflammation processes in childhood. Mol Psychiatry 2011; 16: 244–246.

Bowtell DD . Rapid isolation of eukaryotic DNA. Anal Biochem 1987; 162: 463–465.

Jeanpierre M . A rapid method for the purification of DNA from blood. Nucleic Acids Res 1987; 15: 9611.

Freeman B, Smith N, Curtis C, Huckett L, Mill J, Craig IW . DNA from buccal swabs recruited by mail: evaluation of storage effects on long-term stability and suitability for multiplex polymerase chain reaction genotyping. Behav Genet 2003; 33: 67–72.

Cawthon RM . Telomere measurement by quantitative PCR. Nucleic Acids Res 2002; 30: e47.

Moffitt TE, Caspi A, Krueger RF, Magdol L, Margolin G, Silva PA et al. Do partners agree about abuse in their relationship? A psychometric evaluation of interpartner agreement. Psychol Assessment 1997; 9: 47–56.

Arseneault L, Walsh E, Trzesniewski K, Newcombe R, Caspi A, Moffitt TE . Bullying victimization uniquely contributes to adjustment problems in young children: a nationally representative cohort study. Pediatrics 2006; 118: 130–138.

Shakoor S, Jaffee SR, Andreou P, Bowes L, Ambler AP, Caspi A et al. Mothers and children as informants of bullying victimization: results from an epidemiological cohort of children. J Abnormal Child Psychol 2011; 39: 379–387.

Jaffee SR, Caspi A, Moffitt TE, Taylor A . Physical maltreatment victim to antisocial child: evidence of an environmentally mediated process. J Abnormal Psychol 2004; 113: 44–55.

Jaffee SR, Caspi A, Moffitt TE, Polo-Tomas M, Price TS, Taylor A . The limits of child effects: evidence for genetically mediated child effects on corporal punishment but not on physical maltreatment. Dev Psychol 2004; 40: 1047–1058.

Jaffee SR, Caspi A, Moffitt TE, Polo-Tomas M, Taylor A . Individual, family, and neighborhood factors distinguish resilient from non-resilient maltreated children: a cumulative stressors model. Child Abuse Neglect 2007; 31: 231–253.

Straus MA, Hamby SL, Finkelhor D, Moore DW, Runyan D . Identification of child maltreatment with the Parent-Child Conflict Tactics Scales: development and psychometric data for a national sample of American parents. Child Abuse Neglect 1998; 22: 249–270.

Dodge KA, Bates JE, Pettit GS . Mechanisms in the cycle of violence. Science 1990; 250: 1678–1683.

Williams RL . A note on robust variance estimation for cluster-correlated data. Biometrics 2000; 56: 645–646.

Kroenke CH, Epel E, Adler N, Bush NR, Obradovic J, Lin J et al. Autonomic and adrenocortical reactivity and buccal cell telomere length in kindergarten children. Psychosom Med 2011; 73: 533–540.

Danese A, Moffitt TE, Harrington H, Milne BJ, Polanczyk G, Pariante CM et al. Adverse childhood experiences and adult risk factors for age-related disease: depression, inflammation, and clustering of metabolic risk markers. Arch Pediatr Adolesc Med 2009; 163: 1135–1143.

Springer KW, Sheridan J, Kuo D, Carnes M . Long-term physical and mental health consequences of childhood physical abuse: results from a large population-based sample of men and women. Child Abuse Neglect 2007; 31: 517–530.

Slatter TL, Tan X, Yuen YC, Gunningham S, Ma SS, Daly E et al. The alternative lengthening of telomeres pathway may operate in non-neoplastic human cells. J Pathol 2012; 226: 509–518.

Svenson U, Nordfjall K, Baird D, Roger L, Osterman P, Hellenius ML et al. Blood cell telomere length is a dynamic feature. PloS One 2011; 6: e21485.

von Zglinicki T . Oxidative stress shortens telomeres. Trends Biochem Sci 2002; 27: 339–344.

O'Donovan A, Pantell MS, Puterman E, Dhabhar FS, Blackburn EH, Yaffe K et al. Cumulative inflammatory load is associated with short leukocyte telomere length in the Health, Aging and Body Composition Study. PloS One 2011; 6: e19687.

Shiels PG, McGlynn LM, MacIntyre A, Johnson PC, Batty GD, Burns H et al. Accelerated telomere attrition is associated with relative household income, diet and inflammation in the pSoBid cohort. PloS One 2011; 6: e22521.

Ilmonen P, Kotrschal A, Penn DJ . Telomere attrition due to infection. PloS One 2008; 3: e2143.

Goronzy JJ, Fujii H, Weyand CM . Telomeres, immune aging and autoimmunity. Exp Gerontol 2006; 41: 246–251.

Danese A, Pariante CM, Caspi A, Taylor A, Poulton R . Childhood maltreatment predicts adult inflammation in a life-course study. Proc Natl Acad Sci USA 2007; 104: 1319–1324.

Damjanovic AK, Yang Y, Glaser R, Kiecolt-Glaser JK, Nguyen H, Laskowski B et al. Accelerated telomere erosion is associated with a declining immune function of caregivers of Alzheimer's disease patients. J Immunol 2007; 179: 4249–4254.

Allshire RC, Dempster M, Hastie ND . Human telomeres contain at least three types of G-rich repeat distributed non-randomly. Nucleic Acids Res 1989; 17: 4611–4627.

Hewakapuge S, van Oorschot RA, Lewandowski P, Baindur-Hudson S . Investigation of telomere lengths measurement by quantitative real-time PCR to predict age. Leg Med (Tokyo) 2008; 10: 236–242.

Gadalla SM, Cawthon R, Giri N, Alter BP, Savage SA . Telomere length in blood, buccal cells, and fibroblasts from patients with inherited bone marrow failure syndromes. Aging 2010; 2: 867–874.

Broberg K, Bjork J, Paulsson K, Hoglund M, Albin M . Constitutional short telomeres are strong genetic susceptibility markers for bladder cancer. Carcinogenesis 2005; 26: 1263–1271.

Thomas P, NJ OC, Fenech M . Telomere length in white blood cells, buccal cells and brain tissue and its variation with ageing and Alzheimer's disease. Mech Ageing Dev 2008; 129: 183–190.

Wolinsky H . Testing time for telomeres. Telomere length can tell us something about disease susceptibility and ageing, but are commercial tests ready for prime time? EMBO Rep 2011; 12: 897–900.
Acknowledgements
The first author is supported by NICHD Grant HD061298 and by the Jacobs Foundation. Dr Andrea Danese was supported by the 2009 NARSAD/Brain and Behaviour Research Foundation Young Investigator Award. The E-Risk Study is funded by the Medical Research Council (UKMRC Grants G1002190 and G9806489). Additional support was provided by NIA Grant AG032282, ESRC Grant RES-177-25-0013, NICHD Grant HD061298, and by funds from the Jacobs Foundation, the British Academy, the Nuffield Foundation and NIMH Grant MH077874. We are grateful to the study mothers, fathers and the twins for their participation, and to members of the E-Risk team for their dedication, hard work and insights.
Ethics declarations
Competing interests
The authors declare no conflict of interest.
Supplementary information
About this article
Cite this article
Shalev, I., Moffitt, T., Sugden, K. et al. Exposure to violence during childhood is associated with telomere erosion from 5 to 10 years of age: a longitudinal study. Mol Psychiatry 18, 576–581 (2013). https://doi.org/10.1038/mp.2012.32
Received:

Revised:

Accepted:

Published:

Issue Date:

DOI: https://doi.org/10.1038/mp.2012.32
Keywords