Abstract
Testosterone and gonadotropins have been associated with cognitive decline in men and the modulation of β amyloid (Aβ) metabolism. The relatively few studies that have investigated whether changes in one or a combination of these hormones influence Aβ levels have focused primarily on plasma Aβ1–40 and not on the more pathogenic Aβ1–42. Currently, no study has investigated whether these hormones are associated with an increase in brain amyloid deposition, ante mortem. Through the highly characterised Australian imaging, biomarkers and lifestyle study, we have determined the impact of these hormones on plasma Aβ levels and brain amyloid burden (Pittsburgh compound B (PiB) retention). Spearman's rank correlation and linear regression analysis was carried out across the cohort and within subclassifications. Luteinizing hormone (LH) was the only variable shown, in the total cohort, to have a significant impact on plasma Aβ1–40 and Aβ1–42 levels (beta=0.163, P<0.001; beta=0.446, P<0.001). This held in subjective memory complainers (SMC) (Aβ1–40; beta=0.208, P=0.017; Aβ1–42; beta=0.215, P=0.017) but was absent in mild cognitive impairment (MCI) and Alzheimer's disease (AD) groups. In SMC, increased frequency of the APOE-ɛ4 allele (beta=0.536, P<0.001) and increasing serum LH levels (beta=0.421, P=0.004) had a significant impact on PiB retention. Whereas in MCI, PiB retention was associated with increased APOE-ɛ4 allele copy number (beta=0.674, P<0.001) and decreasing calculated free testosterone (beta=−0.303, P=0.043). These findings suggest a potential progressive involvement of LH and testosterone in the early preclinical stages of AD. Furthermore, these hormones should be considered while attempting to predict AD at these earliest stages of the disease.
Your institute does not have access to this article
Relevant articles
Open Access articles citing this article.
Qiao Zhu

,

Ping Ping

…

Shihui Fu

Journal of Translational Medicine Open Access 28 July 2022

Bu B. Yeap

&

Leon Flicker

Reviews in Endocrine and Metabolic Disorders Open Access 28 May 2022

Nahid Sarahian

,

Hosna Sarvazad

…

Narges Eskandari Roozbahani

Reproductive Health Open Access 26 July 2021
Access options
Subscribe to Journal
Get full journal access for 1 year
$119.00
only $9.92 per issue
All prices are NET prices.
VAT will be added later in the checkout.
Tax calculation will be finalised during checkout.
Buy article
Get time limited or full article access on ReadCube.
$32.00
All prices are NET prices.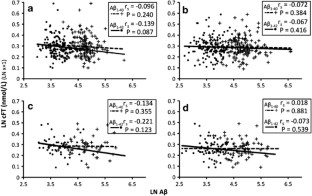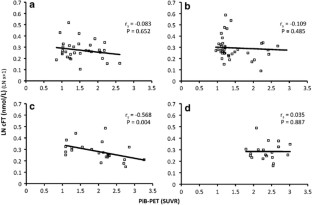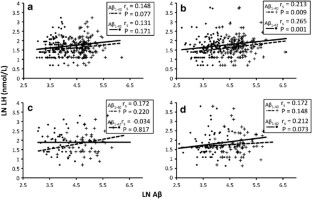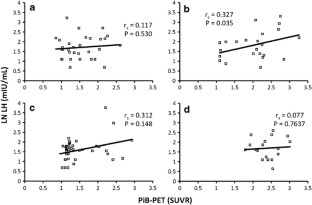 References
Barrett-Connor E, Goodman-Gruen D, Patay B . Endogenous sex hormones and cognitive function in older men. J Clin Endocrinol Metab 1999; 84: 3681–3685.

Burkhardt MS, Foster JK, Clarnette RM, Chubb SA, Bruce DG, Drummond PD et al. Interaction between testosterone and apolipoprotein E epsilon4 status on cognition in healthy older men. J Clin Endocrinol Metab 2006; 91: 1168–1172.

Bowen RL, Isley JP, Atkinson RL . An association of elevated serum gonadotropin concentrations and Alzheimer disease? J Neuroendocrinol 2000; 12: 351–354.

Hogervorst E, Combrinck M, Smith AD . Testosterone and gonadotropin levels in men with dementia. Neuro Endocrinol Lett 2003; 24: 203–208.

Hogervorst E, Williams J, Budge M, Barnetson L, Combrinck M, Smith AD . Serum total testosterone is lower in men with Alzheimer's disease. Neuro Endocrinol Lett 2001; 22: 163–168.

Moffat SD, Zonderman AB, Metter EJ, Kawas C, Blackman MR, Harman SM et al. Free testosterone and risk for Alzheimer disease in older men. Neurology 2004; 62: 188–193.

Paoletti AM, Congia S, Lello S, Tedde D, Orru M, Pistis M et al. Low androgenization index in elderly women and elderly men with Alzheimer's disease. Neurology 2004; 62: 301–303.

Rosario ER, Chang L, Stanczyk FZ, Pike CJ . Age-related testosterone depletion and the development of Alzheimer disease. JAMA 2004; 292: 1431–1432.

Rosario ER, Chang L, Head EH, Stanczyk FZ, Pike CJ . Brain levels of sex steroid hormones in men and women during normal aging and in Alzheimer's disease. Neurobiol Aging 2009; 32: 604–613.

Gouras GK, Xu H, Gross RS, Greenfield JP, Hai B, Wang R et al. Testosterone reduces neuronal secretion of Alzheimer's beta-amyloid peptides. Proc Natl Acad Sci USA 2000; 97: 1202–1205.

Goodenough S, Engert S, Behl C . Testosterone stimulates rapid secretory amyloid precursor protein release from rat hypothalamic cells via the activation of the mitogen-activated protein kinase pathway. Neurosci Lett 2000; 296: 49–52.

Pike CJ . Testosterone attenuates beta-amyloid toxicity in cultured hippocampal neurons. Brain Res 2001; 919: 160–165.

Gandy S, Almeida OP, Fonte J, Lim D, Waterrus A, Spry N et al. Chemical andropause and amyloid-beta peptide. JAMA 2001; 285: 2195–2196.

Gillett MJ, Martins RN, Clarnette RM, Chubb SA, Bruce DG, Yeap BB . Relationship between testosterone, sex hormone binding globulin and plasma amyloid beta peptide 40 in older men with subjective memory loss or dementia. J Alzheimers Dis 2003; 5: 267–269.

Almeida OP, Waterreus A, Spry N, Flicker L, Martins RN . One year follow-up study of the association between chemical castration, sex hormones, beta-amyloid, memory and depression in men. Psychoneuroendocrinology 2004; 29: 1071–1081.

Rosario ER, Carroll JC, Oddo S, LaFerla FM, Pike CJ . Androgens regulate the development of neuropathology in a triple transgenic mouse model of Alzheimer's disease. J Neurosci 2006; 26: 13384–13389.

Ramsden M, Nyborg AC, Murphy MP, Chang L, Stanczyk FZ, Golde TE et al. Androgens modulate beta-amyloid levels in male rat brain. J Neurochem 2003; 87: 1052–1055.

Chakravarti S, Collins WP, Forecast JD, Newton JR, Oram DH, Studd JW . Hormonal profiles after the menopause. Br Med J 1976; 2: 784–787.

Couzinet B, Schaison G . The control of gonadotrophin secretion by ovarian steroids. Hum Reprod 1993; 8 (Suppl 2): 97–101.

Veldhuis JD, Keenan DM, Liu PY, Iranmanesh A, Takahashi PY, Nehra AX . The aging male hypothalamic-pituitary-gonadal axis: pulsatility and feedback. Mol Cell Endocrinol 2009; 299: 14–22.

Yeap BB, Almeida OP, Hyde Z, Norman PE, Chubb SA, Jamrozik K et al. In men older than 70 years, total testosterone remains stable while free testosterone declines with age. The Health in Men Study. Eur J Endocrinol 2007; 156: 585–594.

Hogervorst E, Bandelow S, Combrinck M, Smith AD . Low free testosterone is an independent risk factor for Alzheimer's disease. Exp Gerontol 2004; 39: 1633–1639.

Short RA, Bowen RL, O'Brien PC, Graff-Radford NR . Elevated gonadotropin levels in patients with Alzheimer disease. Mayo Clin Proc 2001; 76: 906–909.

Bowen RL, Smith MA, Harris PL, Kubat Z, Martins RN, Castellani RJ et al. Elevated luteinizing hormone expression colocalizes with neurons vulnerable to Alzheimer's disease pathology. J Neurosci Res 2002; 70: 514–518.

Bowen RL, Verdile G, Liu T, Parlow AF, Perry G, Smith MA et al. Luteinizing hormone, a reproductive regulator that modulates the processing of amyloid-beta precursor protein and amyloid-beta deposition. J Biol Chem 2004; 279: 20539–20545.

Casadesus G, Webber KM, Atwood CS, Pappolla MA, Perry G, Bowen RL et al. Luteinizing hormone modulates cognition and amyloid-beta deposition in Alzheimer APP transgenic mice. Biochim Biophys Acta 2006; 1762: 447–452.

Verdile G, Yeap BB, Clarnette RM, Dhaliwal S, Burkhardt MS, Chubb SA et al. Luteinizing hormone levels are positively correlated with plasma amyloid-beta protein levels in elderly men. J Alzheimers Dis 2008; 14: 201–208.

Ellis KA, Bush AI, Darby D, De Fazio D, Foster J, Hudson P et al. The Australian Imaging, Biomarkers and Lifestyle (AIBL) study of aging: methodology and baseline characteristics of 1112 individuals recruited for a longitudinal study of Alzheimer's disease. Int Psychogeriatr 2009; 21: 672–687.

Mehta PD, Pirttila T, Mehta SP, Sersen EA, Aisen PS, Wisniewski HM . Plasma and cerebrospinal fluid levels of amyloid beta proteins 1−40 and 1–42 in Alzheimer disease. Arch Neurol 2000; 57: 100–105.

Mehta PD, Pirttila T, Patrick BA, Barshatzky M, Mehta SP . Amyloid beta protein 1−40 and 1–42 levels in matched cerebrospinal fluid and plasma from patients with Alzheimer disease. Neurosci Lett 2001; 304: 102–106.

Lopez OL, Kuller LH, Mehta PD, Becker JT, Gach HM, Sweet RA et al. Plasma amyloid levels and the risk of AD in normal subjects in the Cardiovascular Health Study. Neurology 2008; 70: 1664–1671.

Pike KE, Savage G, Villemagne VL, Ng S, Moss SA, Maruff P et al. Beta-amyloid imaging and memory in non-demented individuals: evidence for preclinical Alzheimer's disease. Brain 2007; 130 (Pt 11): 2837–2844.

Rowe CC, Ng S, Ackermann U, Gong SJ, Pike K, Savage G et al. Imaging beta-amyloid burden in aging and dementia. Neurology 2007; 68: 1718–1725.

Box GEP, Cox DR . An Analysis of Transformations. J Roy Stat Soc B 1964; 26: 211–252.

Ihaka R . Gentleman R. R: A Language for Data Analysis and Graphics. J Comput Graph Stat 1996; 5: 299–314.

Storey JD . A direct approach to false discovery rates. J Roy Stat Soc B 2002; 64: 479–498.

Storey JD . The positive false discovery rate: A Bayesian interpretation and the q-value. Ann Stat 2003; 31: 2013–2035.

Storey JD, Taylor JE, Siegmund D . Strong control, conservative point estimation and simultaneous conservative consistency of false discovery rates: a unified approach. J Roy Stat Soc B 2004; 66: 187–205.

Storey JD, Tibshirani R . Statistical significance for genomewide studies. P Natl Acad Sci USA 2003; 100: 9440–9445.

Geerlings MI, Jonker C, Bouter LM, Ader HJ, Schmand B . Association between memory complaints and incident Alzheimer's disease in elderly people with normal baseline cognition. Am J Psychiatry 1999; 156: 531–537.

Jonker C, Geerlings MI, Schmand B . Are memory complaints predictive for dementia? A review of clinical and population-based studies. Int J Geriatr Psychiatry 2000; 15: 983–991.

Jorm AF, Christensen H, Korten AE, Jacomb PA, Henderson AS . Memory complaints as a precursor of memory impairment in older people: a longitudinal analysis over 7-8 years. Psychol Med 2001; 31: 441–449.

Reid LM, Maclullich AM . Subjective memory complaints and cognitive impairment in older people. Dement Geriatr Cogn Disord 2006; 22: 471–485.

Dik MG, Jonker C, Comijs HC, Bouter LM, Twisk JW, van Kamp GJ et al. Memory complaints and APOE-epsilon4 accelerate cognitive decline in cognitively normal elderly. Neurology 2001; 57: 2217–2222.

Bates KA, Sohrabi HR, Rodrigues M, Beilby J, Dhaliwal SS, Taddei K et al. Association of cardiovascular factors and Alzheimer's disease plasma amyloid-beta protein in subjective memory complainers. J Alzheimers Dis 2009; 17: 305–318.

Barron AM, Verdile G, Taddei K, Bates KA, Martins RN . Effect of chronic hCG administration on Alzheimer's-related cognition and A beta accumulation in PS1KI mice. Endocrinology 2010; 151: 5380–5388.

Wahjoepramono EJ, Wijaya LK, Taddei K, Bates KA, Howard M, Martins G et al. Direct exposure of guinea pig CNS to human luteinizing hormone increases cerebrospinal fluid and cerebral beta amyloid levels. Neuroendocrinology 2011; 94: 313–322.

Rowe CC, Ellis KA, Rimajova M, Bourgeat P, Pike KE, Jones G et al. Amyloid imaging results from the Australian Imaging, Biomarkers and Lifestyle (AIBL) study of aging. Neurobiol Aging 2010; 31: 1275–1283.

Tiraboschi P, Hansen LA, Masliah E, Alford M, Thal LJ, Corey-Bloom J . Impact of APOE genotype on neuropathologic and neurochemical markers of Alzheimer disease. Neurology 2004; 62: 1977–1983.

Gomez-Isla T, West HL, Rebeck GW, Harr SD, Growdon JH, Locascio JJ et al. Clinical and pathological correlates of apolipoprotein E epsilon 4 in Alzheimer's disease. Ann Neurol 1996; 39: 62–70.

Polvikoski T, Sulkava R, Haltia M, Kainulainen K, Vuorio A, Verkkoniemi A et al. Apolipoprotein E, dementia, and cortical deposition of beta-amyloid protein. N Engl J Med 1995; 333: 1242–1247.

Hyman BT, West HL, Rebeck GW, Buldyrev SV, Mantegna RN, Ukleja M et al. Quantitative analysis of senile plaques in Alzheimer disease: observation of log-normal size distribution and molecular epidemiology of differences associated with apolipoprotein E genotype and trisomy 21 (Down syndrome). P Natl Acad Sci USA 1995; 92: 3586–3590.

Reiman EM, Chen K, Liu X, Bandy D, Yu M, Lee W et al. Fibrillar amyloid-beta burden in cognitively normal people at 3 levels of genetic risk for Alzheimer's disease. Proc Natl Acad Sci USA 2009; 106: 6820–6825.

Karmisholt J, Andersen S, Laurberg P . Variation in thyroid function in subclinical hypothyroidism: importance of clinical follow-up and therapy. Eur J Endocrinol 2011; 164: 317–323.
Acknowledgements
Core funding for this study was provided by CSIRO, which was supplemented by 'in kind' contributions from study partners. This research is supported by the Science and Industry Endowment Fund. The AIBL investigators thank Richard Head of CSIRO for initiating and facilitating the AIBL collaboration. The study also received support from the National Health and Medical Research Council via the Dementia Collaborative Research Centres programme. Pfizer International has contributed financial support to assist with the analysis of blood samples and to further the AIBL research programme. The McCusker Alzheimer's Research Foundation Inc. contributed financial and in kind support to AIBL. We thank all those who took part as subjects in the study for their commitment and dedication to helping advance research into the early detection and causation of AD. The authors acknowledge the financial support of the CRC for Mental Health. The Cooperative Research Centre (CRC) programme is an Australian government initiative.
Ethics declarations
Competing interests
All authors disclose that Pfizer International has contributed financial support to assist with the analysis of blood samples and to further the AIBL research programme. Ashley Bush discloses that he is a shareholder and paid consultant for Prana Biotechnology Ltd. The authors of this manuscript declare that there are no further actual or potential conflicts. The authors confirm that there are no financial, personal or other relationships with other people or organisations that have inappropriately influenced or biased our work.
Supplementary information
About this article
Cite this article
Verdile, G., Laws, S., Henley, D. et al. Associations between gonadotropins, testosterone and β amyloid in men at risk of Alzheimer's disease. Mol Psychiatry 19, 69–75 (2014). https://doi.org/10.1038/mp.2012.147
Received:

Revised:

Accepted:

Published:

Issue Date:

DOI: https://doi.org/10.1038/mp.2012.147
Keywords
Alzheimer's disease

β amyloid

luteinizing hormone

testosterone