Abstract
Obesity is a global problem with often strong neurobiological underpinnings. The cannabinoid 1 receptor (CB1R) was put forward as a promising drug target for antiobesity medication. However, the first marketed CB1R antagonist/inverse agonist rimonabant was discontinued, as its use was occasionally associated with negative affect and suicidality. In artificial cell systems, CB1Rs can become constitutively active in the absence of ligands. Here, we show that such constitutive CB1R activity also regulates GABAergic and glutamatergic neurotransmission in the ventral tegmental area and basolateral amygdala, regions which regulate motivation and emotions. We show that CB1R inverse agonists like rimonabant suppress the constitutive CB1R activity in such regions, and cause anxiety and reduced motivation for reward. The neutral CB1R antagonist NESS0327 does not suppress constitutive activity and lacks these negative effects. Importantly, however, both rimonabant and NESS0327 equally reduce weight gain and food intake. Together, these findings suggest that neutral CB1R antagonists can treat obesity efficiently and more safely than inverse agonists.
Relevant articles
Open Access articles citing this article.
Xue Wen

,

Bohan Zhang

…

Tao Li

Signal Transduction and Targeted Therapy Open Access 28 August 2022

F J Meye

,

G M J Ramakers

&

R A H Adan

Translational Psychiatry Open Access 11 February 2014
Access options
Subscribe to this journal
Receive 12 print issues and online access
$259.00 per year
only $21.58 per issue
Rent or buy this article
Get just this article for as long as you need it
$39.95
Prices may be subject to local taxes which are calculated during checkout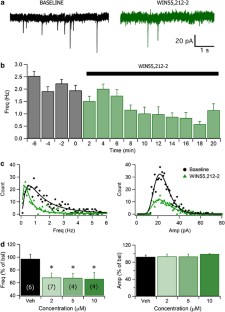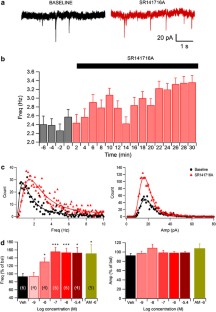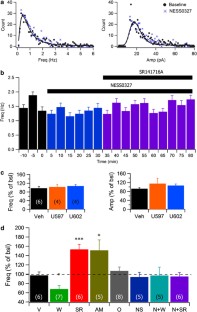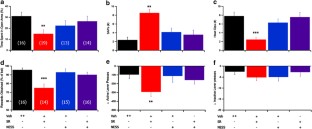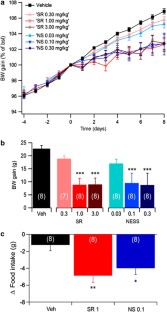 References
Hotamisligil GS . Inflammation and metabolic disorders. Nature 2006; 444: 860–867.

World-Health-Organization. Obesity: preventing and managing the global epidemic. Report of a WHO consultation. World Health Organ Tech Rep Ser 2000; 894, i-xii, 1–253.

Berthoud HR, Lenard NR, Shin AC . Food reward, hyperphagia, and obesity. Am J Physiol Regul Integr Comp Physiol 2011; 300: R1266–R1277.

Adan RAH, Vanderschuren LJMJ, La Fleur SE . Anti-obesity drugs and neural circuits of feeding. Trends Pharmacol Sci 2008; 29: 208–217.

Halford JC, Boyland EJ, Blundell JE, Kirkham TC, Harrold JA . Pharmacological management of appetite expression in obesity. Nat Rev Endocrinol 2010; 6: 255–269.

Wadden TA, Butryn ML, Wilson C . Lifestyle modification for the management of obesity. Gastroenterology 2007; 132: 2226–2238.

Le Foll B, Gorelick DA, Goldberg SR . The future of endocannabinoid-oriented clinical research after CB1 antagonists. Psychopharmacology (Berl) 2009; 205: 171–174.

Di Marzo V, Goparaju SK, Wang L, Liu J, Batkai S, Jarai Z et al. Leptin-regulated endocannabinoids are involved in maintaining food intake. Nature 2001; 410: 822–825.

Di Marzo V, Ligresti A, Cristino L . The endocannabinoid system as a link between homoeostatic and hedonic pathways involved in energy balance regulation. Int J Obes (Lond) 2009; 33 (Suppl 2): S18–S24.

Di Marzo V, Matias I . Endocannabinoid control of food intake and energy balance. Nat Neurosci 2005; 8: 585–589.

Christensen R, Kristensen PK, Bartels EM, Bliddal H, Astrup A . Efficacy and safety of the weight-loss drug rimonabant: a meta-analysis of randomised trials. Lancet 2007; 370: 1706–1713.

Lazary J, Juhasz G, Hunyady L, Bagdy G . Personalized medicine can pave the way for the safe use of CB1 receptor antagonists. Trends Pharmacol Sci 2011; 32: 270–280.

Nissen SE, Nicholls SJ, Wolski K, Rodes-Cabau J, Cannon CP, Deanfield JE et al. Effect of rimonabant on progression of atherosclerosis in patients with abdominal obesity and coronary artery disease: the STRADIVARIUS randomized controlled trial. JAMA 2008; 299: 1547–1560.

Pan X, Ikeda SR, Lewis DL . SR 141716A acts as an inverse agonist to increase neuronal voltage-dependent Ca2+ currents by reversal of tonic CB1 cannabinoid receptor activity. Mol Pharmacol 1998; 54: 1064–1072.

Canals M, Milligan G . Constitutive activity of the cannabinoid CB1 receptor regulates the function of co-expressed Mu opioid receptors. J Biol Chem 2008; 283: 11424–11434.

Pertwee RG . Inverse agonism and neutral antagonism at cannabinoid CB1 receptors. Life Sci 2005; 76: 1307–1324.

Sink KS, McLaughlin PJ, Wood JAT, Brown C, Fan P, Vemuri VK et al. The novel cannabinoid CB1 receptor neutral antagonist AM4113 suppresses food intake and food-reinforced behavior but does not induce signs of nausea in rats. Neuropsychopharmacology 2008; 33: 946–955.

Salamone JD, McLaughlin PJ, Sink K, Makriyannis A, Parker LA . Cannabinoid CB1 receptor inverse agonists and neutral antagonists: effects on food intake, food-reinforced behavior and food aversions. Physiol Behav 2007; 91: 383–388.

Sink KS, Segovia KN, Sink J, Randall PA, Collins LE, Correa M et al. Potential anxiogenic effects of cannabinoid CB1 receptor antagonists/inverse agonsits in rats: comparisons between AM4113, AM251, and the benzodiazepine inverse agonist FG-7142. Eur Neuropsychopharmacol 2010; 20: 112–122.

Ruiu S, Pinna GA, Marchese G, Mussinu JM, Saba P, Tambaro S et al. Synthesis and characterization of NESS 0327: a novel putative antagonist of the CB1 cannabinoid receptor. J Pharmacol Exp Ther 2003; 306: 363–370.

Tambaro S, Mongeau R, Dessi C, Pani L, Ruiu S . Modulation of ATP-mediated contractions of the rat vas deferens through presynaptic cannabinoid receptors. Eur J Pharmacol 2005; 525: 150–153.

Dunlop BW, Nemeroff CB . The role of dopamine in the pathophysiology of depression. Arch Gen Psychiatry 2007; 64: 327–337.

Nestler EJ, Carlezon WA . The mesolimbic dopamine reward circuit in depression. Biol Psychiatry 2006; 59: 1151–1159.

Zweifel LS, Fadok JP, Argilli E, Garelick MG, Jones GL, Dickerson TM et al. Activation of dopamine neurons is critical for aversive conditioning and prevention of generalized anxiety. Nat Neurosci 2011; 14: 620–626.

Tye KM, Prakash R, Kim SY, Fenno LE, Grosenick L, Zarabi H et al. Amygdala circuitry mediating reversible and bidirectional control of anxiety. Nature 2011; 471: 358–362.

Wallace TL, Stellitano KE, Neve RL, Duman RS . Effects of cyclic adenosine monophosphate response element binding protein overexpression in the basolateral amygdala on behavioral models of depression and anxiety. Biol Psychiatry 2004; 56: 151–160.

de Rover M, Meye FJ, Ramakers GM . Presynaptic metabotropic glutamate receptors regulate glutamatergic input to dopamine neurons in the ventral tegmental area. Neuroscience 2008; 154: 1318–1323.

Mathon DS, Lesscher HM, Gerrits MA, Kamal A, Pintar JE, Schuller AG et al. Increased gabaergic input to ventral tegmental area dopaminergic neurons associated with decreased cocaine reinforcement in mu-opioid receptor knockout mice. Neuroscience 2005; 130: 359–367.

Trezza V, Baarendse PJ, Vanderschuren LJ . Prosocial effects of nicotine and ethanol in adolescent rats through partially dissociable neurobehavioral mechanisms. Neuropsychopharmacology 2009; 34: 2560–2573.

Brussaard AB, Kits KS, de Vlieger TA . Postsynaptic mechanism of depression of GABAergic synapses by oxytocin in the supraoptic nucleus of immature rat. J Physiol 1996; 497 (Pt 2): 495–507.

Ikemoto S, Wise RA . Mapping of chemical trigger zones for reward. Neuropharmacology 2004; 47 (Suppl 1): 190–201.

McBride WJ, Murphy JM, Ikemoto S . Localization of brain reinforcement mechanisms: intracranial self-administration and intracranial place-conditioning studies. Behav Brain Res 1999; 101: 129–152.

Fields HL, Hjelmstad GO, Margolis EB, Nicola SM . Ventral tegmental area neurons in learned appetitive behavior and positive reinforcement. Annu Rev Neurosci 2007; 30: 289–316.

Treadway MT, Zald DH . Reconsidering anhedonia in depression: lessons from translational neuroscience. Neurosci Biobehav Rev 2011; 35: 537–555.

Matyas F, Urban GM, Watanabe M, Mackie K, Zimmer A, Freund TF et al. Identification of the sites of 2-arachidonoylglycerol synthesis and action imply retrograde endocannabinoid signaling at both GABAergic and glutamatergic synapses in the ventral tegmental area. Neuropharmacology 2008; 54: 95–107.

Szabo B, Siemes S, Wallmichrath I . Inhibition of GABAergic neurotransmission in the ventral tegmental area by cannabinoids. Eur J Neurosci 2002; 15: 2057–2061.

Hájos N, Freund TF . Pharmacological separation of cannabinoid sensitive receptors on hippocampal excitatory and inhibitory fibers. Neuropharmacology 2002; 43: 503–510.

Lan R, Liu Q, Fan P, Lin S, Fernando SR, MacCallion D et al. Structure-activity relationships of pyrazole derivatives as cannabinoid receptor antagonists. J Med Chem 1999; 42: 769–776.

Kathuria S, Gaetani S, Fegley D, Valino F, Duranti A, Tontini A et al. Modulation of anxiety through blockade of anandamide hydrolysis. Nat Med 2003; 9: 76–81.

Makara JK, Mor M, Fegley D, Szabo SI, Kathuria S, Astarita G et al. Selective inhibition of 2-AG hydrolysis enhances endocannabinoid signaling in hippocampus. Nat Neurosci 2005; 8: 1139–1141.

Walker DL, Davis M . The role of amygdala glutamate receptors in fear learning, fear-potentiated startle, and extinction. Pharmacol Biochem Behav 2002; 71: 379–392.

Domenici MR, Azad SC, Marsicano G, Schierloh A, Wotjak CT, Dodt HU et al. Cannabinoid receptor type 1 located on presynaptic terminals of principal neurons in the forebrain controls glutamatergic synaptic transmission. J Neurosci 2006; 26: 5794–5799.

Kirkham TC, Williams CM, Fezza F, Di Marzo V . Endocannabinoid levels in rat limbic forebrain and hypothalamus in relation to fasting, feeding and satiation: stimulation of eating by 2-arachidonoyl glycerol. Br J Pharmacol 2002; 136: 550–557.

Rumsfeld JS, Nallamothu BK . The hope and fear of rimonabant. JAMAA 2008; 299: 1601–1602.

Murray EA, Wise SP, Drevets WC . Localization of dysfunction in major depressive disorder: prefrontal cortex and amygdala. Biol Psychiatry 2011; 69: e43–e54.

Marsicano G, Wotjak CT, Azad SC, Bisogno T, Rammes G, Cascio MG et al. The endogenous cannabinoid system controls extinction of aversive memories. Nature 2002; 418: 530–534.

Orio L, Edwards S, George O, Parsons LH, Koob GF . A role for the endocannabinoid system in the increased motivation for cocaine in extended-access conditions. J Neurosci 2009; 29: 4846–4857.

McGlinchey JB, Zimmerman M, Young D, Chelminski I . Diagnosing major depressive disorder VIII: are some symptoms better than others? J Nerv Ment Dis 2006; 194: 785–790.

McLaughlin PJ, Winston K, Swezey L, Wisniecki A, Aberman J, Tardif DJ et al. The cannabinoid CB1 antagonists SR 141716A and AM 251 suppress food intake and the food-reinforced behavior in a variety of tasks in rats. Behav Pharmacol 2007; 14: 583–588.

Hentges ST, Low MJ, Williams JT . Differential regulation of synaptic inputs by constitutively released endocannabinoids and exogenous cannabinoids. J Neurosci 2005; 25: 9746–9751.

Sinnayah P, Jobst EE, Rathner JA, Caldera-Siu AD, Tonelli-Lemos L, Eusterbrock AJ et al. Feeding induced by cannabinoids is mediated independently of the melanocortin system. PLoS One 2008; 3: e2202.
Acknowledgements
We thank Top Institute Pharma (D1-105) for funding this project. We also thank the NIMH Chemical Synthesis and Drug Supply Program for supplying rimonabant for the purposes of this study. Finally, we would like to thank Prof Ad IJzerman, Prof Bert Leufkens, Dr Mario van der Stelt and Dr Lex van der Ploeg for helpful suggestions on the paper.
Ethics declarations
Competing interests
The authors declare no conflict of interest.
Supplementary information
About this article
Cite this article
Meye, F., Trezza, V., Vanderschuren, L. et al. Neutral antagonism at the cannabinoid 1 receptor: a safer treatment for obesity. Mol Psychiatry 18, 1294–1301 (2013). https://doi.org/10.1038/mp.2012.145
Received:

Revised:

Accepted:

Published:

Issue Date:

DOI: https://doi.org/10.1038/mp.2012.145
Keywords
cannabinoid 1 receptor

constitutive activity

inverse agonist

mesolimbic dopamine system

obesity