Abstract
Endogenous glucocorticoids are essential for mobilizing energy resources, restraining inflammatory responses and coordinating behavior to an immune challenge. Impaired glucocorticoid receptor (GR) function has been associated with impaired metabolic processes, enhanced inflammation and exaggerated sickness and depressive-like behaviors. To discern the molecular mechanisms underlying GR regulation of physiologic and behavioral responses to a systemic immune challenge, GRdim mice, in which absent GR dimerization leads to impaired GR–DNA-binding-dependent mechanisms but intact GR protein–protein interactions, were administered low-dose lipopolysaccharide (LPS). GRdim-LPS mice exhibited elevated and prolonged levels of plasma corticosterone (CORT), interleukin (IL)-6 and IL-10 (but not plasma tumor necrosis factor-α (TNFα)), enhanced early expression of brain TNFα, IL-1β and IL-6 mRNA levels, and impaired later central TNFα mRNA expression. Exaggerated sickness behavior (lethargy, piloerection, ptosis) in the GRdim-LPS mice was associated with increased early brain proinflammatory cytokine expression and late plasma CORT levels, but decreased late brain TNFα expression. GRdim-LPS mice also exhibited sustained locomotor impairment in the open field, body weight loss and metabolic alterations measured by indirect calorimetry, as well as impaired thermoregulation. Taken together, these data indicate that GR dimerization-dependent DNA-binding mechanisms differentially regulate systemic and central cytokine expression in a cytokine- and time-specific manner, and are essential for the proper regulation and recovery of multiple physiologic responses to low-dose endotoxin. Moreover, these results support the concept that GR protein–protein interactions are not sufficient for glucocorticoids to exert their full anti-inflammatory effects and suggest that glucocorticoid responses limited to GR monomer-mediated transcriptional effects could predispose individuals to prolonged behavioral and metabolic sequelae of an enhanced inflammatory state.
Relevant articles
Open Access articles citing this article.
Martin Wepler

,

Jonathan M. Preuss

…

Sabine Vettorazzi

Intensive Care Medicine Experimental Open Access 18 December 2020

Eugenie Macfarlane

,

Markus J. Seibel

&

Hong Zhou

Bone Research Open Access 08 September 2020

Jessica C. Santos

,

Savannah R. Bever

…

Leah M. Pyter

Scientific Reports Open Access 24 January 2019
Access options
Subscribe to this journal
Receive 12 print issues and online access
$259.00 per year
only $21.58 per issue
Rent or buy this article
Prices vary by article type
from$1.95
to$39.95
Prices may be subject to local taxes which are calculated during checkout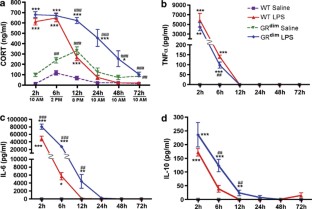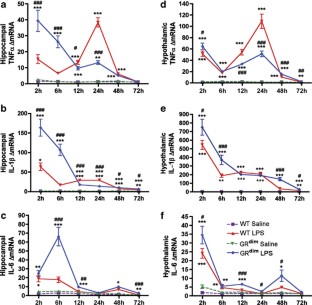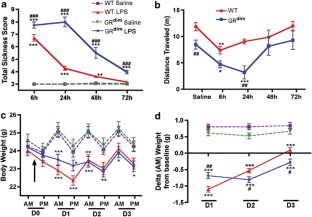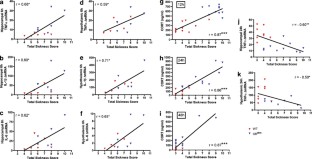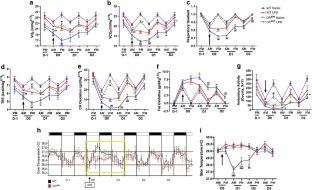 References
Chrousos GP, Kino T . Glucocorticoid action networks and complex psychiatric and/or somatic disorders. Stress 2007; 10: 213–219.

Sapolsky RM, Romero LM, Munck AU . How do glucocorticoids influence stress responses? Integrating permissive, suppressive, stimulatory, and preparative actions. Endocr Rev 2000; 21: 55–89.

Holsboer F . The corticosteroid receptor hypothesis of depression. Neuropsychopharmacology 2000; 23: 477–501.

McIntyre RS, Soczynska JK, Konarski JZ, Woldeyohannes HO, Law CW, Miranda A et al. Should depressive syndromes be reclassified as "metabolic syndrome type II"? Ann Clin Psychiatry 2007; 19: 257–264.

Raison CL, Miller AH . When not enough is too much: the role of insufficient glucocorticoid signaling in the pathophysiology of stress-related disorders. Am J Psychiatry 2003; 160: 1554–1565.

Zunszain PA, Anacker C, Cattaneo A, Carvalho LA, Pariante CM . Glucocorticoids cytokines and brain abnormalities in depression. Prog Neuropsychopharmacol Biol Psychiatry 2011; 35: 722–729.

Licinio J, Wong ML . The role of inflammatory mediators in the biology of major depression: central nervous system cytokines modulate the biological substrate of depressive symptoms, regulate stress-responsive systems, and contribute to neurotoxicity and neuroprotection. Mol Psychiatry 1999; 4: 317–327.

Maes M, Yirmyia R, Noraberg J, Brene S, Hibbeln J, Perini G et al. The inflammatory & neurodegenerative (I&ND) hypothesis of depression: leads for future research and new drug developments in depression. Metab Brain Dis 2009; 24: 27–53.

Pollak Y, Yirmiya R . Cytokine-induced changes in mood and behaviour: implications for 'depression due to a general medical condition', immunotherapy and antidepressive treatment. Int J Neuropsychopharmacol 2002; 5: 389–399.

Raison CL, Capuron L, Miller AH . Cytokines sing the blues: inflammation and the pathogenesis of depression. Trends Immunol 2006; 27: 24–31.

Dantzer R, O'Connor JC, Freund GG, Johnson RW, Kelley KW . From inflammation to sickness and depression: when the immune system subjugates the brain. Nat Rev Neurosci 2008; 9: 46–56.

Miller AH, Maletic V, Raison CL . Inflammation and its discontents: the role of cytokines in the pathophysiology of major depression. Biol Psychiatry 2009; 65: 732–741.

Straub RH, Cutolo M, Buttgereit F, Pongratz G . Energy regulation and neuroendocrine-immune control in chronic inflammatory diseases. J Intern Med 2010; 267: 543–560.

Dantzer R . Cytokine-induced sickness behaviour: a neuroimmune response to activation of innate immunity. Eur J Pharmacol 2004; 500: 399–411.

Hart BL . Biological basis of the behavior of sick animals. Neurosci Biobehav Rev 1988; 12: 123–137.

Romanovsky AA, Almeida MC, Aronoff DM, Ivanov AI, Konsman JP, Steiner AA et al. Fever and hypothermia in systemic inflammation: recent discoveries and revisions. Front Biosci 2005; 10: 2193–2216.

Silverman MN, Pearce BD, Biron CA, Miller AH . Immune modulation of the hypothalamic-pituitary-adrenal (HPA) axis during viral infection. Viral Immunol 2005; 18: 41–78.

Hasday JD, Fairchild KD, Shanholtz C . The role of fever in the infected host. Microbes Infect 2000; 2: 1891–1904.

Romanovsky AA, Szekely M . Fever and hypothermia: two adaptive thermoregulatory responses to systemic inflammation. Med Hypotheses 1998; 50: 219–226.

Beisel WR . Metabolic response to infection. Annu Rev Med 1975; 26: 9–20.

Chang HR, Bistrian B . The role of cytokines in the catabolic consequences of infection and injury. JPEN J Parenter Enteral Nutr 1998; 22: 156–166.

Schobitz B, Reul JM, Holsboer F . The role of the hypothalamic-pituitary-adrenocortical system during inflammatory conditions. Crit Rev Neurobiol 1994; 8: 263–291.

Besedovsky HO, del Rey A . Immune-neuro-endocrine interactions: facts and hypotheses. Endocr Rev 1996; 17: 64–102.

Glezer I, Rivest S . Glucocorticoids: protectors of the brain during innate immune responses. Neuroscientist 2004; 10: 538–552.

McEwen BS, Biron CA, Brunson KW, Bulloch K, Chambers WH, Dhabhar FS et al. The role of adrenocorticoids as modulators of immune function in health and disease: neural, endocrine and immune interactions. Brain Res Brain Res Rev 1997; 23: 79–133.

Silverman MN, Sternberg EM . Neuroendocrine-immune interactions in rheumatoid arthritis: mechanisms of glucocorticoid resistance. Neuroimmunomodulation 2008; 15: 19–28.

Webster JI, Sternberg EM . Role of the hypothalamic-pituitary-adrenal axis, glucocorticoids and glucocorticoid receptors in toxic sequelae of exposure to bacterial and viral products. J Endocrinol 2004; 181: 207–221.

Goujon E, Parnet P, Laye S, Combe C, Dantzer R . Adrenalectomy enhances pro-inflammatory cytokines gene expression, in the spleen, pituitary and brain of mice in response to lipopolysaccharide. Brain Res Mol Brain Res 1996; 36: 53–62.

Nadeau S, Rivest S . Glucocorticoids play a fundamental role in protecting the brain during innate immune response. J Neurosci 2003; 23: 5536–5544.

Silverman MN, Macdougall MG, Hu F, Pace TW, Raison CL, Miller AH . Endogenous glucocorticoids protect against TNF-alpha-induced increases in anxiety-like behavior in virally infected mice. Mol Psychiatry 2007; 12: 408–417.

Sternberg EM, Hill JM, Chrousos GP, Kamilaris T, Listwak SJ, Gold PW et al. Inflammatory mediator-induced hypothalamic-pituitary-adrenal axis activation is defective in streptococcal cell wall arthritis-susceptible Lewis rats. Proc Natl Acad Sci USA 1989; 86: 2374–2378.

Goujon E, Parnet P, Aubert A, Goodall G, Dantzer R . Corticosterone regulates behavioral effects of lipopolysaccharide and interleukin-1 beta in mice. Am J Physiol 1995; 269 (1 Part 2): R154–159.

Johnson RW, Propes MJ, Shavit Y . Corticosterone modulates behavioral and metabolic effects of lipopolysaccharide. Am J Physiol 1996; 270 (1 Part 2): R192–198.

Pezeshki G, Pohl T, Schobitz B . Corticosterone controls interleukin-1 beta expression and sickness behavior in the rat. J Neuroendocrinol 1996; 8: 129–135.

Wang D, Lin W, Pan Y, Kuang X, Qi X, Sun H . Chronic blockade of glucocorticoid receptors by RU486 enhances lipopolysaccharide-induced depressive-like behaviour and cytokine production in rats. Brain Behav Immun 2011; 25: 706–714.

Coelho MM, Luheshi G, Hopkins SJ, Pela IR, Rothwell NJ . Multiple mechanisms mediate antipyretic action of glucocorticoids. Am J Physiol 1995; 269 (3 Part 2): R527–535.

Morrow LE, McClellan JL, Conn CA, Kluger MJ . Glucocorticoids alter fever and IL-6 responses to psychological stress and to lipopolysaccharide. Am J Physiol 1993; 264 (5 Part 2): R1010–1016.

Kapcala LP, Chautard T, Eskay RL . The protective role of the hypothalamic-pituitary-adrenal axis against lethality produced by immune, infectious, and inflammatory stress. Ann NY Acad Sci 1995; 771: 419–437.

Ruzek MC, Pearce BD, Miller AH, Biron CA . Endogenous glucocorticoids protect against cytokine-mediated lethality during viral infection. J Immunol 1999; 162: 3527–3533.

Capuron L, Fornwalt FB, Knight BT, Harvey PD, Ninan PT, Miller AH . Does cytokine-induced depression differ from idiopathic major depression in medically healthy individuals? J Affect Disord 2009; 119: 181–185.

Capuron L, Su S, Miller AH, Bremner JD, Goldberg J, Vogt GJ et al. Depressive symptoms and metabolic syndrome: is inflammation the underlying link? Biol Psychiatry 2008; 64: 896–900.

Barnes PJ . Corticosteroid effects on cell signalling. Eur Respir J 2006; 27: 413–426.

Chinenov Y, Rogatsky I . Glucocorticoids and the innate immune system: crosstalk with the toll-like receptor signaling network. Mol Cell Endocrinol 2007; 275: 30–42.

De Bosscher K, Vanden Berghe W, Haegeman G . Cross-talk between nuclear receptors and nuclear factor kappaB. Oncogene 2006; 25: 6868–6886.

Dostert A, Heinzel T . Negative glucocorticoid receptor response elements and their role in glucocorticoid action. Curr Pharm Des 2004; 10: 2807–2816.

Newton R, Holden NS . Separating transrepression and transactivation: a distressing divorce for the glucocorticoid receptor? Mol Pharmacol 2007; 72: 799–809.

Clark AR . Anti-inflammatory functions of glucocorticoid-induced genes. Mol Cell Endocrinol 2007; 275: 79–97.

Schacke H, Docke WD, Asadullah K . Mechanisms involved in the side effects of glucocorticoids. Pharmacol Ther 2002; 96: 23–43.

Reichardt HM, Kaestner KH, Tuckermann J, Kretz O, Wessely O, Bock R et al. DNA binding of the glucocorticoid receptor is not essential for survival. Cell 1998; 93: 531–541.

Kleiman A, Hubner S, Rodriguez Parkitna JM, Neumann A, Hofer S, Weigand MA et al. Glucocorticoid receptor dimerization is required for survival in septic shock via suppression of interleukin-1 in macrophages. FASEB J 2012; 26: 722–729.

Andre C, O'Connor JC, Kelley KW, Lestage J, Dantzer R, Castanon N . Spatio-temporal differences in the profile of murine brain expression of proinflammatory cytokines and indoleamine 2,3-dioxygenase in response to peripheral lipopolysaccharide administration. J Neuroimmunol 2008; 200: 90–99.

Frenois F, Moreau M, O'Connor J, Lawson M, Micon C, Lestage J et al. Lipopolysaccharide induces delayed FosB/DeltaFosB immunostaining within the mouse extended amygdala, hippocampus and hypothalamus, that parallel the expression of depressive-like behavior. Psychoneuroendocrinology 2007; 32: 516–531.

Oitzl MS, Reichardt HM, Joels M, de Kloet ER . Point mutation in the mouse glucocorticoid receptor preventing DNA binding impairs spatial memory. Proc Natl Acad Sci USA 2001; 98: 12790–12795.

Reichardt HM, Tuckermann JP, Gottlicher M, Vujic M, Weih F, Angel P et al. Repression of inflammatory responses in the absence of DNA binding by the glucocorticoid receptor. EMBO J 2001; 20: 7168–7173.

Silverman MN, Miller AH, Biron CA, Pearce BD . Characterization of an interleukin-6- and adrenocorticotropin-dependent, immune-to-adrenal pathway during viral infection. Endocrinology 2004; 145: 3580–3589.

Grose R, Werner S, Kessler D, Tuckermann J, Huggel K, Durka S et al. A role for endogenous glucocorticoids in wound repair. EMBO Rep 2002; 3: 575–582.

Tuckermann JP, Kleiman A, Moriggl R, Spanbroek R, Neumann A, Illing A et al. Macrophages and neutrophils are the targets for immune suppression by glucocorticoids in contact allergy. J Clin Invest 2007; 117: 1381–1390.

Rivest S, Lacroix S, Vallieres L, Nadeau S, Zhang J, Laflamme N . How the blood talks to the brain parenchyma and the paraventricular nucleus of the hypothalamus during systemic inflammatory and infectious stimuli. Proc Soc Exp Biol Med 2000; 223: 22–38.

Marchetti L, Klein M, Schlett K, Pfizenmaier K, Eisel UL . Tumor necrosis factor (TNF)-mediated neuroprotection against glutamate-induced excitotoxicity is enhanced by N-methyl-D-aspartate receptor activation. Essential role of a TNF receptor 2-mediated phosphatidylinositol 3-kinase-dependent NF-kappa B pathway. J Biol Chem 2004; 279: 32869–32881.

Veroni C, Gabriele L, Canini I, Castiello L, Coccia E, Remoli ME et al. Activation of TNF receptor 2 in microglia promotes induction of anti-inflammatory pathways. Mol Cell Neurosci 2010; 45: 234–244.

Lefstin JA, Yamamoto KR . Allosteric effects of DNA on transcriptional regulators. Nature 1998; 392: 885–888.

Miller AH, Spencer RL, Pearce BD, Pisell TL, Azrieli Y, Tanapat P et al. Glucocorticoid receptors are differentially expressed in the cells and tissues of the immune system. Cell Immunol 1998; 186: 45–54.

Ray A, LaForge KS, Sehgal PB . On the mechanism for efficient repression of the interleukin-6 promoter by glucocorticoids: enhancer, TATA box, and RNA start site (Inr motif) occlusion. Mol Cell Biol 1990; 10: 5736–5746.

Zhang G, Zhang L, Duff GW . A negative regulatory region containing a glucocorticosteroid response element (nGRE) in the human interleukin-1beta gene. DNA Cell Biol 1997; 16: 145–152.

Rhoades KL, Golub SH, Economou JS . The regulation of the human tumor necrosis factor alpha promoter region in macrophage, T cell, and B cell lines. J Biol Chem 1992; 267: 22102–22107.

Amano Y, Lee SW, Allison AC . Inhibition by glucocorticoids of the formation of interleukin-1 alpha, interleukin-1 beta, and interleukin-6: mediation by decreased mRNA stability. Mol Pharmacol 1993; 43: 176–182.

Smoak K, Cidlowski JA . Glucocorticoids regulate tristetraprolin synthesis and posttranscriptionally regulate tumor necrosis factor alpha inflammatory signaling. Mol Cell Biol 2006; 26: 9126–9135.

Eskdale J, Kube D, Tesch H, Gallagher G . Mapping of the human IL10 gene and further characterization of the 5′ flanking sequence. Immunogenetics 1997; 46: 120–128.

Franchimont D, Martens H, Hagelstein MT, Louis E, Dewe W, Chrousos GP et al. Tumor necrosis factor alpha decreases, and interleukin-10 increases, the sensitivity of human monocytes to dexamethasone: potential regulation of the glucocorticoid receptor. J Clin Endocrinol Metab 1999; 84: 2834–2839.

Wong ML, Bongiorno PB, Rettori V, McCann SM, Licinio J . Interleukin (IL) 1beta, IL-1 receptor antagonist, IL-10, and IL-13 gene expression in the central nervous system and anterior pituitary during systemic inflammation: pathophysiological implications. Proc Natl Acad Sci USA 1997; 94: 227–232.

Goujon E, Laye S, Parnet P, Dantzer R . Regulation of cytokine gene expression in the central nervous system by glucocorticoids: mechanisms and functional consequences. Psychoneuroendocrinology 1997; 22 (Suppl 1): S75–80.

Quan N, He L, Lai W, Shen T, Herkenham M . Induction of IkappaBalpha mRNA expression in the brain by glucocorticoids: a negative feedback mechanism for immune-to-brain signaling. J Neurosci 2000; 20: 6473–6477.

Laflamme N, Echchannaoui H, Landmann R, Rivest S . Cooperation between toll-like receptor 2 and 4 in the brain of mice challenged with cell wall components derived from gram-negative and gram-positive bacteria. Eur J Immunol 2003; 33: 1127–1138.

Glezer I, Simard AR, Rivest S . Neuroprotective role of the innate immune system by microglia. Neuroscience 2007; 147: 867–883.

Hanisch UK, Johnson TV, Kipnis J . Toll-like receptors: roles in neuroprotection? Trends Neurosci 2008; 31: 176–182.

Frank MG, Miguel ZD, Watkins LR, Maier SF . Prior exposure to glucocorticoids sensitizes the neuroinflammatory and peripheral inflammatory responses to E. coli lipopolysaccharide. Brain Behav Immun 2010; 24: 19–30.

Hermoso MA, Matsuguchi T, Smoak K, Cidlowski JA . Glucocorticoids and tumor necrosis factor alpha cooperatively regulate toll-like receptor 2 gene expression. Mol Cell Biol 2004; 24: 4743–4756.

Homma T, Kato A, Hashimoto N, Batchelor J, Yoshikawa M, Imai S et al. Corticosteroid and cytokines synergistically enhance toll-like receptor 2 expression in respiratory epithelial cells. Am J Respir Cell Mol Biol 2004; 31: 463–469.

Hamelink CR, Currie PJ, Chambers JW, Castonguay TW, Coscina DV . Corticosterone-responsive and -unresponsive metabolic characteristics of adrenalectomized rats. Am J Physiol 1994; 267 (3 Part 2): R799–804.

Linthorst AC, Karanth S, Barden N, Holsboer F, Reul MH . Impaired glucocorticoid receptor function evolves in aberrant physiological responses to bacterial endotoxin. Eur J Neurosci 1999; 11: 178–186.

Richard D, Chapdelaine S, Deshaies Y, Pepin MC, Barden N . Energy balance and lipid metabolism in transgenic mice bearing an antisense GCR gene construct. Am J Physiol 1993; 265 (1 Part 2): R146–150.

Reul JM, Labeur MS, Wiegers GJ, Linthorst AC . Altered neuroimmunoendocrine communication during a condition of chronically increased brain corticotropin-releasing hormone drive. Ann NY Acad Sci 1998; 840: 444–455.

Sternberg EM, Glowa JR, Smith MA, Calogero AE, Listwak SJ, Aksentijevich S et al. Corticotropin releasing hormone related behavioral and neuroendocrine responses to stress in Lewis and Fischer rats. Brain Res 1992; 570: 54–60.

Frijters R, Fleuren W, Toonen EJ, Tuckermann JP, Reichardt HM, van der Maaden H et al. Prednisolone-induced differential gene expression in mouse liver carrying wild type or a dimerization-defective glucocorticoid receptor. BMC Genomics 2010; 11: 359.

Ogimoto K, Harris MK, Wisse BE . MyD88 is a key mediator of anorexia, but not weight loss, induced by lipopolysaccharide and interleukin-1 beta. Endocrinology 2006; 147: 4445–4453.

Roth J . Endogenous antipyretics. Clin Chim Acta 2006; 371: 13–24.

Steiner AA, Romanovsky AA . Leptin: at the crossroads of energy balance and systemic inflammation. Prog Lipid Res 2007; 46: 89–107.

Yirmiya R . Endotoxin produces a depressive-like episode in rats. Brain Res 1996; 711: 163–174.

Yirmiya R, Pollak Y, Barak O, Avitsur R, Ovadia H, Bette M et al. Effects of antidepressant drugs on the behavioral and physiological responses to lipopolysaccharide (LPS) in rodents. Neuropsychopharmacology 2001; 24: 531–544.

Anacker C, Zunszain PA, Carvalho LA, Pariante CM . The glucocorticoid receptor: pivot of depression and of antidepressant treatment? Psychoneuroendocrinology 2011; 36: 415–425.

Manenschijn L, van den Akker EL, Lamberts SW, van Rossum EF . Clinical features associated with glucocorticoid receptor polymorphisms. An overview. Ann NY Acad Sci 2009; 1179: 179–198.

Avitsur R, Powell N, Padgett DA, Sheridan JF . Social interactions, stress, and immunity. Immunol Allergy Clin North Am 2009; 29: 285–293.

Black PH . The inflammatory response is an integral part of the stress response: implications for atherosclerosis, insulin resistance, type II diabetes and metabolic syndrome X. Brain Behav Immun 2003; 17: 350–364.

Kiecolt-Glaser JK, Glaser R . Depression and immune function: central pathways to morbidity and mortality. J Psychosom Res 2002; 53: 873–876.

Miller GE, Chen E, Sze J, Marin T, Arevalo JM, Doll R et al. A functional genomic fingerprint of chronic stress in humans: blunted glucocorticoid and increased NF-kappaB signaling. Biol Psychiatry 2008; 64: 266–272.

Pace TW, Hu F, Miller AH . Cytokine-effects on glucocorticoid receptor function: relevance to glucocorticoid resistance and the pathophysiology and treatment of major depression. Brain Behav Immun 2007; 21: 9–19.

Rohleder N . Acute and chronic stress induced changes in sensitivity of peripheral inflammatory pathways to the signals of multiple stress systems—2011 Curt Richter Award Winner. Psychoneuroendocrinology 2012; 37: 307–316.

Sorrells SF, Sapolsky RM . An inflammatory review of glucocorticoid actions in the CNS. Brain Behav Immun 2007; 21: 259–272.

Munhoz CD, Sorrells SF, Caso JR, Scavone C, Sapolsky RM . Glucocorticoids exacerbate lipopolysaccharide-induced signaling in the frontal cortex and hippocampus in a dose-dependent manner. J Neurosci 2010; 30: 13690–13698.

Frank MG, Thompson BM, Watkins LR, Maier SF . Glucocorticoids mediate stress-induced priming of microglial pro-inflammatory responses. Brain Behav Immun 2012; 26: 337–345.

Perez-Nievas BG, Madrigal JL, Garcia-Bueno B, Zoppi S, Leza JC . Corticosterone basal levels and vulnerability to LPS-induced neuroinflammation in the rat brain. Brain Res 2010; 1315: 159–168.

Dhabhar FS . Enhancing versus suppressive effects of stress on immune function: implications for immunoprotection and immunopathology. Neuroimmunomodulation 2009; 16: 300–317.

Galon J, Franchimont D, Hiroi N, Frey G, Boettner A, Ehrhart-Bornstein M et al. Gene profiling reveals unknown enhancing and suppressive actions of glucocorticoids on immune cells. FASEB J 2002; 16: 61–71.

Silverman MN, Heim CM, Nater UM, Marques AH, Sternberg EM . Neuroendocrine and immune contributors to fatigue. PMR 2010; 2: 338–346.

De Bosscher K, Van Craenenbroeck K, Meijer OC, Haegeman G . Selective transrepression versus transactivation mechanisms by glucocorticoid receptor modulators in stress and immune systems. Eur J Pharmacol 2008; 583: 290–302.

Kleiman A, Tuckermann JP . Glucocorticoid receptor action in beneficial and side effects of steroid therapy: lessons from conditional knockout mice. Mol Cell Endocrinol 2007; 275: 98–108.
Acknowledgements
This work was supported by the NIH (intramural funds from the National Institute of Mental Health (NIMH) to EM Sternberg and from the National Institute on Alcohol Abuse and Alcoholism (NIAAA) to P Pacher). Additional support was received by the Henry M Jackson Foundation (Bethesda, MD, USA—MNS salary) and the Center for Neuroscience and Regenerative Medicine (Uniformed Services University of the Health Sciences, Bethesda, MD, USA). We thank Dr Günther Schütz (German Cancer Research Centre, Heidelberg, Germany) for providing homozygous GRdim mouse breeder pairs to Taconic Farms (Rockville, MD, USA). We also thank Laura Tucker (Uniformed Services University of the Health Sciences, Center for Neuroscience and Regenerative Medicine, Mouse Behavioral Assessment Core, Bethesda, MD, USA) for instruction on the ANY-maze software used to analyze our open field data and Dr Sandor Batkai (Laboratory of Physiologic Studies, NIAAA, NIH, Bethesda, MD, USA) for setting up the metabolic chambers.
Ethics declarations
Competing interests
The authors declare no conflict of interest.
About this article
Cite this article
Silverman, M., Mukhopadhyay, P., Belyavskaya, E. et al. Glucocorticoid receptor dimerization is required for proper recovery of LPS-induced inflammation, sickness behavior and metabolism in mice. Mol Psychiatry 18, 1006–1017 (2013). https://doi.org/10.1038/mp.2012.131
Received:

Revised:

Accepted:

Published:

Issue Date:

DOI: https://doi.org/10.1038/mp.2012.131
Keywords