Abstract
Polymorphic variants of the dopamine D4 receptor have been consistently associated with attention-deficit hyperactivity disorder (ADHD). However, the functional significance of the risk polymorphism (variable number of tandem repeats in exon 3) is still unclear. Here, we show that whereas the most frequent 4-repeat (D4.4) and the 2-repeat (D4.2) variants form functional heteromers with the short isoform of the dopamine D2 receptor (D2S), the 7-repeat risk allele (D4.7) does not. D2 receptor activation in the D2S–D4 receptor heteromer potentiates D4 receptor-mediated MAPK signaling in transfected cells and in the striatum, which did not occur in cells expressing D4.7 or in the striatum of knockin mutant mice carrying the 7 repeats of the human D4.7 in the third intracellular loop of the D4 receptor. In the striatum, D4 receptors are localized in corticostriatal glutamatergic terminals, where they selectively modulate glutamatergic neurotransmission by interacting with D2S receptors. This interaction shows the same qualitative characteristics than the D2S–D4 receptor heteromer-mediated mitogen-activated protein kinase (MAPK) signaling and D2S receptor activation potentiates D4 receptor-mediated inhibition of striatal glutamate release. It is therefore postulated that dysfunctional D2S–D4.7 heteromers may impair presynaptic dopaminergic control of corticostriatal glutamatergic neurotransmission and explain functional deficits associated with ADHD.
This is a preview of subscription content
Access options
Subscribe to Journal
Get full journal access for 1 year
$119.00
only $9.92 per issue
All prices are NET prices.
VAT will be added later in the checkout.
Tax calculation will be finalised during checkout.
Buy article
Get time limited or full article access on ReadCube.
$32.00
All prices are NET prices.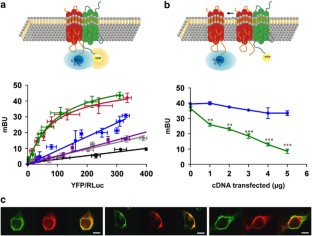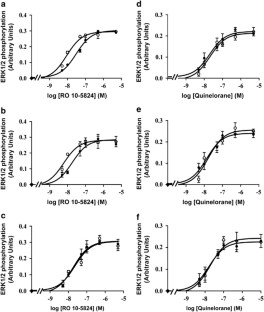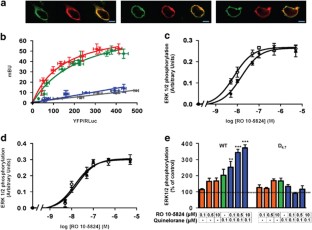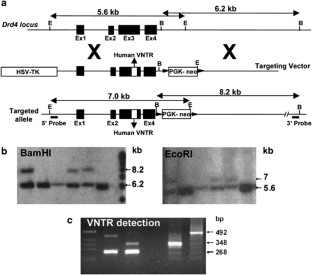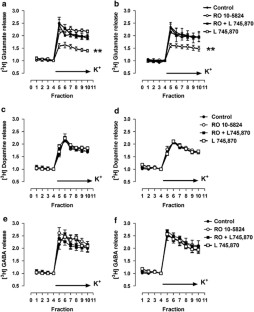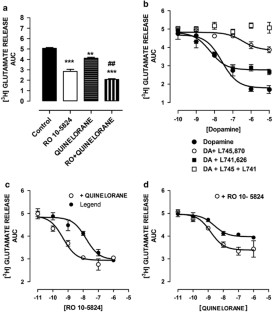 References
Lauzon NM, Laviolette SR . Dopamine D4-receptor modulation of cortical neuronal network activity and emotional processing: implications for neuropsychiatric disorders. Behav Brain Res 2010; 208: 12–22.

Tarazi FI, Campbell A, Yeghiayan SK, Baldessarini RJ . Localization of dopamine receptor subtypes in corpus striatum and nucleus accumbens septi of rat brain: comparison of D1-, D2-, and D4-like receptors. Neuroscience 1998; 83: 169–176.

Svingos AL, Periasamy S, Pickel VM . Presynaptic dopamine D(4) receptor localization in the rat nucleus accumbens shell. Synapse 2000; 36: 222–232.

LaHoste GJ, Swanson JM, Wigal SB, Glabe C, Wigal T, King N et al. Dopamine D4 receptor gene polymorphism is associated with attention deficit hyperactivity disorder. Mol Psychiatry 1996; 1: 121–124.

Swanson JM, Kinsbourne M, Nigg J, Lanphear B, Stefanos GA, Volkow N et al. Etiologic subtypes of attention-deficit/hyperactivity disorder: brain imaging, molecular genetics and environmental factors and the dopamine hypothesis. Neuropsychol Rev 2007; 17: 39–59.

Casey BJ, Nigg JT, Durston S . New potential leads in the biology and treatment of attention deficit-hyperactivity disorder. Curr Opin Neurol 2007; 20: 119–124.

Wang E, Ding YC, Flodman P, Kidd JR, Kidd KK, Grady DL et al. The genetic architecture of selection at the human dopamine receptor D4 (DRD4) gene locus. Am J Hum Genet 2004; 74: 931–944.

Chang FM, Kidd JR, Livak KJ, Pakstis AJ, Kidd KK . The world-wide distribution of allele frequencies at the human dopamine D4 receptor locus. Hum Genet 1996; 98: 91–101.

Asghari V, Sanyal S, Buchwaldt S, Paterson A, Jovanovic V, Van Tol HH . Modulation of intracellular cyclic AMP levels by different human dopamine D4 receptor variants. J Neurochem 1995; 65: 1157–1165.

Ferre S, Baler R, Bouvier M, Caron MG, Devi LA, Durroux T et al. Building a new conceptual framework for receptor heteromers. Nat Chem Biol 2009; 5: 131–134.

Marcellino D, Ferré S, Casadó V, Cortés A, Le Foll B, Mazzola C et al. Identification of dopamine D1-D3 receptor heteromers. Indications for a role of synergistic D1-D3 receptor interactions in the striatum. J Biol Chem 2008; 283: 26016–26025.

Borroto-Escuela DO, Van Craenenbroeck K, Romero-Fernandez W, Guidolin D, Woods AS, Rivera A et al. Dopamine D2 and D4 receptor heteromerization and its allosteric receptor-receptor interactions. Biochem Biophys Res Commun 2011; 404: 928–934.

De Mei C, Ramos M, Iitaka C, Borrelli E . Getting specialized: presynaptic and postsynaptic dopamine D2 receptors. Curr Opin Pharmacol 2009; 9: 53–58.

Carriba P, Navarro G, Ciruela F, Ferre S, Casado V, Agnati L et al. Detection of heteromerization of more than two proteins by sequential BRET-FRET. Nat Methods 2008; 5: 727–733.

Pontieri FE, Tanda G, Di Chiara G . Intravenous cocaine, morphine, and amphetamine preferentially increase extracellular dopamine in the 'shell' as compared with the 'core' of the rat nucleus accumbens. Proc Natl Acad Sci USA 1995; 92: 12304–12308.

Quarta D, Ferre S, Solinas M, You ZB, Hockemeyer J, Popoli P et al. Opposite modulatory roles for adenosine A1 and A2A receptors on glutamate and dopamine release in the shell of the nucleus accumbens. Effects of chronic caffeine exposure. J Neurochem 2004; 88: 1151–1158.

Garcia M, Floran B, Arias-Montaño JA, Young JM, Aceves J . Histamine H3 receptor activation selectively inhibits dopamine D1 receptor-dependent [3H]GABA release from depolarization-stimulated slices of rat substantia nigra pars reticulata. Neuroscience 1997; 80: 241–249.

Cortés H, Paz F, Erlij D, Aceves J, Florán B . GABA(B) receptors modulate depolarization-stimulated [łH]glutamate release in slices of the pars reticulata of the rat substantia nigra. Eur J Pharmacol 2010; 649: 161–167.

Powell SB, Paulus MP, Hartman DS, Godel T, Geyer MA . RO-10-5824 is a selective dopamine D4 receptor agonist that increases novel object exploration in C57 mice. Neuropharmacology 2003; 44: 473–481.

Gackenheimer SL, Schaus JM, Gehlert DR . [3H]-quinelorane binds to D2 and D3 dopamine receptors in the rat brain. J Pharmacol Exp Ther 1995; 274: 1558–1565.

Thomas TC, Kruzich PJ, Joyce BM, Gash CR, Suchland K, Surgener SP et al. Dopamine D4 receptor knockout mice exhibit neurochemical changes consistent with decreased dopamine release. J Neurosci Meth 2007; 166: 306–314.

Thomas TC, Grandy DK, Gerhardt GA, Glaser PE . Decreased dopamine D4 receptor expression increases extracellular glutamate and alters its regulation in mouse striatum. Neuropsychopharmacology 2008; 34: 436–445.

Bamford NS, Zhang H, Schmitz Y, Wu NP, Cepeda C, Levine SM et al. Heterosynaptic dopamine neurotransmission selects sets of corticostriatal terminals. Neuron 2004; 42: 653–663.

Rondou P, Haegeman G, Van Craenenbroeck K . The dopamine D4 receptor: biochemical and signalling properties. Cell Mol Life Sci 2010; 67: 1971–1986.

Kabbani N, Levenson R . A proteomic approach to receptor signaling: molecular mechanisms and therapeutic implications derived from discovery of the dopamine D2 receptor signalplex. Eur J Pharmacol 2007; 572: 83–93.

Yao WD, Spealman RD, Zhang J . Dopaminergic signaling in dendritic spines. Biochem Pharmacol 2008; 75: 2055–2069.

Lin R, Karpa K, Kabbani N, Goldman-Rakic P, Levenson R . Dopamine D2 and D3 receptors are linked to the actin cytoskeleton via interaction with filamin A. Proc Natl Acad Sci USA 2001; 98: 5258–5263.

Binda AV, Kabbani N, Lin R, Levenson R . D2 and D3 dopamine receptor cell surface localization mediated by interaction with protein 4.1N. Mol Pharmacol 2002; 62: 507–513.

Jeanneteau F, Diaz J, Sokoloff P, Griffon N . Interactions of GIPC with dopamine D2, D3 but not D4 receptors define a novel mode of regulation of G protein-coupled receptors. Mol Biol Cell 2004; 15: 696–705.

Basile M, Lin R, Kabbani N, Karpa K, Kilimann M, Simpson I et al. Paralemmin interacts with D3 dopamine receptors: implications for membrane localization and cAMP signaling. Arch Biochem Biophys 2006; 446: 60–68.

Yin HH, Lovinger DM . Frequency-specific and D2 receptor-mediated inhibition of glutamate release by retrograde endocannabinoid signaling. Proc Natl Acad Sci USA 2006; 103: 8251–8256.

Cheon KA, Kim BN, Cho SC . Association of 4-repeat allele of the dopamine D4 receptor gene exon III polymorphism and response to methylphenidate treatment in Korean ADHD children. Neuropsychopharmacology 2007; 32: 1377–1383.

Hamarman S, Fossella J, Ulger C, Brimacombe M, Dermody J . Dopamine receptor 4 (DRD4) 7-repeat allele predicts methylphenidate dose response in children with attention-deficit/hyperactivity disorder: a pharmacogenetic study. J Child Adolesc Psychopharmacol 2004; 14: 564–574.

Ding YC, Chi HC, Grady DL, Morishima A, Kidd JR, Kidd KK et al. Evidence of positive selection acting at the human dopamine receptor D4 gene locus. Proc Natl Acad Sci USA 2002; 99: 309–314.
Acknowledgements
We thank the technical help from Jasmina Jiménez (University of Barcelona). The study was supported by the NIDA IRP funds and from Grants from Spanish Ministerio de Ciencia y Tecnología (SAF2008-03229-E, SAF2009-07276, SAF2010-18472, SAF2008-01462 and Consolider-Ingenio CSD2008-00005) and from Consejo Nacional de Ciencia y Tecnología de México (50428-M). PJM is a Ramón y Cajal Fellow.
Ethics declarations
Competing interests
The authors declare no conflict of interest.
Supplementary information
About this article
Cite this article
González, S., Rangel-Barajas, C., Peper, M. et al. Dopamine D4 receptor, but not the ADHD-associated D4.7 variant, forms functional heteromers with the dopamine D2S receptor in the brain. Mol Psychiatry 17, 650–662 (2012). https://doi.org/10.1038/mp.2011.93
Received:

Revised:

Accepted:

Published:

Issue Date:

DOI: https://doi.org/10.1038/mp.2011.93
Keywords
dopamine receptors

receptor heteromers

ADHD

striatum

glutamate