Abstract
Chronic cannabis (marijuana, hashish) smoking can result in dependence. Rodent studies show reversible downregulation of brain cannabinoid CB1 (cannabinoid receptor type 1) receptors after chronic exposure to cannabis. However, whether downregulation occurs in humans who chronically smoke cannabis is unknown. Here we show, using positron emission tomography imaging, reversible and regionally selective downregulation of brain cannabinoid CB1 receptors in human subjects who chronically smoke cannabis. Downregulation correlated with years of cannabis smoking and was selective to cortical brain regions. After ∼4 weeks of continuously monitored abstinence from cannabis on a secure research unit, CB1 receptor density returned to normal levels. This is the first direct demonstration of cortical cannabinoid CB1 receptor downregulation as a neuroadaptation that may promote cannabis dependence in human brain.
Access options
Subscribe to this journal
Receive 12 print issues and online access
$259.00 per year
only $21.58 per issue
Rent or buy this article
Prices vary by article type
from$1.95
to$39.95
Prices may be subject to local taxes which are calculated during checkout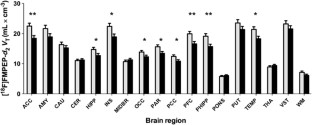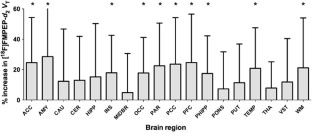 Similar content being viewed by others
References
Degenhardt L, Chiu WT, Sampson N, Kessler RC, Anthony JC, Angermeyer M et al. Toward a global view of alcohol, tobacco, cannabis, and cocaine use: findings from the WHO World Mental Health Surveys. PLoS Med 2008; 5: e141.

Hall W, Degenhardt L . Adverse health effects of non-medical cannabis use. Lancet 2009; 374: 1383–1391.

Jones RT, Benowitz NL, Herning RI . Clinical relevance of cannabis tolerance and dependence. J Clin Pharmacol 1981; 21: 143S–152S.

D'Souza DC, Ranganathan M, Braley G, Gueorguieva R, Zimolo Z, Cooper T et al. Blunted psychotomimetic and amnestic effects of Δ-9-tetrahydrocannabinol in frequent users of cannabis. Neuropsychopharmacology 2008; 33: 2505–2516.

Ramaekers JG, Kauert G, Theunissen EL, Toennes SW, Moeller MR . Neurocognitive performance during acute THC intoxication in heavy and occasional cannabis users. J Psychopharmacol 2009; 23: 266–277.

Haney M, Ward AS, Comer SD, Foltin RW, Fischman MW . Abstinence symptoms following smoked marijuana in humans. Psychopharmacology (Berl) 1999; 141: 395–404.

Cooper ZD, Haney M . Actions of delta-9-tetrahydrocannabinol in cannabis: relation to use, abuse, dependence. Int Rev Psychiatry 2009; 21: 104–112.

Huestis MA, Gorelick DA, Heishman SJ, Preston KL, Nelson RA, Moolchan ET et al. Blockade of effects of smoked marijuana by the CB1-selective cannabinoid receptor antagonist SR141716. Arch Gen Psychiatry 2001; 58: 322–328.

Huestis MA, Boyd SJ, Heishman SJ, Preston KL, Bonnet D, Le Fur G et al. Single and multiple doses of rimonabant antagonize acute effects of smoked cannabis in male cannabis users. Psychopharmacology (Berl) 2007; 194: 505–515.

Herkenham M, Lynn AB, Little MD, Johnson MR, Melvin LS, de Costa BR et al. Cannabinoid receptor localization in brain. Proc Natl Acad Sci USA 1990; 87: 1932–1936.

Glass M, Dragunow M, Faull RL . Cannabinoid receptors in the human brain: a detailed anatomical and quantitative autoradiographic study in the fetal, neonatal and adult human brain. Neuroscience 1997; 77: 299–318.

Howlett AC, Barth F, Bonner TI, Cabral G, Casellas P, Devane WA et al. International Union of Pharmacology. XXVII. Classification of cannabinoid receptors. Pharmacol Rev 2002; 54: 161–202.

Wilson RI, Nicoll RA . Endocannabinoid signaling in the brain. Science 2002; 296: 678–682.

Gonzalez S, Cebeira M, Fernandez-Ruiz J . Cannabinoid tolerance and dependence: a review of studies in laboratory animals. Pharmacol Biochem Behav 2005; 81: 300–318.

Sim-Selley LJ . Regulation of cannabinoid CB1 receptors in the central nervous system by chronic cannabinoids. Crit Rev Neurobiol 2003; 15: 91–119.

Breivogel CS, Childers SR, Deadwyler SA, Hampson RE, Vogt LJ, Sim-Selley LJ . Chronic delta9-tetrahydrocannabinol treatment produces a time-dependent loss of cannabinoid receptors and cannabinoid receptor-activated G proteins in rat brain. J Neurochem 1999; 73: 2447–2459.

Oviedo A, Glowa J, Herkenham M . Chronic cannabinoid administration alters cannabinoid receptor binding in rat brain: a quantitative autoradiographic study. Brain Res 1993; 616: 293–302.

Sim-Selley LJ, Martin BR . Effect of chronic administration of R-(+)-[2,3-Dihydro-5-methyl-3-[(morpholinyl)methyl]pyrrolo[1,2,3-de]-1,4-benzoxazinyl]-(1-naphthalenyl)methanone mesylate (WIN55,212-2) or delta 9-tetrahydrocannabinol on cannabinoid receptor adaptation in mice. J Pharmacol Exp Ther 2002; 303: 36–44.

Breivogel C, Scates SM, Beletskaya IO, Lowery OB, Aceto MD, Martin BR . The effects of Δ9-tetrahydrocannabinol physical dependence on brain cannabinoid receptors. Eur J Pharmacol 2003; 459: 139–150.

Sim-Selley LJ, Schechter NS, Rorrer WK, Dalton GD, Hernandez J, Martin BR et al. Prolonged recovery rate of CB1 receptor adaptation after cessation of long-term cannabinoid administration. Mol Pharmacol 2006; 70: 986–996.

McKinney DL, Cassidy MP, Collier LM, Martin BR, Wiley JL, Selley DE et al. Dose-related differences in the regional pattern of cannabinoid receptor adaptation and in vivo tolerance development to 9-tetrahydrocannabinol. J Pharmacol Exp Ther 2008; 324: 664–673.

Terry GE, Hirvonen J, Liow JS, Zoghbi SS, Gladding R, Tauscher JT et al. Imaging and quantitation of cannabinoid CB1 receptors in human and monkey brains using (18)F-labeled inverse agonist radioligands. J Nucl Med 2010; 51: 112–120.

Donohue SR, Krushinski JH, Pike VW, Chernet E, Phebus L, Chesterfield AK et al. Synthesis, ex vivo evaluation, and radiolabeling of potent 1,5-diphenylpyrrolidin-2-one cannabinoid subtype-1 receptor ligands as candidates for in vivo imaging. J Med Chem 2008; 51: 5833–5842.

Heishman SJ, Singleton EG, Liguori A . Marijuana craving questionnaire: development and initial validation of a self-report instrument. Addiction 2001; 96: 1023–1034.

Zoghbi SS, Shetty HU, Ichise M, Fujita M, Imaizumi M, Liow JS et al. PET imaging of the dopamine transporter with 18F-FECNT: a polar radiometabolite confounds brain radioligand measurements. J Nucl Med 2006; 47: 520–527.

Gandelman MS, Baldwin RM, Zoghbi SS, Zea-Ponce Y, Innis RB . Evaluation of ultrafiltration for the free-fraction determination of single photon emission computed tomography (SPECT) radiotracers: beta-CIT, IBF, and iomazenil. J Pharm Sci 1994; 83: 1014–1019.

Tzourio-Mazoyer N, Landeau B, Papathanassiou D, Crivello F, Etard O, Delcroix N et al. Automated anatomical labeling of activations in SPM using a macroscopic anatomical parcellation of the MNI MRI single-subject brain. Neuroimage 2002; 15: 273–289.

Burger C, Mikolajczyk K, Grodzki M, Rudnicki P, Szabatin M, Buck A . Java tools for quantitative post-processing of brain PET data. J Nucl Med 1998; 39: 277–278.

Friston KJ, Holmes AP, Worsley KJ, Poline JP, Frith C, Frackowiak RSJ . Statistical parametric maps in functional imaging: a general linear approach. Hum Brain Mapp 1995; 2: 189–210.

Innis RB, Cunningham VJ, Delforge J, Fujita M, Gjedde A, Gunn RN et al. Consensus nomenclature for in vivo imaging of reversibly binding radioligands. J Cereb Blood Flow Metab 2007; 27: 1533–1539.

Karschner EL, Schwilke EW, Lowe RH, Darwin WD, Herning RI, Cadet JL et al. Implications of plasma Delta9-tetrahydrocannabinol, 11-hydroxy-THC, and 11-nor-9-carboxy-THC concentrations in chronic cannabis smokers. J Anal Toxicol 2009; 33: 469–477.

Karschner EL, Schwilke EW, Lowe RH, Darwin WD, Pope HG, Herning R et al. Do Delta9-tetrahydrocannabinol concentrations indicate recent use in chronic cannabis users? Addiction 2009; 104: 2041–2048.

Lowe RH, Abraham TT, Darwin WD, Herning R, Cadet JL, Huestis MA . Extended urinary Delta9-tetrahydrocannabinol excretion in chronic cannabis users precludes use as a biomarker of new drug exposure. Drug Alcohol Depend 2009; 105: 24–32.

Innis RB, Malison RT, al-Tikriti M, Hoffer PB, Sybirska EH, Seibyl JP et al. Amphetamine-stimulated dopamine release competes in vivo for [123I]IBZM binding to the D2 receptor in nonhuman primates. Synapse 1992; 10: 177–184.

Terry G, Liow J, Chernet E, Zoghbi S, Phebus L, Felder C et al. Positron emission tomography imaging using an inverse agonist radioligand to assess cannabinoid CB1 receptors in rodents. Neuroimage 2008; 41: 690–698.

Rinaldi-Carmona M, Pialot F, Congy C, Redon E, Barth F, Bachy A et al. Characterization and distribution of binding sites for [3H]-SR 141716A, a selective brain (CB1) cannabinoid receptor antagonist, in rodent brain. Life Sci 1996; 58: 1239–1247.

Villares J . Chronic use of marijuana decreases cannabinoid receptor binding and mRNA expression in the human brain. Neuroscience 2007; 145: 323–334.

Martin BR, Sim-Selley LJ, Selley DE . Signaling pathways involved in the development of cannabinoid tolerance. Trends Pharmacol Sci 2004; 25: 325–330.

D'Souza DC . Cannabinoids and psychosis. Int Rev Neurobiol 2007; 78: 289–326.

Cooper ZD, Haney M . Cannabis reinforcement and dependence: role of the cannabinoid CB1 receptor. Addict Biol 2008; 13: 188–195.

Cota D . CB1 receptors: emerging evidence for central and peripheral mechanisms that regulate energy balance, metabolism, and cardiovascular health. Diabetes Metab Res Rev 2007; 23: 507–517.

Bellocchio L, Lafenêtre P, Cannich A, Cota D, Puente N, Grandes P et al. Bimodal control of stimulated food intake by the endocannabinoid system. Nat Neurosci 2010; 13: 281–283.
Acknowledgements
We thank Kimberly Jenko, Kacey Anderson, and David Clark for measurements of radioligand in plasma; Maria D Ferraris Araneta, Yulin Chu, Denise Rallis-Frutos, Gerald Hodges, William C Kreisl, Christina Hines and Barbara Scepura as well as Kathleen Demuth and the NIDA and BPRU nursing staff for subject recruitment and care; the NIH PET Department for imaging; and PMOD Technologies for providing its image analysis and modeling software. This research was supported by the Intramural Programs of the NIMH (project no. Z01-MH-002852-04) and the NIDA (project no. Z01-DA000413-13). Jussi Hirvonen was supported by personal grants from The Academy of Finland; The Finnish Cultural Foundation; The Finnish Foundation for Alcohol Studies; The Finnish Medical Foundation; The Instrumentarium Foundation; The Jalmari and Rauha Ahokas Foundation; The Paulo Foundation; The Research Foundation of Orion Corporation; and The Yrjö Jahnsson Foundation.
Ethics declarations
Competing interests
The authors declare no conflict of interest.
Supplementary information
About this article
Cite this article
Hirvonen, J., Goodwin, R., Li, CT. et al. Reversible and regionally selective downregulation of brain cannabinoid CB1 receptors in chronic daily cannabis smokers. Mol Psychiatry 17, 642–649 (2012). https://doi.org/10.1038/mp.2011.82
Received:

Revised:

Accepted:

Published:

Issue Date:

DOI: https://doi.org/10.1038/mp.2011.82
Keywords