Abstract
Particulate matter air pollution is a pervasive global risk factor implicated in the genesis of pulmonary and cardiovascular disease. Although the effects of prolonged exposure to air pollution are well characterized with respect to pulmonary and cardiovascular function, comparatively little is known about the impact of particulate matter on affective and cognitive processes. The central nervous system may be adversely affected by activation of reactive oxygen species and pro-inflammatory pathways that accompany particulate matter pollution. Thus, we investigated whether long-term exposure to ambient fine airborne particulate matter (<2.5 μm (PM2.5)) affects cognition, affective responses, hippocampal inflammatory cytokines and neuronal morphology. Male mice were exposed to either PM2.5 or filtered air (FA) for 10 months. PM2.5 mice displayed more depressive-like responses and impairments in spatial learning and memory as compared with mice exposed to FA. Hippocampal pro-inflammatory cytokine expression was elevated among PM2.5 mice. Apical dendritic spine density and dendritic branching were decreased in the hippocampal CA1 and CA3 regions, respectively, of PM2.5 mice. Taken together, these data suggest that long-term exposure to particulate air pollution levels typical of exposure in major cities around the globe can alter affective responses and impair cognition.
Access options
Subscribe to this journal
Receive 12 print issues and online access
$259.00 per year
only $21.58 per issue
Rent or buy this article
Prices vary by article type
from$1.95
to$39.95
Prices may be subject to local taxes which are calculated during checkout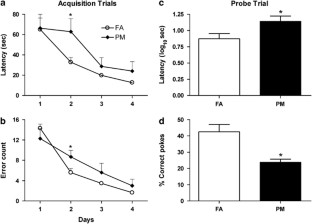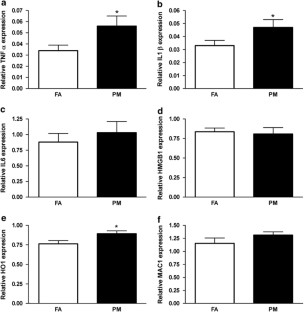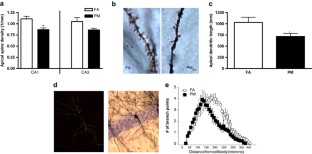 Similar content being viewed by others
References
Mills NL, Donaldson K, Hadoke PW, Boon NA, MacNee W, Cassee FR et al. Adverse cardiovascular effects of air pollution. Nat Clin Pract Cardiovasc Med 2009; 6: 36–44.

Brook RD, Rajagopalan S, Pope III CA, Brook JR, Bhatnagar A, Diez-Roux AV et al. Particulate matter air pollution and cardiovascular disease: An update to the scientific statement from the American Heart Association. Circulation 2010; 121: 2331–2378.

Campbell A, Oldham M, Becaria A, Bondy SC, Meacher D, Sioutas C et al. Particulate matter in polluted air may increase biomarkers of inflammation in mouse brain. Neurotoxicology 2005; 26: 133–140.

Win-Shwe TT, Yamamoto S, Fujitani Y, Hirano S, Fujimaki H . Spatial learning and memory function-related gene expression in the hippocampus of mouse exposed to nanoparticle-rich diesel exhaust. Neurotoxicology 2008; 29: 940–947.

Teeling JL, Perry VH . Systemic infection and inflammation in acute CNS injury and chronic neurodegeneration: underlying mechanisms. Neuroscience 2009; 158: 1062–1073.

Maier SF, Watkins LR . Cytokines for psychologists: implications of bidirectional immune-to-brain communication for understanding behavior, mood, and cognition. Psychol Rev 1998; 105: 83–107.

Godbout JP, Chen J, Abraham J, Richwine AF, Berg BM, Kelley KW et al. Exaggerated neuroinflammation and sickness behavior in aged mice following activation of the peripheral innate immune system. Faseb J 2005; 19: 1329–1331.

Cunningham C, Campion S, Lunnon K, Murray CL, Woods JF, Deacon RM et al. Systemic inflammation induces acute behavioral and cognitive changes and accelerates neurodegenerative disease. Biol Psychiatry 2009; 65: 304–312.

Clark IA, Alleva LM, Vissel B . The roles of TNF in brain dysfunction and disease. Pharmacol Ther 2010; 128: 519–548.

Raison CL, Capuron L, Miller AH . Cytokines sing the blues: inflammation and the pathogenesis of depression. Trends Immunol 2006; 27: 24–31.

Richwine AF, Parkin AO, Buchanan JB, Chen J, Markham JA, Juraska JM et al. Architectural changes to CA1 pyramidal neurons in adult and aged mice after peripheral immune stimulation. Psychoneuroendocrinology 2008; 33: 1369–1377.

Bedrosian TA, Fonken LK, Walton JC, Haim A, Nelson RJ . Dim light at night provokes depression-like behaviors and reduces CA1 dendritic spine density in female hamsters. Psychoneuroendocrinology 2011 (in press).

Moser MB, Trommald M, Andersen P . An increase in dendritic spine density on hippocampal CA1 pyramidal cells following spatial learning in adult rats suggests the formation of new synapses. Proc Natl Acad Sci USA 1994; 91: 12673–12675.

Xu X, Kherada N, Hong X, Quan C, Zheng L, Wang A et al. Diesel exhaust exposure induces angiogenesis. Toxicol Lett 2009; 191: 57–68.

Xu X, Yavar Z, Verdin M, Ying Z, Mihai G, Kampfrath T et al. Effect of early particulate air pollution exposure on obesity in mice: role of p47phox. Arterioscler Thromb Vasc Biol 2010; 30: 2518–2527.

Laing S, Wang G, Briazova T, Zhang C, Wang A, Zheng Z et al. Airborne particulate matter selectively activates endoplasmic reticulum stress response in the lung and liver tissues. Am J Physiol Cell Physiol 2010; 299: C736–C749.

Ying Z, Yue P, Xu X, Zhong M, Sun Q, Mikolaj M et al. Air pollution and cardiac remodeling: a role for RhoA/Rho-kinase. Am J Physiol Heart Circ Physiol 2009; 296: H1540–H1550.

Sunyer B, Patil S, Hoger H, Lubec G . Barnes maze, a useful task to assess spatial reference memory in the mice. Nat Protoc 2007.

Keppel G, Wickens T . Design and Analysis: A Researcher's Handbook, 4th edn, Prentice Hall: Upper Sadle River, NJ, 2004.

Porsolt RD, Bertin A, Jalfre M . Behavioral despair in mice: a primary screening test for antidepressants. Arch Int Pharmacodyn Ther 1977; 229: 327–336.

Crawley JN, Belknap JK, Collins A, Crabbe JC, Frankel W, Henderson N et al. Behavioral phenotypes of inbred mouse strains: implications and recommendations for molecular studies. Psychopharmacology (Berl) 1997; 132: 107–124.

Sama P, Long TC, Hester S, Tajuba J, Parker J, Chen LC et al. The cellular and genomic response of an immortalized microglia cell line (BV2) to concentrated ambient particulate matter. Inhal Toxicol 2007; 19: 1079–1087.

Calderon-Garciduenas L, Solt AC, Henríquez-Roldán C, Torres-Jardón R, Nuse B, Herritt L et al. Long-term air pollution exposure is associated with neuroinflammation, an altered innate immune response, disruption of the blood-brain barrier, ultrafine particulate deposition, and accumulation of amyloid beta-42 and alpha-synuclein in children and young adults. Toxicol Pathol 2009; 36: 289–310.

Calderon-Garciduenas L, Reed W, Maronpot RR, Henríquez-Roldán C, Delgado-Chavez R, Calderón-Garcidueñas A et al. Brain inflammation and Alzheimer's-like pathology in individuals exposed to severe air pollution. Toxicol Pathol 2004; 32: 650–658.

Tin-Tin-Win-Shwe, Mitsushima D, Yamamoto S, Fukushima A, Funabashi T, Kobayashi T et al. Changes in neurotransmitter levels and proinflammatory cytokine mRNA expressions in the mice olfactory bulb following nanoparticle exposure. Toxicol Appl Pharmacol 2008; 226: 192–198.

Calderon-Garciduenas L, Azzarelli B, Acuna H, Garcia R, Gambling TM, Osnaya N et al. Air pollution and brain damage. Toxicol Pathol 2002; 30: 373–389.

Ekdahl CT, Claasen JH, Bonde S, Kokaia Z, Lindvall O . Inflammation is detrimental for neurogenesis in adult brain. Proc Natl Acad Sci USA 2003; 100: 13632–13637.

Koo JW, Duman RS . IL-1beta is an essential mediator of the antineurogenic and anhedonic effects of stress. Proc Natl Acad Sci USA 2008; 105: 751–756.

Goshen I, Kreisel T, Ben-Menachem-Zidon O, Licht T, Weidenfeld J, Ben-Hur T et al. Brain interleukin-1 mediates chronic stress-induced depression in mice via adrenocortical activation and hippocampal neurogenesis suppression. Mol Psychiatry 2008; 13: 717–728.

Schipper HM, Song W, Zukor H, Hascalovici JR, Zeligman D . Heme oxygenase-1 and neurodegeneration: expanding frontiers of engagement. J Neurochem 2009; 110: 469–485.

Schipper HM, Cisse S, Stopa EG . Expression of heme oxygenase-1 in the senescent and Alzheimer-diseased brain. Ann Neurol 1995; 37: 758–768.

van Eeden SF, Hogg JC . Systemic inflammatory response induced by particulate matter air pollution: the importance of bone-marrow stimulation. J Toxicol Environ Health A 2002; 65: 1597–1613.

van Eeden SF, Tan WC, Suwa T, Mukae H, Terashima T, Fujii T et al. Cytokines involved in the systemic inflammatory response induced by exposure to particulate matter air pollutants (PM(10)). Am J Respir Crit Care Med 2001; 164: 826–830.

Kido T, Tamagawa E, Bai N, Suda K, Yang HH, Li Y et al. Particulate matter induces translocation of IL-6 from the lung to the systemic circulation. Am J Respir Cell Mol Biol 2011; 44: 197–204.

Richwine AF, Sparkman NL, Dilger RN, Buchanan JB, Johnson RW . Cognitive deficits in interleukin-10-deficient mice after peripheral injection of lipopolysaccharide. Brain Behav Immun 2009; 23: 794–802.

Hauss-Wegrzyniak B, Dobrzanski P, Stoehr JD, Wenk GL . Chronic neuroinflammation in rats reproduces components of the neurobiology of Alzheimer's disease. Brain Res 1998; 780: 294–303.

Magarinos AM, McEwen BS, Flugge G, Fuchs E . Chronic psychosocial stress causes apical dendritic atrophy of hippocampal CA3 pyramidal neurons in subordinate tree shrews. J Neurosci 1996; 16: 3534–3540.

Pittenger C, Duman RS . Stress, depression, and neuroplasticity: a convergence of mechanisms. Neuropsychopharmacology 2008; 33: 88–109.

Bremner JD, Narayan M, Anderson ER, Staib LH, Miller HL, Charney DS . Hippocampal volume reduction in major depression. Am J Psychiatry 2000; 157: 115–118.

Kullowatz A, Rosenfield D, Dahme B, Magnussen H, Kanniess F, Ritz T . Stress effects on lung function in asthma are mediated by changes in airway inflammation. Psychosom Med 2008; 70: 468–475.

de Miguel Diez J, Hernández Barrera V, Puente Maestu L, Carrasco Garrido P, Gómez García T, Jiménez García R . Psychiatric comorbidity in asthma patients. Associated factors. J Asthma 2011; 48: 253–258.

Bandiera FC, Arheart KL, Caban-Martinez AJ, Fleming LE, McCollister K, Dietz NA et al. Secondhand smoke exposure and depressive symptoms. Psychosom Med 2011; 72: 68–72.

Bandiera FC, Caban-Martinez AJ, Arheart KL, Davila EP, Fleming LE, Dietz NA et al. Secondhand smoke policy and the risk of depression. Ann Behav Med 2010; 39: 198–203.

Szyszkowicz M, Willey JB, Grafstein E, Rowe BH, Colman I . Air pollution and emergency department visits for suicide attempts in vancouver, Canada. Environ Health Insights 2010; 4: 79–86.

Beery AK, Zucker I . Sex bias in neuroscience and biomedical research. Neurosci Biobehav Rev 2010; 35: 565–572.

Kessler RC, McGonagle KA, Swartz M, Blazer DG, Nelson CB . Sex and depression in the National Comorbidity Survey. I: lifetime prevalence, chronicity and recurrence. J Affect Disord 1993; 29: 85–96.

McIlwain KL, Merriweather MY, Yuva-Paylor LA, Paylor R . The use of behavioral test batteries: effects of training history. Physiol Behav 2001; 73: 705–717.
Acknowledgements
We thank Amanda Grunenwald and James Walton for technical assistance. This work was supported by NIH grants ES016588, ES017412, ES018900 to Dr Sun and NIH ES015146 to Dr Rajagopalan.
Ethics declarations
Competing interests
The authors declare no conflict of interest.
Supplementary information
About this article
Cite this article
Fonken, L., Xu, X., Weil, Z. et al. Air pollution impairs cognition, provokes depressive-like behaviors and alters hippocampal cytokine expression and morphology. Mol Psychiatry 16, 987–995 (2011). https://doi.org/10.1038/mp.2011.76
Received:

Revised:

Accepted:

Published:

Issue Date:

DOI: https://doi.org/10.1038/mp.2011.76
Keywords