Abstract
Humans sleep approximately a third of their lifetime. The observation that individuals with either long or short sleep duration show associations with metabolic syndrome and psychiatric disorders suggests that the length of sleep is adaptive. Although sleep duration can be influenced by photoperiod (season) and phase of entrainment (chronotype), human familial sleep disorders indicate that there is a strong genetic modulation of sleep. Therefore, we conducted high-density genome-wide association studies for sleep duration in seven European populations (N=4251). We identified an intronic variant (rs11046205; P=3.99 × 10−8) in the ABCC9 gene that explains ≈5% of the variation in sleep duration. An influence of season and chronotype on sleep duration was solely observed in the replication sample (N=5949). Meta-analysis of the associations found in a subgroup of the replication sample, chosen for season of entry and chronotype, together with the discovery results showed genome-wide significance. RNA interference knockdown experiments of the conserved ABCC9 homologue in Drosophila neurons renders flies sleepless during the first 3 h of the night. ABCC9 encodes an ATP-sensitive potassium channel subunit (SUR2), serving as a sensor of intracellular energy metabolism.
Relevant articles
Open Access articles citing this article.
Qian Yang

,

Maria C. Magnus

…

Maria Carolina Borges

BMC Medicine Open Access 12 September 2022

Masaki Nishioka

,

Miki Bundo

…

Tadafumi Kato

Molecular Psychiatry Open Access 07 August 2018

Masaki Nishioka

,

Miki Bundo

…

Kazuya Iwamoto

npj Schizophrenia Open Access 13 April 2018
Access options
Subscribe to this journal
Receive 12 print issues and online access
$259.00 per year
only $21.58 per issue
Rent or buy this article
Get just this article for as long as you need it
$39.95
Prices may be subject to local taxes which are calculated during checkout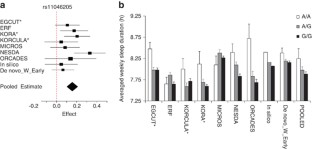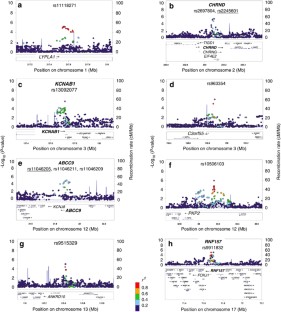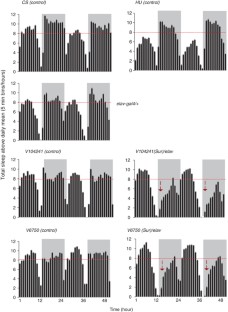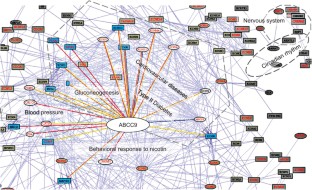 References
Cirelli C, Tononi G . Is sleep essential? PLoS Biol 2008; 6: e216.

Roenneberg T, Kumar CJ, Merrow M . The human circadian clock entrains to sun time. Curr Biol 2007; 17: R44–R45.

Danilenko KV, Wirz-Justice A, Krauchi K, Weber JM, Terman M . The human circadian pacemaker can see by the dawn's early light. J Biol Rhythms 2000; 15: 437–446.

Kantermann T, Juda M, Merrow M, Roenneberg T . The human circadian clock's seasonal adjustment is disrupted by daylight saving time. Curr Biol 2007; 17: 1996–2000.

Ciarleglio CM, Axley JC, Strauss BR, Gamble KL, McMahon DG . Perinatal photoperiod imprints the circadian clock. Nat Neurosci 2011; 14: 25–27.

Wulff K, Gatti S, Wettstein JG, Foster RG . Sleep and circadian rhythm disruption in psychiatric and neurodegenerative disease. Nat Rev Neurosci 2010; 11: 589–599.

Cappuccio FP, D'Elia L, Strazzullo P, Miller MA . Sleep duration and all-cause mortality: a systematic review and meta-analysis of prospective studies. Sleep 33; 585–592.

Stickgold R, Hobson JA, Fosse R, Fosse M . Sleep, learning, and dreams: off-line memory reprocessing. Science 2001; 294: 1052–1057.

Allebrandt KV, Teder-Laving M, Akyol M, Pichler I, Muller-Myhsok B, Pramstaller P et al. CLOCK gene variants associate with sleep duration in two independent populations. Biol Psychiatry 2010; 67: 1040–1047.

Partinen M, Kaprio J, Koskenvuo M, Putkonen P, Langinvainio H . Genetic and environmental determination of human sleep. Sleep 1983; 6: 179–185.

Winrow CJ, Williams DL, Kasarskis A, Millstein J, Laposky AD, Yang HS et al. Uncovering the genetic landscape for multiple sleep-wake traits. PLoS One 2009; 4: e5161.

Seugnet L, Suzuki Y, Thimgan M, Donlea J, Gimbel SI, Gottschalk L et al. Identifying sleep regulatory genes using a Drosophila model of insomnia. J Neurosci 2009; 29: 7148–7157.

Franken P, Dijk DJ . Circadian clock genes and sleep homeostasis. Eur J Neurosci 2009; 29: 1820–1829.

He Y, Jones CR, Fujiki N, Xu Y, Guo B, Holder Jr JL et al. The transcriptional repressor DEC2 regulates sleep length in mammals. Science 2009; 325: 866–870.

Gottlieb DJ, O'Connor GT, Wilk JB . Genome-wide association of sleep and circadian phenotypes. BMC Med Genet 2007; 8 (Suppl 1): S9.

Akrouh A, Halcomb SE, Nichols CG, Sala-Rabanal M . Molecular biology of K(ATP) channels and implications for health and disease. IUBMB Life 2009; 61: 971–978.

Roenneberg T, Kuehnle T, Juda M, Kantermann T, Allebrandt K, Gordijn M et al. Epidemiology of the human circadian clock. Sleep Med Rev 2007; 11: 429–438.

Li M, Boehnke M, Abecasis GR . Efficient study designs for test of genetic association using sibship data and unrelated cases and controls. Am J Hum Genet 2006; 78: 778–792.

Marchini J, Howie B, Myers S, McVean G, Donnelly P . A new multipoint method for genome-wide association studies via imputation of genotypes. Nat Genet 2007; 39: 906–913.

Johnson RC, Nelson GW, Troyer JL, Lautenberger JA, Kessing BD, Winkler CA et al. Accounting for multiple comparisons in a genome-wide association study (GWAS). BMC Genomics 2010; 11: 724.

Tauber E, Zordan M, Sandrelli F, Pegoraro M, Osterwalder N, Breda C et al. Natural selection favors a newly derived timeless allele in Drosophila melanogaster. Science 2007; 316: 1895–1898.

Lin P, Hartz SM, Zhang Z, Saccone SF, Wang J, Tischfield JA et al. A new statistic to evaluate imputation reliability. PLoS ONE 2010; 5: e9697.

Hirota T, Lee JW, Lewis WG, Zhang EE, Breton G, Liu X et al. High-throughput chemical screen identifies a novel potent modulator of cellular circadian rhythms and reveals CKIalpha as a clock regulatory kinase. PLoS Biol 2010; 8: e1000559.

Meijer JH, Michel S, Vanderleest HT, Rohling JH . Daily and seasonal adaptation of the circadian clock requires plasticity of the SCN neuronal network. Eur J Neurosci 2010; 32: 2143–2151.

Emens JS, Yuhas K, Rough J, Kochar N, Peters D, Lewy AJ . Phase angle of entrainment in morning- and evening-types under naturalistic conditions. Chronobiol Int 2009; 26: 474–493.

Boulos Z, Macchi MM . Season- and latitude-dependent effects of simulated twilights on circadian entrainment. J Biol Rhythms 2005; 20: 132–144.

Refinetti R . Daily activity patterns of a nocturnal and a diurnal rodent in a seminatural environment. Physiol Behav 2004; 82: 285–294.

Lehnkering H, Siegmund R . Influence of chronotype, season, and sex of subject on sleep behavior of young adults. Chronobiol Int 2007; 24: 875–888.

Wright Jr KP, Gronfier C, Duffy JF, Czeisler CA . Intrinsic period and light intensity determine the phase relationship between melatonin and sleep in humans. J Biol Rhythms 2005; 20: 168–177.

Lewy AJ, Lefler BJ, Emens JS, Bauer VK . The circadian basis of winter depression. Proc Natl Acad Sci U S A 2006; 103: 7414–7419.

Hunter D . Gene-environment interactions in human diseases. Nat Rev Genet 2005; 6: 287–298.

Ioannidis JP . Non-replication and inconsistency in the genome-wide association setting. Hum Hered 2007; 64: 203–213.

Akasaka T, Klinedinst S, Ocorr K, Bustamante EL, Kim SK, Bodmer R . The ATP-sensitive potassium (KATP) channel-encoded dSUR gene is required for Drosophila heart function and is regulated by tinman. Proc Natl Acad Sci U S A 2006; 103: 11999–12004.

Nasonkin I, Alikasifoglu A, Ambrose C, Cahill P, Cheng M, Sarniak A et al. A novel sulfonylurea receptor family member expressed in the embryonic Drosophila dorsal vessel and tracheal system. J Biol Chem 1999; 274: 29420–29425.

Inagaki N, Gonoi T, Clement JP, Wang CZ, Aguilar-Bryan L, Bryan J et al. A family of sulfonylurea receptors determines the pharmacological properties of ATP-sensitive K+ channels. Neuron 1996; 16: 1011–1017.

Wu MN, Joiner WJ, Dean T, Yue Z, Smith CJ, Chen D et al. SLEEPLESS, a Ly-6/neurotoxin family member, regulates the levels, localization and activity of Shaker. Nat Neurosci 2010; 13: 69–75.

Bushey D, Huber R, Tononi G, Cirelli C . Drosophila hyperkinetic mutants have reduced sleep and impaired memory. J Neurosci 2007; 27: 5384–5393.

Yang JJ, Wang YT, Cheng PC, Kuo YJ, Huang RC . Cholinergic modulation of neuronal excitability in the rat suprachiasmatic nucleus. J Neurophysiol 2010; 103: 1397–1409.

Shi NQ, Ye B, Makielski JC . Function and distribution of the SUR isoforms and splice variants. J Mol Cell Cardiol 2005; 39: 51–60.

Aguilar-Bryan L, Clement JPt, Gonzalez G, Kunjilwar K, Babenko A, Bryan J . Toward understanding the assembly and structure of KATP channels. Physiol Rev 1998; 78: 227–245.

Catchen JM, Conery JS, Postlethwait JH . Automated identification of conserved synteny after whole-genome duplication. Genome Res 2009; 19: 1497–1505.

Chutkow WA, Pu J, Wheeler MT, Wada T, Makielski JC, Burant CF et al. Episodic coronary artery vasospasm and hypertension develop in the absence of Sur2 K(ATP) channels. J Clin Invest 2002; 110: 203–208.

Cunningham MO, Pervouchine DD, Racca C, Kopell NJ, Davies CH, Jones RS et al. Neuronal metabolism governs cortical network response state. Proc Natl Acad Sci U S A 2006; 103: 5597–5601.

Moritz W, Leech CA, Ferrer J, Habener JF . Regulated expression of adenosine triphosphate-sensitive potassium channel subunits in pancreatic beta-cells. Endocrinology 2001; 142: 129–138.

McCrimmon RJ, Evans ML, Fan X, McNay EC, Chan O, Ding Y et al. Activation of ATP-sensitive K+ channels in the ventromedial hypothalamus amplifies counterregulatory hormone responses to hypoglycemia in normal and recurrently hypoglycemic rats. Diabetes 2005; 54: 3169–3174.

Scammell TE, Saper CB . Orexins: looking forward to sleep, back at addiction. Nat Med 2007; 13: 126–128.

Lee K, Dixon AK, Richardson PJ, Pinnock RD . Glucose-receptive neurones in the rat ventromedial hypothalamus express KATP channels composed of Kir6.1 and SUR1 subunits. J Physiol 1999; 515 (Pt 2): 439–452.

Parsons MP, Hirasawa M . ATP-sensitive potassium channel-mediated lactate effect on orexin neurons: implications for brain energetics during arousal. J Neurosci 2010; 30: 8061–8070.

Zingman L . Stress without distress: homeostatic role for K(ATP) channels. Mol Psychiatry 2003; 8: 253–254.

Spanswick D, Smith MA, Groppi VE, Logan SD, Ashford ML . Leptin inhibits hypothalamic neurons by activation of ATP-sensitive potassium channels. Nature 1997; 390: 521–525.

Heid IM, Jackson AU, Randall JC, Winkler TW, Qi L, Steinthorsdottir V et al. Meta-analysis identifies 13 new loci associated with waist-hip ratio and reveals sexual dimorphism in the genetic basis of fat distribution. Nat Genet 2010; 42: 949–960.

Lindgren CM, Heid IM, Randall JC, Lamina C, Steinthorsdottir V, Qi L et al. Genome-wide association scan meta-analysis identifies three Loci influencing adiposity and fat distribution. PLoS Genet 2009; 5: e1000508.
Acknowledgements
Our work was supported by the FP6 programme EUCLOCK (TR, KVA, MM, MT, TM, RVDMA, CPK and AM), the Dutch Science Foundation (the NWO)(MM, CvD and NA), The Hersenstichting Nederland (MM and CvD), the Rosalind Franklin Fellowships of the University of Groningen (MM), targeted Financing from the Estonian Government, the European Union through the European Regional Development Fund in the frame of Centre of Excellence in Genomics, FP7 Projects ECOGENE, and ENGAGE (AM, TE and MT-L), the Ministry of Health and Department of Educational Assistance of Italy, University and Research of the Autonomous Province of Bolzano and the South Tyrolean Sparkasse Foundation (AAH, SAM, PPP), the Geestkracht Programme of the Dutch Scientific Organization (ZON-MW) and matching funds from participating universities and mental health care organizations (BP, JvM and NV), the Genetic Association Information Network (GAIN) of the Foundation for the US National Institutes of Health (BP), the EUROSPAN through the European Commission FP6 STRP grant (HC), the Chief Scientist Office of the Scottish Government (JFW), the Royal Society (JFW), the UK Medical Research Council (CH), Republic of Croatia Ministry of Science, Education and Sports (IR), Erasmus MC, the Centre for Medical Systems Biology (CMSB1 and CMSB2), the Netherlands Genomics Initiative (NGI) (CvD and NA), the German Federal Ministry of Education and Research (BMBF) in the context of the German National Genome Research Network (NGFN-2 and NGFN-plus), the Helmholtz Center Munich - German Research Center for Environmental Health - the German Federal Ministry of Education and Research and by the State of Bavaria, the Munich Center of Health Sciences (MC Health) as part of LMUinnovativ (H-EW) and ALBAN (RA).
URLs: MACH, http://www.sph.umich.edu/csg/abecasis/MaCH; LocusZoom, http://csg.sph.umich.edu/locuszoom/; SNPs 3D, http://www.snps3d.org/; SCAN, http://www.scandb.org; METAL, http://www.sph.umich.edu/csg/abecasis/metal/index.html; PLINK, http://pngu.mgh.harvard.edu/~purcell/plink/index.shtml.
Ethics declarations
Competing interests
The authors declare no conflict of interest.
About this article
Cite this article
Allebrandt, K., Amin, N., Müller-Myhsok, B. et al. A KATP channel gene effect on sleep duration: from genome-wide association studies to function in Drosophila. Mol Psychiatry 18, 122–132 (2013). https://doi.org/10.1038/mp.2011.142
Received:

Revised:

Accepted:

Published:

Issue Date:

DOI: https://doi.org/10.1038/mp.2011.142
Keywords
ABCC9

chronotype

Munich ChronoType Questionnaire

seasonality

sleep duration

SUR