Abstract
A powerful convergence of genetics, neuroimaging and epidemiological research has identified the biological pathways mediating individual differences in complex behavioral processes and the related risk for disease. Orthologous genetic variation in non-human primates (NHPs) represents a unique opportunity to characterize the detailed molecular and cellular mechanisms that bias behaviorally and clinically relevant brain function. We report that a rhesus macaque orthologue of a common polymorphism of the serotonin transporter gene (rh5-HTTLPR) has strikingly similar effects on behavior and brain morphology to those in humans. Specifically, the rh5-HTTLPR (S)hort allele broadly affects cognitive choice behavior and brain morphology without observably affecting the 5-hydroxytryptamine (5-HT) transporter or 5-HT1A concentrations in vivo. Collectively, our findings indicate that 5-HTTLPR-associated behavioral effects reflect genotype-dependent biases in cortical development rather than static differences in serotonergic signaling mechanisms. Moreover, these data highlight the vast potential of NHP models in advancing our understanding of human genetic variation affecting behavior and neuropsychiatric disease liability.
Relevant articles
Open Access articles citing this article.
C. H. Lew

,

K. M. Groeniger

…

K. Semendeferi

Molecular Autism Open Access 05 February 2020

Andrea M Santangelo

,

Mitsuteru Ito

…

Angela C Roberts

Neuropsychopharmacology Open Access 21 March 2016

Lauren J. N. Brent

,

Sarah R. Heilbronner

…

Michael L. Platt

Scientific Reports Open Access 09 January 2013
Access options
Subscribe to this journal
Receive 12 print issues and online access
$259.00 per year
only $21.58 per issue
Rent or buy this article
Get just this article for as long as you need it
$39.95
Prices may be subject to local taxes which are calculated during checkout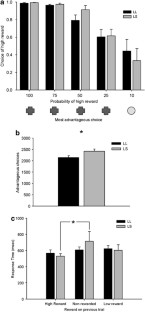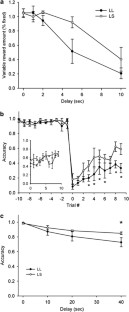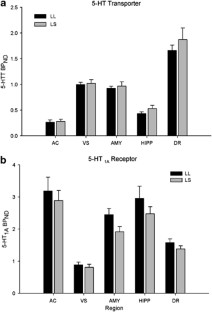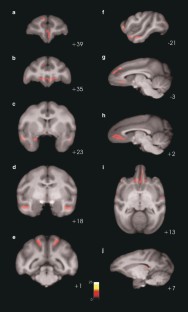 References
Lesch KP, Bengel D, Heils A, Sabol SZ, Greenberg BD, Petri S et al. Association of anxiety-related traits with a polymorphism in the serotonin transporter gene regulatory region [see comment]. Science 1996; 274: 1527–1531.

Caspi A, Sugden K, Moffitt TE, Taylor A, Craig IW, Harrington H et al. Influence of life stress on depression: moderation by a polymorphism in the 5-HTT gene [see comment]. Science 2003; 301: 386–389.

Feinn R, Nellissery M, Kranzler HR . Meta-analysis of the association of a functional serotonin transporter promoter polymorphism with alcohol dependence. Am J Med Genet B Neuropsychiatr Genet 2005; 133B: 79–84.

Zalsman G, Huang Y-Y, Oquendo MA, Burke AK, Hu X-Z, Brent DA et al. Association of a triallelic serotonin transporter gene promoter region (5-HTTLPR) polymorphism with stressful life events and severity of depression [see comment]. Am J Psychiatry 2006; 163: 1588–1593.

Hariri AR, Mattay VS, Tessitore A, Kolachana B, Fera F, Goldman D et al. Serotonin transporter genetic variation and the response of the human amygdala. Science 2002; 297: 400–403.

Munafo MR, Brown SM, Hariri AR . Serotonin transporter (5-HTTLPR) genotype and amygdala activation: a meta-analysis. Biol Psychiatry 2008; 63: 852–857.

Roiser JP, Müller U, Clark L, Sahakian BJ . The effects of acute tryptophan depletion and serotonin transporter polymorphism on emotional processing in memory and attention. Int J Neuropsychopharmacol 2007; 10: 449–461.

Borg J, Henningsson S, Saijo T, Inoue M, Bah J, Westberg L et al. Serotonin transporter genotype is associated with cognitive performance but not regional 5-HT1A receptor binding in humans. Int J Neuropsychopharmacol 2009; 1–10.

Roiser JP, Rogers RD, Cook LJ, Sahakian BJ . The effect of polymorphism at the serotonin transporter gene on decision-making, memory and executive function in ecstasy users and controls. Psychopharmacology (Berl) 2006; 188: 213–227.

Althaus M, Groen Y, Wijers AA, Mulder LJ, Minderaa RB, Kema IP et al. Differential effects of 5-HTTLPR and DRD2/ANKK1 polymorphisms on electrocortical measures of error and feedback processing in children. Clin Neurophysiol 2009; 120: 93–107.

Fallgatter AJ, Jatzke S, Bartsch AJ, Hamelbeck B, Lesch KP . Serotonin transporter promoter polymorphism influences topography of inhibitory motor control. Int J Neuropsychopharmacol 1999; 2: 115–120.

Heinz A, Jones DW, Mazzanti C, Goldman D, Ragan P, Hommer D et al. A relationship between serotonin transporter genotype and in vivo protein expression and alcohol neurotoxicity. Biol Psychiatry 2000; 47: 643–649.

Praschak-Rieder N, Kennedy J, Wilson AA, Hussey D, Boovariwala A, Willeit M et al. Novel 5-HTTLPR allele associates with higher serotonin transporter binding in putamen: a [(11)C] DASB positron emission tomography study. Biol Psychiatry 2007; 62: 327–331.

Murthy NV, Cowen PJ, Selvaraj S, Riedel WJ, Peers P, Kennedy J et al. 5-HTTLPR polymorphisms (SLC6A4 & rs25531) do not affect 5-HT transporter expression in the living human Brain. Biol Psychiatry 2008; 63: 231S–232S.

Parsey RV, Hastings RS, Oquendo MA, Hu X, Goldman D, Huang Y-y et al. Effect of a triallelic functional polymorphism of the serotonin-transporter-linked promoter region on expression of serotonin transporter in the human brain [see comment]. Am J Psychiatry 2006; 163: 48–51.

Shioe K, Ichimiya T, Suhara T, Takano A, Sudo Y, Yasuno F et al. No association between genotype of the promoter region of serotonin transporter gene and serotonin transporter binding in human brain measured by PET. Synapse 2003; 48: 184–188.

Willeit M, Stastny J, Pirker W, Praschak-Rieder N, Neumeister A, Asenbaum S et al. No evidence for in vivo regulation of midbrain serotonin transporter availability by serotonin transporter promoter gene polymorphism. Biol Psychiatry 2001; 50: 8–12.

David SP, Murthy NV, Rabiner EA, Munafo MR, Johnstone EC, Jacob R et al. A functional genetic variation of the serotonin (5-HT) transporter affects 5-HT1A receptor binding in humans. J Neurosci 2005; 25: 2586–2590.

Canli T, Omura K, Haas BW, Fallgatter A, Constable RT, Lesch KP . Beyond affect: a role for genetic variation of the serotonin transporter in neural activation during a cognitive attention task. Proc Natl Acad Sci USA 2005; 102: 12224–12229.

Pezawas L, Meyer-Lindenberg A, Drabant EM, Verchinski BA, Munoz KE, Kolachana BS et al. 5-HTTLPR polymorphism impacts human cingulate-amygdala interactions: a genetic susceptibility mechanism for depression [see comment]. Nat Neurosci 2005; 8: 828–834.

Lesch KP, Meyer J, Glatz K, Flugge G, Hinney A, Hebebrand J et al. The 5-HT transporter gene-linked polymorphic region (5-HTTLPR) in evolutionary perspective: alternative biallelic variation in rhesus monkeys. Rapid communication. J Neural Transm 1997; 104: 1259–1266.

Bennett AJ, Lesch KP, Heils A, Long JC, Lorenz JG, Shoaf SE et al. Early experience and serotonin transporter gene variation interact to influence primate CNS function. Mol Psychiatry 2002; 7: 118–122.

Champoux M, Bennett A, Shannon C, Higley JD, Lesch KP, Suomi SJ . Serotonin transporter gene polymorphism, differential early rearing, and behavior in rhesus monkey neonates. Mol Psychiatry 2002; 7: 1058–1063.

Izquierdo A, Newman TK, Higley JD, Murray EA . Genetic modulation of cognitive flexibility and socioemotional behavior in rhesus monkeys. Proc Natl Acad Sci USA 2007; 104: 14128–14133.

Watson KK, Ghodasra JH, Platt ML . Serotonin transporter genotype modulates social reward and punishment in rhesus macaques. PLoS ONE 2009; 4: e4156.

Kalin NH, Shelton SE, Fox AS, Rogers J, Oakes TR, Davidson RJ . The serotonin transporter genotype is associated with intermediate brain phenotypes that depend on the context of eliciting stressor. Mol Psychiatry 2008; 13: 1021–1027.

Nelson EE, Winslow JT . Non-human primates: model animals for developmental psychopathology. Neuropsychopharmacol Rev 2009; 34: 90–105.

Miller-Butterworth CM, Kaplan JR, Barmada MM, Manuck SB, Ferrell RE . The serotonin transporter: sequence variation in Macaca fascicularis and its relationship to dominance. Behav Genet 2007; 37: 678–696.

Shannon C, Champoux M, Suomi SJ . Rearing condition and plasma cortisol in rhesus monkey infants. Am J Primatol 1998; 46: 311–321.

Forman SD, Cohen JD, Fitzgerald M, Eddy WF, Mintum MA, Noll DC . Improved assessment of significant activation in functional magnetic resonance imaging (fMRI): use of a cluster-size threshold. Magn Reson Med 1995; 33: 636–647.

Ward BD . Simultaneous Inference for fMRI Data. Biophysics Research Institute, Medical College of Wisconsin: Milwaukee, WI, 2000.

Saleem KS, Logothetis NK . A Combined MRI and Histology Atlas of the Rhesus Monkey Brain in Stereotaxic Coordinates. Academic Press: Burlington, MA, 2007.

Rabbitt PM . Errors and error correction in choice-response tasks. J Exp Psychol 1966; 71: 264–272.

Ridderinkhof KR, Ullsperger M, Crone EA, Nieuwenhuis S . The role of the medial frontal cortex in cognitive control. Science 2004; 306: 443–447.

Hayden BY, Platt ML . Temporal discounting predicts risk sensitivity in rhesus macaques. Curr Biol 2007; 17: 49–53.

Kable JW, Glimcher PW . The neural correlates of subjective value during intertemporal choice. Nat Neurosci 2007; 10: 1625–1633.

Roiser JP, Muller U, Clark L, Sahakian BJ . The effects of acute tryptophan depletion and serotonin transporter polymorphism on emotional processing in memory and attention. Int J Neuropsychopharmacol 2007; 10: 449–461.

Frankle WG, Slifstein M, Gunn RN, Huang Y, Hwang D-R, Darr EA et al. Estimation of serotonin transporter parameters with 11C-DASB in healthy humans: reproducibility and comparison of methods. J Nucl Med 2006; 47: 815–826.

Young KA, Holcomb LA, Bonkale WL, Hicks PB, Yazdani U, German DC . 5HTTLPR polymorphism and enlargement of the pulvinar: unlocking the backdoor to the limbic system. Biol Psychiatry 2007; 61: 813–818.

Hariri AR, Holmes A . Genetics of emotional regulation: the role of the serotonin transporter in neural function. Trends Cogn Sci 2006; 10: 182–191.

Finger EC, Marsh AA, Buzas B, Kamel N, Rhodes R, Vythilingham M et al. The impact of tryptophan depletion and 5-HTTLPR genotype on passive avoidance and response reversal instrumental learning tasks. Neuropsychopharmacology 2007; 32: 206–215.

Kennerley SW, Walton ME, Behrens TE, Buckley MJ, Rushworth MF . Optimal decision making and the anterior cingulate cortex. Nat Neurosci 2006; 9: 940–947.

Rushworth MFS, Behrens TEJ, Rudebeck PH, Walton ME . Contrasting roles for cingulate and orbitofrontal cortex in decisions and social behaviour. Trends Cogn Sci 2007; 11: 168–176.

Rolls ET, Grabenhorst F . The orbitofrontal cortex and beyond: from affect to decision-making. Prog Neurobiol 2008; 86: 216–244.

Robinson DL, Petersen SE . The pulvinar and visual salience. Trends Neurosci 1992; 15: 127–132.

O'Connell RG, Dockree PM, Bellgrove MA, Kelly SP, Hester R, Garavan H et al. The role of cingulate cortex in the detection of errors with and without awareness: a high-density electrical mapping study. Eur J Neurosci 2007; 25: 2571–2579.

Freedman LJ, Shi C . Monoaminergic innervation of the macaque extended amygdala. Neuroscience 2001; 104: 1067–1084.

Smith HR, Daunais JB, Nader MA, Porrino LJ . Distribution of [3 H]citalopram binding sites in the nonhuman primate brain. Ann NY Acad Sci 1999; 877: 700–702.

Mantere T, Tupala E, Hall H, Sarkioja T, Rasanen P, Bergstrom K et al. Serotonin transporter distribution and density in the cerebral cortex of alcoholic and nonalcoholic comparison subjects: a whole-hemisphere autoradiography study. Am J Psychiatry 2002; 159: 599–606.

Christian BT, Fox AS, Oler JA, Vandehey NT, Murali D, Rogers J et al. Serotonin transporter binding and genotype in the nonhuman primate brain using [C-11]DASB PET. Neuroimage 2009; 47: 1230–1236.

Mobini S, Body S, Ho MY, Bradshaw CM, Szabadi E, Deakin JFW et al. Effects of lesions of the orbitofrontal cortex on sensitivity to delayed and probabilistic reinforcement. Psychopharmacology 2002; 160: 290–298.

Murray EA, Izquierdo A . Orbitofrontal cortex and amygdala contributions to affect and action in primates. Ann NY Acad Sci 2007; 1121: 273–296.

Habeck C, Rakitin BC, Moeller J, Scarmeas N, Zarahn E, Brown T et al. An event-related fMRI study of the neural networks underlying the encoding, maintenance, and retrieval phase in a delayed-match-to-sample task. Cognitive Brain Res 2005; 23: 207–220.

Sahay A, Hen R . Adult hippocampal neurogenesis in depression. Nat Neurosci 2007; 10: 1110–1115.

Saleem KS, Kondo H, Price JL . Complementary circuits connecting the orbital and medial prefrontal networks with the temporal, insular, and opercular cortex in the macaque monkey. J Comp Neurol 2008; 506: 659–693.

O'Rourke H, Fudge JL . Distribution of serotonin transporter labeled fibers in amygdaloid subregions: implications for mood disorders. Biol Psychiatry 2006; 60: 479–490.

Whitaker-Azmitia PM . Behavioral and cellular consequences of increasing serotonergic activity during brain development: a role in autism? Int J Dev Neurosci 2005; 23: 75–83.

Gaspar P, Cases O, Maroteaux L . The developmental role of serotonin: news from mouse molecular genetics. Nat Rev Neurosci 2003; 4: 1002–1012.

Lebrand C, Gaspar P, Nicolas D, Hornung JP . Transitory uptake of serotonin in the developing sensory pathways of the common marmoset. J Comp Neurol 2006; 499: 677–689.

Verney C, Lebrand C, Gaspar P . Changing distribution of monoaminergic markers in the developing human cerebral cortex with special emphasis on the serotonin transporter. Anatomical Record 2002; 267: 87–93.
Acknowledgements
We thank Professor Robert E. Ferrell, University of Pittsburgh Graduate School of Public Health, Department of Human Genetics for genotyping. This research was supported by a NARSAD Young Investigator Award (HPJ), NIH/NIAAA 014646 (CWB) and a Merit Award from the Office of Research and Development Medical Research Service, Department of Veterans Affairs (CWB).
Ethics declarations
Competing interests
The authors declare no conflict of interest.
Supplementary information
About this article
Cite this article
Jedema, H., Gianaros, P., Greer, P. et al. Cognitive impact of genetic variation of the serotonin transporter in primates is associated with differences in brain morphology rather than serotonin neurotransmission. Mol Psychiatry 15, 512–522 (2010). https://doi.org/10.1038/mp.2009.90
Received:

Revised:

Accepted:

Published:

Issue Date:

DOI: https://doi.org/10.1038/mp.2009.90
Keywords
5-HTTLPR

serotonin transporter

polymorphism

cognition

development

rhesus macaque