Abstract
The HTR1A −1019C>G genotype was associated with major depression in the Utah population. Linkage analysis on Utah pedigrees with strong family histories of major depression including only cases with the HTR1A −1019G allele revealed a linkage peak on chromosome 10 (maximum HLOD=4.4). Sequencing of all known genes in the linkage region revealed disease-segregating single-nucleotide polymorphisms (SNPs) in LHPP. LHPP SNPs were also associated with major depression in both Utah and Ashkenazi populations. Consistent with the linkage evidence, LHPP associations depended on HTR1A genotype. Lhpp or a product of a collinear brain-specific transcript, therefore, may interact with Htr1a in the pathogenesis of major depression.
Relevant articles
Open Access articles citing this article.
Jian-Xian Lin

,

Ning-Zi Lian

…

Chang-Ming Huang

Cell Death & Disease Open Access 14 May 2022

Christine Luckhart

,

Tristan J. Philippe

…

Paul R. Albert

Molecular Brain Open Access 03 August 2016
Access options
Subscribe to this journal
Receive 12 print issues and online access
$259.00 per year
only $21.58 per issue
Rent or buy this article
Prices vary by article type
from$1.95
to$39.95
Prices may be subject to local taxes which are calculated during checkout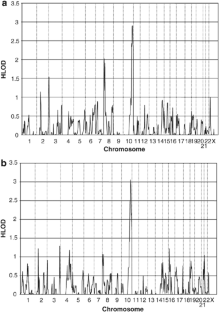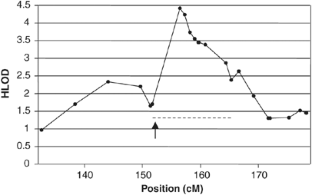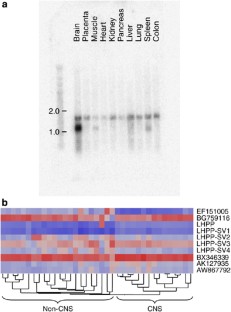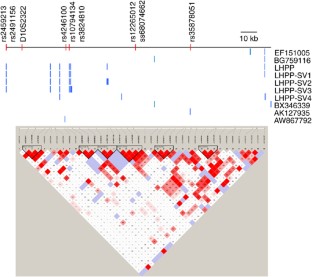 References
Murray C, Lopez A . The Global Burden of Disease: A Comprehensive Assessment of Mortality and Disability From Disease, Injuries, and Risk Factors in 1990 and Projected to 2020. Harvard University Press: Cambridge MA, 1996.

Fava M, Davidson K . Definition and epidemiology of treatment-resistant depression. Psychiatr Clin North Amer 1996; 19: 179–200.

Mann J, Emslie G, Baldessarini R, Beardsley W, Fawcett J, Goodwin F et al. ACNP Task Force report on SSRIs and suicidal behavior in youth. Neuropsychopharmacol 2006; 31: 473–492.

Mueller T, Leon A, Keller M, Solomon D, Endicott J, Coryell W et al. Recurrence after recovery from major depressive disorder during 15 years of observational follow-up. Am J Psychiatry 1999; 156: 1000–1006.

Mann J . Drug therapy: the medical management of depression. New Engl J Med 2005; 353: 1819–1834.

Abkevich V, Camp N, Hensel C, Neff C, Russell D, Hughes D et al. Predisposition locus for major depression at chromosome 12q22–12q23.2. Am J Hum Genet 2003; 73: 1271–1281.

Thomas A, Gutin A, Abkevich V, Bansal A . Multilocus linkage analysis by blocked Gibbs sampling. Stat Comp 2000; 10: 259–269.

Lemonde S, Turecki G, Bakish D, Du L, Hrdina P, Bown C et al. Impaired repression at a 5-hydroxytryptamine 1A receptor gene polymorphism associated with major depression and suicide. J Neurosci 2003; 23: 8788–8799.

Arias B, Arranz M, Gasto C, Catalan R, Pintor L, Gutierrez B et al. Analysis of structural polymorphisms and C-1018G promoter variant of the 5-HT1A receptor gene as putative risk factors in major depression. Mol Psychiatry 2002; 7: 930–932.

Arias B, Catalán R, Gastó C, Gutiérrez B, Fañanás L . Evidence for a combined genetic effect of the 5-HT1A receptor and serotonin transporter genes in the clinical outcome of major depressive patients treated with citalopram. J Psychopharmacol 2005; 19: 166–172.

Huang Y-Y, Battistuzzi C, Oquendo M, Harkavy-Friedman J, Greenhill L, Zalsman G et al. Human 5-HT1A receptor C(−1019)G polymorphism and psychopathology. Int J Neuropsychopharmacol 2004; 7: 441–451.

Lemonde S, Du L, Bakish D, Hrdina P, Albert P . Association of the C(−1019)G 5-HT1A functional promoter polymorphism with antidepressant response. Int J Neuropsychopharmacol 2004; 7: 501–506.

Rothe C, Gutknecht L, Freitag C, Tauber R, Mössner R, Franke P et al. Association of a functional −1019C>G 5-HT1A receptor gene polymorphism with panic disorder with agoraphobia. Int J Neuropsychopharmacol 2004; 7: 189–192.

Serretti A, Artioli P, Lorenzi C, Pirovano A, Tubazio V, Zanardi R . The C(-1019)G polymorphism of the 5-HT1A gene promoter and antidepressant response in mood disorders: preliminary findings. Int J Neuropsychopharmacol 2004; 7: 453–460.

Strobel A, Gutknecht L, Rothe C, Reif A, Mössner R, Zeng Y et al. Allelic variation in 5-HT1A receptor expression is associated with anxiety- and depression-related personality traits. J Neural Trans 2003; 110: 1445–1453.

Pruitt K, Tatusova T, Maglott D . NCBI reference sequence (RefSeq): a curated non-redundant sequence database of genomes, transcripts and proteins. Nucl Acids Res 2005; 33: D501–D504.

Finn R, Mistry J, Schuster-Böckler B, Griffiths-Jones S, Hollich V, Lassmann T et al. Pfam: clans, web tools and services. Nucl Acids Res 2006; 34: D247–D251.

Felsenstein J . PHYLIP—phylogeny inference package (Version 3.2). Cladistics 1989; 5: 164–166.

Page R . TreeView: an application to display phylogenetic trees on personal computers. Comp Appl Biosci 1996; 12: 357–358.

Barrett J, Fry B, Maller J, Daly M . Haploview: analysis and visualization of LD and haplotype maps. Bioinformatics 2005; 21: 263–265.

Barnes N, Sharp T . A review of central 5-HT receptors and their function. Neuropharmacol 1999; 38: 1083–1152.

Wu S, Comings D . A common C-1018G polymorphism in the human 5-HT1A receptor gene. Psychiatr Genet 1999; 9: 105–106.

Harlan J, Chen Y, Gubbins E, Mueller R, Roch J-M, Walter K et al. Variants in Apaf-1 segregating with major depression promote apoptosome function. Mol Psychiatry 2006; 11: 76–85.

Seal U, Binkley F . An inorganic pyrophosphatase of swine brain. J Biol Chem 1957; 228: 193–199.

Felix R, Fleisch H . Properties of inorganic pyrophosphatase of pig scapula cartilage. Biochem J 1975; 147: 111–118.

Hachimori A, Fujii T, Ohki K, Iizuka E . Purification and properties of inorganic pyrophosphatase from porcine brain. J Biochem 1983; 93: 257–264.

Smirnova I, Baykov A . Reversible inactivation of rat liver inorganic pyrophosphatase by substrate and its analogs. Arch Biochem Biophys 1991; 287: 135–140.

Yoshida C, Shah H, Weinhouse S . Purification and properties of inorganic pyrophosphatase of rat liver and hepatoma 3924A. Cancer Res 1982; 42: 3526–3531.

Yokoi F, Hiraishi H, Izuhara K . Molecular cloning of a cDNA for the human phospholysine phosphohistidine inorganic pyrophosphate phosphatase. J Biochem 2003; 133: 607–614.

Hiraishi H, Yokoi F, Kumon A . 3-phosphohistidine and 6-phospholysine are substrates of a 56-kDa inorganic pyrophosphatase from bovine liver. Arch Biochem Biophys 1998; 349: 381–387.

Harrison P, Weinberger D . Schizophrenia genes, gene expression, and neuropathology: on the matter of their convergence. Mol Psychiatry 2005; 10: 40–68.

Hashimoto L, Habita C, Beressi J, Delepine M, Basse C, Cambon-Thomsen A et al. Genetic mapping of a susceptibility locus for insulin dependent diabetes mellitus on chromosome 11q. Nature 1994; 371: 161–164.

Zubenko GS, Maher B, Hughes 3rd HB, Zubenko WN, Stiffler JS, Kaplan BB et al. Genome-wide linkage survey for genetic loci that influence the development of depressive disorders in families with recurrent, early-onset, major depression. Am J Med Genet 2003; 123B: 1–18.

Saviouk V, Chow E, Bassett A, Brzustowicz L . Tumor necrosis factor promoter haplotype associated with schizophrenia reveals a linked locus on 1q44. Mol Psychiatry 2005; 10: 375–383.

Stone S, Abkevich V, Russell D, Riley R, Timms K, Tran T et al. TBC1D1 is a candidate for a severe obesity gene and evidence for a gene/gene interaction in obesity predisposition. Hum Mol Genet 2006; 15: 2709–2720.

Stock J, Stock A, Mottonen J . Signal transduction in bacteria. Nature 1990; 344: 395–400.

Klumpp S, Krieglstein J . Phosphorylation and dephosphorylation of histidine residues in proteins. Eur J Biochem 2002; 269: 1067–1071.

Matthews H . Protein kinases and phosphatases that act on histidine, lysine, or arginine residues in eukaryotic proteins: a possible regulator of the mitogen-activated protein kinase cascade. Pharmacol Ther 1995; 67: 323–350.

Cuello F, Schulze R, Heemeyer F, Meyer H, Lutz S, Jakobs K et al. Activation of heterotrimeric G proteins by a high energy phosphate transfer via nucleoside diphosphate kinase (NDPK) B and Gβ subunits: complex formation of NDPK B with Gβγ dimers and phosphorylation of His-266 in Gβ. J Biol Chem 2003; 278: 7220–7226.

Hohenegger M, Mitterauer T, Voss T, Nanoff C, Freissmuth M . Thiophosphorylation of the G protein β subunit in human platelet membranes: evidence against a direct phosphate transfer reaction to Gα subunits. Mol Pharmacol 1996; 49: 73–80.

Kowluru A . Regulatory roles for small G proteins in the pancreatic β-cell: lessons from models of impaired insulin secretion. Am J Physiol Endocrinol Metab 2003; 285: E669–E684.

Randazzo P, Northrup J, Kahn R . Activation of a small GTP-binding protein by nucleoside diphosphate kinase. Science 1991; 254: 850–853.

Wieland T, Nürnberg B, Ulibarri I, Kaldenberg-Stasch S, Schultz G, Jakobs K . Guanine nucleotide-specific phosphate transfer by guanine nucleotide-binding regulatory protein β-subunits: characterization of the phosphorylated amino acid. J Biol Chem 1993; 268: 18111–18118.

Chi H, Tiller G, Dasouki M, Romano P, Wang J, O'Keefe R et al. Multiple inositol polyphosphate phosphatase: evolution as a distinct group within the histidine phosphatase family and chromosomal localization of the human and mouse genes to chromosomes 10q23 and 19. Genomics 1999; 56: 324–336.

Ek P, Pettersson G, Ek B, Gong F, Li J-P, Zetterqvist Ö . Identification and characterization of a mammalian 14-kDa phosphohistidine phosphatase. Eur J Biochem 2002; 269: 5016–5023.
Acknowledgements
We thank Drs James P Sullivan, Brian B Spear, Donald N Halbert and Jerry Lanchbury for the guidance and critical review of our work. This work was funded by Abbott Laboratories and Myriad Genetics. We are indebted to the individuals who agreed to participate in this study.
Supplementary information
About this article
Cite this article
Neff, C., Abkevich, V., Packer, J. et al. Evidence for HTR1A and LHPP as interacting genetic risk factors in major depression. Mol Psychiatry 14, 621–630 (2009). https://doi.org/10.1038/mp.2008.8
Received:

Revised:

Accepted:

Published:

Issue Date:

DOI: https://doi.org/10.1038/mp.2008.8
Keywords
genetic linkage

genetic association

major depression

serotonin receptor

epistasis