Abstract
In mammals, the neuropeptide vasopressin is a key molecule for complex emotional and social behaviours. Two microsatellite polymorphisms, RS1 and RS3, near the promoter of AVPR1A, encoding the receptor subtype most heavily implicated in behaviour regulation, have been linked to autism and behavioural traits. However, the impact of these variants on human brain function is unknown. Here we show that human amygdala function is strongly associated with genetic variation in AVPR1A. Using an imaging genetics approach in a sample of 121 volunteers studied with an emotional face-matching paradigm, we found that differential activation of amygdala is observed in carriers of risk alleles for RS3 and RS1. Alleles in RS1 previously reported to be significantly over- and undertransmitted to autistic probands showed opposing effects on amygdala activation. Furthermore, we show functional difference in human brain between short and long repeat lengths that mirror findings recently obtained in a corresponding variant in voles. Our results indicate a neural mechanism mediating genetic risk for autism through an impact on amygdala signalling and provide a rationale for exploring therapeutic strategies aimed at abnormal amygdala function in this disorder.
Relevant articles
Open Access articles citing this article.
Sabah Nisar

&

Mohammad Haris

Molecular Psychiatry Open Access 17 April 2023

Ying Que

,

Yueyuan Zheng

…

Xiao Hu

Scientific Reports Open Access 30 January 2023

María Pilar Madrigal

&

Sandra Jurado

Communications Biology Open Access 14 May 2021
Access options
Subscribe to this journal
Receive 12 print issues and online access
$259.00 per year
only $21.58 per issue
Rent or buy this article
Get just this article for as long as you need it
$39.95
Prices may be subject to local taxes which are calculated during checkout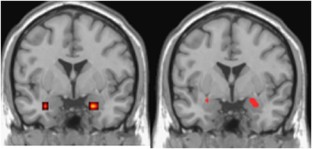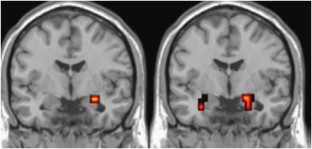 References
Insel TR, Young LJ . The neurobiology of attachment. Nat Rev Neurosci 2001; 2: 129–136.

Winslow JT, Insel TR . Neuroendocrine basis of social recognition. Curr Opin Neurobiol 2004; 14: 248–253.

Ferris CF, Potegal M . Vasopressin receptor blockade in the anterior hypothalamus suppresses aggression in hamsters. Physiol Behav 1988; 44: 235–239.

Appenrodt E, Schnabel R, Schwarzberg H . Vasopressin administration modulates anxiety-related behavior in rats. Physiol Behav 1998; 64: 543–547.

Landgraf R, Gerstberger R, Montkowski A, Probst JC, Wotjak CT, Holsboer F et al. V1 vasopressin receptor antisense oligodeoxynucleotide into septum reduces vasopressin binding, social discrimination abilities, and anxiety-related behavior in rats. J Neurosci 1995; 15: 4250–4258.

Liebsch G, Wotjak CT, Landgraf R, Engelmann M . Septal vasopressin modulates anxiety-related behaviour in rats. Neurosci Lett 1996; 217: 101–104.

Stoehr JD, Cramer CP, North WG . Oxytocin and vasopressin hexapeptide fragments have opposing influences on conditioned freezing behavior. Psychoneuroendocrinology 1992; 17: 267–271.

Ibragimov R . Influence of neurohypophyseal peptides on the formation of active avoidance conditioned reflex behavior. Neurosci Behav Physiol 1990; 20: 189–193.

Hammock EA, Young LJ . Oxytocin, vasopressin and pair bonding: implications for autism. Philos Trans R Soc Lond 2006; 361: 2187–2198.

Loup F, Tribollet E, Dubois-Dauphin M, Dreifuss JJ . Localization of high-affinity binding sites for oxytocin and vasopressin in the human brain. An autoradiographic study. Brain Res 1991; 555: 220–232.

Kanner L . Autistic disturbances of affective contact. Nerv Child 1943; 2: 217–250. Reprint: Acta Paedosychiatr 1968; 35: 100–136.

Insel TR . A neurobiological basis of social attachment. Am J Psychiatry 1997; 154: 726–735.

Thibonnier M, Graves MK, Wagner MS, Chatelain N, Soubrier F, Corvol P et al. Study of V(1)-vascular vasopressin receptor gene microsatellite polymorphisms in human essential hypertension. J Mol Cell cardiol 2000; 32: 557–564.

Yirmiya N, Rosenberg C, Levi S, Salomon S, Shulman C, Nemanov L et al. Association between the arginine vasopressin 1a receptor (AVPR1a) gene and autism in a family-based study: mediation by socialization skills. Mol Psychiatry 2006; 11: 488–494.

Wassink TH, Piven J, Vieland VJ, Pietila J, Goedken RJ, Folstein SE et al. Examination of AVPR1a as an autism susceptibility gene. Mol Psychiatry 2004; 9: 968–972.

Kim SJ, Young LJ, Gonen D, Veenstra-VanderWeele J, Courchesne R, Courchesne E et al. Transmission disequilibrium testing of arginine vasopressin receptor 1A (AVPR1A) polymorphisms in autism. Mol Psychiatry 2002; 7: 503–507.

Bielsky IF, Hu SB, Szegda KL, Westphal H, Young LJ . Profound impairment in social recognition and reduction in anxiety-like behavior in vasopressin V1a receptor knockout mice. Neuropsychopharmacology 2004; 29: 483–493.

Hammock EA, Young LJ . Microsatellite instability generates diversity in brain and sociobehavioral traits. Science (New York, NY) 2005; 308: 1630–1634.

Knafo A, Israel S, Darvasi A, Bachner-Melman R, Uzefovsky F, Cohen L et al. Individual differences in allocation of funds in the dictator game associated with length of the arginine vasopressin 1a receptor RS3 promoter region and correlation between RS3 length and hippocampal mRNA. Genes Brain Behav 2008; 7: 266–275.

Bachner-Melman R, Dina C, Zohar AH, Constantini N, Lerer E, Hoch S et al. AVPR1a and SLC6A4 gene polymorphisms are associated with creative dance performance. PLoS Genet 2005; 1: e42.

Prichard ZM, Mackinnon AJ, Jorm AF, Easteal S . AVPR1A and OXTR polymorphisms are associated with sexual and reproductive behavioral phenotypes in humans. Mutation in brief no. 981. Online. Hum Mutat 2007; 28: 1150.

LeDoux J . The emotional brain, fear, and the amygdala. Cell Mol Neurobiol 2003; 23: 727–738.

Whalen PJ, Rauch SL, Etcoff NL, McInerney SC, Lee MB, Jenike MA . Masked presentations of emotional facial expressions modulate amygdala activity without explicit knowledge. J Neurosci 1998; 18: 411–418.

Adolphs R, Gosselin F, Buchanan TW, Tranel D, Schyns P, Damasio AR . A mechanism for impaired fear recognition after amygdala damage. Nature 2005; 433: 68–72.

Dalton KM, Nacewicz BM, Johnstone T, Schaefer HS, Gernsbacher MA, Goldsmith HH et al. Gaze fixation and the neural circuitry of face processing in autism. Nat Neurosci 2005; 8: 519–526.

Meyer-Lindenberg A, Hariri AR, Munoz KE, Mervis CB, Mattay VS, Morris CA et al. Neural correlates of genetically abnormal social cognition in Williams syndrome. Nat Neurosci 2005; 8: 991–993.

Stein MB, Goldin PR, Sareen J, Zorrilla LT, Brown GG . Increased amygdala activation to angry and contemptuous faces in generalized social phobia. Arch Gen Psychiatry 2002; 59: 1027–1034.

Kirsch P, Esslinger C, Chen Q, Mier D, Lis S, Siddhanti S et al. Oxytocin modulates neural circuitry for social cognition and fear in humans. J Neurosci 2005; 25: 11489–11493.

Mattay VS, Goldberg TE, Fera F, Hariri AR, Tessitore A, Egan MF et al. Catechol O-methyltransferase val158-met genotype and individual variation in the brain response to amphetamine. Proc Natl Acad Sci USA 2003; 100: 6186–6191.

Meyer-Lindenberg A, Buckholtz JW, Kolachana B, A RH, Pezawas L, Blasi G et al. Neural mechanisms of genetic risk for impulsivity and violence in humans. Proc Natl Acad Sci USA 2006; 103: 6269–6274.

Pezawas L, Meyer-Lindenberg A, Drabant EM, Verchinski BA, Munoz KE, Kolachana BS et al. 5-HTTLPR polymorphism impacts human cingulate-amygdala interactions: a genetic susceptibility mechanism for depression. Nat Neurosci 2005; 8: 828–834.

Bertolino A, Callicott JH, Mattay VS, Weidenhammer KM, Rakow R, Egan MF et al. The effect of treatment with antipsychotic drugs on brain N-acetylaspartate measures in patients with schizophrenia. Biol Psychiatry 2001; 49: 39–46.

Devlin B, Roeder K, Wasserman L . Genomic control, a new approach to genetic-based association studies. Theor Popul Biol 2001; 60: 155–166.

Cloninger CR, Svrakic DM, Przybeck TR . A psychobiological model of temperament and character. Arch Gen Psychiatry 1993; 50: 975–990.

Abecasis GR, Cherny SS, Cookson WO, Cardon LR . Merlin--rapid analysis of dense genetic maps using sparse gene flow trees. Nat Genet 2002; 30: 97–101.

Sabol SZ, Hu S, Hamer D . A functional polymorphism in the monoamine oxidase A gene promoter. Hum Genet 1998; 103: 273–279.

Meyer-Lindenberg A, Nichols T, Callicott JH, Ding J, Kolachana B, Buckholtz J et al. Impact of complex genetic variation in COMT on human brain function. Mol Psychiatry 2006; 11: 867–877, 797.

Meyer-Lindenberg A, Nicodemus KK, Egan MF, Callicott JH, Mattay V, Weinberger DR . False positives in imaging genetics. Neuroimage 2008; 40: 655–661.

Rorden C, Brett M . Stereotaxic display of brain lesions. Behav Neurol 2000; 12: 191–200.

Heinz A, Braus DF, Smolka MN, Wrase J, Puls I, Hermann D et al. Amygdala-prefrontal coupling depends on a genetic variation of the serotonin transporter. Nat Neurosci 2005; 8: 20–21.

Hariri AR, Drabant EM, Munoz KE, Kolachana BS, Mattay VS, Egan MF et al. A susceptibility gene for affective disorders and the response of the human amygdala. Arch Gen Psychiatry 2005; 62: 146–152.

Buckholtz JW, Callicott JH, Kolachana B, Hariri AR, Goldberg TE, Genderson M et al. Genetic variation in MAOA modulates ventromedial prefrontal circuitry mediating individual differences in human personality. Mol Psychiatry 2008; 13: 313–324.

Dalton KM, Nacewicz BM, Alexander AL, Davidson RJ . Gaze-fixation, brain activation, and amygdala volume in unaffected siblings of individuals with autism. Biol Psychiatry 2007; 61: 512–520.

Adolphs R . Cognitive neuroscience of human social behaviour. Nat Rev Neurosci 2003; 4: 165–178.

Huber D, Veinante P, Stoop R . Vasopressin and oxytocin excite distinct neuronal populations in the central amygdala. Science (New York, NY) 2005; 308: 245–248.

Thompson RR, George K, Walton JC, Orr SP, Benson J . Sex-specific influences of vasopressin on human social communication. Proc Natl Acad Sci USA 2006; 103: 7889–7894.

Thompson R, Gupta S, Miller K, Mills S, Orr S . The effects of vasopressin on human facial responses related to social communication. Psychoneuroendocrinology 2004; 29: 35–48.

Anckarsater H, Stahlberg O, Larson T, Hakansson C, Jutblad SB, Niklasson L et al. The impact of ADHD and autism spectrum disorders on temperament, character, and personality development. Am J Psychiatry 2006; 163: 1239–1244.

Sergerie K, Chochol C, Armony JL . The role of the amygdala in emotional processing: a quantitative meta-analysis of functional neuroimaging studies. Neurosci Biobehav Rev 2008; 32: 811–830.

Cherkas LF, Oelsner EC, Mak YT, Valdes A, Spector TD . Genetic influences on female infidelity and number of sexual partners in humans: a linkage and association study of the role of the vasopressin receptor gene (AVPR1A). Twin Res 2004; 7: 649–658.

Lawrie SM, Buechel C, Whalley HC, Frith CD, Friston KJ, Johnstone EC . Reduced frontotemporal functional connectivity in schizophrenia associated with auditory hallucinations. Biol Psychiatry 2002; 51: 1008–1011.

Phelps EA, Delgado MR, Nearing KI, LeDoux JE . Extinction learning in humans: role of the amygdala and vmPFC. Neuron 2004; 43: 897–905.
Acknowledgements
This work was supported by the Intramural Research Program of the NIH, NIMH and NCI. We thank Dr Andrew Singleton for his technical advice resolving the microsatellites.
About this article
Cite this article
Meyer-Lindenberg, A., Kolachana, B., Gold, B. et al. Genetic variants in AVPR1A linked to autism predict amygdala activation and personality traits in healthy humans. Mol Psychiatry 14, 968–975 (2009). https://doi.org/10.1038/mp.2008.54
Received:

Revised:

Accepted:

Published:

Issue Date:

DOI: https://doi.org/10.1038/mp.2008.54
Keywords
vasopressin

AVPR1A

fMRI

neuroimaging

autism