Access options
Access options
Subscribe to Journal
Get full journal access for 1 year
$1,224.00
only $102.00 per issue
All prices are NET prices.
VAT will be added later in the checkout.
Rent or Buy article
Get time limited or full article access on ReadCube.
from$8.99
All prices are NET prices.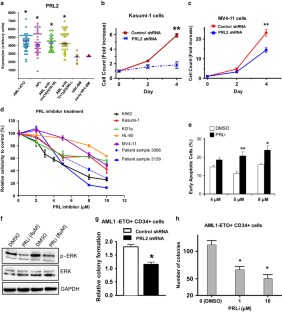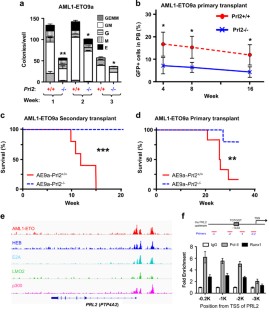 References
1

Roboz GJ . Current treatment of acute myeloid leukemia. Curr Opin Oncol 2012; 24: 711–719.

2

Paschka P . Core binding factor acute myeloid leukemia. Semin Oncol 2008; 35: 410–417.

3

Sinha C, Cunningham LC, Liu PP . Core binding factor acute myeloid leukemia: new prognostic categories and therapeutic opportunities. Semin Hematol 2015; 52: 215–222.

4

Hatlen MA, Wang L, Nimer SD . AML1-ETO driven acute leukemia: insights into pathogenesis and potential therapeutic approaches. Front Med 2012; 6: 248–262.

5

Bessette DC, Qiu D, Pallen CJ . PRL PTPs: mediators and markers of cancer progression. Cancer Metast Rev 2008; 27: 231–252.

6

Kobayashi M, Chen S, Gao R, Bai Y, Zhang ZY, Liu Y . Phosphatase of regenerating liver in hematopoietic stem cells and hematological malignancies. Cell Cycle 2014; 13: 2827–2835.

7

Zhou J, Bi C, Chng WJ, Cheong LL, Liu SC, Mahara S et al. PRL-3, a metastasis associated tyrosine phosphatase, is involved in FLT3-ITD signaling and implicated in anti-AML therapy. PLoS One 2011; 6: e19798.

8

Kobayashi M, Bai Y, Dong Y, Yu H, Chen S, Gao R et al. PRL2/PTP4A2 phosphatase is important for hematopoietic stem cell self-renewal. Stem Cells 2014; 32: 1956–1967.

9

Kobayashi M, Nabinger SC, Bai Y, Yoshimoto M, Gao R, Chen S et al. Protein tyrosine phosphatase PRL2 mediates notch and kit signals in early T cell progenitors. Stem Cells 2016; e-pub ahead of print 23 December 2016 doi:10.1002/stem.2559.

10

Kobayashi M, Bai Y, Chen S, Gao R, Yao C, Cai W et al. Phosphatase PRL2 promotes oncogenic NOTCH1-induced T cell leukemia. Leukemia 2017; 31: 751–754.

11

Bagger FO, Rapin N, Theilgaard-Mönch K, Kaczkowski B, Jendholm J, Winther O et al. HemaExplorer: a Web server for easy and fast visualization of gene expression in normal and malignant hematopoiesis. Blood 2012; 119: 6394–6395.

12

Bai Y, Yu ZH, Liu S, Zhang L, Zhang RY, Zeng LF et al. Novel anticancer agents based on targeting the trimer interface of the PRL phosphatase. Cancer Res 2016; 76: 4805–4815.

13

Mulloy JC, Cammenga J, MacKenzie KL, Berguido FJ, Moore MA, Nimer SD . The AML1-ETO fusion protein promotes the expansion of human hematopoietic stem cells. Blood 2002; 99: 15–23.

14

Yuan Y, Zhou L, Miyamoto T, Iwasaki H, Harakawa N, Hetherington CJ et al. AML1-ETO expression is directly involved in the development of acute myeloid leukemia in the presence of additional mutations. Proc Natl Acad Sci USA 2001; 98: 10398–10403.

15

Yan M, Kanbe E, Peterson LF, Boyapati A, Miao Y, Wang Y et al. A previously unidentified alternatively spliced isoform of t(8;21) transcript promotes leukemogenesis. Nat Med 2006; 12: 945–949.

16

Sun XJ, Wang Z, Wang L, Jiang Y, Kost N, Soong TD et al. A stable transcription factor complex nucleated by oligomeric AML1-ETO controls leukaemogenesis. Nature 2013; 500: 93–97.
Acknowledgements
This work was supported, in part, by National Institutes of Health Grant CA69202 (to ZYZ), Department of Defense Grant W81XWH-13-1-0187 (to YL), a St Baldrick's Foundation Scholar Award (to YL), an Elsa Pardee Foundation New Investigator Award (to YL), an Alex's Lemonade Stand Foundation Grant (to YL), a Children's Leukemia Research Association Grant (to YL), a Leukemia Research Foundation grant (to YL) and American Cancer Society Institutional Research Grants (to YL and MK). This work was supported by a Project Development Team within the ICTSI NIH/NCRR Grant Number UL1TR001108. We also thank Marilyn Wales and John Spence for helping the preparation of the manuscript.
Author contributions
MK, SC, YB, ZYZ and YL: designed the research. MK, SC, YB, CY, RG, XJS, CM, TAT and ZHY: performed the research; MK and YL: analyzed the data and performed the statistical analysis. HSB, MCY, RK and JCM: provided reagents to the study. ZYZ and YL: wrote the manuscript. All authors read, commented on and approved the manuscript.
Ethics declarations
Competing interests
The authors declare no conflict of interest.
Supplementary information
Further reading
Serge Hardy

,

Elie Kostantin

,

Teri Hatzihristidis

,

Yevgen Zolotarov

,

Noriko Uetani

&

Michel L. Tremblay

The FEBS Journal (2018)