Abstract
Inhibitors of B-cell lymphoma-2 (BCL-2) such as venetoclax (ABT-199) and navitoclax (ABT-263) are clinically explored in several cancer types, including acute myeloid leukemia (AML), to selectively induce apoptosis in cancer cells. To identify robust biomarkers for BCL-2 inhibitor sensitivity, we evaluated the ex vivo sensitivity of fresh leukemic cells from 73 diagnosed and relapsed/refractory AML patients, and then comprehensively assessed whether the responses correlated to specific mutations or gene expression signatures. Compared with samples from healthy donor controls (nonsensitive) and chronic lymphocytic leukemia (CLL) patients (highly sensitive), AML samples exhibited variable responses to BCL-2 inhibition. Strongest CLL-like responses were observed in 15% of the AML patient samples, whereas 32% were resistant, and the remaining exhibited intermediate responses to venetoclax. BCL-2 inhibitor sensitivity was associated with genetic aberrations in chromatin modifiers, WT1 and IDH1/IDH2. A striking selective overexpression of specific HOXA and HOXB gene transcripts were detected in highly BCL-2 inhibitor sensitive samples. Ex vivo responses to venetoclax showed significant inverse correlation to β2-microglobulin expression and to a lesser degree to BCL-XL and BAX expression. As new therapy options for AML are urgently needed, the specific HOX gene expression pattern can potentially be used as a biomarker to identify venetoclax-sensitive AML patients for clinical trials.
Relevant articles
Open Access articles citing this article.
Julia-Annabell Georgi

,

Sebastian Stasik

…

Christian Thiede

Blood Cancer Journal Open Access 26 May 2023

Roberta Ranieri

,

Giulia Pianigiani

…

Brunangelo Falini

Leukemia Open Access 25 August 2022

Brian S. White

,

Suleiman A. Khan

…

Justin Guinney

npj Precision Oncology Open Access 23 July 2021
Access options
Subscribe to this journal
Receive 12 print issues and online access
$259.00 per year
only $21.58 per issue
Rent or buy this article
Prices vary by article type
from$1.95
to$39.95
Prices may be subject to local taxes which are calculated during checkout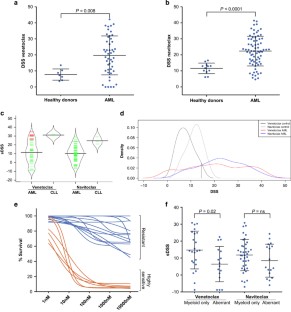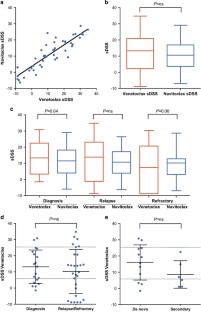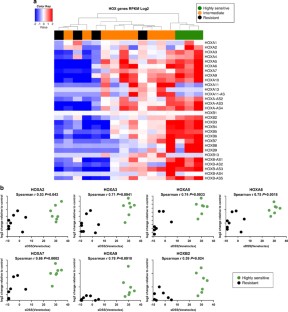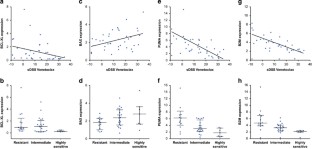 References
Dohner H, Estey EH, Amadori S, Appelbaum FR, Buchner T, Burnett AK et al. Diagnosis and management of acute myeloid leukemia in adults: recommendations from an international expert panel, on behalf of the European LeukemiaNet. Blood 2010; 115: 453–474.

Dohner H, Weisdorf DJ, Bloomfield CD . Acute myeloid leukemia. N Engl J Med 2015; 373: 1136–1152.

Davids MS, Letai A . Targeting the B-cell lymphoma/leukemia 2 family in cancer. J Clin Oncol 2012; 30: 3127–3135.

Anderson MA, Huang D, Roberts A . Targeting BCL2 for the treatment of lymphoid malignancies. Semin Hematol 2014; 51: 219–227.

Roberts AW, Davids MS, Pagel JM, Kahl BS, Puvvada SD, Gerecitano JF et al. Targeting BCL2 with venetoclax in relapsed chronic lymphocytic leukemia. N Engl J Med 2016; 374: 311–322.

Certo M, Del Gaizo Moore V, Nishino M, Wei G, Korsmeyer S, Armstrong SA et al. Mitochondria primed by death signals determine cellular addiction to antiapoptotic BCL-2 family members. Cancer Cell 2006; 9: 351–365.

Ren D, Tu HC, Kim H, Wang GX, Bean GR, Takeuchi O et al. BID, BIM, and PUMA are essential for activation of the BAX- and BAK-dependent cell death program. Science 2010; 330: 1390–1393.

Tse C, Shoemaker AR, Adickes J, Anderson MG, Chen J, Jin S et al. ABT-263: a potent and orally bioavailable Bcl-2 family inhibitor. Cancer Res 2008; 68: 3421–3428.

Souers AJ, Leverson JD, Boghaert ER, Ackler SL, Catron ND, Chen J et al. ABT-199, a potent and selective BCL-2 inhibitor, achieves antitumor activity while sparing platelets. Nat Med 2013; 19: 202–208.

Wilson WH, O'Connor OA, Czuczman MS, LaCasce AS, Gerecitano JF, Leonard JP et al. Navitoclax, a targeted high-affinity inhibitor of BCL-2, in lymphoid malignancies: a phase 1 dose-escalation study of safety, pharmacokinetics, pharmacodynamics, and antitumour activity. Lancet Oncol 2010; 11: 1149–1159.

Campos L, Rouault JP, Sabido O, Oriol P, Roubi N, Vasselon C et al. High expression of bcl-2 protein in acute myeloid leukemia cells is associated with poor response to chemotherapy. Blood 1993; 81: 3091–3096.

Karakas T, Miething CC, Maurer U, Weidmann E, Ackermann H, Hoelzer D et al. The coexpression of the apoptosis-related genes bcl-2 and wt1 in predicting survival in adult acute myeloid leukemia. Leukemia 2002; 16: 846–854.

Reed JC . Bcl-2 family proteins: regulators of apoptosis and chemoresistance in hematologic malignancies. Semin Hematol 1997; 34 (4 Suppl 5): 9–19.

Pan R, Hogdal LJ, Benito JM, Bucci D, Han L, Borthakur G et al. Selective BCL-2 inhibition by ABT-199 causes on-target cell death in acute myeloid leukemia. Cancer Discov 2014; 4: 362–375.

Chan SM, Thomas D, Corces-Zimmerman MR, Xavy S, Rastogi S, Hong WJ et al. Isocitrate dehydrogenase 1 and 2 mutations induce BCL-2 dependence in acute myeloid leukemia. Nat Med 2015; 21: 178–184.

Yadav B, Pemovska T, Szwajda A, Kulesskiy E, Kontro M, Karjalainen R et al. Quantitative scoring of differential drug sensitivity for individually optimized anticancer therapies. Sci Rep 2014; 4: 5193.

Pemovska T, Kontro M, Yadav B, Edgren H, Eldfors S, Szwajda A et al. Individualized systems medicine strategy to tailor treatments for patients with chemorefractory acute myeloid leukemia. Cancer Discov 2013; 3: 1416–1429.

Koskela HL, Eldfors S, Ellonen P, van Adrichem AJ, Kuusanmaki H, Andersson EI et al. Somatic STAT3 mutations in large granular lymphocytic leukemia. N Engl J Med 2012; 366: 1905–1913.

Koboldt DC, Zhang Q, Larson DE, Shen D, McLellan MD, Lin L et al. VarScan 2: somatic mutation and copy number alteration discovery in cancer by exome sequencing. Genome Res 2012; 22: 568–576.

Cingolani P, Platts A, Wang le L, Coon M, Nguyen T, Wang L et al. A program for annotating and predicting the effects of single nucleotide polymorphisms, SnpEff: SNPs in the genome of Drosophila melanogaster strain w1118; iso-2; iso-3. Fly 2012; 6: 80–92.

Liao Y, Smyth GK, Shi W . featureCounts: an efficient general purpose program for assigning sequence reads to genomic features. Bioinformatics 2014; 30: 923–930.

Robinson MD, McCarthy DJ, Smyth GK . edgeR: a Bioconductor package for differential expression analysis of digital gene expression data. Bioinformatics 2010; 26: 139–140.

Pfaffl MW . A new mathematical model for relative quantification in real-time RT-PCR. Nucleic Acids Res 2001; 29: e45.

Cancer Genome Atlas Research Network. Genomic and epigenomic landscapes of adult de novo acute myeloid leukemia. N Engl J Med 2013; 368: 2059–2074.

Jilg S, Reidel V, Muller-Thomas C, Konig J, Schauwecker J, Hockendorf U et al. Blockade of BCL-2 proteins efficiently induces apoptosis in progenitor cells of high-risk myelodysplastic syndromes patients. Leukemia 2015; 30: 112–123.

Konopleva M, Pollyea DA, Potluri J, Chyla BJ, Busman T, McKeegan E et al. A phase 2 study of ABT-199 (GDC-0199) in patients with acute myelogenous leukemia (AML). Blood 2014; 124: 21.

Shi C, Zhu Y, Su Y, Chung LW, Cheng T . Beta2-microglobulin: emerging as a promising cancer therapeutic target. Drug Discov Today 2009; 14: 25–30.

Chen CH, Su CY, Chien CY, Huang CC, Chuang HC, Fang FM et al. Overexpression of beta2-microglobulin is associated with poor survival in patients with oral cavity squamous cell carcinoma and contributes to oral cancer cell migration and invasion. Br J Cancer 2008; 99: 1453–1461.

Josson S, Nomura T, Lin JT, Huang WC, Wu D, Zhau HE et al. beta2-microglobulin induces epithelial to mesenchymal transition and confers cancer lethality and bone metastasis in human cancer cells. Cancer Res 2011; 71: 2600–2610.

Nomura T, Huang WC, Zhau HE, Josson S, Mimata H, Chung LW . beta2-Microglobulin-mediated signaling as a target for cancer therapy. Anticancer Agents Med Chem 2014; 14: 343–352.

Albitar M, Johnson M, Do KA, Day A, Jilani I, Pierce S et al. Levels of soluble HLA-I and beta2M in patients with acute myeloid leukemia and advanced myelodysplastic syndrome: association with clinical behavior and outcome of induction therapy. Leukemia 2007; 21: 480–488.

Neumann F, Gattermann N, Barthelmes HU, Haas R, Germing U . Levels of beta 2 microglobulin have a prognostic relevance for patients with myelodysplastic syndrome with regard to survival and the risk of transformation into acute myelogenous leukemia. Leuk Res 2009; 33: 232–236.

Nomura T, Huang WC, Zhau HE, Wu D, Xie Z, Mimata H et al. Beta2-microglobulin promotes the growth of human renal cell carcinoma through the activation of the protein kinase A, cyclic AMP-responsive element-binding protein, and vascular endothelial growth factor axis. Clin Cancer Res 2006; 12: 7294–7305.

Gordon J, Wu CH, Rastegar M, Safa AR . Beta2-microglobulin induces caspase-dependent apoptosis in the CCRF-HSB-2 human leukemia cell line independently of the caspase-3, -8 and -9 pathways but through increased reactive oxygen species. Int J Cancer 2003; 103: 316–327.

Rampal R, Alkalin A, Madzo J, Vasanthakumar A, Pronier E, Patel J et al. DNA hydroxymethylation profiling reveals that WT1 mutations result in loss of TET2 function in acute myeloid leukemia. Cell Rep 2014; 9: 1841–1855.

Niu X, Wang G, Wang Y, Caldwell JT, Edwards H, Xie C et al. Acute myeloid leukemia cells harboring MLL fusion genes or with the acute promyelocytic leukemia phenotype are sensitive to the Bcl-2-selective inhibitor ABT-199. Leukemia 2014; 28: 1557–1560.

Abdel-Wahab O, Adli M, LaFave LM, Gao J, Hricik T, Shih AH et al. ASXL1 mutations promote myeloid transformation through loss of PRC2-mediated gene repression. Cancer Cell 2012; 22: 180–193.

Deshpande AJ, Deshpande A, Sinha AU, Chen L, Chang J, Cihan A et al. AF10 regulates progressive H3K79 methylation and HOX gene expression in diverse AML subtypes. Cancer Cell 2014; 26: 896–908.

Benito JM, Godfrey L, Kojima K, Hogdal L, Wunderlich M, Geng H et al. MLL-rearranged acute lymphoblastic leukemias activate BCL-2 through H3K79 methylation and are sensitive to the BCL-2-specific antagonist ABT-199. Cell Rep 2015; 13: 2715–2727.

Brumatti G, Salmanidis M, Kok CH, Bilardi RA, Sandow JJ, Silke N et al. HoxA9 regulated Bcl-2 expression mediates survival of myeloid progenitors and the severity of HoxA9-dependent leukemia. Oncotarget 2013; 4: 1933–1947.

Giampaolo A, Sterpetti P, Bulgarini D, Samoggia P, Pelosi E, Valtieri M et al. Key functional role and lineage-specific expression of selected HOXB genes in purified hematopoietic progenitor differentiation. Blood 1994; 84: 3637–3647.

Sauvageau G, Lansdorp PM, Eaves CJ, Hogge DE, Dragowska WH, Reid DS et al. Differential expression of homeobox genes in functionally distinct CD34+ subpopulations of human bone marrow cells. Proc Natl Acad Sci USA 1994; 91: 12223–12227.

Spencer DH, Young MA, Lamprecht TL, Helton NM, Fulton R, O'Laughlin M et al. Epigenomic analysis of the HOX gene loci reveals mechanisms that may control canonical expression patterns in AML and normal hematopoietic cells. Leukemia 2015; 29: 1279–1289.

Wong TN, Ramsingh G, Young AL, Miller CA, Touma W, Welch JS et al. Role of TP53 mutations in the origin and evolution of therapy-related acute myeloid leukaemia. Nature 2015; 518: 552–555.

Konig H, Levis M . Is targeted therapy feasible in acute myelogenous leukemia? Curr Hematol Malig Rep 2014; 9: 118–127.
Acknowledgements
We thank the patients who participated in the study. We acknowledge Evgeny Kulesskiy and the personnel of the High Throughput Biomedicine Unit and Minna Suvela, Pekka Ellonen, Aino Palva, Pirkko Mattila, Matti Kankainen and Henrikki Almusa from Institute for Molecular Medicine Finland (FIMM) Technology Centre, University of Helsinki, for their expert technical assistance. We acknowledge personnel of HUSLAB, Helsinki and TYKSLAB, Turku, for clinical cytogenetic, immunophenotypic and molecular genetic data. The Instrumentarium Foundation, Emil Aaltonen Foundation, Biomedicum Foundation, Paulo Foundation, Blood Disease Foundation and the Doctoral Programme in Clinical Research, University of Helsinki, funded MK. FinPharma Doctoral Program-Drug Discovery Section funded TP. The work has been supported by the Finnish Funding Agency for Technology and Innovation and Finnish Cancer Organizations.
Author contributions
MK designed the study, analyzed the data and wrote the manuscript; AK and SE performed sequence data analysis; MMM, TP and JS performed drug sensitivity testing and corresponding analysis; BY and DM performed DSS/sDSS analysis; AP designed and performed the RQ-PCR experiments and analyzed the data; MK, BTG, MH, YF, KR and KP collected the patient specimens and corresponding clinical data; and CH, KW and KP conceived the study, supervised the work and wrote the manuscript. All authors contributed to and approved the final manuscript.
Ethics declarations
Competing interests
CAH has received research funding from Celgene and Pfizer; BTG has received research funding from Boehringer-Ingelheim Norge AS, and has been on advisory board for BerGenBio AS, Pfizer, Ariad, and Roche; MH has been on advisory boards for Janssen-Cilag and Akinion Pharmaceuticals; KP has received research funding from Celgene; and KW has received research funding from Pfizer.
Supplementary information
About this article
Cite this article
Kontro, M., Kumar, A., Majumder, M. et al. HOX gene expression predicts response to BCL-2 inhibition in acute myeloid leukemia. Leukemia 31, 301–309 (2017). https://doi.org/10.1038/leu.2016.222
Received:

Revised:

Accepted:

Published:

Issue Date:

DOI: https://doi.org/10.1038/leu.2016.222