Relevant articles
Open Access articles citing this article.
Trace M. Jones

,

Claudia M. Espitia

…

Steffan T. Nawrocki

Cell Death & Disease Open Access 15 April 2022

Justine Klosner

,

Konstantin Agelopoulos

…

Carsten Müller-Tidow

Scientific Reports Open Access 02 December 2021

Jia Yu

,

Bo Qin

&

Zhenkun Lou

Cell & Bioscience Open Access 11 February 2020
Access options
Subscribe to Journal
Get full journal access for 1 year
$119.00
only $9.92 per issue
All prices are NET prices.
VAT will be added later in the checkout.
Tax calculation will be finalised during checkout.
Buy article
Get time limited or full article access on ReadCube.
$32.00
All prices are NET prices.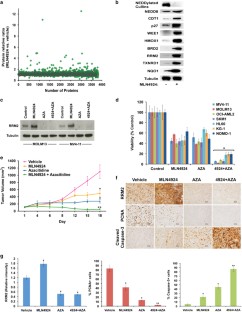 References
Podust VN, Brownell JE, Gladysheva TB, Luo RS, Wang C, Coggins MB et al. A Nedd8 conjugation pathway is essential for proteolytic targeting of p27Kip1 by ubiquitination. Proc Natl Acad Sci USA 2000; 97: 4579–4584.

Nawrocki ST, Griffin P, Kelly KR, Carew JS . MLN4924: a novel first-in-class inhibitor of NEDD8-activating enzyme for cancer therapy. Expert Opin Investig Drugs 2012; 21: 1563–1573.

Swords RT, Kelly KR, Smith PG, Garnsey JJ, Mahalingam D, Medina E et al. Inhibition of NEDD8-activating enzyme: a novel approach for the treatment of acute myeloid leukemia. Blood 2010; 115: 3796–3800.

Nawrocki ST, Kelly KR, Smith PG, Keaton M, Carraway H, Sekeres MA et al. The NEDD8-activating enzyme inhibitor MLN4924 disrupts nucleotide metabolism and augments the efficacy of cytarabine. Clin Cancer Res 2015; 21: 439–447.

Swords RT, Erba HP, DeAngelo DJ, Bixby DL, Altman JK, Maris M et al. Pevonedistat (MLN4924), a First-in-Class NEDD8-activating enzyme inhibitor, in patients with acute myeloid leukaemia and myelodysplastic syndromes: a phase 1 study. Br J Haematol 2015; 169: 534–543.

Hayashi E, Kuramitsu Y, Okada F, Fujimoto M, Zhang X, Kobayashi M et al. Proteomic profiling for cancer progression: Differential display analysis for the expression of intracellular proteins between regressive and progressive cancer cell lines. Proteomics 2005; 5: 1024–1032.

Nawrocki ST, Kelly KR, Smith PG, Espitia CM, Possemato A, Beausoleil SA et al. Disrupting protein NEDDylation with MLN4924 is a novel strategy to target cisplatin resistance in ovarian cancer. Clin Cancer Res 2013; 19: 3577–3590.

Lin JJ, Milhollen MA, Smith PG, Narayanan U, Dutta A . NEDD8-targeting drug MLN4924 elicits DNA rereplication by stabilizing Cdt1 in S phase, triggering checkpoint activation, apoptosis, and senescence in cancer cells. Cancer Res 2010; 70: 10310–10320.

Liao H, Liu XJ, Blank JL, Bouck DC, Bernard H, Garcia K et al. Quantitative proteomic analysis of cellular protein modulation upon inhibition of the NEDD8-activating enzyme by MLN4924. Mol Cell Proteomics 2011; 10: 009183.

Camos M, Esteve J, Jares P, Colomer D, Rozman M, Villamor N et al. Gene expression profiling of acute myeloid leukemia with translocation t(8;16)(p11;p13) and MYST3-CREBBP rearrangement reveals a distinctive signature with a specific pattern of HOX gene expression. Cancer Res 2006; 66: 6947–6954.

Mills KI, Kohlmann A, Williams PM, Wieczorek L, Liu WM, Li R et al. Microarray-based classifiers and prognosis models identify subgroups with distinct clinical outcomes and high risk of AML transformation of myelodysplastic syndrome. Blood 2009; 114: 1063–1072.

Polprasert C, Schulze I, Sekeres MA, Makishima H, Przychodzen B, Hosono N et al. Inherited and Somatic Defects in DDX41 in Myeloid Neoplasms. Cancer Cell 2015; 27: 658–670.

Aimiuwu J, Wang H, Chen P, Xie Z, Wang J, Liu S et al. RNA-dependent inhibition of ribonucleotide reductase is a major pathway for 5-azacytidine activity in acute myeloid leukemia. Blood 2012; 119: 5229–5238.

Burton TR, Kashour T, Wright JA, Amara FM . Cellular signaling pathways affect the function of ribonucleotide reductase mRNA binding proteins: mRNA stabilization, drug resistance, and malignancy (Review). Int J Oncol 2003; 22: 21–31.

Coude MM, Braun T, Berrou J, Dupont M, Bertrand S, Masse A et al. BET inhibitor OTX015 targets BRD2 and BRD4 and decreases c-MYC in acute leukemia cells. Oncotarget 2015; 6: 17698–17712.
Acknowledgements
This work was supported by the National Cancer Institute grant R01CA172443 (to JSC).
Author contributions
VV analyzed and interpreted data and wrote the manuscript; STN analyzed and interpreted data and participated in manuscript preparation; CME performed experiments, analyzed the data, and edited the manuscript; KRK provided intellectual input and contributed to manuscript preparation; AP and SAB performed proteome profiling and contributed to manuscript preparation; YH participated in manuscript preparation; HEC, AN, ASA, JPM and MAS contributed to data interpretation and manuscript preparation; JSC designed the study, analyzed and interpreted data and wrote the manuscript. All authors approved the manuscript before submission.
Ethics declarations
Competing interests
AP and SAB are employees of Cell Signaling Technology. The other authors declare no conflict of interest.
Supplementary information
About this article
Cite this article
Visconte, V., Nawrocki, S., Espitia, C. et al. Comprehensive quantitative proteomic profiling of the pharmacodynamic changes induced by MLN4924 in acute myeloid leukemia cells establishes rationale for its combination with azacitidine. Leukemia 30, 1190–1194 (2016). https://doi.org/10.1038/leu.2015.250
Published:

Issue Date:

DOI: https://doi.org/10.1038/leu.2015.250