Relevant articles
Open Access articles citing this article.
Marquita Camilleri

,

Georgios Bekris

…

Abigail Fisher

Supportive Care in Cancer Open Access 03 June 2022

Cristina Encinas

,

José-Ángel Hernandez-Rivas

…

Joaquín Martínez-López

Blood Cancer Journal Open Access 19 April 2022

Narine Ghazaryan

,

Samvel Danelyan

…

Lusine Sahakyan

BMC Cancer Open Access 21 August 2021
Access options
Subscribe to Journal
Get full journal access for 1 year
$119.00
only $9.92 per issue
All prices are NET prices.
VAT will be added later in the checkout.
Tax calculation will be finalised during checkout.
Buy article
Get time limited or full article access on ReadCube.
$32.00
All prices are NET prices.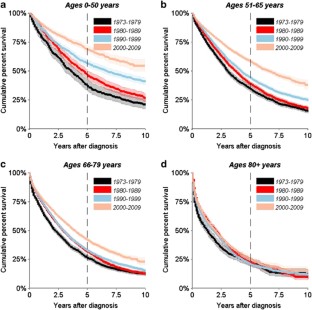 References
Socialstyrelsen. Cancer Incidence in Sweden 2006. Stockholm, Sweden 2007.

Kristinsson SY, Landgren O, Dickman PW, Derolf AR, Bjorkholm M . Patterns of survival in multiple myeloma: a population-based study of patients diagnosed in Sweden from 1973 to 2003. J Clin Oncol 2007; 25: 1993–1999.

Gay F, Larocca A, Wijermans P, Cavallo F, Rossi D, Schaafsma R et al. Complete response correlates with long-term progression-free and overall survival in elderly myeloma treated with novel agents: analysis of 1175 patients. Blood 2011; 117: 3025–3031.

San Miguel JF, Schlag R, Khuageva NK, Dimopoulos MA, Shpilberg O, Kropff M et al. Bortezomib plus melphalan and prednisone for initial treatment of multiple myeloma. N Engl J Med 2008; 359: 906–917.

Dimopoulos M, Spencer A, Attal M, Prince HM, Harousseau JL, Dmoszynska A et al. Lenalidomide plus dexamethasone for relapsed or refractory multiple myeloma. N Engl J Med 2007; 357: 2123–2132.

Turesson I, Kristinsson SY, Bjorkholm M, Landgren O . Clinical trials and population-based studies to assess survival benefits in multiple myeloma: welcome to the future!. Blood 2011; e-pub ahead of print 9 November 2011; http://bloodjournal.hematologylibrary.org/content/118/12/3205/reply.

Turesson I, Velez R, Kristinsson SY, Landgren O . Patterns of improved survival in patients with multiple myeloma in the twenty-first century: a population-based study. J Clin Oncol 2010; 28: 830–834.

Brenner H, Gondos A, Pulte D . Recent major improvement in long-term survival of younger patients with multiple myeloma. Blood 2008; 111: 2521–2526.

Kumar SK, Rajkumar SV, Dispenzieri A, Lacy MQ, Hayman SR, Buadi FK et al. Improved survival in multiple myeloma and the impact of novel therapies. Blood 2008; 111: 2516–2520.

Waxman AJ, Mink PJ, Devesa SS, Anderson WF, Weiss BM, Kristinsson SY et al. Racial disparities in incidence and outcome in multiple myeloma: a population-based study. Blood 2010; 116: 5501–5506.

Kumar SK, Dispenzieri A, Lacy MQ, Gertz MA, Buadi FK, Pandey S et al. Continued improvement in survival in multiple myeloma: changes in early mortality and outcomes in older patients. Leukemia 2013; e-pub ahead of print 25 October 2013; doi:10.1038/leu.2013.313.

Surveillance E, End Results (SEER) Programwww.seer.cancer.govSEER*Stat Database: Incidence - SEER 9 Regs Research Data, Nov 2011 Sub (1973-2010) <Katrina/Rita Population Adjustment> - Linked To County Attributes - Total U.S., 1969-2010 Counties, National Cancer Institute, DCCPS, Surveillance Research Program, Surveillance Systems Branch, released April 2013, based on the November 2012 submission.

Fritz AG . International Classification of Diseases for Oncology: ICD-O 3rd edn. World Health Organization: Geneva, Switzerland, 2000; pp 240 vii.

Palumbo A, Anderson K . Multiple myeloma. N Engl J Med 2011; 364: 1046–1060.

Zhan F, Huang Y, Colla S, Stewart JP, Hanamura I, Gupta S et al. The molecular classification of multiple myeloma. Blood 2006; 108: 2020–2028.

Jakubowiak AJ, Dytfeld D, Griffith KA, Lebovic D, Vesole DH, Jagannath S et al. A phase 1/2 study of carfilzomib in combination with lenalidomide and low-dose dexamethasone as a frontline treatment for multiple myeloma. Blood 2012; 120: 1801–1809.

Landgren O, Korde N . Treating myeloma: the future is already here!. Blood 2012; 120: 1754–1756.
Ethics declarations
Competing interests
The authors declare no conflict of interest.
About this article
Cite this article
Kristinsson, S., Anderson, W. & Landgren, O. Improved long-term survival in multiple myeloma up to the age of 80 years. Leukemia 28, 1346–1348 (2014). https://doi.org/10.1038/leu.2014.23
Published:

Issue Date:

DOI: https://doi.org/10.1038/leu.2014.23