Abstract
Hematopoietic stem cell transplantation (HSCT) from human leukocyte antigen (HLA) haploidentical family donors is a promising therapeutic option for high-risk hematologic malignancies. Here we explored in 121 patients, mostly with advanced stage diseases, a sirolimus-based, calcineurin-inhibitor-free prophylaxis of graft-versus-host disease (GvHD) to allow the infusion of unmanipulated peripheral blood stem cell (PBSC) grafts from partially HLA-matched family donors (TrRaMM study, Eudract 2007-5477-54). Conditioning regimen was based on treosulfan and fludarabine, and GvHD prophylaxis on antithymocyte globulin Fresenius (ATG-F), rituximab and oral administration of sirolimus and mycophenolate. Neutrophil and platelet engraftment occurred in median at 17 and 19 days after HSCT, respectively, and full donor chimerism was documented in patients' bone marrow since the first post-transplant evaluation. T-cell immune reconstitution was rapid, and high frequencies of circulating functional T-regulatory cells (Treg) were documented during sirolimus prophylaxis. Incidence of acute GvHD grade II–IV was 35%, and occurrence and severity correlated negatively with Treg frequency. Chronic GvHD incidence was 47%. At 3 years after HSCT, transpant-related mortality was 31%, relapse incidence 48% and overall survival 25%. In conclusion, GvHD prophylaxis with sirolimus–mycophenolate–ATG-F–rituximab promotes a rapid immune reconstitution skewed toward Tregs, allowing the infusion of unmanipulated haploidentical PBSC grafts.
Relevant articles
Open Access articles citing this article.
Lorenzo Lazzari

,

Aitana Balaguer-Roselló

…

Jaime Sanz

Bone Marrow Transplantation Open Access 09 June 2022

Roberto Crocchiolo

,

Clara Cesana

…

Roberto Cairoli

Experimental Hematology & Oncology Open Access 16 February 2021

Simona Piemontese

,

Ariane Boumendil

…

Arnon Nagler

Journal of Hematology & Oncology Open Access 04 July 2019
Access options
Subscribe to this journal
Receive 12 print issues and online access
$259.00 per year
only $21.58 per issue
Rent or buy this article
Get just this article for as long as you need it
$39.95
Prices may be subject to local taxes which are calculated during checkout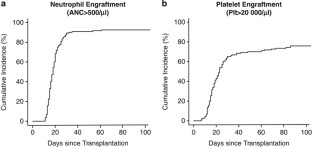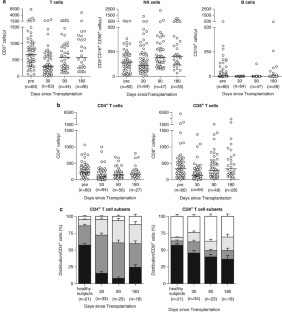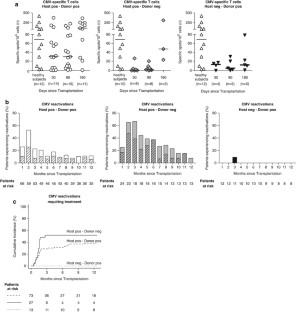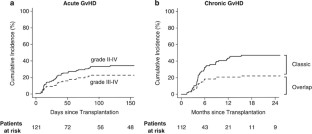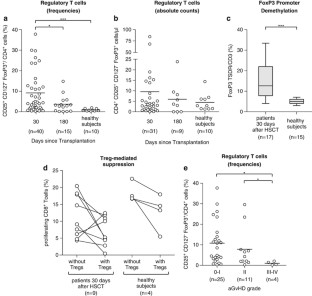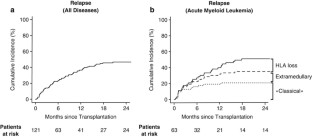 References
Copelan EA . Hematopoietic stem-cell transplantation. N Engl J Med 2006; 354: 1813–1826.

Zuckerman T, Rowe JM . Alternative donor transplantation in acute myeloid leukemia: which source and when? Curr Opin Hematol 2007; 14: 152–161.

Reisner Y, Hagin D, Martelli MF . Haploidentical hematopoietic transplantation: current status and future perspectives. Blood 2011; 118: 6006–6017.

Beatty PG, Clift RA, Mickelson EM, Nisperos BB, Flournoy N, Martin PJ et al. Marrow transplantation from related donors other than HLA-identical siblings. N Engl J Med 1985; 313: 765–771.

Aversa F, Tabilio A, Velardi A, Cunningham I, Terenzi A, Falzetti F et al. Treatment of high-risk acute leukemia with T-cell-depleted stem cells from related donors with one fully mismatched HLA haplotype. N Engl J Med 1998; 339: 1186–1193.

Aversa F, Terenzi A, Tabilio A, Falzetti F, Carotti A, Ballanti S et al. Full haplotype-mismatched hematopoietic stem-cell transplantation: a phase II study in patients with acute leukemia at high risk of relapse. J Clin Oncol 2005; 23: 3447–3454.

Kennedy-Nasser AA, Brenner MK . T-cell therapy after hematopoietic stem cell transplantation. Curr Opin Hematol 2007; 14: 616–624.

Ciceri F, Bonini C, Stanghellini MT, Bondanza A, Traversari C, Salomoni M et al. Infusion of suicide-gene-engineered donor lymphocytes after family haploidentical haemopoietic stem-cell transplantation for leukaemia (the TK007 trial): a non-randomised phase I-II study. Lancet Oncol 2009; 10: 489–500.

Ciceri F, Labopin M, Aversa F, Rowe JM, Bunjes D, Lewalle P et al. A survey of fully haploidentical hematopoietic stem cell transplantation in adults with high-risk acute leukemia: a risk factor analysis of outcomes for patients in remission at transplantation. Blood 2008; 112: 3574–3581.

Luznik L, O'Donnell PV, Symons HJ, Chen AR, Leffell MS, Zahurak M et al. HLA-haploidentical bone marrow transplantation for hematologic malignancies using nonmyeloablative conditioning and high-dose, post-transplantation cyclophosphamide. Biol Blood Marrow Transplant 2008; 14: 641–650.

Raiola AM, Dominietto A, Ghiso A, Di Grazia C, Lamparelli T, Gualandi F et al. Unmanipulated haploidentical bone marrow transplantation and posttransplantation cyclophosphamide for hematologic malignancies after myeloablative conditioning. Biol Blood Marrow Transplant 2012; 19: 117–122.

Di Bartolomeo P, Santarone S, De Angelis G, Picardi A, Cudillo L, Cerretti R et al. Haploidentical, unmanipulated, G-CSF-primed bone marrow transplantation for patients with high-risk hematologic malignancies. Blood 2013; 121: 849–857.

Appelbaum FR . Pursuing the goal of a donor for everyone in need. N Engl J Med 2012; 367: 1555–1556.

Battaglia M, Stabilini A, Migliavacca B, Horejs-Hoeck J, Kaupper T, Roncarolo MG . Rapamycin promotes expansion of functional CD4+CD25+FOXP3+ regulatory T cells of both healthy subjects and type 1 diabetic patients. J Immunol 2006; 177: 8338–8347.

Sakaguchi S . Regulatory T cells: history and perspective. Methods Mol Biol 2011; 707: 3–17.

Trenado A, Charlotte F, Fisson S, Yagello M, Klatzmann D, Salomon BL et al. Recipient-type specific CD4+CD25+ regulatory T cells favor immune reconstitution and control graft-versus-host disease while maintaining graft-versus-leukemia. J Clin Invest 2003; 112: 1688–1696.

Edinger M, Hoffmann P, Ermann J, Drago K, Fathman CG, Strober S et al. CD4+CD25+ regulatory T cells preserve graft-versus-tumor activity while inhibiting graft-versus-host disease after bone marrow transplantation. Nat Med 2003; 9: 1144–1150.

Kanakry CG, Ganguly S, Zahurak M, Bolanos-Meade J, Thoburn C, Perkins B et al. Aldehyde dehydrogenase expression drives human regulatory T cell resistance to post-transplantation cyclophosphamide. Sci Transl Med 2013; 5: 211ra157.

Brunstein CG, Miller JS, Cao Q, McKenna DH, Hippen KL, Curtsinger J et al. Infusion of ex vivo expanded T regulatory cells in adults transplanted with umbilical cord blood: safety profile and detection kinetics. Blood 2011; 117: 1061–1070.

Di Ianni M, Falzetti F, Carotti A, Terenzi A, Castellino F, Bonifacio E et al. Tregs prevent GVHD and promote immune reconstitution in HLA-haploidentical transplantation. Blood 2011; 117: 3921–3928.

Teachey DT, Grupp SA, Brown VI . Mammalian target of rapamycin inhibitors and their potential role in therapy in leukaemia and other haematological malignancies. Br J Haematol 2009; 145: 569–580.

von Reyn Cream L, Ehmann WC, Rybka WB, Claxton DF . Sirolimus in unmanipulated haploidentical cell transplantation. Bone Marrow Transplant 2008; 42: 765–766.

Armand P, Gibson CJ, Cutler C, Ho VT, Koreth J, Alyea EP et al. A disease risk index for patients undergoing allogeneic stem cell transplantation. Blood 2012; 120: 905–913.

Sorror ML, Maris MB, Storb R, Baron F, Sandmaier BM, Maloney DG et al. Hematopoietic cell transplantation (HCT)-specific comorbidity index: a new tool for risk assessment before allogeneic HCT. Blood 2005; 106: 2912–2919.

Ruggeri L, Capanni M, Urbani E, Perruccio K, Shlomchik WD, Tosti A et al. Effectiveness of donor natural killer cell alloreactivity in mismatched hematopoietic transplants. Science 2002; 295: 2097–2100.

Mazzi B, Clerici TD, Zanussi M, Lupo Stanghellini MT, Vago L, Sironi E et al. Genomic typing for patient-specific human leukocyte antigen-alleles is an efficient tool for relapse detection of high-risk hematopoietic malignancies after stem cell transplantation from alternative donors. Leukemia 2008; 22: 2119–2122.

Sacre K, Carcelain G, Cassoux N, Fillet AM, Costagliola D, Vittecoq D et al. Repertoire, diversity, and differentiation of specific CD8 T cells are associated with immune protection against human cytomegalovirus disease. J Exp Med 2005; 201: 1999–2010.

Wieczorek G, Asemissen A, Model F, Turbachova I, Floess S, Liebenberg V et al. Quantitative DNA methylation analysis of FOXP3 as a new method for counting regulatory T cells in peripheral blood and solid tissue. Cancer Res 2009; 69: 599–608.

Apperley J, Carreras E, Gluckman E, Masszi T . ESH-EBMT Handbook on Haematopoietic Stem Cell Transplantation. Forum Service Editore: Genova, Italy, 2012.

Gooley TA, Leisenring W, Crowley J, Storer BE . Estimation of failure probabilities in the presence of competing risks: new representations of old estimators. Statist Med 1999; 18: 695–706.

Glucksberg H, Storb R, Fefer A, Buckner CD, Neiman PE, Clift RA et al. Clinical manifestations of graft-versus-host disease in human recipients of marrow from HL-A-matched sibling donors. Transplantation 1974; 18: 295–304.

Shulman HM, Sullivan KM, Weiden PL, McDonald GB, Striker GE, Sale GE et al. Chronic graft-versus-host syndrome in man. A long-term clinicopathologic study of 20 Seattle patients. Am J Med 1980; 69: 204–217.

Pavletic SZ, Kumar S, Mohty M, de Lima M, Foran JM, Pasquini M et al. NCI First International Workshop on the Biology, Prevention, and Treatment of Relapse after Allogeneic Hematopoietic Stem Cell Transplantation: report from the Committee on the Epidemiology and Natural History of Relapse following Allogeneic Cell Transplantation. Biol Blood Marrow Transplant 2010; 16: 871–890.

Vago L, Perna SK, Zanussi M, Mazzi B, Barlassina C, Stanghellini MT et al. Loss of mismatched HLA in leukemia after stem-cell transplantation. N Engl J Med 2009; 361: 478–488.

Vago L, Forno B, Sormani MP, Crocchiolo R, Zino E, Di Terlizzi S et al. Temporal, quantitative, and functional characteristics of single-KIR-positive alloreactive natural killer cell recovery account for impaired graft-versus-leukemia activity after haploidentical hematopoietic stem cell transplantation. Blood 2008; 112: 3488–3499.

Elmaagacli AH, Steckel NK, Koldehoff M, Hegerfeldt Y, Trenschel R, Ditschkowski M et al. Early human cytomegalovirus replication after transplantation is associated with a decreased relapse risk: evidence for a putative virus-versus-leukemia effect in acute myeloid leukemia patients. Blood 2011; 118: 1402–1412.

Green ML, Leisenring WM, Xie H, Walter RB, Mielcarek M, Sandmaier BM et al. CMV reactivation after allogeneic HCT and relapse risk: evidence for early protection in acute myeloid leukemia. Blood 2013; 122: 1316–1324.

Duval M, Klein JP, He W, Cahn JY, Cairo M, Camitta BM et al. Hematopoietic stem-cell transplantation for acute leukemia in relapse or primary induction failure. J Clin Oncol 2010; 28: 3730–3738.

Craddock C, Labopin M, Pillai S, Finke J, Bunjes D, Greinix H et al. Factors predicting outcome after unrelated donor stem cell transplantation in primary refractory acute myeloid leukaemia. Leukemia 2011; 25: 808–813.

Todisco E, Ciceri F, Oldani E, Boschini C, Mico C, Vanlint MT et al. The CIBMTR score predicts survival of AML patients undergoing allogeneic transplantation with active disease after a myeloablative or reduced intensity conditioning: a retrospective analysis of the Gruppo Italiano Trapianto Di Midollo Osseo. Leukemia 2013; 27: 2086–2091.

Marty FM, Bryar J, Browne SK, Schwarzberg T, Ho VT, Bassett IV et al. Sirolimus-based graft-versus-host disease prophylaxis protects against cytomegalovirus reactivation after allogeneic hematopoietic stem cell transplantation: a cohort analysis. Blood 2007; 110: 490–500.

Perruccio K, Tosti A, Burchielli E, Topini F, Ruggeri L, Carotti A et al. Transferring functional immune responses to pathogens after haploidentical hematopoietic transplantation. Blood 2005; 106: 4397–4406.

Amrolia PJ, Muccioli-Casadei G, Huls H, Adams S, Durett A, Gee A et al. Adoptive immunotherapy with allodepleted donor T-cells improves immune reconstitution after haploidentical stem cell transplantation. Blood 2006; 108: 1797–1808.

Anasetti C, Logan BR, Lee SJ, Waller EK, Weisdorf DJ, Wingard JR et al. Peripheral-blood stem cells versus bone marrow from unrelated donors. N Engl J Med 2012; 367: 1487–1496.

Ringden O, Labopin M, Beelen DW, Volin L, Ehninger G, Finke J et al. Bone marrow or peripheral blood stem cell transplantation from unrelated donors in adult patients with acute myeloid leukaemia, an Acute Leukaemia Working Party analysis in 2262 patients. J Intern Med 2012; 272: 472–483.

Favre G, Beksac M, Bacigalupo A, Ruutu T, Nagler A, Gluckman E et al. Differences between graft product and donor side effects following bone marrow or stem cell donation. Bone Marrow Transplant 2003; 32: 873–880.

Vago L, Toffalori C, Ciceri F, Fleischhauer K . Genomic loss of mismatched human leukocyte antigen and leukemia immune escape from haploidentical graft-versus-leukemia. Semin Oncol 2012; 39: 707–715.

Platzbecker U, Wermke M, Radke J, Oelschlaegel U, Seltmann F, Kiani A et al. Azacitidine for treatment of imminent relapse in MDS or AML patients after allogeneic HSCT: results of the RELAZA trial. Leukemia 2012; 26: 381–389.

Provasi E, Genovese P, Lombardo A, Magnani Z, Liu PQ, Reik A et al. Editing T cell specificity towards leukemia by zinc finger nucleases and lentiviral gene transfer. Nat Med 2012; 18: 807–815.

Kochenderfer JN, Dudley ME, Carpenter RO, Kassim SH, Rose JJ, Telford WG et al. Donor-derived CD19-targeted T cells cause regression of malignancy persisting after allogeneic hematopoietic stem cell transplantation. Blood 2013; 122: 4129–4139.
Acknowledgements
This study was supported by the Italian Ministry of Health, by the Italian Ministry of University and Research, by the Cariplo Foundation (to KF), by the Associazione Italiana per la Ricerca sul Cancro (My First AIRC Grant to AB, Start-Up Grant to LV, Investigator Grant to ChB and to KF), and by the European Community (ERANET-TRANSCAN grant to AB). The funders had no role in the study design, data collection and analysis, decision to publish or preparation of the manuscript.
Author contributions
JP and FC designed the study and analyzed the data. JP, AFo, DC, LV, MTLS, CM, AC, AA, SMar, SMas, FG, AL, EG, FLu, MC, MT, MGR, SR, MBe, CC, MM, FP, MZ, FLo and FC contributed to patient clinical care and data collection. AFo, LV, MN, SO, MBa, AFe, MRC, GO, KF, AB and ChB contributed to the immune monitoring data collection and interpretation. RC and LC performed the statistical analyses. JP, AFo, LV, AB, ChB and FC wrote the paper.
Ethics declarations
Competing interests
Dr Chiara Bonini is a scientific consultant of MolMed SpA, Milan, Italy. Professor Claudio Bordignon is an employee of MolMed SpA, Milan, Italy. The remaining authors declare no conflict of interest.
About this article
Cite this article
Peccatori, J., Forcina, A., Clerici, D. et al. Sirolimus-based graft-versus-host disease prophylaxis promotes the in vivo expansion of regulatory T cells and permits peripheral blood stem cell transplantation from haploidentical donors. Leukemia 29, 396–405 (2015). https://doi.org/10.1038/leu.2014.180
Received:

Revised:

Accepted:

Published:

Issue Date:

DOI: https://doi.org/10.1038/leu.2014.180