Abstract
Telomeres are specialized structures providing chromosome integrity during cellular division along with protection against premature senescence and apoptosis. Accelerated telomere attrition in patients with myelodysplastic syndrome (MDS) occurs by an undefined mechanism. Although the MDS clone originates within the myeloid compartment, T-lymphocytes display repertoire contraction and loss of naive T-cells. The replicative lifespan of T-cells is stringently regulated by telomerase activity. In MDS cases, we show that purified CD3+ T-cells have significantly shorter telomere length and reduced proliferative capacity upon stimulation compared with controls. To understand the mechanism, telomerase enzymatic activity and telomerase reverse transcriptase (hTERT), gene expression were compared in MDS cases (n=35) and healthy controls (n=42) within different T-cell compartments. Telomerase activity is greatest in naive T-cells illustrating the importance of telomere repair in homeostatic repertoire regulation. Compared with healthy controls, MDS cases had lower telomerase induction (P<0.0001) that correlated with significantly lower hTERT mRNA (P<0.0001), independent of age and disease stratification. hTERT mRNA deficiency affected naive but not memory T-cells, and telomere erosion in MDS occurred without evidence of an hTERT-promoter mutation, copy number variation or deletion. Telomerase insufficiency may undermine homeostatic control within the hematopoietic compartment and promote a change in the T-cell repertoire in MDS.
Relevant articles
Open Access articles citing this article.
Zhaoyun Liu

,

Xintong Xu

…

Rong Fu

European Journal of Medical Research Open Access 04 January 2023

Valeria Nofrini

,

Caterina Matteucci

…

Cristina Mecucci

Leukemia Open Access 04 May 2020

Limengmeng Wang

,

Haowen Xiao

…

He Huang

Journal of Hematology & Oncology Open Access 20 August 2014
Access options
Subscribe to this journal
Receive 12 print issues and online access
$259.00 per year
only $21.58 per issue
Rent or buy this article
Prices vary by article type
from$1.95
to$39.95
Prices may be subject to local taxes which are calculated during checkout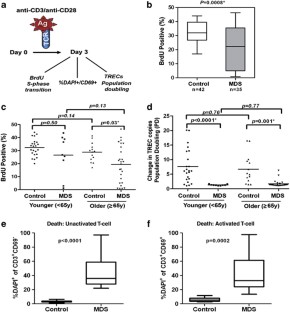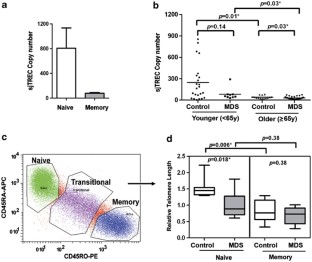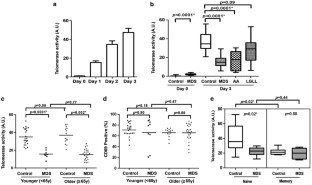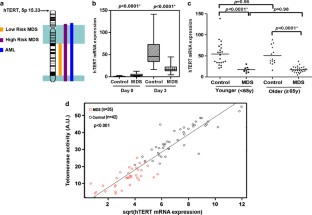 References
Greenberg P, Cox C, LeBeau MM, Fenaux P, Morel P, Sanz G et al. International scoring system for evaluating prognosis in myelodysplastic syndromes. Blood 1997; 89: 2079–2088.

Bejar R, Stevenson K, Abdel-Wahab O, Galili N, Nilsson B, Garcia-Manero G et al. Clinical effect of point mutations in myelodysplastic syndromes. N Engl J Med 2011; 364: 2496–2506.

Calado RT . Immunologic aspects of hypoplastic myelodysplastic syndrome. Semin Oncol 2011; 38: 667–672.

Lepelley P, Grardel N, Erny O, Iaru T, Obein V, Cosson A et al. Fas/APO-1 (CD95) expression in myelodysplastic syndromes. Leuk Lymphoma 1998; 30: 307–312.

Raza A, Alvi S, Borok RZ, Span L, Parcharidou A, Alston D et al. Excessive proliferation matched by excessive apoptosis in myelodysplastic syndromes: the cause-effect relationship. Leuk Lymphoma 1997; 27: 111–118.

Young NS . Telomere biology and telomere diseases: implications for practice and research. Hematology Am Soc Hematol Educ Program 2010; 2010: 30–35.

Ju Z, Zhang J, Gao Y, Cheng T . Telomere dysfunction and cell cycle checkpoints in hematopoietic stem cell aging. Int J Hematol 2011; 94: 33–43.

Calado RT, Young NS . Telomere maintenance and human bone marrow failure. Blood 2008; 111: 4446–4455.

Young NS . Pathophysiologic mechanisms in acquired aplastic anemia. Hematology Am Soc Hematol Educ Program 2006, 72–77.

Fujii H, Shao L, Colmegna I, Goronzy JJ, Weyand CM . Telomerase insufficiency in rheumatoid arthritis. Proc Natl Acad Sci USA 2009; 106: 4360–4365.

Wlodarski MW, Gondek LP, Nearman ZP, Plasilova M, Kalaycio M, Hsi ED et al. Molecular strategies for detection and quantitation of clonal cytotoxic T-cell responses in aplastic anemia and myelodysplastic syndrome. Blood 2006; 108: 2632–2641.

Sloand EM, Kim S, Fuhrer M, Risitano AM, Nakamura R, Maciejewski JP et al. Fas-mediated apoptosis is important in regulating cell replication and death in trisomy 8 hematopoietic cells but not in cells with other cytogenetic abnormalities. Blood 2002; 100: 4427–4432.

Sloand EM, Melenhorst JJ, Tucker ZC, Pfannes L, Brenchley JM, Yong A et al. T-cell immune responses to Wilms tumor 1 protein in myelodysplasia responsive to immunosuppressive therapy. Blood 2011; 117: 2691–2699.

Germing U, Strupp C, Kuendgen A, Isa S, Knipp S, Hildebrandt B et al. Prospective validation of the WHO proposals for the classification of myelodysplastic syndromes. Haematologica 2006; 91: 1596–1604.

Cawthon RM, Smith KR, O'Brien E, Sivatchenko A, Kerber RA . Association between telomere length in blood and mortality in people aged 60 years or older. Lancet 2003; 361: 393–395.

Rollison DE, Epling-Burnette PK, Park JY, Lee JH, Park H, Jonathan K et al. Telomere length in myelodysplastic syndromes. Leuk Lymphoma 2011; 52: 1528–1536.

McFarland RD, Douek DC, Koup RA, Picker LJ . Identification of a human recent thymic emigrant phenotype. Proc Natl Acad Sci USA 2000; 97: 4215–4220.

Richardson MW, Sverstiuk A, Hendel H, Cheung TW, Zagury JF, Rappaport J . Analysis of telomere length and thymic output in fast and slow/non-progressors with HIV infection. Biomed Pharmacother 2000; 54: 21–31.

McDaniel JM, Zou JX, Fulp W, Chen DT, List AF, Epling-Burnette PK . Reversal of T-cell tolerance in myelodysplastic syndrome through lenalidomide immune modulation. Leukemia 2012; 26: 1425–1429.

Poulin JF, Viswanathan MN, Harris JM, Komanduri KV, Wieder E, Ringuette N et al. Direct evidence for thymic function in adult humans. J Exp Med 1999; 190: 479–486.

Goronzy JJ, Fujii H, CM Weyand . Telomeres immune aging and autoimmunity. Exp Gerontol 2006; 41: 246–251.

Maciejewski JP, Hibbs JR, Anderson S, Katevas P, Young NS . Bone marrow and peripheral blood lymphocyte phenotype in patients with bone marrow failure. Exp Hematol 1994; 22: 1102–1110.

Zou JX, Rollison DE, Boulware D, Chen DT, Sloand EM, Pfannes LV et al. Altered naive and memory CD4+ T-cell homeostasis and immunosenescence characterize younger patients with myelodysplastic syndrome. Leukemia 2009; 23: 1288–1296.

Campbell JJ, Murphy KE, Kunkel EJ, Brightling CE, Soler D, Shen Z et al. CCR7 expression and memory T cell diversity in humans. J Immunol 2001; 166: 877–884.

Amlot PL, Tahami F, Chinn D, Rawlings E . Activation antigen expression on human T cells. I. Analysis by two-colour flow cytometry of umbilical cord blood, adult blood and lymphoid tissue. Clin Exp Immunol 1996; 105: 176–182.

Chebel A, Rouault JP, Urbanowicz I, Baseggio L, Chien WW, Salles G et al. Transcriptional activation of hTERT, the human telomerase reverse transcriptase, by nuclear factor of activated T cells. J Biol Chem 2009; 284: 35725–35734.

Jerez A, Gondek LP, Jankowska AM, Makishima H, Przychodzen B, Tiu RV et al. Topography, clinical, and genomic correlates of 5q myeloid malignancies revisited. J Clin Oncol 2012; 30: 1343–1349.

Boultwood J, Fidler C, Kusec R, Rack K, Elliott PJ, Atoyebi O et al. Telomere length in myelodysplastic syndromes. Am J Hematol 1997; 56: 266–271.

Counter CM, Gupta J, Harley CB, Leber B, Bacchetti S . Telomerase activity in normal leukocytes and in hematologic malignancies. Blood 1995; 85: 2315–2320.

Gurkan E, Tanriverdi K, Baslamisli F . Telomerase activity in myelodysplastic syndromes. Leuk Res 2005; 29: 1131–1139.

Sashida G, Ohyashiki JH, Nakajima A, Sumi M, Kawakubo K, Tauchi T et al. Telomere dynamics in myelodysplastic syndrome determined by telomere measurement of marrow metaphases. Clin Cancer Res 2003; 9: 1489–1496.

Lange K, Holm L, Vang Nielsen K, Hahn A, Hofmann W, Kreipe H et al. Telomere shortening and chromosomal instability in myelodysplastic syndromes. Genes Chromosomes Cancer 2010; 49: 260–269.

Marcondes AM, Bair S, Rabinovitch PS, Gooley T, Deeg HJ, Risques R . No telomere shortening in marrow stroma from patients with MDS. Ann Hematol 2009; 88: 623–628.

Kordasti SY, Afzali B, Lim Z, Ingram W, Hayden J, Barber L et al. IL-17-producing CD4(+) T cells, pro-inflammatory cytokines and apoptosis are increased in low risk myelodysplastic syndrome. Br J Haematol 2009; 145: 64–72.

Kordasti SY, Ingram W, Hayden J, Darling D, Barber L, Afzali B et al. CD4+CD25high Foxp3+ regulatory T cells in myelodysplastic syndrome (MDS). Blood 2007; 110: 847–850.

Campioni D, Secchiero P, Corallini F, Melloni E, Capitani S, Lanza F et al. Evidence for a role of TNF-related apoptosis-inducing ligand (TRAIL) in the anemia of myelodysplastic syndromes. Am J Pathol 2005; 166: 557–563.

Sawanobori M, Yamaguchi S, Hasegawa M, Inoue M, Suzuki K, Kamiyama R et al. Expression of TNF receptors and related signaling molecules in the bone marrow from patients with myelodysplastic syndromes. Leuk Res 2003; 27: 583–591.

Brazil JJ, Gupta P . Constitutive expression of the Fas receptor and its ligand in adult human bone marrow: a regulatory feedback loop for the homeostatic control of hematopoiesis. Blood Cells Mol Dis 2002; 29: 94–103.

Henel G, Singh K, Cui D, Pryshchep S, Lee WW, Weyand CM et al. Uncoupling of T-cell effector functions by inhibitory killer immunoglobulin-like receptors. Blood 2006; 107: 4449–4457.

Schonland SO, Lopez C, Widmann T, Zimmer J, Bryl E, Goronzy JJ et al. Premature telomeric loss in rheumatoid arthritis is genetically determined and involves both myeloid and lymphoid cell lineages. Proc Natl Acad Sci USA 2003; 100: 13471–13476.

Daniel M, Peek GW, Tollefsbol TO . Regulation of the human catalytic subunit of telomerase (hTERT). Gene 2012; 498: 135–146.

Zhang Y, Toh L, Lau P, Wang X . Telomerase reverse transcriptase (TERT) is a novel target of Wnt/beta-catenin pathway in human cancer. J Biol Chem 2012; 287: 32494–32511.

Shao L, Goronzy JJ, Weyand CM . DNA-dependent protein kinase catalytic subunit mediates T-cell loss in rheumatoid arthritis. EMBO Mol Med 2010; 2: 415–427.

Kuroda J, Taniwaki M . Involvement of BH3-only proteins in hematologic malignancies. Crit Rev Oncol Hematol 2009; 71: 89–101.

Gore SD, Hermes-DeSantis ER . Future directions in myelodysplastic syndrome: newer agents and the role of combination approaches. Cancer Control 2008; 15 (Suppl): 40–49.

Fibbe WE . Telomerase mutations in aplastic anemia. N Engl J Med 2005; 352: 1481–1483.

Yamaguchi H, Calado RT, Ly H, Kajigaya S, Baerlocher GM, Chanock SJ et al. Mutations in TERT, the gene for telomerase reverse transcriptase, in aplastic anemia. N Engl J Med 2005; 352: 1413–1424.

Ly H, Calado RT, Allard P, Baerlocher GM, Lansdorp PM, Young NS et al. Functional characterization of telomerase RNA variants found in patients with hematologic disorders. Blood 2005; 105: 2332–2339.

Nimer SD . MDS: a stem cell disorder--but what exactly is wrong with the primitive hematopoietic cells in this disease? Hematology Am Soc Hematol Educ Program 2008, 43–51.

Briatore F, Barrera G, Pizzimenti S, Toaldo C, Casa CD, Laurora S et al. Increase of telomerase activity and hTERT expression in myelodysplastic syndromes. Cancer Biol Ther 2009; 8: 883–889.
Acknowledgements
Funding for this project was provided by NCI R01 Grant CA129952. Flow cytometry was supported by the H Lee Moffitt Cancer Center Flow Cytometry Core Facility and statistical analysis was performed with assistance from Jimmy J Fulp and Dr Dung-Tsa Chen from the H Lee Moffitt Cancer Center Biostatistics Program.
Ethics declarations
Competing interests
The authors declare no conflict of interest.
Supplementary information
About this article
Cite this article
Yang, L., Mailloux, A., Rollison, D. et al. Naive T-cells in myelodysplastic syndrome display intrinsic human telomerase reverse transcriptase (hTERT) deficiency. Leukemia 27, 897–906 (2013). https://doi.org/10.1038/leu.2012.300
Received:

Revised:

Accepted:

Published:

Issue Date:

DOI: https://doi.org/10.1038/leu.2012.300
Keywords
This article is cited by
Zhaoyun Liu
Xintong Xu
Rong Fu

European Journal of Medical Research (2023)

Valeria Nofrini
Caterina Matteucci
Cristina Mecucci

Leukemia (2021)

Limengmeng Wang
Haowen Xiao
He Huang

Journal of Hematology & Oncology (2014)