Abstract
Bone morphogenetic proteins (BMPs) have been shown to induce apoptosis and growth arrest in myeloma cells. However, the molecular mechanisms behind these events are not known. The MYC oncogene is a master regulator of cell growth and protein synthesis and MYC overexpression has been proposed to be associated with the progression of multiple myeloma. Here, we show that BMP-induced apoptosis in myeloma cells is dependent on downregulation of MYC. Moreover, the results suggest that targeting the MYC addiction in multiple myeloma is an efficient way of killing a majority of primary myeloma clones. We also found that myeloma cells harboring immunoglobulin (IG)-MYC translocations evaded BMP-induced apoptosis, suggesting a novel way for myeloma cells to overcome potential tumor suppression by BMPs.
This is a preview of subscription content
Access options
Subscribe to Journal
Get full journal access for 1 year
$119.00
only $9.92 per issue
All prices are NET prices.
VAT will be added later in the checkout.
Tax calculation will be finalised during checkout.
Buy article
Get time limited or full article access on ReadCube.
$32.00
All prices are NET prices.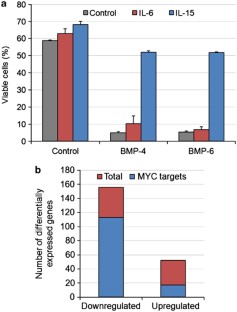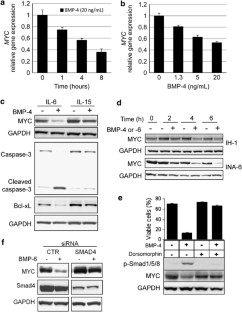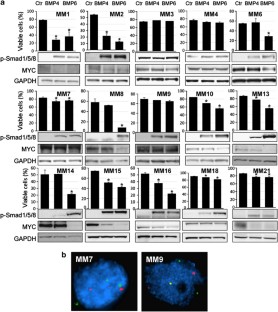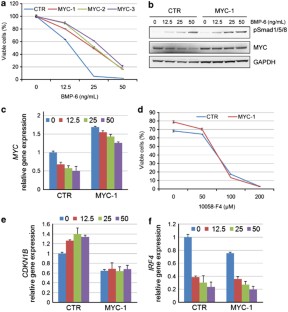 Accession codes
Accessions
GenBank/EMBL/DDBJ
References
Landgren O, Kyle RA, Pfeiffer RM, Katzmann JA, Caporaso NE, Hayes RB et al. Monoclonal gammopathy of undetermined significance (MGUS) consistently precedes multiple myeloma: a prospective study. Blood 2009; 113: 5412–5417.

Bergsagel PL, Kuehl WM . Chromosome translocations in multiple myeloma. Oncogene 2001; 20: 5611–5622.

Anguiano A, Tuchman SA, Acharya C, Salter K, Gasparetto C, Zhan F et al. Gene expression profiles of tumor biology provide a novel approach to prognosis and may guide the selection of therapeutic targets in multiple myeloma. J Clin Oncol 2009; 27: 4197–4203.

Chiecchio L, Dagrada GP, Protheroe RK, Stockley DM, Smith AG, Orchard KH et al. Loss of 1p and rearrangement of MYC are associated with progression of smouldering myeloma to myeloma: sequential analysis of a single case. Haematologica 2009; 94: 1024–1028.

Chesi M, Robbiani DF, Sebag M, Chng WJ, Affer M, Tiedemann R et al. AID-dependent activation of a MYC transgene induces multiple myeloma in a conditional mouse model of post-germinal center malignancies. Cancer Cell 2008; 13: 167–180.

Chng WJ, Huang GF, Chung TH, Ng SB, Gonzalez-Paz N, Troska-Price T et al. Clinical and biological implications of MYC activation: a common difference between MGUS and newly diagnosed multiple myeloma. Leukemia 2011; 25: 1026–1035.

Potter M . Neoplastic development in plasma cells. Immunol Rev 2003; 194: 177–195.

Shou Y, Martelli ML, Gabrea A, Qi Y, Brents LA, Roschke A et al. Diverse karyotypic abnormalities of the c-myc locus associated with c-myc dysregulation and tumor progression in multiple myeloma. Proc Natl Acad Sci USA 2000; 97: 228–233.

Dib A, Gabrea A, Glebov OK, Bergsagel PL, Kuehl WM . Characterization of MYC translocations in multiple myeloma cell lines. J Natl Cancer Inst Monogr 2008; 39: 25–31.

Avet-Loiseau H, Gerson F, Magrangeas F, Minvielle S, Harousseau JL, Bataille R . Rearrangements of the c-myc oncogene are present in 15% of primary human multiple myeloma tumors. Blood 2001; 98: 3082–3086.

Gabrea A, Martelli ML, Qi Y, Roschke A, Barlogie B, Shaughnessy Jr JD et al. Secondary genomic rearrangements involving immunoglobulin or MYC loci show similar prevalences in hyperdiploid and nonhyperdiploid myeloma tumors. Genes Chromosomes Cancer 2008; 47: 573–590.

Zhan F, Hardin J, Kordsmeier B, Bumm K, Zheng M, Tian E et al. Global gene expression profiling of multiple myeloma, monoclonal gammopathy of undetermined significance, and normal bone marrow plasma cells. Blood 2002; 99: 1745–1757.

Shaffer AL, Emre NC, Lamy L, Ngo VN, Wright G, Xiao W et al. IRF4 addiction in multiple myeloma. Nature 2008; 454: 226–231.

Hjertner O, Hjorth-Hansen H, Borset M, Seidel C, Waage A, Sundan A . Bone morphogenetic protein-4 inhibits proliferation and induces apoptosis of multiple myeloma cells. Blood 2001; 97: 516–522.

Kawamura C, Kizaki M, Yamato K, Uchida H, Fukuchi Y, Hattori Y et al. Bone morphogenetic protein-2 induces apoptosis in human myeloma cells with modulation of STAT3. Blood 2000; 96: 2005–2011.

Ro TB, Holt RU, Brenne AT, Hjorth-Hansen H, Waage A, Hjertner O et al. Bone morphogenetic protein-5, -6 and -7 inhibit growth and induce apoptosis in human myeloma cells. Oncogene 2004; 23: 3024–3032.

Kersten C, Dosen G, Myklebust JH, Sivertsen EA, Hystad ME, Smeland EB et al. BMP-6 inhibits human bone marrow B lymphopoiesis--upregulation of Id1 and Id3. Exp Hematol 2006; 34: 72–81.

Seckinger A, Meissner T, Moreaux J, Goldschmidt H, Fuhler GM, Benner A et al. Bone morphogenic protein 6: a member of a novel class of prognostic factors expressed by normal and malignant plasma cells inhibiting proliferation and angiogenesis. Oncogene 2009; 28: 3866–3879.

Grcevic D, Kusec R, Kovacic N, Lukic A, Lukic IK, Ivcevic S et al. Bone morphogenetic proteins and receptors are over-expressed in bone-marrow cells of multiple myeloma patients and support myeloma cells by inducing ID genes. Leuk Res 2010; 34: 742–751.

Miyazono K, Kamiya Y, Morikawa M . Bone morphogenetic protein receptors and signal transduction. J Biochem 2010; 147: 35–51.

Ren R, Charles PC, Zhang C, Wu Y, Wang H, Patterson C . Gene expression profiles identify a role for cyclooxygenase 2-dependent prostanoid generation in BMP6-induced angiogenic responses. Blood 2007; 109: 2847–2853.

Nohe A, Keating E, Knaus P, Petersen NO . Signal transduction of bone morphogenetic protein receptors. Cell Signal 2004; 16: 291–299.

Du J, Yang S, Wang Z, Zhai C, Yuan W, Lei R et al. Bone morphogenetic protein 6 inhibit stress-induced breast cancer cells apoptosis via both Smad and p38 pathways. J Cell Biochem 2008; 103: 1584–1597.

Chen CR, Kang Y, Massague J . Defective repression of c-myc in breast cancer cells: a loss at the core of the transforming growth factor beta growth arrest program. Proc Natl Acad Sci USA 2001; 98: 992–999.

Frederick JP, Liberati NT, Waddell DS, Shi Y, Wang XF . Transforming growth factor beta-mediated transcriptional repression of c-myc is dependent on direct binding of Smad3 to a novel repressive Smad binding element. Mol Cell Biol 2004; 24: 2546–2559.

Yagi K, Furuhashi M, Aoki H, Goto D, Kuwano H, Sugamura K et al. c-myc is a downstream target of the Smad pathway. J Biol Chem 2002; 277: 854–861.

Burger R, Guenther A, Bakker F, Schmalzing M, Bernand S, Baum W et al. Gp130 and ras mediated signaling in human plasma cell line INA-6: a cytokine-regulated tumor model for plasmacytoma. Hematol J 2001; 2: 42–53.

Yu PB, Hong CC, Sachidanandan C, Babitt JL, Deng DY, Hoyng SA et al. Dorsomorphin inhibits BMP signals required for embryogenesis and iron metabolism. Nat Chem Biol 2008; 4: 33–41.

Fagerli UM, Holt RU, Holien T, Vaatsveen TK, Zhan F, Egeberg KW et al. Overexpression and involvement in migration by the metastasis-associated phosphatase PRL-3 in human myeloma cells. Blood 2008; 111: 806–815.

Ricci MS, Jin Z, Dews M, Yu D, Thomas-Tikhonenko A, Dicker DT et al. Direct repression of FLIP expression by c-myc is a major determinant of TRAIL sensitivity. Mol Cell Biol 2004; 24: 8541–8555.

Cleveland JL, Huleihel M, Bressler P, Siebenlist U, Akiyama L, Eisenman RN et al. Negative regulation of c-myc transcription involves myc family proteins. Oncogene Res 1988; 3: 357–375.

Evan G, Littlewood T . A matter of life and cell death. Science 1998; 281: 1317–1322.

Murphy DJ, Junttila MR, Pouyet L, Karnezis A, Shchors K, Bui DA et al. Distinct thresholds govern Myc′s biological output in vivo. Cancer Cell 2008; 14: 447–457.

Yin X, Giap C, Lazo JS, Prochownik EV . Low molecular weight inhibitors of Myc-Max interaction and function. Oncogene 2003; 22: 6151–6159.

Larsson LG, Henriksson MA . The Yin and Yang functions of the Myc oncoprotein in cancer development and as targets for therapy. Exp Cell Res 2010; 316: 1429–1437.

Sorrentino A, Thakur N, Grimsby S, Marcusson A, von Bulow V, Schuster N et al. The type I TGF-beta receptor engages TRAF6 to activate TAK1 in a receptor kinase-independent manner. Nat Cell Biol 2008; 10: 1199–1207.

Norgaard NN, Holien T, Jonsson S, Hella H, Espevik T, Sundan A et al. CpG-oligodeoxynucleotide inhibits Smad-dependent bone morphogenetic protein signaling: effects on myeloma cell apoptosis and in vitro osteoblastogenesis. J Immunol 2010; 185: 3131–3139.

Borset M, Hjorth-Hansen H, Johnsen AC, Seidel C, Waage A, Espevik T et al. Apoptosis, proliferation and NF-kappaB activation induced by agonistic Fas antibodies in the human myeloma cell line OH-2: amplification of Fas-mediated apoptosis by tumor necrosis factor. Eur J Haematol 1999; 63: 345–353.

Erikson J, Finan J, Nowell PC, Croce CM . Translocation of immunoglobulin VH genes in Burkitt lymphoma. Proc Natl Acad Sci USA 1982; 79: 5611–5615.

Lee CW, Ito K, Ito Y . Role of RUNX3 in bone morphogenetic protein signaling in colorectal cancer. Cancer Res 2010; 70: 4243–4252.

Garrett IR, Chen D, Gutierrez G, Zhao M, Escobedo A, Rossini G et al. Selective inhibitors of the osteoblast proteasome stimulate bone formation in vivo and in vitro. J Clin Invest 2003; 111: 1771–1782.
Acknowledgements
We are grateful to Berit Fladvad Størdal for excellent technical assistance. We wish to thank the staff at the Department of Hematology, St Olav's University Hospital, Trondheim, Norway and the Norwegian Myeloma Biobank for help obtaining primary myeloma samples. We thank Karin Fahl Wader for valuable help organizing clinical data from patients. We also acknowledge the support provided by the Norwegian Microarray Consortium (NMC), Trondheim, Norway. This work was funded by the Norwegian Cancer Society and the Norwegian Research Council.
Ethics declarations
Competing interests
The authors declare no conflict of interest.
Supplementary information
About this article
Cite this article
Holien, T., Våtsveen, T., Hella, H. et al. Bone morphogenetic proteins induce apoptosis in multiple myeloma cells by Smad-dependent repression of MYC. Leukemia 26, 1073–1080 (2012). https://doi.org/10.1038/leu.2011.263
Received:

Revised:

Accepted:

Published:

Issue Date:

DOI: https://doi.org/10.1038/leu.2011.263
Keywords
multiple myeloma

bone morphogenetic protein

MYC

apoptosis

oncogene addiction