Abstract
Soluble or membrane-anchored ligands of NKG2D and their receptor have a critical role in the elimination of tumor cells and disease progression. Plasma samples of 98 patients with B-cell chronic lymphocytic leukemia (CLL) were analyzed with specific ELISA systems for soluble major histocompatibility complex class I-related chains (sMICA and sMICB) and UL-16-binding proteins (ULBP1, 2, and 3). The flow cytometric analysis of MICA on CLL cells and natural killer group 2 member D (NKG2D) receptors on NK cells was performed after thawing of frozen peripheral blood lymphocytes of CLL patients (N=51). Levels of sMICA, sMICB, and sULBP2 were significantly increased (P<0.001) compared with 48 controls, whereas sULBP1 3 were not detectable in patients and controls. Levels of sMICA>990 pg/ml (P=0.014), sMICB>200 pg/ml (P=0.0001), and sULBP2>105 pg/ml (P<0.0001) were associated with poor treatment-free survival (TFS). Neither MICA nor NKG2D expression could be related to clinical parameters. In multivariate analysis Binet stage (P=0.002), sULBP2 (P=0.002) and ZAP-70 (P=0.002) were independent predictive factors for TFS. In patients with Binet stage A, sULBP2 levels>105 pg/ml were strongly associated (P=0.0025) with poor TFS. Our data show that soluble but not membrane-anchored NKG2D ligands or receptors are of prognostic significance in CLL. Moreover, sULBP2 seems to be useful to identify early-stage patients with risk of disease progression.
Relevant articles
Open Access articles citing this article.
Biljana Zafirova

,

Felix M. Wensveen

…

Bojan Polić

Cellular and Molecular Life Sciences Open Access 06 September 2011
Access options
Subscribe to Journal
Get full journal access for 1 year
$119.00
only $9.92 per issue
All prices are NET prices.
VAT will be added later in the checkout.
Tax calculation will be finalised during checkout.
Buy article
Get time limited or full article access on ReadCube.
$32.00
All prices are NET prices.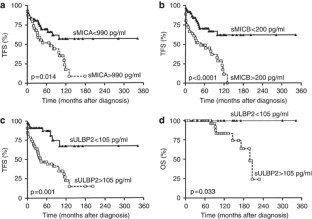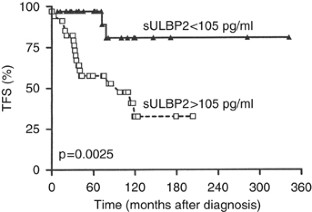 References
Bauer S, Groh V, Wu J, Steinle A, Phillips JH, Lanier LL et al. Activation of NK cells and T cells by NKG2D, a receptor for stress-inducible MICA. Science 1999; 285: 727–729.

Das H, Groh V, Kuijl C, Sugita M, Morita CT, Spies T et al. MICA engagement by human Vgamma2Vdelta2 T cells enhances their antigen-dependent effector function. Immunity 2001; 15: 83–93.

Raulet DH . Roles of the NKG2D immunoreceptor and its ligands. Nat Rev Immunol 2003; 3: 781–790.

Groh V, Bahram S, Bauer S, Herman A, Beauchamp M, Spies T . Cell stress-regulated human major histocompatibility complex class I gene expressed in gastrointestinal epithelium. Proc Natl Acad Sci USA 1996; 93: 12445–12450.

Groh V, Steinle A, Bauer S, Spies T . Recognition of stress-induced MHC molecules by intestinal epithelial gammadelta T cells. Science 1998; 279: 1737–1740.

Boissel N, Rea D, Tieng V, Dulphy N, Brun M, Cayuela JM et al. BCR/ABL oncogene directly controls MHC class I chain-related molecule A expression in chronic myelogenous leukemia. J Immunol 2006; 176: 5108–5116.

Carbone E, Neri P, Mesuraca M, Fulciniti MT, Otsuki T, Pende D et al. HLA class I, NKG2D, and natural cytotoxicity receptors regulate multiple myeloma cell recognition by natural killer cells. Blood 2005; 105: 251–258.

Diermayr S, Himmelreich H, Durovic B, Mathys-Schneeberger A, Siegler U, Langenkamp U et al. NKG2D ligand expression in AML increases in response to HDAC inhibitor valproic acid and contributes to allorecognition by NK-cell lines with single KIR-HLA class I specificities. Blood 2008; 111: 1428–1436.

Eisele G, Wischhusen J, Mittelbronn M, Meyermann R, Waldhauer I, Steinle A et al. TGF-beta and metalloproteinases differentially suppress NKG2D ligand surface expression on malignant glioma cells. Brain 2006; 129: 2416–2425.

Epling-Burnette PK, Bai F, Painter JS, Rollison DE, Salih HR, Krusch M et al. Reduced natural killer (NK) function associated with high-risk myelodysplastic syndrome (MDS) and reduced expression of activating NK receptors. Blood 2007; 109: 4816–4824.

Pende D, Rivera P, Marcenaro S, Chang CC, Biassoni R, Conte R et al. Major histocompatibility complex class I-related chain A and UL16-binding protein expression on tumor cell lines of different histotypes: analysis of tumor susceptibility to NKG2D-dependent natural killer cell cytotoxicity. Cancer Res 2002; 62: 6178–6186.

Raffaghello L, Prigione I, Airoldi I, Camoriano M, Levreri I, Gambini C et al. Downregulation and/or release of NKG2D ligands as immune evasion strategy of human neuroblastoma. Neoplasia 2004; 6: 558–568.

Song H, Kim KE, Hur D, Lim JS, Yang Y, Cho BJ et al. IL-18 enhances ULBP2 expression through the MAPK pathway in leukemia cells. Immunol Lett 2008; 120: 103–107.

Wang E, Selleri S, Marincola FM . The requirements for CTL-mediated rejection of cancer in humans: NKG2D and its role in the immune responsiveness of melanoma. Clin Cancer Res 2007; 13: 7228–7231.

Watson NF, Spendlove I, Madjd Z, McGilvray R, Green AR, Ellis IO et al. Expression of the stress-related MHC class I chain-related protein MICA is an indicator of good prognosis in colorectal cancer patients. Int J Cancer 2006; 118: 1445–1452.

Cerwenka A, Baron JL, Lanier LL . Ectopic expression of retinoic acid early inducible-1 gene (RAE-1) permits natural killer cell-mediated rejection of a MHC class I-bearing tumor in vivo. Proc Natl Acad Sci USA 2001; 98: 11521–11526.

Wiemann K, Mittrucker HW, Feger U, Welte SA, Yokoyama WM, Spies T et al. Systemic NKG2D down-regulation impairs NK and CD8 T cell responses in vivo. J Immunol 2005; 175: 720–729.

Smyth MJ, Swann J, Cretney E, Zerafa N, Yokoyama WM, Hayakawa Y . NKG2D function protects the host from tumor initiation. J Exp Med 2005; 202: 583–588.

Jinushi M, Vanneman M, Munshi NC, Tai YT, Prabhala RH, Ritz J et al. MHC class I chain-related protein A antibodies and shedding are associated with the progression of multiple myeloma. Proc Natl Acad Sci USA 2008; 105: 1285–1290.

Salih HR, Rammensee HG, Steinle A . Cutting edge: down-regulation of MICA on human tumors by proteolytic shedding. J Immunol 2002; 169: 4098–4102.

Groh V, Wu J, Yee C, Spies T . Tumour-derived soluble MIC ligands impair expression of NKG2D and T-cell activation. Nature 2002; 419: 734–738.

Holdenrieder S, Stieber P, Peterfi A, Nagel D, Steinle A, Salih HR . Soluble MICA in malignant diseases. Int J Cancer 2006; 118: 684–687.

Groh V, Smythe K, Dai Z, Spies T . Fas-ligand-mediated paracrine T cell regulation by the receptor NKG2D in tumor immunity. Nat Immunol 2006; 7: 755–762.

Holdenrieder S, Stieber P, Peterfi A, Nagel D, Steinle A, Salih HR . Soluble MICB in malignant diseases: analysis of diagnostic significance and correlation with soluble MICA. Cancer Immunol Immunother 2006; 55: 1584–1589.

Salih HR, Antropius H, Gieseke F, Lutz SZ, Kanz L, Rammensee HG et al. Functional expression and release of ligands for the activating immunoreceptor NKG2D in leukemia. Blood 2003; 102: 1389–1396.

Salih HR, Goehlsdorf D, Steinle A . Release of MICB molecules by tumor cells: mechanism and soluble MICB in sera of cancer patients. Hum Immunol 2006; 67: 188–195.

Vetter CS, Lieb W, Brocker EB, Becker JC . Loss of nonclassical MHC molecules MIC-A/B expression during progression of uveal melanoma. Br J Cancer 2004; 91: 1495–1499.

Wu JD, Higgins LM, Steinle A, Cosman D, Haugk K, Plymate SR . Prevalent expression of the immunostimulatory MHC class I chain-related molecule is counteracted by shedding in prostate cancer. J Clin Invest 2004; 114: 560–568.

Rebmann V, Schutt P, Brandhorst D, Opalka B, Moritz T, Nowrousian MR et al. Soluble MICA as an independent prognostic factor for the overall survival and progression-free survival of multiple myeloma patients. Clin Immunol 2007; 123: 114–120.

Durig J, Naschar M, Schmucker U, Renzing-Kohler K, Holter T, Huttmann A et al. CD38 expression is an important prognostic marker in chronic lymphocytic leukaemia. Leukemia 2002; 16: 30–35.

Durig J, Nuckel H, Cremer M, Fuhrer A, Halfmeyer K, Fandrey J et al. ZAP-70 expression is a prognostic factor in chronic lymphocytic leukemia. Leukemia 2003; 17: 2426–2434.

Weinberg JB, Volkheimer AD, Chen Y, Beasley BE, Jiang N, Lanasa MC et al. Clinical and molecular predictors of disease severity and survival in chronic lymphocytic leukemia. Am J Hematol 2007; 82: 1063–1070.

Ripolles L, Ortega M, Ortuno F, Gonzalez A, Losada J, Ojanguren J et al. Genetic abnormalities and clinical outcome in chronic lymphocytic leukemia. Cancer Genet Cytogenet 2006; 171: 57–64.

Zenz T, Mertens D, Kuppers R, Dohner H, Stilgenbauer S . From pathogenesis to treatment of chronic lymphocytic leukaemia. Nat Rev Cancer 2010; 10: 37–50.

Sellmann L, Gesk S, Walter C, Ritgen M, Harder L, Martin-Subero JI et al. Trisomy 19 is associated with trisomy 12 and mutated IGHV genes in B-chronic lymphocytic leukaemia. Br J Haematol 2007; 138: 217–220.

Hallek M, Cheson BD, Catovsky D, Caligaris-Cappio F, Dighiero G, Dohner H et al. Guidelines for the diagnosis and treatment of chronic lymphocytic leukemia: a report from the International Workshop on Chronic Lymphocytic Leukemia updating the National Cancer Institute-Working Group 1996 guidelines. Blood 2008; 111: 5446–5456.

Romanski A, Bug G, Becker S, Kampfmann M, Seifried E, Hoelzer D et al. Mechanisms of resistance to natural killer cell-mediated cytotoxicity in acute lymphoblastic leukemia. Exp Hematol 2005; 33: 344–352.

Nowbakht P, Ionescu MC, Rohner A, Kalberer CP, Rossy E, Mori L et al. Ligands for natural killer cell-activating receptors are expressed upon the maturation of normal myelomonocytic cells but at low levels in acute myeloid leukemias. Blood 2005; 105: 3615–3622.

Waldhauer I, Goehlsdorf D, Gieseke F, Weinschenk T, Wittenbrink M, Ludwig A et al. Tumor-associated MICA is shed by ADAM proteases. Cancer Res 2008; 68: 6368–6376.

Waldhauer I, Steinle A . Proteolytic release of soluble UL16-binding protein 2 from tumor cells. Cancer Res 2006; 66: 2520–2526.

Kaiser BK, Yim D, Chow IT, Gonzalez S, Dai Z, Mann HH et al. Disulphide-isomerase-enabled shedding of tumour-associated NKG2D ligands. Nature 2007; 447: 482–486.

Paschen A, Sucker A, Hill B, Moll I, Zapatka M, Nguyen XD et al. Differential clinical significance of individual NKG2D ligands in melanoma: soluble ULBP2 as an indicator of poor prognosis superior to S100B. Clin Cancer Res 2009; 15: 5208–5215.

Palmer S, Hanson CA, Zent CS, Porrata LF, Laplant B, Geyer SM et al. Prognostic importance of T and NK-cells in a consecutive series of newly diagnosed patients with chronic lymphocytic leukaemia. Br J Haematol 2008; 141: 607–614.

Clayton A, Mitchell JP, Court J, Linnane S, Mason MD, Tabi Z . Human tumor-derived exosomes down-modulate NKG2D expression. J Immunol 2008; 180: 7249–7258.

Wieckowski EU, Visus C, Szajnik M, Szczepanski MJ, Storkus WJ, Whiteside TL . Tumor-derived microvesicles promote regulatory T cell expansion and induce apoptosis in tumor-reactive activated CD8+ T lymphocytes. J Immunol 2009; 183: 3720–3730.

Li K, Mandai M, Hamanishi J, Matsumura N, Suzuki A, Yagi H et al. Clinical significance of the NKG2D ligands, MICA/B and ULBP2 in ovarian cancer: high expression of ULBP2 is an indicator of poor prognosis. Cancer Immunol Immunother 2009; 58: 641–652.
Acknowledgements
We are indebted to numerous colleagues for generously contributing information on the clinical course and treatment histories of the study patients. We thank Andrea Kopplin for excellent technical assistance. Holger Nückel and Vera Rebmann were supported by the Deutsche José Carreras Leukämie-Stiftung e.V. (R 07/06v) and Holger Nückel also by the Adolf Messer Stiftung.
Ethics declarations
Competing interests
The authors declare no conflict of interest.
About this article
Cite this article
Nückel, H., Switala, M., Sellmann, L. et al. The prognostic significance of soluble NKG2D ligands in B-cell chronic lymphocytic leukemia. Leukemia 24, 1152–1159 (2010). https://doi.org/10.1038/leu.2010.74
Received:

Revised:

Accepted:

Published:

Issue Date:

DOI: https://doi.org/10.1038/leu.2010.74
Keywords
NKG2D ligands

prognostic marker

CLL