Abstract
The role of the BCR–ABL oncogene in the progression of chronic myeloid leukemia (CML) to blast crisis (BC) is unknown. The appearance of chromosomal aberrations in patients with CML BC has led to many attempts to elucidate a mechanism whereby BCR–ABL affects DNA damage and repair. BCR–ABL-expressing cells have been found to accumulate genetic abnormalities, but the mechanism leading to this genomic instability is controversial. In this study, we review the effects of BCR–ABL on DNA repair mechanisms, centrosomes, checkpoint activation and apoptosis. BCR–ABL has diverse effects on these mechanisms, but which of these effects are necessary for the progression of CML to BC is still unresolved.
Relevant articles
Open Access articles citing this article.
Mohsen Valikhani

,

Elahe Rahimian

…

Majid Safa

Experimental Hematology & Oncology Open Access 03 November 2021
Access options
Subscribe to Journal
Get full journal access for 1 year
$119.00
only $9.92 per issue
All prices are NET prices.
VAT will be added later in the checkout.
Tax calculation will be finalised during checkout.
Buy article
Get time limited or full article access on ReadCube.
$32.00
All prices are NET prices.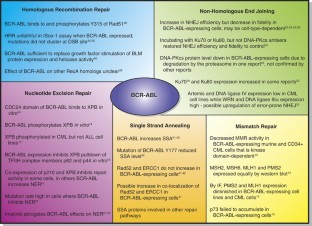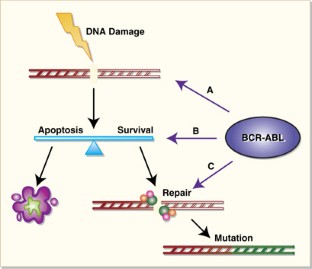 References
Pear WS, Miller JP, Xu L, Pui JC, Soffer B, Quackenbush RC et al. Efficient and rapid induction of a chronic myelogenous leukemia-like myeloproliferative disease in mice receiving P210 bcr/abl-transduced bone marrow. Blood 1998; 92: 3780–3792.

Druker BJ, Talpaz M, Resta DJ, Peng B, Buchdunger E, Ford JM et al. Efficacy and safety of a specific inhibitor of the BCR-ABL tyrosine kinase in chronic myeloid leukemia. N Engl J Med 2001; 344: 1031–1037.

Bernstein R . Cytogenetics of chronic myelogenous leukemia. Semin Hematol 1988; 25: 20–34.

Laneuville P, Sun G, Timm M, Vekemans M . Clonal evolution in a myeloid cell line transformed to interleukin-3 independent growth by retroviral transduction and expression of p210bcr/abl. Blood 1992; 80: 1788–1797.

Salloukh HF, Laneuville P . Increase in mutant frequencies in mice expressing the BCR-ABL activated tyrosine kinase. Leukemia 2000; 14: 1401–1404.

Deutsch E, Jarrousse S, Buet D, Dugray A, Bonnet ML, Vozenin-Brotons MC et al. Down-regulation of BRCA1 in BCR-ABL-expressing hematopoietic cells. Blood 2003; 101: 4583–4588.

Koptyra M, Cramer K, Slupianek A, Richardson C, Skorski T . BCR//ABL promotes accumulation of chromosomal aberrations induced by oxidative and genotoxic stress. Leukemia 2008; 22: 1969–1972.

Dierov J, Sanchez PV, Burke BA, Padilla-Nash H, Putt ME, Ried T et al. BCR/ABL induces chromosomal instability after genotoxic stress and alters the cell death threshold. Leukemia 2009; 23: 279–286.

Skorski T . BCR/ABL, DNA damage and DNA repair: implications for new treatment concepts. Leuk Lymphoma 2008; 49: 610–614.

Kim JH, Chu SC, Gramlich JL, Pride YB, Babendreier E, Chauhan D et al. Activation of the PI3K/mTOR pathway by BCR-ABL contributes to increased production of reactive oxygen species. Blood 2005; 105: 1717–1723.

Koptyra M, Falinski R, Nowicki MO, Stoklosa T, Majsterek I, Nieborowska-Skorska M et al. BCR/ABL kinase induces self-mutagenesis via reactive oxygen species to encode imatinib resistance. Blood 2006; 108: 319–327.

Sattler M, Verma S, Shrikhande G, Byrne CH, Pride YB, Winkler T et al. The BCR/ABL tyrosine kinase induces production of reactive oxygen species in hematopoietic cells. J Biol Chem 2000; 275: 24273–24278.

Klemm L, Duy C, Iacobucci I, Kuchen S, von Levetzow G, Feldhahn N et al. The B cell mutator AID promotes B lymphoid blast crisis and drug resistance in chronic myeloid leukemia. Cancer Cell 2009; 16: 232–245.

Kunkel TA, Bebenek K . DNA replication fidelity. Annu Rev Biochem 2000; 69: 497–529.

Willis SG, Lange T, Demehri S, Otto S, Crossman L, Niederwieser D et al. High-sensitivity detection of BCR-ABL kinase domain mutations in imatinib-naive patients: correlation with clonal cytogenetic evolution but not response to therapy. Blood 2005; 106: 2128–2137.

Gorre ME, Mohammed M, Ellwood K, Hsu N, Paquette R, Rao PN et al. Clinical resistance to STI-571 cancer therapy caused by BCR-ABL gene mutation or amplification. Science 2001; 293: 876–880.

Mardis ER, Ding L, Dooling DJ, Larson DE, McLellan MD, Chen K et al. Recurring mutations found by sequencing an acute myeloid leukemia genome. N Engl J Med 2009; 361: 1058–1066.

Ley TJ, Mardis ER, Ding L, Fulton B, McLellan MD, Chen K et al. DNA sequencing of a cytogenetically normal acute myeloid leukaemia genome. Nature 2008; 456: 66–72.

Stoklosa T, Poplawski T, Koptyra M, Nieborowska-Skorska M, Basak G, Slupianek A et al. BCR/ABL inhibits mismatch repair to protect from apoptosis and induce point mutations. Cancer Res 2008; 68: 2576–2580.

Canitrot Y, Falinski R, Louat T, Laurent G, Cazaux C, Hoffmann JS et al. p210 BCR/ABL kinase regulates nucleotide excision repair (NER) and resistance to UV radiation. Blood 2003; 102: 2632–2637.

Laurent E, Mitchell DL, Estrov Z, Lowery M, Tucker SL, Talpaz M et al. Impact of p210(Bcr-Abl) on ultraviolet C wavelength-induced DNA damage and repair. Clin Cancer Res 2003; 9: 3722–3730.

Maru Y, Kobayashi T, Tanaka K, Shibuya M . BCR binds to the xeroderma pigmentosum group B protein. Biochem Biophys Res Commun 1999; 260: 309–312.

Takeda N, Shibuya M, Maru Y . The BCR-ABL oncoprotein potentially interacts with the xeroderma pigmentosum group B protein. Proc Natl Acad Sci USA 1999; 96: 203–207.

Maru Y, Bergmann E, Coin F, Egly JM, Shibuya M . TFIIH functions are altered by the P210BCR-ABL oncoprotein produced on the Philadelphia chromosome. Mutat Res 2001; 483: 83–88.

Dierov J, Dierova R, Carroll M . BCR/ABL translocates to the nucleus and disrupts an ATR-dependent intra-S phase checkpoint. Cancer Cell 2004; 5: 275–285.

Vigneri P, Wang JY . Induction of apoptosis in chronic myelogenous leukemia cells through nuclear entrapment of BCR-ABL tyrosine kinase. Nat Med 2001; 7: 228–234.

Nieborowska-Skorska M, Stoklosa T, Datta M, Czechowska A, Rink L, Slupianek A et al. ATR-Chk1 axis protects BCR/ABL leukemia cells from the lethal effect of DNA double-strand breaks. Cell Cycle 2006; 5: 994–1000.

Sliwinski T, Czechowska A, Szemraj J, Morawiec Z, Skorski T, Blasiak J . STI571 reduces NER activity in BCR/ABL-expressing cells. Mutat Res 2008; 654: 162–167.

Slupianek A, Nowicki MO, Koptyra M, Skorski T . BCR/ABL modifies the kinetics and fidelity of DNA double-strand breaks repair in hematopoietic cells. DNA Repair 2006; 5: 243–250.

Gaymes TJ, Mufti GJ, Rassool FV . Myeloid leukemias have increased activity of the nonhomologous end-joining pathway and concomitant DNA misrepair that is dependent on the Ku70/86 heterodimer. Cancer Res 2002; 62: 2791–2797.

Pastwa E, Poplawski T, Czechowska A, Malinowski M, Blasiak J . Non-homologous DNA end joining repair in normal and leukemic cells depends on the substrate ends. Z Naturforsch (C) 2005; 60: 493–500.

Deutsch E, Dugray A, AbdulKarim B, Marangoni E, Maggiorella L, Vaganay S et al. BCR-ABL down-regulates the DNA repair protein DNA-PKcs. Blood 2001; 97: 2084–2090.

Brady N, Gaymes TJ, Cheung M, Mufti GJ, Rassool FV . Increased error-prone NHEJ activity in myeloid leukemias is associated with DNA damage at sites that recruit key nonhomologous end-joining proteins. Cancer Res 2003; 63: 1798–1805.

Corneo B, Wendland RL, Deriano L, Cui X, Klein IA, Wong SY et al. Rag mutations reveal robust alternative end joining. Nature 2007; 449: 483–486.

Gottlich B, Reichenberger S, Feldmann E, Pfeiffer P . Rejoining of DNA double-strand breaks in vitro by single-strand annealing. Eur J Biochem/FEBS 1998; 258: 387–395.

Wang H, Rosidi B, Perrault R, Wang M, Zhang L, Windhofer F et al. DNA ligase III as a candidate component of backup pathways of nonhomologous end joining. Cancer Res 2005; 65: 4020–4030.

Wang M, Wu W, Rosidi B, Zhang L, Wang H, Iliakis G . PARP-1 and Ku compete for repair of DNA double strand breaks by distinct NHEJ pathways. Nucleic Acids Res 2006; 34: 6170–6182.

Oshima J, Huang S, Pae C, Campisi J, Schiestl RH . Lack of WRN results in extensive deletion at nonhomologous joining ends. Cancer Res 2002; 62: 547–551.

Sallmyr A, Tomkinson AE, Rassool FV . Up-regulation of WRN and DNA ligase IIIalpha in chronic myeloid leukemia: consequences for the repair of DNA double-strand breaks. Blood 2008; 112: 1413–1423.

Nowicki MO, Falinski R, Koptyra M, Slupianek A, Stoklosa T, Gloc E et al. BCR/ABL oncogenic kinase promotes unfaithful repair of the reactive oxygen species-dependent DNA double-strand breaks. Blood 2004; 104: 3746–3753.

Slupianek A, Hoser G, Majsterek I, Bronisz A, Malecki M, Blasiak J et al. Fusion tyrosine kinases induce drug resistance by stimulation of homology-dependent recombination repair, prolongation of G(2)/M phase, and protection from apoptosis. Mol Cell Biol 2002; 22: 4189–4201.

Chen G, Yuan SS, Liu W, Xu Y, Trujillo K, Song B et al. Radiation-induced assembly of Rad51 and Rad52 recombination complex requires ATM and c-Abl. J Biol Chem 1999; 274: 12748–12752.

Benson FE, Baumann P, West SC . Synergistic actions of Rad51 and Rad52 in recombination and DNA repair. Nature 1998; 391: 401–404.

Slupianek A, Schmutte C, Tombline G, Nieborowska-Skorska M, Hoser G, Nowicki MO et al. BCR/ABL regulates mammalian RecA homologs, resulting in drug resistance. Mol Cell 2001; 8: 795–806.

Langland G, Elliott J, Li Y, Creaney J, Dixon K, Groden J . The BLM helicase is necessary for normal DNA double-strand break repair. Cancer Res 2002; 62: 2766–2770.

Slupianek A, Gurdek E, Koptyra M, Nowicki MO, Siddiqui KM, Groden J et al. BLM helicase is activated in BCR/ABL leukemia cells to modulate responses to cisplatin. Oncogene 2005; 24: 3914–3922.

Cramer K, Nieborowska-Skorska M, Koptyra M, Slupianek A, Penserga ET, Eaves CJ et al. BCR/ABL and other kinases from chronic myeloproliferative disorders stimulate single-strand annealing, an unfaithful DNA double-strand break repair. Cancer Res 2008; 68: 6884–6888.

Fernandes MS, Reddy MM, Gonneville JR, DeRoo SC, Podar K, Griffin JD et al. BCR-ABL promotes the frequency of mutagenic single-strand annealing DNA repair. Blood 2009; 114: 1813–1819.

Baskaran R, Wood LD, Whitaker LL, Canman CE, Morgan SE, Xu Y et al. Ataxia telangiectasia mutant protein activates c-Abl tyrosine kinase in response to ionizing radiation. Nature 1997; 387: 516–519.

Melo JV, Kumberova A, van Dijk AG, Goldman JM, Yuille MR . Investigation on the role of the ATM gene in chronic myeloid leukaemia. Leukemia 2001; 15: 1448–1450.

Tritarelli A, Oricchio E, Ciciarello M, Mangiacasale R, Palena A, Lavia P et al. p53 localization at centrosomes during mitosis and postmitotic checkpoint are ATM-dependent and require serine 15 phosphorylation. Mol Biol Cell 2004; 15: 3751–3757.

Marx J . Cell biology. Do centrosome abnormalities lead to cancer? Science (New York) 2001; 292: 426–429.

Nigg EA . Mitotic kinases as regulators of cell division and its checkpoints. Nat Rev 2001; 2: 21–32.

Giehl M, Fabarius A, Frank O, Erben P, Zheng C, Hafner M et al. Expression of the p210BCR-ABL oncoprotein drives centrosomal hypertrophy and clonal evolution in human U937 cells. Leukemia 2007; 21: 1971–1976.

Giehl M, Fabarius A, Frank O, Hochhaus A, Hafner M, Hehlmann R et al. Centrosome aberrations in chronic myeloid leukemia correlate with stage of disease and chromosomal instability. Leukemia 2005; 19: 1192–1197.

Martin SJ, Lennon SV, Bonham AM, Cotter TG . Induction of apoptosis (programmed cell death) in human leukemic HL-60 cells by inhibition of RNA or protein synthesis. J Immunol 1990; 145: 1859–1867.

McGahon A, Bissonnette R, Schmitt M, Cotter KM, Green DR, Cotter TG . BCR-ABL maintains resistance of chronic myelogenous leukemia cells to apoptotic cell death. Blood 1994; 83: 1179–1187.

Amarante-Mendes GP, McGahon AJ, Nishioka WK, Afar DE, Witte ON, Green DR . Bcl-2-independent Bcr-Abl-mediated resistance to apoptosis: protection is correlated with up regulation of Bcl-xL. Oncogene 1998; 16: 1383–1390.

Keeshan K, Mills KI, Cotter TG, McKenna SL . Elevated Bcr-Abl expression levels are sufficient for a haematopoietic cell line to acquire a drug-resistant phenotype. Leukemia 2001; 15: 1823–1833.

Keeshan K, Cotter TG, McKenna SL . High Bcr-Abl expression prevents the translocation of Bax and Bad to the mitochondrion. Leukemia 2002; 16: 1725–1734.
Acknowledgements
We would like to thank our colleagues and the anonymous reviewers for helpful discussions. We apologize to colleagues whose work we are not able to discuss because of space limitations.
Ethics declarations
Competing interests
The authors declare no conflict of interest.
About this article
Cite this article
Burke, B., Carroll, M. BCR–ABL: a multi-faceted promoter of DNA mutation in chronic myelogeneous leukemia. Leukemia 24, 1105–1112 (2010). https://doi.org/10.1038/leu.2010.67
Received:

Revised:

Accepted:

Published:

Issue Date:

DOI: https://doi.org/10.1038/leu.2010.67
Keywords
chronic myeloid leukemia

BCR–ABL

DNA damage

blast crisis