Abstract
Although anti-CD20 monoclonal antibodies (mAbs) show promise for the treatment of chronic lymphocytic leukemia (CLL), the success of the anti-CD20 mAb rituximab in CLL treatment has been limited. Novel anti-CD20 mAbs with more potent cytotoxic activity have recently been engineered, but so far most have only been tested in vitro with natural killer (NK) cells from healthy donors. Because it is still unclear whether these optimized cytotoxic mAbs will improve NK-cell killing of tumor cells in CLL patients, we characterized the relevant phenotypic and functional features of NK cells from CLL patients in detail. Expression of inhibitory and activating NK-cell receptors and of Fc gamma receptor IIIA (FcγRIIIA) is well preserved in CD16+CD56dim cytotoxic NK cells from these patients, independently of disease progression. These cells are fully functional following cytokine stimulation. In addition, the FcγRIIIA-optimized LFB-R603 anti-CD20 mAb mediates 100 times greater antibody-dependent cell-mediated cytotoxicity by NK cells from CLL patients and healthy donors than rituximab. Enhanced degranulation against autologous B-CLL cells is observed at lower concentrations of LFB-R603 than rituximab, regardless of CLL prognostic factors. These findings strongly justify further clinical development of anti-CD20 mAbs optimized for FcγR engagement in CLL patients.
Relevant articles
Open Access articles citing this article.
Lisa von Wenserski

,

Christoph Schultheiß

…

Mascha Binder

Leukemia Open Access 21 August 2020
Access options
Subscribe to Journal
Get full journal access for 1 year
$119.00
only $9.92 per issue
All prices are NET prices.
VAT will be added later in the checkout.
Tax calculation will be finalised during checkout.
Buy article
Get time limited or full article access on ReadCube.
$32.00
All prices are NET prices.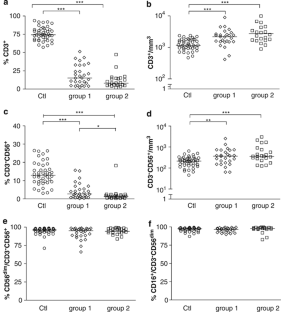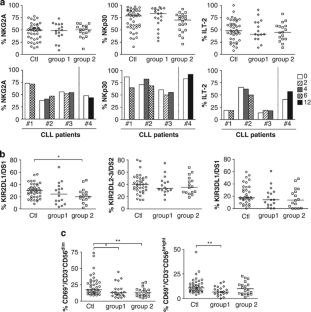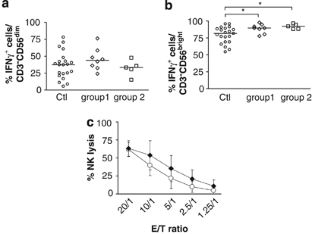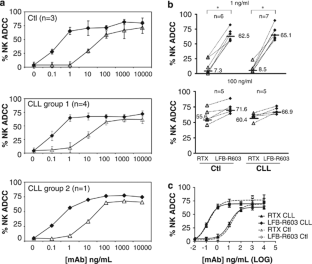 References
Keating MJ, O'Brien S, Albitar M, Lerner S, Plunkett W, Giles F et al. Early results of a chemoimmunotherapy regimen of fludarabine, cyclophosphamide, and rituximab as initial therapy for chronic lymphocytic leukemia. J Clin Oncol 2005; 23: 4079–4088.

Tam CS, O'Brien S, Wierda W, Kantarjian H, Wen S, Do KA et al. Long-term results of the fludarabine, cyclophosphamide, and rituximab regimen as initial therapy of chronic lymphocytic leukemia. Blood 2008; 112: 975–980.

Cartron G, Watier H, Golay J, Solal-Celigny P . From the bench to the bedside: ways to improve rituximab efficacy. Blood 2004; 104: 2635–2642.

Lazar GA, Dang W, Karki S, Vafa O, Peng JS, Hyun L et al. Engineered antibody Fc variants with enhanced effector function. Proc Natl Acad Sci USA 2006; 103: 4005–4010.

Delgado J, Briones J, Sierra J . Emerging therapies for patients with advanced chronic lymphocytic leukaemia. Blood Rev 2009; 23: 217–224.

Pleyer L, Egle A, Hartmann TN, Greil R . Molecular and cellular mechanisms of CLL: novel therapeutic approaches. Nat Rev Clin Oncol 2009; 6: 405–418.

Cheson BD . Ofatumumab, a novel anti-CD20 monoclonal antibody for the treatment of B-cell malignancies. J Clin Oncol 2010; 28: 3525–3530.

Leidi M, Gotti E, Bologna L, Miranda E, Rimoldi M, Sica A et al. M2 macrophages phagocytose rituximab-opsonized leukemic targets more efficiently than m1 cells in vitro. J Immunol 2009; 182: 4415–4422.

de Romeuf C, Dutertre CA, Le Garff-Tavernier M, Fournier N, Gaucher C, Glacet A et al. Chronic lymphocytic leukaemia cells are efficiently killed by an anti-CD20 monoclonal antibody selected for improved engagement of FcgammaRIIIA/CD16. Br J Haematol 2008; 140: 635–643.

Freud AG, Caligiuri MA . Human natural killer cell development. Immunol Rev 2006; 214: 56–72.

Vivier E, Tomasello E, Baratin M, Walzer T, Ugolini S . Functions of natural killer cells. Nat Immunol 2008; 9: 503–510.

Voso MT, Pantel G, Rutella S, Weis M, D'Alo F, Urbano R et al. Rituximab reduces the number of peripheral blood B-cells in vitro mainly by effector cell-mediated mechanisms. Haematologica 2002; 87: 918–925.

Clynes RA, Towers TL, Presta LG, Ravetch JV . Inhibitory Fc receptors modulate in vivo cytoxicity against tumor targets. Nat Med 2000; 6: 443–446.

Palmer S, Hanson CA, Zent CS, Porrata LF, Laplant B, Geyer SM et al. Prognostic importance of T and NK-cells in a consecutive series of newly diagnosed patients with chronic lymphocytic leukaemia. Br J Haematol 2008; 141: 607–614.

Ziegler HW, Kay NE, Zarling JM . Deficiency of natural killer cell activity in patients with chronic lymphocytic leukemia. Int J Cancer 1981; 27: 321–327.

Foa R, Lauria F, Lusso P, Giubellino MC, Fierro MT, Ferrando ML et al. Discrepancy between phenotypic and functional features of natural killer T-lymphocytes in B-cell chronic lymphocytic leukaemia. Br J Haematol 1984; 58: 509–516.

Kay NE, Zarling J . Restoration of impaired natural killer cell activity of B-chronic lymphocytic leukemia patients by recombinant interleukin-2. Am J Hematol 1987; 24: 161–167.

Guven H, Gilljam M, Chambers BJ, Ljunggren HG, Christensson B, Kimby E et al. Expansion of natural killer (NK) and natural killer-like T (NKT)-cell populations derived from patients with B-chronic lymphocytic leukemia (B-CLL): a potential source for cellular immunotherapy. Leukemia 2003; 17: 1973–1980.

Matutes E, Owusu-Ankomah K, Morilla R, Garcia Marco J, Houlihan A, Que TH et al. The immunological profile of B-cell disorders and proposal of a scoring system for the diagnosis of CLL. Leukemia 1994; 8: 1640–1645.

Van Bockstaele F, Verhasselt B, Philippe J . Prognostic markers in chronic lymphocytic leukemia: a comprehensive review. Blood Rev 2009; 23: 25–47.

Beziat V, Nguyen S, Lapusan S, Hervier B, Dhedin N, Bories D et al. Fully functional NK cells after unrelated cord blood transplantation. Leukemia 2009; 23: 721–728.

Vuillier F, Tortevoye P, Binet JL, Dighiero G . CD4, CD8 and NK subsets in B-CLL. Nouv Rev Fr Hematol 1988; 30: 331–334.

Linet MS, Bias WB, Dorgan JF, McCaffrey LD, Humphrey RL . HLA antigens in chronic lymphocytic leukemia. Tissue Antigens 1988; 31: 71–78.

Mueller LP, Machulla HK . Increased frequency of homozygosity for HLA class II loci in female patients with chronic lymphocytic leukemia. Leuk Lymphoma 2002; 43: 1013–1019.

Poggi A, Venturino C, Catellani S, Clavio M, Miglino M, Gobbi M et al. Vdelta1 T lymphocytes from B-CLL patients recognize ULBP3 expressed on leukemic B cells and up-regulated by trans-retinoic acid. Cancer Res 2004; 64: 9172–9179.

Verheyden S, Demanet C . NK cell receptors and their ligands in leukemia. Leukemia 2008; 22: 249–257.

Costello RT, Sivori S, Marcenaro E, Lafage-Pochitaloff M, Mozziconacci MJ, Reviron D et al. Defective expression and function of natural killer cell-triggering receptors in patients with acute myeloid leukemia. Blood 2002; 99: 3661–3667.

Jewell AP, Worman CP, Giles FJ, Goldstone AH, Lydyard PM . Resistance of chronic lymphocytic leukaemia cells to interferon-alpha generated lymphokine activated killer cells. Leuk Lymphoma 1992; 7: 473–480.

Stevenson FK, Caligaris-Cappio F . Chronic lymphocytic leukemia: revelations from the B-cell receptor. Blood 2004; 103: 4389–4395.

Jak M, Mous R, Remmerswaal EB, Spijker R, Jaspers A, Yague A et al. Enhanced formation and survival of CD4+ CD25hi Foxp3+ T-cells in chronic lymphocytic leukemia. Leuk Lymphoma 2009; 50: 788–801.

Pallasch CP, Ulbrich S, Brinker R, Hallek M, Uger RA, Wendtner CM . Disruption of T cell suppression in chronic lymphocytic leukemia by CD200 blockade. Leuk Res 2009; 33: 460–464.

Weitzman J, Betancur M, Boissel L, Rabinowitz AP, Klein A, Klingemann H . Variable contribution of monoclonal antibodies to ADCC in patients with chronic lymphocytic leukemia. Leuk Lymphoma 2009; 50: 1361–1368.

Lefebvre ML, Krause SW, Salcedo M, Nardin A . Ex vivo-activated human macrophages kill chronic lymphocytic leukemia cells in the presence of rituximab: mechanism of antibody-dependent cellular cytotoxicity and impact of human serum. J Immunother 2006; 29: 388–397.

Umana P, Moessner E, Bruenker P, Unsin G, Puentener U, Suter T et al. Novel 3rd generation humanized type II CD20 antibody with glycoengineered Fc and modified elbow hinge for enhanced ADCC and superior apoptosis induction. Blood Rev 2006; 108: Abs 229.

Bowles JA, Wang SY, Link BK, Allan B, Beuerlein G, Campbell MA et al. Anti-CD20 monoclonal antibody with enhanced affinity for CD16 activates NK cells at lower concentrations and more effectively than rituximab. Blood 2006; 108: 2648–2654.

Farag SS, Flinn IW, Modali R, Lehman TA, Young D, Byrd JC . Fc gamma RIIIa and Fc gamma RIIa polymorphisms do not predict response to rituximab in B-cell chronic lymphocytic leukemia. Blood 2004; 103: 1472–1474.

Niwa R, Hatanaka S, Shoji-Hosaka E, Sakurada M, Kobayashi Y, Uehara A et al. Enhancement of the antibody-dependent cellular cytotoxicity of low-fucose IgG1 Is independent of FcgammaRIIIa functional polymorphism. Clin Cancer Res 2004; 10: 6248–6255.

Fischer L, Penack O, Gentilini C, Nogai A, Muessig A, Thiel E et al. The anti-lymphoma effect of antibody-mediated immunotherapy is based on an increased degranulation of peripheral blood natural killer (NK) cells. Exp Hematol 2006; 34: 753–759.

O'Brien SM, Kantarjian H, Thomas DA, Giles FJ, Freireich EJ, Cortes J et al. Rituximab dose-escalation trial in chronic lymphocytic leukemia. J Clin Oncol 2001; 19: 2165–2170.

Wierda WG, Kipps TJ, Mayer J, Stilgenbauer S, Williams CD, Hellmann A et al. Ofatumumab as single-agent CD20 immunotherapy in fludarabine-refractory chronic lymphocytic leukemia. J Clin Oncol 2010; 28: 1749–1755.

Morschhauser F, Cartron G, Lamy T, Milpied NJ, Thieblemont C, Tilly H et al. Phase I study of RO5072759 (GA101) in relapsed/refractory chronic lymphocytic leukemia. Blood 2009: Abs 884.
Acknowledgements
We thank Z Azgui, K Maloum, F Nguyen-Khac, JL Binet, N Marchay, H M'Kada and S Nguyen-Quoc, from the Hematology Department at Pitié-Salpêtrière Hospital (AP-HP, Paris, France) for the recruitment of CLL patients. We thank F Gandjbakhch, C Poulain and the personnel from the Department of Rheumatology at Pitié-Salpêtrière Hospital (AP-HP, Paris, France) and V Siguret, E Pautas and the personnel from the Gerontology Department at Charles-Foix Hospital (AP-HP, Ivry, France) for the recruitment of the control group. P Bonnemye, M Brissard, S Gueguen, M Boudjoghra and A Grelier are acknowledged for their technical assistance. This study was supported in part by funds from the Laboratoire Français de Fractionnement et des Biotechnologies (LFB, Les Ulis, France), the association la Ligue contre le cancer (RS08/75-4) and INSERM. The anti-CD20 LFB-R603 antibody was purchased by LFB.
Author contributions
MLT, CAD, JLT, HMB and VV conceived and designed the study; MLT and JD performed the flow cytometric and functional analyses; CP performed the flow cytometric selection; EC provided cytogenetic analyses; FD provided IgHV sequences; HMB cared for the involved patients, provided clinical and diagnosis/prognosis cytometric data; MLT, JD, CdR, CAD, JLT, HMB and VV analyzed the flow cytometric and functional data; MLT, JLT, HMB and VV wrote the manuscript; JD, CdR, CP, CAD, EC, FD, PD and JFP critically read and approved the manuscript.
Ethics declarations
Competing interests
J Decocq, C de Romeuf and JF Prost are employed by LFB, whose potential product was studied in the present report. CA Dutertre was supported by a CIFRE fellowship from the ANRT and LFB (#134/2004) between 2004 and 2007. J-L Teillaud was a LFB consultant until June 2007, which covers part of the study period. Three of the authors, C de Romeuf, JF Prost and JL Teillaud, are designated as inventors on patent application WO2006064121 owned by LFB Biotechnologies, and claim specific therapeutic use of the antibody studied in this report. The other authors declare no conflict of interest.
About this article
Cite this article
Le Garff-Tavernier, M., Decocq, J., de Romeuf, C. et al. Analysis of CD16+CD56dim NK cells from CLL patients: evidence supporting a therapeutic strategy with optimized anti-CD20 monoclonal antibodies. Leukemia 25, 101–109 (2011). https://doi.org/10.1038/leu.2010.240
Received:

Revised:

Accepted:

Published:

Issue Date:

DOI: https://doi.org/10.1038/leu.2010.240
Keywords
chronic lymphocytic leukemia (CLL)

natural killer (NK) cells

anti-CD20

monoclonal antibodies