Abstract
Earlier studies have shown that ascorbic acid (vitamin C) inhibits bortezomib-induced cytotoxicity against cancer cells in vitro. However, the clinical significance of vitamin C on bortezomib treatment is unclear. In this study, we examined whether daily oral intake of vitamin C inhibits antimultiple myeloma (MM) activities of bortezomib. Vitamin C, at orally achievable concentrations, inhibited in vitro MM cell cytotoxicity of bortezomib and blocked its inhibitory effect on 20S proteasome activity. Specifically, plasma collected from healthy volunteers taking 1 g/day vitamin C reduced bortezomib-induced MM cell death in vitro. This antagonistic effect of vitamin C against proteasome inhibitors is limited to the boronate class of inhibitors (bortezomib and MG262). In vivo activity of this combination treatment was then evaluated using our xenograft model of human MM in SCID (severe combined immune-deficient) mice. Bortezomib (0.1 mg/kg twice a week for 4 weeks) significantly inhibits in vivo MM cell growth, which was blocked by oral vitamin C (40 mg/kg/day). Therefore, our results for the first time show that vitamin C can significantly reduce the activity of bortezomib treatment in vivo; and importantly, suggest that patients receiving treatment with bortezomib should avoid taking vitamin C dietary supplements.
Relevant articles
Open Access articles citing this article.
Catalina Hoppe

,

Maren Freuding

…

Jutta Hübner

Journal of Cancer Research and Clinical Oncology Open Access 17 August 2021

Clemens P. J. G. Wolf

,

Tobias Rachow

…

Jutta Huebner

Journal of Cancer Research and Clinical Oncology Open Access 06 July 2021

Clemens P. J. G. Wolf

,

Tobias Rachow

…

Jutta Hübner

Journal of Cancer Research and Clinical Oncology Open Access 17 April 2021
Access options
Subscribe to this journal
Receive 12 print issues and online access
$259.00 per year
only $21.58 per issue
Rent or buy this article
Get just this article for as long as you need it
$39.95
Prices may be subject to local taxes which are calculated during checkout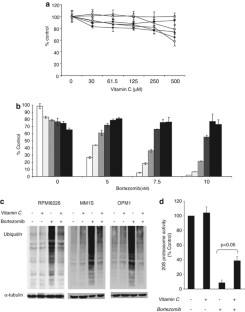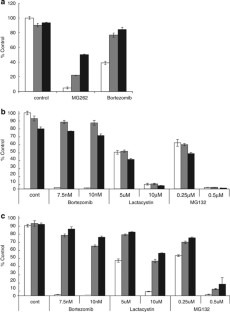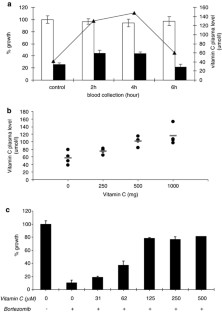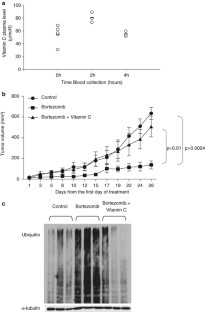 References
Lawenda BD, Kelly KM, Ladas EJ, Sagar SM, Vickers A, Blumberg JB . Should supplemental antioxidant administration be avoided during chemotherapy and radiation therapy? J Natl Cancer Inst 2008; 100: 773–783.

Liu FT, Agrawal SG, Movasaghi Z, Wyatt PB, Rehman IU, Gribben JG et al. Dietary flavonoids inhibit the anticancer effects of the proteasome inhibitor bortezomib. Blood 2008; 112: 3835–3846.

Conklin KA . Chemotherapy-associated oxidative stress: impact on chemotherapeutic effectiveness. Integr Cancer Ther 2004; 3: 294–300.

Ramanathan B, Jan KY, Chen CH, Hour TC, Yu HJ, Pu YS . Resistance to paclitaxel is proportional to cellular total antioxidant capacity. Cancer Res 2005; 65: 8455–8460.

Hoffer LJ, Levine M, Assouline S, Melnychuk D, Padayatty SJ, Rosadiuk K et al. Phase I clinical trial of i.v. ascorbic acid in advanced malignancy. Ann Oncol 2008; 19: 1969–1974.

Pathak AK, Bhutani M, Guleria R, Bal S, Mohan A, Mohanti BK et al. Chemotherapy alone vs chemotherapy plus high dose multiple antioxidants in patients with advanced non-small cell lung cancer. J Am Coll Nutr 2005; 24: 16–21.

Padayatty SJ . Vitamin C pharmacokinetics: implication for oral and intravenous use. Ann Int Med 2004; 140: 533–538.

Padayatty SJ, Katz A, Wang Y, Eck P, Kwon O, Lee JH et al. Vitamin C as an antioxidant: evaluation of its role in disease prevention. J Am Coll Nutr 2003; 22: 18–35.

Levine M, Conry-Cantilena C, Wang Y, Welch RW, Washko PW, Dhariwal KR et al. Vitamin C pharmacokinetics in healthy volunteers: evidence for a recommended dietary allowance. Proc Natl Acad Sci USA 1996; 93: 3704–3709.

Head KA . Ascorbic acid in the prevention and treatment of cancer. Altern Med Rev 1998; 3: 174–186.

Nagy B, Mucsi I, Molnar J, Varga A, Thurzo L . Chemosensitizing effect of vitamin C in combination with 5-fluorouracil in vitro. In Vivo 2003; 17: 289–292.

Kurbacher CM, Wagner U, Kolster B, Andreotti PE, Krebs D, Bruckner HW . Ascorbic acid (vitamin C) improves the antineoplastic activity of doxorubicin, cisplatin, and paclitaxel in human breast carcinoma cells in vitro. Cancer Lett 1996; 103: 183–189.

Heaney ML, Gardner JR, Karasavvas N, Golde DW, Scheinberg DA, Smith EA et al. Vitamin C antagonizes the cytotoxic effects of antineoplastic drugs. Cancer Res 2008; 68: 8031–8038.

Richardson PG, Barlogie B, Berenson J, Singhal S, Jagannath S, Irwin D et al. A phase 2 study of bortezomib in relapsed, refractory myeloma. N Engl J Med 2003; 348: 2609–2617.

Richardson PG, Sonneveld P, Schuster MW, Irwin D, Stadtmauer EA, Facon T et al. Bortezomib or high-dose dexamethasone for relapsed multiple myeloma. N Engl J Med 2005; 352: 2487–2498.

San Miguel JF, Schlag R, Khuageva NK, Dimopoulos MA, Shpilberg O, Kropff M et al. Bortezomib plus melphalan and prednisone for initial treatment of multiple myeloma. N Engl J Med 2008; 359: 906–917.

Orlowski RZ, Nagler A, Sonneveld P, Blade J, Hajek R, Spencer A et al. Randomized phase III study of pegylated liposomal doxorubicin plus bortezomib compared with bortezomib alone in relapsed or refractory multiple myeloma: combination therapy improves time to progression. J Clin Oncol 2007; 25: 3892–3901.

Sonneveld P, Hajek R, Nagler A, Spencer A, Blade J, Robak T et al. Combined pegylated liposomal doxorubicin and bortezomib is highly effective in patients with recurrent or refractory multiple myeloma who received prior thalidomide/lenalidomide therapy. Cancer 2008; 112: 1529–1537.

Mitsiades CS, Mitsiades NS, McMullan CJ, Poulaki V, Kung AL, Davies FE et al. Antimyeloma activity of heat shock protein-90 inhibition. Blood 2006; 107: 1092–1100.

Hideshima T, Catley L, Yasui H, Ishitsuka K, Raje N, Mitsiades C et al. Perifosine, an oral bioactive novel alkylphospholipid, inhibits Akt and induces in vitro and in vivo cytotoxicity in human multiple myeloma cells. Blood 2006; 107: 4053–4062.

Catley L, Weisberg E, Kiziltepe T, Tai YT, Hideshima T, Neri P et al. Aggresome induction by proteasome inhibitor bortezomib and alpha-tubulin hyperacetylation by tubulin deacetylase (TDAC) inhibitor LBH589 are synergistic in myeloma cells. Blood 2006; 108: 3441–3449.

Hideshima T, Bradner JE, Wong J, Chauhan D, Richardson P, Schreiber SL et al. Small-molecule inhibition of proteasome and aggresome function induces synergistic antitumor activity in multiple myeloma. Proc Natl Acad Sci USA 2005; 102: 8567–8572.

Mitsiades N, Mitsiades CS, Poulaki V, Chauhan D, Fanourakis G, Gu X et al. Molecular sequelae of proteasome inhibition in human multiple myeloma cells. Proc Natl Acad Sci USA 2002; 99: 14374–14379.

Lin Z, Bazzaro M, Wang MC, Chan KC, Peng S, Roden RB . Combination of proteasome and HDAC inhibitors for uterine cervical cancer treatment. Clin Cancer Res 2009; 15: 570–577.

Llobet D, Eritja N, Encinas M, Sorolla A, Yeramian A, Schoenenberger JA et al. Antioxidants block proteasome inhibitor function in endometrial carcinoma cells. Anticancer Drugs 2008; 19: 115–124.

Fernandez Y, Miller TP, Denoyelle C, Esteban JA, Tang WH, Bengston AL et al. Chemical blockage of the proteasome inhibitory function of bortezomib: impact on tumor cell death. J Biol Chem 2006; 281: 1107–1118.

Zou W, Yue P, Lin N, He M, Zhou Z, Lonial S et al. Vitamin C inactivates the proteasome inhibitor PS-341 in human cancer cells. Clin Cancer Res 2006; 12: 273–280.

Perez-Galan P, Roue G, Villamor N, Montserrat E, Campo E, Colomer D . The proteasome inhibitor bortezomib induces apoptosis in mantle-cell lymphoma through generation of ROS and Noxa activation independent of p53 status. Blood 2006; 107: 257–264.

Kim JE, Jin DH, Lee SD, Hong SW, Shin JS, Lee SK et al. Vitamin C inhibits p53-induced replicative senescence through suppression of ROS production and p38 MAPK activity. Int J Mol Med 2008; 22: 651–655.

Hideshima T, Chauhan D, Shima Y, Raje N, Davies FE, Tai YT et al. Thalidomide and its analogs overcome drug resistance of human multiple myeloma cells to conventional therapy. Blood 2000; 96: 2943–2950.

Lightcap ES, McCormack TA, Pien CS, Chau V, Adams J, Elliott PJ . Proteasome inhibition measurements: clinical application. Clin Chem 2000; 46: 673–683.

Tsao CS, Leung PY, Young M . Effect of dietary ascorbic acid intake on tissue vitamin C in mice. J Nutr 1987; 117: 291–297.

Nerini-Molteni S, Ferrarini M, Cozza S, Caligaris-Cappio F, Sitia R . Redox homeostasis modulates the sensitivity of myeloma cells to bortezomib. Br J Haematol 2008; 141: 494–503.

Karasavvas N, Carcamo JM, Stratis G, Golde DW . Vitamin C protects HL60 and U266 cells from arsenic toxicity. Blood 2005; 105: 4004–4012.

Schwedhelm E, Maas R, Troost R, Boger RH . Clinical pharmacokinetics of antioxidants and their impact on systemic oxidative stress. Clin Pharmacokinet 2003; 42: 437–459.

Henry EB, Carswell A, Wirz A, Fyffe V, McColl KE . Proton pump inhibitors reduce the bioavailability of dietary vitamin C. Aliment Pharmacol Ther 2005; 22: 539–545.

Fujita I, Hirano J, Itoh N, Nakanishi T, Tanaka K . Dexamethasone induces sodium-dependant vitamin C transporter in a mouse osteoblastic cell line MC3T3-E1. Br J Nutr 2001; 86: 145–149.
About this article
Cite this article
Perrone, G., Hideshima, T., Ikeda, H. et al. Ascorbic acid inhibits antitumor activity of bortezomib in vivo. Leukemia 23, 1679–1686 (2009). https://doi.org/10.1038/leu.2009.83
Received:

Revised:

Accepted:

Published:

Issue Date:

DOI: https://doi.org/10.1038/leu.2009.83
Keywords
multiple myeloma

ascorbic acid

antioxidant

bortezomib